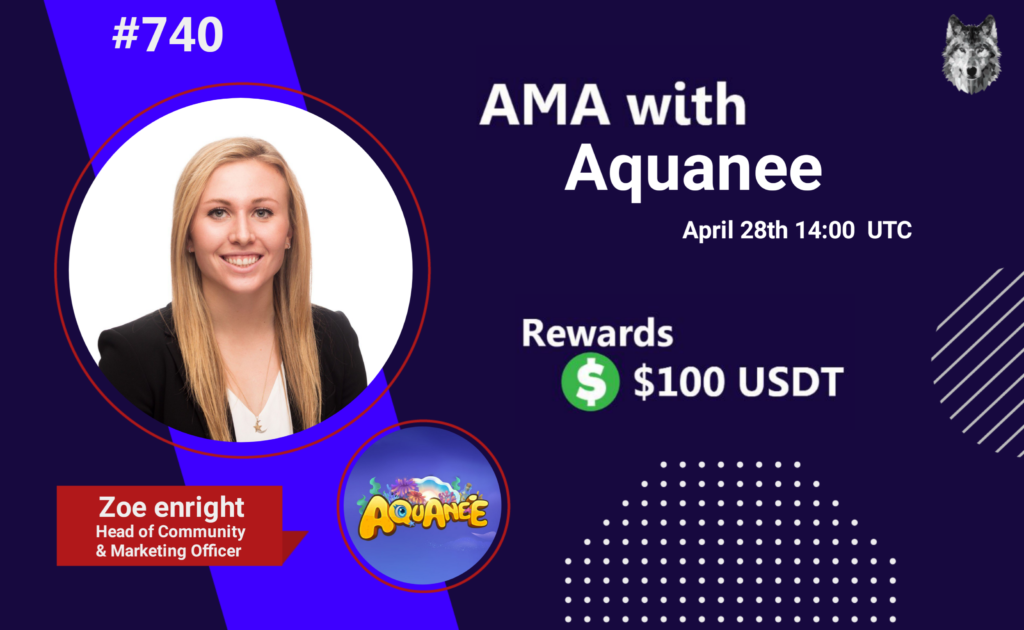 We hosted an amazing AMA with AQUANEEE on the 28th of April
And here we will put some of the best questions:
Q1. Can you please introduce yourself as well as AQUANEEE?
Yes absolutely!! Hi, I'm the Chief Marketing Officer for Aquanee and I am currently based in the United States. I am very excited to introduce the rest of the Aquanee team to you all, many of which are internationally based. We have team members from various countries including from Japan, Taiwan, Singapore, Mainland China and the United States. Our team has a very strong experience in the GameFi space, as they have more than 10 years of experience in game development and more than 5 years of experience with blockchain technology. In addition, our team has participated in well-known projects such as Black Desert, Journey and 99 Ji, Given this experience, the team decided to start their first blockchain game, which is Aquanee.
Q2. What are the advantages of Your project?
The players who have participated in the test and joined AQUANEE have noted that the biggest difference between AQUANEE and other games is AQUANEE's quality. AQUANEE is a U3D, SLG game native to GAMEFI with unique art.
Apart from the physical appearance of the game, AQUANEE's gaming logistics are very adaptable and intuitive. Existing players have noted that it is very easy to start playing the game. Where the challenge arises is with respect to the gaining and protecting of territory, both of which our current players note is very challenging. Protecting territory and playing in the game in general requires a lot of strategy and skill, keeping players consistently engaged and challenged. Finally, given that AQUANEE is completely on the blockchain, it offers game mining and Defi mortgage leasing within the game, increasing appeal to our user base.
Q3. please tell us about the goal you want to achieve in this year.
We have many goals for this year, let me share some.
The most exciting upcoming news for Aquanee is our IDO which will take place on May 12th through Tokensoft! Let me add the rest of the roadmap here.
Jan 2022: AQUANEE in-game beta
Feb. 2022: AQUANEE NFT launch
March 2022: AQUANEE game public test opens, INO airdrop program
Apr. 2022: Official IDO, DEX, and guild recruitment program launched
April 2022: Opening of user invitation function, the opening of the scholarship program
May 2022: Launch IEO, land on CEX; and open multiple public chain assets and user ecology
May 2022: Open the NFT leasing system and pledge system
Jun 2022: open custom NFT function within AQUANEE game, launch 'AQUANEE Global Battle Grand Prix'
August 2022: AQUANEE's "Atlantis" tribal home building game opened.
October 2022: AQUANEE ecological public chain launched
Dec 2022: AQUANEE meta-universe museum completed, handicraft NFT assets public sale
Within two years, we will develop Aquanee's ecological public chain within Web3 and sell more NFT assets in the game to our physical players. We will also launch our own model manual, decentralized property exchange and launch our own open platform. Aquanee will become an open metaverse that integrates game creation and social networking.
Q4. Every project has a story behind their name, Can you tell us more about the story behind this? Who are the team behind this project? can tell us their background?
Definitely! We have a very global team with over 10 years of experience in Blockchain!
AQUANEE's mission is focused on the user experience, ensuring that they have an enjoyable and rewarding time inside our game. In order to optimize the user experience, AQUANEE offers various opportunities including but not limited to adventure and exploration of the ocean-based realm.
We hope that AQUANEE will create a whole new world for its users, where players, content creators and merchants are offered both tokenized liquidity and a strong community.
We are placing a significant amount of effort on developing the AQUANEE community, as community members will continuously develop and govern AQUANEE as it evolves in the future. It is important to note that AQUANEE's value as a large cross-chain platform allows it to integrate NFT assets from other public chains, creating asset flow and value exchange in the game world. In addition, AQUANEE will launch its own public chain technology system later this year, so stay tuned!
Q5. NFT is one of the hottest and most sought-after topics in the blockchain space right now. Can you share your opinion on NFT with us? Do you think NFT will disrupt the current financial system? What is Your project's approach to the NFT sector?
Yes NFTs are very central to the gameplay within Aquanee and an important part of our project! We think that NFTs are very valuable assets that can allow you to earn very big token rewards through our game and through others! We have four different types of NFTs in our game: AQUAs, Evil Bosses, Decorations and property. All are central to gameplay. AQUAs are your entrance into the AQUANEE realm and are the main players in the game!!! Please go participate in our IDO on Tokensoft and get your KYC so you can own one of these very valuable NFTs.
And here we will put best questions from our members and AQUANEEE fans:
Q1. Is NFT blockchain gaming. But in terms of community, there is still a large audience in the gaming world that has yet to meet the crypto and blockchain industry. What are your plans to reach these people and make your voice heard by all gamers?
We have many plans to reach these people, starting with the AMAs that we are doing with groups like CryptoTiTans! We are also partnered with a top tier marketing agency that has experience bringing individuals into the blockchain space.
Q2. #aquanee "What are the main features of the project and how was it developed? Where does its core competitiveness lie? What advantages does it have that allow it to stand out in the market?
Yes let's talk about AQUA breeding because it is central to gameplay and very unique!!
Breeding and AQUA reproduction is central to gameplay within the AQUANEE realm. Any user who owns two adult AQUAs can breed additional AQUAs in AQUANEE's marketplace. However, a certain amount of AQDC and NEE are required to proceed with the breeding of an AQUA. The number of AQDC and NEE required for breeding is distinct in each civilization stage and reproduction time. Let me provide an example. In the Level 1 civilization, you can breed up to five AQUAs, but the price of breeding each additional AQUA increases. For example, the first AQUA you breed will cost 800 NEE and 20 AQDC but the second AQUA that you breed will cost 1000 NEE and 30 AQDC. The price also increases as you move onto greater civilization levels. In the second civilization level, the price of breeding the first AQUA is 4000 NEE and 120 AQDC. As you can see, the price of breeding any AQUA only increases as you progress through the game.
It is important to note that players with genesis NFT will be the first beneficiaries of the breeding function within AQUANEE. Once bred, the new AQUA can be used to obtain income, as it will have naturally greater battle abilities, resulting in greater token rewards.
Not only does breeding AQUAs further the abilities of a player's existing assets, but it also provides an evolutionary function inside the AQUANEE realm. As previously noted, AQUANEE has four distinct civilization levels. The breeding of AQUAs helps advance players from the lower civilization levels up until the highest civilization level, the cosmic civilization. The higher civilization level, the greater value the AQUA NFT, as the AQUAs in higher civilization levels are bred with rarer characteristics.
Q3. Partners are very important for every project today, may I know which partners you have now? and which partners in the future you will be heading to?
Yes we have two key types of partners! We have ecosystem partners and venture capital partners. Some of our ecosystem partners are Binance, Houbi and Ethereum. Our investment partners include Mindfulness Capital, Ciphilio and BitMart.
Q4. How many types of NFT in AQUANEE, tell us how many of these need to buy to start in the game and making a profit? How valuable is NFT in AQUANEE in terms of profitability and utility in the game? Can players exchange their NFT in-game for a profit through Marketplace?
Yes so please go participate in our IDO where you can purchase AQUA NFTs. In order to play in the realm of AQUANEE, you must own at least two AQUAs but each individual can own up to 5. By purchasing AQUAs, you can start battling and gaining territory in our realm, resulting in large token rewards and monetary compensation.
Q5. I can't find any information about your Tokenomics, can you give a review about that ? How many tokens will be minted, where will they be allocated, what is the use case & what is the benefit for holding them in long term ? Will there any special rights granted to the holder?
Absolutely! Let me provide a quick overview of the game to help our discussion of the tokens. As you already know, the key aspects of AQUANEE include the ability to cultivate and breed AQUAS that can be used to battle for territory and gain token rewards. Players have the ability to explore the world alone or in teams. Battles can occur by bidding in tournaments from season to season or you can join a guild and explore the realm, encountering battles throughout exploration.
We have two key types of tokens: AQDC and NEE. AQDC tokens can be used in the gaming platform for trading, leasing, lending, investing, or voting (DAO). AQDC will be presented as a multi-chain currency, where we will balance total circulating supply of AQDC by minting and burning.
The other token in our game is NEE. NEE is akin to smooth love potion in Axie Infinity and is used for mining and game rewards. Additionally, it is required to breed AQUA NFTs, as discussed earlier. One important thing to note, however, is that the NEE required for breeding increases with each civilization level.
Q6. Is your project a community only for English speaking an countries or for users of other languages?
We welcome community members from ALL languages and cultures! We conduct AMAs in English because it is a good reference language to reach community members but individuals from all languages are welcome.
Q7. Trust is very important in business, what makes investors, customers and users feel safe when working with your project?
Trust is very important for us as well! In order for our users to have trust in our project and participate in our IDO, we just had a security audit completed! We have been audited by @CertiKTech, who ensured that our game is secure.
Q8. Are you a global project or local project? At present, Which market are you focus on, Or is it focused On building and growing to gain Customers, Users and partners?
We are a very global project! Our team members are in all areas of the world, with myself living in the U.S. but a lot of my team members live in Singapore and Mainland China. We are targeting community members from all areas! Some of the individuals who bought our first round of NFTs on BinanceNFT were concentrated in Kenya, Mainland China, Southeast Asia and Eastern Europe.
Q9. I couldnt find info about your token where can i find your whitepaper so i can get the information?
Yes let me link the white paper here. It has very important information about tokenomics and our gameplay!
https://drive.google.com/file/d/1llgnsySTurHGeCqTNO2h6OBh3fcUvsD0/view?usp=drivesdk
Q10. What is your strongest advantage that you think will make your team leading the market?
This is a very important question. Our team has years of experience in the blockchain industry and gamefi space. Our team has over ten years of experience in Blockchain and over five years of experience in gamefi. This experience is has allowed our team to learn what is most important to community members and players, ensuring that everyone joining our game is able to accomplish their goals and earn monetary rewards.
And this was the end of our AMA with AQUANEEE.
If you have any questions you can ask here:
Telegram Group: http://t.me/AQUANEE
ℹ️ℹ️ Useful Links ℹ️ℹ️