We Hosted An Amazing Ama With Bafi Finance On The 22nd Of October
And here we will put some of the best questions:
Q1: could you explain a little about Bafi Finance? and what Is make it different From another Project?
BAFI FINANCE is a BSC project aim to revolutionise the Gaming, NFTS, IDO Launchpad, SwapDex, farming and Staking platform with unique features.
BAFI Finance is a decentralized exchange built on binance smart chain, with a lots of other features that let you swap tokens, play game, conduct IDO, provide liquidity, stake and earn tokens, bridge cross-chain tokens, NFT and yield farming pools.
BAFI PRODUCTS
BAFIGAMES: https://bafi.games/
BAFISWAP: https://swap.bafi.finance/#/swap
BAFIPAD: https://bafipad.com/ido
Website : https://bafi.finance
Total Supply : 100,000
BAFISwap exchange, BAFIGAMES +NFTGAMES and BAFIPAD are LIVE and running.
BAFIGAMES is where to play games and WIN BNB
BAFIPAD is where project can do IDOs to raise funds.
BAFISwap is DEX exchange for trading, staking and farming dashboard for other projects to use
Whitepaper: https://bit.ly/2Rd2oby
READ ARTICLE 1: https://bafifinance.medium.com/what-is-bafi-finance-8b3fcd0a582f
ARTICLE 2: https://bafifinance.medium.com/bafi-finance-6a124ffcfbd7
BAFI Finance is unique because it is Non-Mintable, and has a working products already launched
Q2: Could you please provide some info about your Roadmap and how Bafi Finance is progressing so far?
Thanks for this question, BAFI FINANCE team has already done a lot of work in the Roadmap for the project.
I will try to cover them as brief as possible
Roadmap could be found beneath our website https://bafi.finance
We are progressing faster than our Roadmap. Presently as at today we have launched the BafiSwap
BAFIPAD
BAFIGAMES
NFTGAMES
our farming and Staking dashboard is live and active.
Our BAFIgames is a cross-chain support platform launched few days ago.
We about to launch the NFTS Marketplace platform which is the another important thing on the Roadmap
We are moving very fast to deliver a valued driven project to our investors and we can say confidently that 90% of the Roadmap is almost done.
Q3. What is Bafi/NFT games?
It is a niche segment of our roadmap that implements NFTs and other digital assets at level of gameplay. It include a completely or partially distributed ledger architecture, providing players verifiable ownership using provability fair over the games. Demonstrate-ably it is a play to earn system.
BAFI GAMES + NFT GAMES is our biggest platform for gamers to play and Win in BNB.
Q4. What types of games are available on the app?
Ok, so we have Baccarat, American Roulette, Blackjack, Casino Hold'em Poker, Dice, NFT animal slots and lots more.
Q5. What type of tokens can be used on BAFI/NFT games?
BAFI/NFT games is a cross chain platform that has its own native token(BAFI) and other crypto tokens like BNB, ETH, FTM, e.t.c all supported.
Q6. What minimum amount can be deposited on gaming platform?
Well, users can deposit a minimum of 10 BAFI or its equivalent with other listed token on the gaming application.
Users will be issued credits for their deposits instantly.
The minimum deposit is 10 BAFI to play any games of your choice.
There is no maximum amount of BAFI to deposit.
Presently, BAFIgames is very easy to play and win.
BAFIGAMES SPECIAL PROMOTION
PLAY ON BAFIGAMES + NFTGAMES AND WIN 2 BNB.
PLAY EARN TRADE WIN
BUY HERE👉: https://bit.ly/2RnUWK7
How To Participate
1. SIGNUP Here: https://bafi.games/
HOW TO DEPOSIT👉: https://youtu.be/g9nVRAC3uxA
HOW TO SIGNUP👉: https://youtu.be/k9ytzetvMzY
2. Connect your wallet address and Deposit 10 BAFI to play any games and WIN
KEEP PLAYING
KEEP WINNING
TOP 3 LUCKY Winners with the most winning will share.
1st – 0.75 BNB
2nd – 0.5 BNB
3rd – 0.25 BNB
and 5 Lucky gamers will share 0.1 BNB each.
Total 2 BNB.
READ HERE: https://bafifinance.medium.com/bafigames-special-promotion-c899a823ddec
Telegram: https://t.me/Bafifinance
We have this promotion for the BAFIgames ongoing.
Q7. Is it a mobile or a web based application?
BAFI games is a progressive web based application that cab be played on any web3 enabled browser like MetaMask mobile app browser, trust wallet browser or dapp ecosystem, chrome, FireFox e.t.c
And guess what? You can also install it freely on your browsers.
And here we will put best questions from our members and Bafi Finance fans:
Q1) How many tokens do I need to participate in in an IDO? And Do I need to stake them? And How many tokens do I need to vote for an IDO?
Awesome question.
For anyone to participate in the BAFIPAD IDO, such investors need to hold minimum of 20 BAFI token in their wallets and get whitelistd so that they can buy during the IDO Launchpad day.
We have different tiers for the IDO on BAFIPAD
Yes, you need to stake before the IDO launch, but you will need to unstake into the whitelistd wallets for the IDO.
The most important thing is to have BAFI in your wallet address for the Whitelist.
We don't operate the voting system for the IDO on BAFIPAD
Q2) I saw that many projects were unstable for a short period of time. At first, they started with hard work & good attention, after a few months later they didn't pay attention to this project. Then it ended there. how do #BafiGames plan to survive in the market?
HOW TO PARTICIPATE IN THE IDO ON BAFIPAD.
All interested investors must WHITELIST their wallets on BAFIPAD before the Countdown reaches 0
IF YOU DON'T WHITELIST YOUR WALLET , YOU CAN'T BUY IDO
WHITELIST HERE 👉BAFIPAD: https://bafipad.com/ido
You need to buy MINIMUM of 20 BAFI token and hold in your wallet address then click on WHITELIST WALLET
Minimum Requirements💥👇
20 BAFI Maximum 0.3 BNB FCFS
100 BAFI Guarantee 1 BNB
300 – 500 BAFI Guarantee 3 BNB allocation
1000 BAFI – Guarantee 5 BNB/Unlimited Allocations
You need to Whitelist your wallet address ahead of the IDO date and wait for the timer to reach 0.
Click Buy on the IDO date for you to buy the BNB in your wallet.
You must have both BAFI and BNB in your wallet address to buy.
Unlike other platforms we deployed "Provably" Fair which means for the gamer + fair playing, + accountability, + guaranteed anti-cheating, + instant payouts + public ledger which allows you to verify your game that it has not been botted ot manipulated. So no matter the condition Bafi games sustanability is guaranteed.
This is one of the reasons BAFI games is among the best
BAFI FINANCE is a unique project with a lots of usecases and hence we are here for long term, this is the reason we have developed multiple usecases for the project that we stand the test of time.
Gaming and NFTS Marketplace are really trending in the crypto space and as you can see BAFI is already going there as well.
BAFIgames will be a game gamers because of what we are building.
Q3) Many of us as blockchain gamers have experienced constant bugs from games that hit rock bottom today, like Axie or Plants VS Undead. With built in pyramid economy and huge liquidity extraction. Then what steps Bafi Finance to avoid premature death?
As stated earlier "Provably" fair is one built in feature that helps us combat premature death because each game is uniquely tied and verifiable on the blockchain. Also our gaming platform is undergoing continous development with improvements.
Q4) Staking, burning, buyback & DeFi
Q. can Your project share thoughts on what I mentioned above ?
does it have an impact on the value of Your project?
You want to keep an eye on gaming which is a form of buyback as users put in the Bafi tokens to use it drives the value as it is form of recirculation(This causes scarcity of some sort). There has also been 2 burn events totalling 11,300 tokens to also fuel scarcity and increase demand.
We have a very good Staking 49 APY% on BafiSwap in such away it will keep helping the project to grow.
We have burnt 11,300 out of the 100,000 total supply.
Our token is not with a burning function.
We have done the first phase of the BUYBACK.
Q5) Being a gaming platform what are the games $Bafi is currently supporting? Can users build their own characters in your platform? Are you planning to add more unique characters? And do you plan to expand your gaming features to non-crypto gamers with zero blockchain knowledge?
We have over 8 games currently on the BAFI gaming platform. (2) Users can build their own NFT characters as well. Each of the games on the platform comes with a set of instruction on how to play. Click on the i icon to understand more when you sign up and before playing a game. (3) We are currently doing our best to get more inexperienced gamers to come on board. To this end we have lucky wheel and dice which are pretty much easy to understand and play. It also has low entry credits.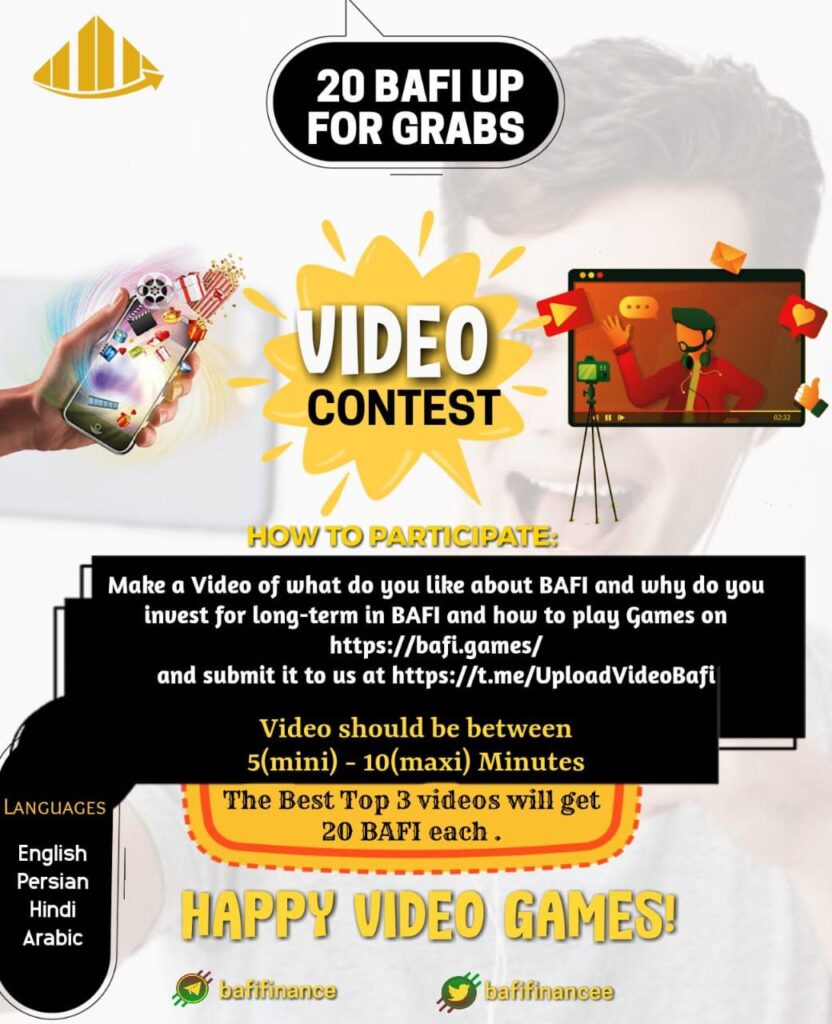 20 BAFI FOR TOP 3 VIDEOS.
HOW TO PARTICIPATE
Make a Video of what do you like about BAFI and why do you invest for long-term in BAFI and how to play Games on https://bafi.games/
and submit it to us at https://t.me/UploadVideoBafi
✅Must Post your Video on twitter and Tag @Bafifinancee

Mini of 5 Minutes
Maxi of 10 Minutes
Languages: English, Persian, Hindi, Arabic
The Best Top 3 videos will get 20 BAFI each .
HAPPY VIDEO GAMES
READ MORE: https://bafifinance.medium.com/20-bafi-for-top-3-videos-9663214126dd
BUY HERE: https://bit.ly/2RnUWK7
Telegram: https://t.me/Bafifinance
Q6) How can I buy this tokens? Is it available on any exchange?
The design goal of BAFI team is to achieve high transaction capacity and BSC(Binance smart chain) offers it. It also boasts compatibility with Ethereum Virtual Machine (EVM). What's more, BSC has one of the fastest blockchain transaction times and lowest fee structure. Regarding your second question, YES!!!
Q7) Where can I buy your tokens now. What are your current contracts, and how can I buy them and what are the benefits know your project closly?
WHERE TO BUY 👇
BUY FROM PANCAKESWAP :
https://exchange.pancakeswap.finance/#/swap?inputCurrency=0xa2f46fe221f34dac4cf078e6946a7cb4e373ad28
Buy from Bafiswap:
https://swap.bafi.finance/#/swap?outputCurrency=0xA2f46fe221f34Dac4Cf078e6946A7cb4e373AD28
contract :-
0xa2f46fe221f34dac4cf078e6946a7cb4e373ad28
You can get benefits, through staking of BAFI on BAFISwap or you play games on BAFIGAMES to win BNB or you use your BAFI to buy IDO on BAFIPAD.
Buying BAFI is the best investment for now because the project will soon exploded.
Q8) I read that Bafi is introducing a new exit strategy for NFT governance. Can you describe the Bafi ecosystem "governance model"? Who is responsible for managing the system, what is requiired to qualify for authorization? On what types of decisions can they choose about the project?
I think this question is fantastic. We have our NFT marketplace that gives NFT users the ability to Mint, Bid, transfer and take commissions. You can take royalties on your NFTs forever. Currently no other platform out there gives this offer. If you hold BAFI we help you cut gas fees with our unique algorithm which allows for high gas Performance.
Q9) Did you consider community feedback/requests during the creation of your product in order to expand on fresh ideas for your project? Many projects fail because the target audience and clients are not understood. So I'd liike to know who your ideal consumer is for your product?
Community is everything to BAFI finance team hence we took feedback from the community in creating all the BAFI products from
Bafiswap
BAFIPAD
BAFIGAMES
NFTGAMES
We are presently working on the NFTS Marketplace platform and community feedback is part of what we are using to develop it.
Q10) Hackers and Scammers are very much active. Can you please give some information about the Security system of your project? How safe is your project especially for long term investors? How will you protect your investors?Do you have AUDIT certificate or are you working to AUDIT your project, so that the security of the project becomes more secure and reliable?
There is a 2FA authentication system that users can enable at their own discretion. AUDITS are done pre-launch and is carried out by the Watch Night team of auditors.
Q11) I saw that. 5000$ MEGA reward for BAFI holders will be activated.
We invite all the investors to join and win bigger in this 30 days money splash for BAFI holders and investors.
Is this event still going on? if answer is yes. How can I participate?
This promotion is currently unavailable but we have another similar Promotion where you can Add liquidity on BAFISwap and share in the 2BNB rewards.
WIN 2BNB IN BAFISWAP LIQUIDITY PROMOTION.
VIDEO: https://youtu.be/xeH5G1cwjUw
Liquidity Promotion on Bafiswap
Add LP on BafiSwap and get a chance to share in 2BNB
HOW TO PARTICIPATE READ HERE👉: https://bafifinance.medium.com/win-2bnb-in-bafiswap-liquidity-promotion-b1e55b079c71
Transaction of minimum 0.25 BNB and adding into liquidity on Bafi pool (either staking or farming) and not withdrawing the equivalent of it for a max of 30 days.
13 winners would be chosen randomly and awarded 0.1 BNB each.
Special Rewards for the TOP 3 who transact above 1 BNB.
1st – 0.3 BNB
2nd – 0.25 BNB
3rd – 0.15 BNB
Total of 2 BNB rewards for this liquidity promotion on Bafiswap.
BUY ON BAFISWAP: https://bit.ly/3rJDKeL
STAKE/FARM HERE: https://bafipad.com/farms
BAFISWAP: https://swap.bafi.finance/#/swap
*** Transaction is only for BUYS and not for SELLS .
Bafiswap liquidity promotion closing date: 31st October
Distribution date: 1st December
💥🚀BAFIGAMES, BAFIPAD, BAFISWAP🔥🚀🔥
BAFI FINANCE is a BSC project aim to revolutionise the Gaming, NFTS, IDO Launchpad, SwapDex, farming and Staking platform with unique features.
BAFI Finance is a decentralized exchange built on binance smart chain, with a lots of other features that let you swap tokens, play game, conduct IDO, provide liquidity, stake and earn tokens, bridge cross-chain tokens, NFT and yield farming pools.
BAFI PRODUCTS
BAFIGAMES: https://bafi.games/
BAFISWAP: https://swap.bafi.finance/#/swap
BAFIPAD: https://bafipad.com/ido
Website : https://bafi.finance
AUDIT LINK: https://nightwatch.finance/images/BAFI-Audit-Report.pdf
BUY ON PANCAKESWAP👉:
https://exchange.pancakeswap.finance/#/swap?inputCurrency=0xa2f46fe221f34dac4cf078e6946a7cb4e373ad28
BUY On BAFISwap ✅: http://swap.bafi.finance/#/swap?inputCurrency=0xa2f46fe221f34dac4cf078e6946a7cb4e373ad28
BUY BAFI JULSWAP👉: https://bit.ly/3u725wn
LIQUIDITY LOCKED: https://app.unicrypt.network/amm/pancake-v2/pair/0x545B41D736d6eCed8D9bF1ca6cc937531579c9fE
COINGECKO: https://www.coingecko.com/en/coins/bafi-finance-token
CMC LINK: https://coinmarketcap.com/currencies/bafi-finance/
TOKEN BURNT 11. 3K: https://bit.ly/3sHtdBW
https://bscscan.com/tx/0xd33a13a6cd1525343650bf4245b1807f5b47b1869706118c2e48251f81697ce9
Contract Address: https://bscscan.com/token/0xa2f46fe221f34dac4cf078e6946a7cb4e373ad28
Total Supply : 100,000
BAFISwap exchange, BAFIGAMES +NFTGAMES and BAFIPAD are LIVE and running.
BAFIGAMES is where to play games and WIN BNB
BAFIPAD is where project can do IDOs to raise funds.
BAFISwap is DEX exchange for trading, staking and farming dashboard for other projects to use
✅Coingecko and Cmc listed
✅First BUYBACK Done
✅Contract Audited
✅Team Token Locked
✅Team KYCED
✳️Holders Reward
♻️Marketing Promotions/AMA
✅Non-Mintable and Limited Supply
✳️More Partnerships
♻️Exchanges Listing
✳️Gaming platform, NFTs, Mobile Apps
Whitepaper: https://bit.ly/2Rd2oby
Email: info@bafi.finance
READ ARTICLE 1: https://bafifinance.medium.com/what-is-bafi-finance-8b3fcd0a582f
ARTICLE 2: https://bafifinance.medium.com/bafi-finance-6a124ffcfbd7
GITHUB: https://github.com/Bazdev2050/sourcecode
SOCIAL MEDIA LINKS
Twitter : https://twitter.com/Bafifinancee
Telegram Group: https://t.me/Bafifinance
Telegram Channel: https://t.me/Bafifinancenews
Facebook: https://www.facebook.com/bafifinance/
Subscribe to YouTube: https://www.youtube.com/channel/UCXtGak_hYKZAopqg5nSJu3g
Medium : https://medium.com/@bafifinance
LET #BOOMBAFI together 🔥💰💰🔥💰💰🔥🚀🚀💥💥🚀🚀🚀