we hosted an amazing AMA with BufferFinance on the 29th of July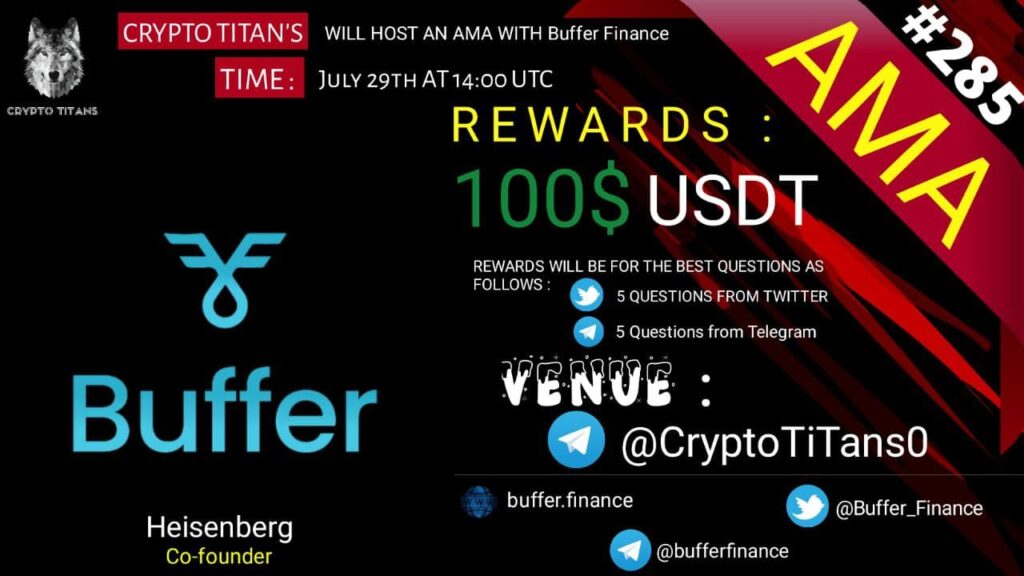 And here we will put some of the best questions:
Q1) Can you please introduce yourself as well as Buffer Finance ?
Hi I am Heisenberg – Founder of Buffer Finance. I am myself a solidity developer with a background in options trading and finance. I take care of tech at Buffer Finance
Other than me we have five more team members
Feynman (Co-founder) → Takes care of product and business development
Freese → Takes care of frontend development
Rubin → Takes care of UX/UI designs
Curie → Takes care of community
Newton → Takes care of marketing
Buffer finance is a peer-to-pool options trading platform → With buffer finance any one can buy custom options without the need of a counterparty or option seller. On chain – without the need of a KYC.
Q2) What are the advantages of Your project ?
There are 3 key advantages of the Buffer Offer.
Allows anyone to buy options in a gamified way and make huge profits from their viewpoint
Directly rewards token holders to earn passive income by just staking the $iBFR tokens or by participating in our buybacks and revenue share.
For liquidity providers – they can earn yield from the option fee paid by the option buye
Q3) please tell us about the goal you want to achieve in this year?
Our Testnet is already up and running with more than 1300 participants.
This year our main aim is to shift our product to Mainnet and launch our staking pool → We also want to make sure we get listed on top coin listing platforms like coingecko and coinmarketcap at the top priority. We will also be announcing some big partnerships in the coming weeks to keep growing our ecosystem and make it more and more powerful.
👉https://testnet.buffer.finance/
Q4) Every project has a story behind their name, Can you tell us more about the story?
We have been investing in crypto and options since a long time – We observed options being a multi-trillion dollar thing in centralised finance but has not found a great acceptance in Defi majorly because it's considered something complex and is dominated by big banks and hedge funds.
We as a team have taken a mission to bring options trading for everyone by simplifying and gamifying it retail crypto investors so they can also make large profits available for top crypto investors.
And here we will put best questions from our members and BufferFinance fans:
Q1) About your Whitelist, is there any priority or important thing to do in order to win the Whitelist? Those who buy in the private sale are they getting some sort of assurance against price dump as well as what's maximum and minimum buy-in ?
Yes we will be releasing exclusive whitelist just for the Crypto Titan Community Just after this AMA. The minimum buy-in is 0.1BNB and Max is 5 BNB – You will get details post the AMA
To reduce chances of price dumping we have been extremely careful in designing our tokenomics —> Only 15% of the tokens will be released as initial supply. Also we are sharing 100% of the revenue earned among our token holders which keeps the incentives aligned and demand for token high. We have kept 35% of the supply for liquidity mining which we believe can create a strong demand for the token.
Q2) Most solid projects with token utility and good infrastructure but perform poorly because investors dumped after listing on the first exchange. How do you prevent early investors from dumping your tokens?
To prevent early investors from dumping we created utilities that incentivise them to hold and stake the token —> Also we will be releasing the tokens in a vested format with just 15% of the initial supply available to start with.
Here are the key utilities of token which we think are extremely powerful to keep the price keep rising.
Revenue share – Stake $iBFR to receive a constant stream of passive income
Liquidity mining – Earn yield by staking $iBFR LP pair tokens
Deflationary – Milestone based buybacks and manual burns
Governance – Post Q1 2022 roadmap all feature releases will be governed by $iBFR token holders
Discount – Hold $iBFR tokens and get a discount over the settlement fee required to place a bid in the BNB price prediction game.
Q3) About the income model of Bufferfinance. What streams of revenue will you create, and what sort of compensation strategy will you put in place? Will you distribute a portion of your profits to token holders as a reward?
Buffer Business model is very simple we charge two types of fee whenever someone buys an option or places a bet against our Liquidity Pool
The Option Fee —> This fee goes to Liquidity provider as yield
Settlement fee —> This is the fee we charge as protocol/service provider – 100% of this fee is transferred to $iBFR holders via automated revenue share and buyback
Our community first approach allows us to focus on building and sharing our success with them. That's where we feel the main longevity comes from other than that options markets on Defi will boom so our revenue.
Q4) Do you have real users and partners that use your services and what marketing strategy do you have to draw new users as without marketing no matter how good the product is nobody cares?
Yes our product is already live on Testnet running with more 1300 participants.
We have partnered with Berry Data for BNB price feed & Chain Link for price feeds of other assets and for implied volatility data.
We have also partnered with cryptobuddy.info → To help us find launchpad partners and private investors.
We are currently in talks with multiple big launchpads to use our insurance service for the projects raising funds through them – Announcements will be made in the coming week.
Q5) Among the various ways you can participate in the ecosystem of protocols mention that, "BECOMING A LIQUIDITY PROVIDER", but, how can I become a liquidity provider of Buffer Finance, what are your requirements demanded for this?
Becoming a liquidity provider is very simple you just have to deposit BNB in the liquidity pool. As more option buyers buy option you make yield on your deposit —> You are free to take out your deposit after 14 days of Lockin.
We currently are also running a contest for Liquidity Providers on our Testnet.
You can check it out here. —> https://testnet.buffer.finance/liquidity
Top 15 liquidity provider can win 1000 $iBFR tokens every week.
For more details visit —> https://bit.ly/3Abo7Ck or join our telegram —> t.me/bufferfinance
Q6) Do you have a Token Burning plan to increase Token value and attract Investors to invest?
Yes we do have token burning mechanism in place – We will be sharing 100% of the protocol fee in form of revenue share directly to token holders and then via buy backs to reduce token supply.
Q7) Please, tell us more about your token use cases. What benefits do you suggest?
The use cases are as follows
For traders: Using buffer all traders can trade options without the need of any counterparty which makes it extremely liquid way of trading much better than counterparts and competition
Speculators: Speculators can buy options if they speculate any price change in BNB in future.
Insurance : Insurance can be used by service providers and projects raising funds in BNBs to hedge sudden price fall in BNB
Q8) Hello sir, As a professional trader I would like to have to try the Testnet before I trade on the MainNet? Where can we try your testnet? when do you hope to launch the MainNet?
You can try the testnet here —> https://testnet.buffer.finance/
The Mainnet will be launched within one week of the IDO
Q9) Take a look at your RoadMap in Q4. that There are INSURANCE FEATURES. What are Insurance Features and how do your products generate revenue through them? Will your insurance provide protection against wild price fluctuations? And how is it different from other insurance?
The Insurance feature is another layer over our options trading protocol.
This feature can be used by anyone who wants to buy insurance against their BNB holding and protect themselves from wild price fluctuations
The insurance will allow protection against sudden price falls and would be useful for Projects raising via IDO/IFO mechanisms and also many service providers offering BNB based service.
Q10) Where can I buy your tokens now, what are your current contracts and how can I buy them and what are the benefits?
You can get whitelisted to buy tokens in our exclusive seed sale for crypto titan community. For seed sale participants 20% of the tokens will be released before listing and remaining will be vested over 3 months. So please do participate if you want to be get all advantages and listing gain only available to early investors.
Here's the link to get whitelisted —> https://gleam.io/R4w9b/exclusive-whitelisting-for-crypto-titan-members
And this was the end of our AMA with BufferFinance.
If you have any other questions you can ask here:
ℹ️ℹ️ Useful links ℹ️ℹ️
Website :- http://buffer.finance/
Medium :- https://buffer-finance.medium.com/
Twitter :- https://twitter.com/Buffer_Finance
Github :- https://github.com/Buffer-Finance
Discord :- https://discord.com/invite/Hj4QF92Kdc