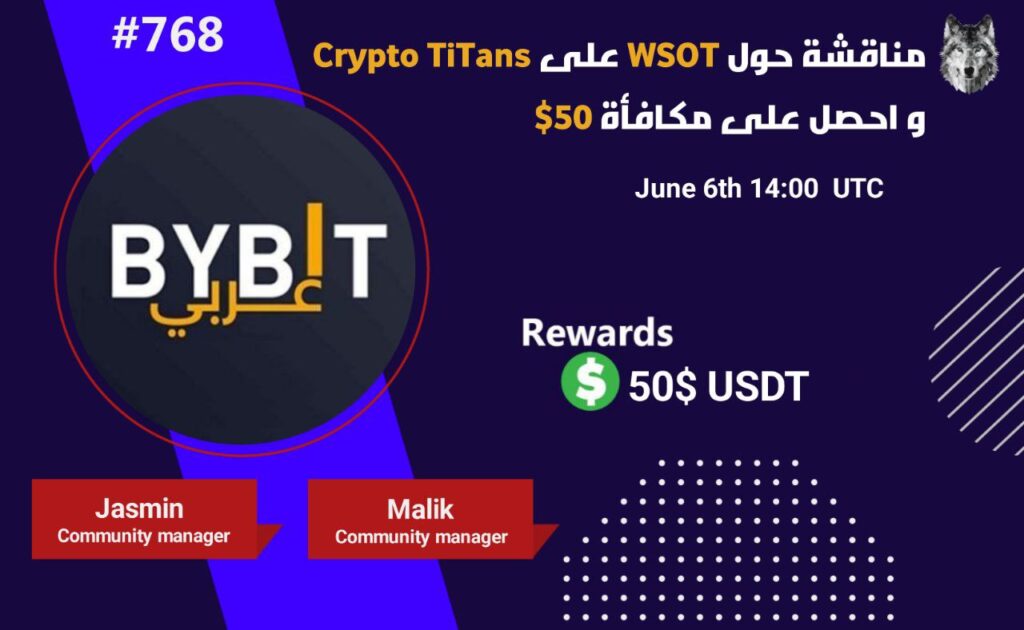 we hosted an amazing AMA with BYBIT on the 6th of June
And here we will put some of the best questions:
Q1. Can you first give us an overview about bybit exchange?
Jasmin:
.Established in March 2018, Bybit is one of the fastest growing cryptocurrency exchanges, with more than 3 million registered users. Built on customer-centric values, we endeavor to provide a professional, smart, intuitive and innovative online trading, mining and staking experience for retail and institutional clients around the world. The company is committed to creating a fair, transparent and efficient exchange environment, and offers 24/7 multilingual customer support to provide assistance in a timely manner. Bybit strives to be the most reliable exchange for the emerging digital asset class.
Q2. Bybit will run the world series of trading ( wsot ) can you give us more informations about it?
Malik:
WSOT, or World Series of Trading, is the world's largest crypto trading competition with a prize pool of up to 8,000,000 USDT. Registration will start on June 10, 2022 at 10AM UTC and continue until July 7, 2022 at 10AM UTC. Traders can participate in Squad Race, Solo Race and/or Speed Zone Loot for the Daily Lottery Lucky Draw.
Get ready and make sure to register first on the campaign page to win an early bird reward.
https://bybit.com/en-US/wsot2022
Q3. Is kyc verification required to participate in the wsot competition?
Jasmin:
Kyc isn't required to participate, everything users need to do is to meet the requirements mentioned in each type of event👌
Q4. When the competition will take place and what is its period?
Malik:
The competition will start June 22, 2022 at 10AM UTC and will end 17, 2022 at 10AM UTC
Q5. What will be the different type of events in this competition?
Jasmin:
There will be 3 events:
Squad race event
Solo race event
Speed zoon loot
Each event have its owen rules and prizes💯
Q6. Can you explain to us about each type of events?
Jasmin:
Solo race event: ranking will be based on individual spot trading volume in the supported pairs
Squad race event: this event will be for derivatives trading, you can choose to be a squad leader by forming an team of 10 traders or you can join any existent team and participate 🔘
Speed Zone Loot: for this event participants must complete tasks for the chance to win 500 $BIT everyday©️
Q7. What is the requirements users must meet to participate in the events?
Malik:
First all participants must register to the competition once the registrations is open, now here is an explanation for each event.
For solo race event there is no requirements users must just register to the competition and start trading.
For squad race event:
• Trader must have ≥ 500 USDT in their main account wallet
• Trader must join at least 1 squad
• Trader must meet any requirement set by their Squad Leader
For speed zone loot:
• Lottery — trader must meet at least $300 trading volume the previous day
• Lucky draw — trader must complete task for a chance to win lucky draw
Q8. As you mentioned the rewards for the competition will be 8 million dollars, can you explain to us how the rewards will be distributed?
Jasmin:
The 8,000,000 USDT prize pool will be allocated to the following competitions:
Total prize pool for Squad Race: Up to 6,000,000 USDT
Total prize pool for Solo Race: Up to 1,000,000 USDT
Total prize pool for Speed Zone Loot (Lottery and Lucky Draw): Up to 1,000,000 USDT
Q9. Is there any minimum trading volume participants must meet to be eligible for rewards?
Malik:
For squad race traders must conduct at least $30,000 in trading volume during the competition period.
In the event that a $30,000 trading volume hasn't been reached or a negative P&L is achieved, the trader will not be eligible for rewards.
For solo race is the same as above, and finally for speed zone loot its the same requirements for participation.
Q10. Finally can you tell us when the rewards will be distributed for the winners ?
Jasmin:
All rewards will be distributed after 15 working days, winners need to claim their rewards from the rewards hube.
And here we will put best questions from our members and BYBIT fans:
Q1. I want to participate in the competition as a squad leader but i found some difficulties to understand the process, can you tell how it works exactly?
Malik:
If you want to be a squad leader you just need to follow the steps mentioned in the article below:
https://blog.bybit.com/post/-wsot-2022-your-squad-leader-questions-answered–blt54609b8d46784728/
You can find the answer for all your questions by reading this article 👍
Q2. is all coins and trading pairs will be counted or there will be some limitations?
Jasmin:
That's a nice question
For solo race:
Alt L1: SOL, AVAX, FTM, NEAR, ATOM
Large Cap: BTC, ETH, XRP, LTC, XLM
Web3 & Meme: GMT, APE, SHIB, DOGE
For squad race:
Inverse Futures, USDC Options, USDC Perpetual, USDT Perpetual and Inverse Perpetual contracts of the following pairs: BTCUSD, ETHUSD, EOSUSD, XRPUSD, BITUSD, DOTUSD, ADAUSD, SOLUSD, MANAUSD and LTCUSD.
Q3. Can you elaborate more about the lucky draw and how it works exactly?
Malik:
There will be more than 16 chances to win prizes like DOGE, SHIB, Derivatives bonus, a 10x Current Asset Card, and NFTs like Mutant Ape Yacht Club.
Rewards will be distributed immediately, except for NFTs and the 10x Current Asset Card, which will be distributed 15 days after the event ends.
You can check the competition page here for more details
https://bybit.com/en-US/wsot2022
Q4. I want to participate in the Sol race event, can you tell me how much rewards will be allocated for each winner in this competition?
Jasmin:
I will explain to you
The 1,000,000 USDT will be subdivided as follows:
900,000 USDT for the top 5,000 traders with the highest Spot Trading volume
100,000 USDT for the top 30 users inviting the most friends who have completed their FTD. For the ranking, the FTD should be between 10AM UTC on June 10, 2022 to 10AM UTC on July 1, 2022.
Q5. What is the meaning of "Early bird" in the competition page and how we can get involved?
Malik:
It represent the prize that the first users who register to the competition will get
There are 2 ways to receive the early bird reward:
Traders must register within the first 48 hours (June 10, 2022 10:00AM UTC to June 12, 2022 10:00AM UTC) of the competition and finish KYC Lv. 1 to get a $10 bonus in BTC
Trading volume during the competition must exceed $10,000 to receive a $40 bonus in BTC
If a trader joins both Squad Race and Solo Race, the maximum early bird bonus they can receive is $50 in BTC. Rewards will be distributed on a first come, first served basis.
Please note that rewards will be distributed within 15 days after the end of the competition. You can claim your rewards in the Rewards Hub within the period mentioned above.
And this was the end of our AMA with BYBIT.
You can find us here:
Website :http://Bybit.com/
Telegram Community (Arabic) :https://t.me/BybitArabic
Telegram Community (English) :https://t.me/BybitEnglish
Twitter (Arabic) :https://twitter.com/BybitArabia
Twitter (English) :https://twitter.com/Bybit_Official
Discord :https://discord.com/invite/CeGhhS95fQ
Medium :https://medium.com/bybit
Reddit :https://www.reddit.com/r/Bybit/
Instagram :https://www.instagram.com/bybit_official/
Facebook :https://www.facebook.com/Bybit
Linkedln :https://www.linkedin.com/company/bybitexchange/
TikTok :https://www.tiktok.com/@bybit_official
YouTube :https://www.youtube.com/c/Bybit