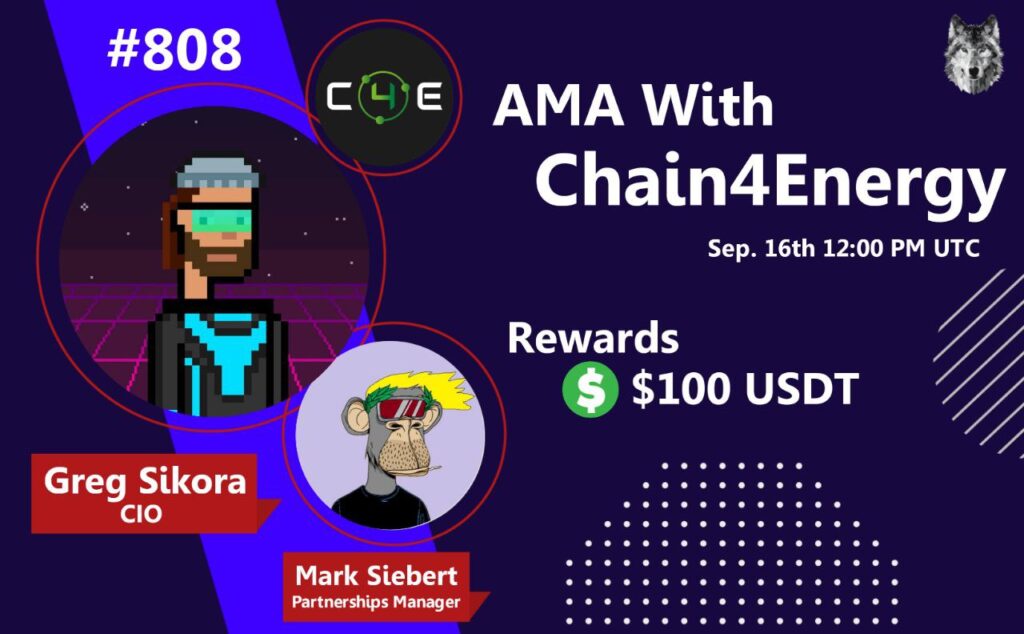 we hosted an amazing AMA with Chain4Energy on the 16th of September
And here we will put some of the best questions:
Q1. Can you please introduce yourselves?
To Jest Krypto:
Of course. Let me begin from myself
I'm Mark Siebert and I am responsible for partnerships at Chain4Energy.
I have been in the crypto industry since 2019 and I have collaborated with many crypto projects.
Personally, I believe that tokenization is the future, and in the case of C4E which connects blockchain tech with energy transfers and management.
I believe that the project has great potential for revolutionizing the world and making Electric Energy accessible to everyone.
GregSikora:
Hi, I'm Greg CIO, tokenomy and blockchain itself are my main focus in our project.
I'm a blockchain enthusiast with a strong TELCO expert background.
During my last 20 years of professional life, I have been involved in many challenging tasks mixing Business Development, pre-sales, Telecom Expert, and Project Manager knowhow and delivering the best values for T-Mobile, OVOO, and Chain4Energy. Responsible for local but also international projects. During the last 4 years continuously I have explored and extended my focus on the blockchain and crypto space.
Q2. What is Chain4Energy all about?
To Jest Krypto:
Well, that's a very good question. Let me get it from the beginning. Fasten your seatbelts and lets go 😉
Our mission is to build WEB3.0 Energy Marketplace, for the global energy sector
To remove obstacles and incentify deployment of RES and to accelerate the transition towards NET ZERO GOAL.
The achievement of net zero goal till 2050 is highly dependent on the speed of deployment of renewable energy sources like photovoltaic and wind turbines.
So to sum up and make it easier to understand – our project, Chain4Energy (C4E) is a global decentralized blockchain ecosystem and WEB 3.0 Energy Marketplace which enables institutions and individuals to seamlessly participate in the renewable energy market accessing and offering a wide range of renewable energy solutions and services.
We have built a solution that leverages the power of blockchain technology to enable the transition to the new decentralized energy world.
On the marketplace created by our project you can trade & supply the energy which origins from Green Energy sources. What is beautiful about it, is that both "normal people" and companies can participate and exchange energy.
And that our marketplace will use the C4E token (built on Cosmos chain) for in-platform transactions and as a part of the rewards system for the energy suppliers. Staking and farming will come as well, and we will also implement the DAO and Governance features.
I think that's in a very short, summarizing way about our project. Energy tokenization with energy marketplace, taking it all from the green energy sources
Q3. What are the advantages of your project?
GregSikora:
We are probably the first project in the world that tackles the Green Energy production & distribution issues in our approach.
We literally want to obliterate the Energy Poverty (Deficiencies) while enabling the tokenization of it.
let me explain what does it mean.
Energy poverty occurs when energy bills represent a high percentage of consumers' income, affecting their capacity to cover other expenses
Only in Europe, this problem affects 11% of the population. And probably will skyrocket during this winter.
Winter is coming 🙁
We are building with the $C4E token, which will have plenty of utilities, including:
Native token for transactions. Like other L1 you need C4E to pay for any transaction.
Handling core elements (marketplace trading, energy tokenization, energy transferring fees)
Staking & Farming
Energy Production Rewards – Yes we will reward you guys for green energy production
DAO with Governance
Last but not least.
Access to service – You have to stake tokens to have access to service. The more you use the more you need to stake.
Q4. What are your plans for the near future? (up to 1 year).
To Jest Krypto:
So, regarding our plans
Let's start from we have achieved so far. We have a Live product "Energy Marketplace" for the prosumer market (with commercial customers).
Right now we are running marketing campaigns & there are airdrops coming – we are focusing on growing our community & broadening our exposure.
And
At the end of the month we will be at the Cosmoverse Conference in Medellin in Colombia. Dominik, our CEO has a keynote, we are a Platinum sponsor of this event. We are part of ReFi Verse with other "green projects".
Regarding the airdrop – you can join it up even now as there are 1 Million of tokens available for the airdrop!
You can join the airdrop through the link here: https://gleam.io/dakII/chain4energy-greendrop-airdrop-contest
Our website is being remade. We will release the complete version of the Public Whitepaper and for the near future, we have planned the C4E Mainnet launch & TGE.
GregSikora:
Our CEO
To Jest Krypto:
What will follow in the future within the frame of one year are:
MVP Tokenization
Green energy production rewards
Start of staking Rewards
Introducing electromobility MVP
DAO & Governance
Q5. Do you want to stay local or will you go global? What is your view on the ultimate development of your project?
To Jest Krypto:
Our project aims to be global.
While at the beginning we will be focusing on European markets, where we have huuuge demand for such solutions.
Then we will expand to further places such as North & South America and Asian countries.
Speaking of getting global – do not forget to join our Social Media channels:
👉https://t.me/Chain4Energy_Official
👉https://twitter.com/Chain4Energy
And here we will put best questions from our members and Chain4Energy fans:
Q1. Only getting users, holders etc is not everything. In my opinion, a project needs to deal with solving a real world issue or problem What is the problem that your project primarily focuses on?
GregSikora:
I'll take it
We are at the beginning of the energy revolution.
In the next few years, the energy sector will change deeply;
there will be more distributed energy sources, millions of individual energy producers, millions of consumers, and ubiquitous electromobility.
C4E's blockchain solves the complexity of settlements of a more diversified and distributed energy market,
facilitates balancing and billing of the network,
providing a platform for the distributed market.
Do you feel it? This is real use case for Web 3.0 🙂
This will contribute to a significant reduction of the carbon footprint,
enabling a smooth and cost-effective transition to renewable energy sources (RES).
Q2. Trust is very important for any business, what makes investors, customers & users feel safe when working with your project?
To Jest Krypto:
First of all, our project already has the product and commercial customers. We launched Energy Marketplace in June this year.
Secondly, our team is full of experts in their own fields with years of expertise. You can read more about them in the team section on our website: https://c4e.io/
Thirdly, C4E originates from OVOO – telco company with over 10 years of activity on the market employing over 70 developers and delivering solutions to known companies such as T-Mobile, Deutsche Bank, Orange, PKOBP (the biggest Polish bank), Unifonic (middle east unicorn), Play etc.
And last but not least, the way the tokenomy was designed in our project – to build the token value by strong fundamentals & extensive utilities.
Q3. Token burn" is beneficial to any business in terms of regulating the number of tokens in circulation and offering greater incentives to investors. Is there a strategy in place for token burn in your amazing project?
GregSikora:
Guys I forgot to mention that OVOO has deployment in Lebanon Ogero (national operator). 💪
Regarding burn.
Yes, we have it as well.
We can burn a fraction of the transaction fee.
Similar mechanism to EIP-1559 known from Ethereum and adopted by other chains e.g. Polygon
We have two other cool value accrual mechanisms in our tokenomy
Buyback and providing liquidity. We will use the majority of income from the SaaS business to buy tokens at the market and add liquidity to LP at DEX.
Access to service. Businesses who want to decrease the operational cost need tokens to stake them and then they have a discount.
Q4. One of the most common issues is that most investors nowadays are just concerned with short-term gains and do not consider long-term rewards. Is it possible for you to give them some reasons why they should buy and hold #Chain4Energy tokens over time?
To Jest Krypto:
Okay, yes, and there are plenty of them
Strong fundamentals of our project. Backed by a real business, Live product with customers.
The rewards system, staking & farming.
DAO & Governance
By participating in the C4E ecosystem you change the world into a better and healthier place.
Token burns and other value accrual mechanisms
I think those are quite a few reasons 😉
Q5. What are the various products you are planning to launch on NEAR or @Chain4Energy will it be vanilla liquid staking?
To Jest Krypto:
First of all, staking is part of our project 😉
By-products and utilities, we have explained them earlier. Energy marketplace, energy transfers, wide token utilities.
There are plenty of them.
If you want to know more about us I invite you to check up on us regularly through our SM channels
Twitter: https://twitter.com/Chain4Energy
Telegram Group: https://t.me/Chain4Energy_Official
Telegram Announcements: https://t.me/chain4energy
Oh
And we also have a Discord server, haven't mentioned to you earlier 😉
Discord: https://discord.gg/chain4energy 😎
And don't forget about our ongoing neat airdrop! You can join it up here: https://gleam.io/dakII/chain4energy-greendrop-airdrop-contest
Q6. How we can became VALIDATORS in chain for energy and what will be the revenue?
To jest krypto:
In this case please contact @gregsikora on DM. We have a very interesting offer for the validators 😉
Q7. Is your project a community only for English speaking an countries or for users not of other languages ?
To Jest krypto:
We will have other language speaking communities. Right now we are at the stage of having english community, but more will come as well.
Q8. How can I see all the news and announcements about your project?
To Jest Krypto:
Please join our announcement channel here: https://t.me/chain4energy
And I also invite you to follow our Twitter account: https://twitter.com/Chain4Energy to stay up to date.
Q9. How can I buy your tokens right now and also which wallet support your token? Thanks answer my question?
To Jest Krypto:
We are just before the TGE. Our token will be on the Cosmos chain.
Q10. Partnership is always an important factor for every project. So who is your partner?
To Jest Krypto:
You can check out our current partners on our website: https://c4e.io/ more partnerships are on the way, especially crypto partnerships 😉
Okay, I think we have 5 questions already 😉
And this was the end of our AMA with Chain4Energy.
You can find us here:
Website :https://c4e.io/
Telegram community :https://t.me/Chain4Energy_Official
Telegram announcements :https://t.me/chain4energy
Twitter :https://twitter.com/Chain4Energy