we hosted an amazing AMA with Cloudname on the 24th november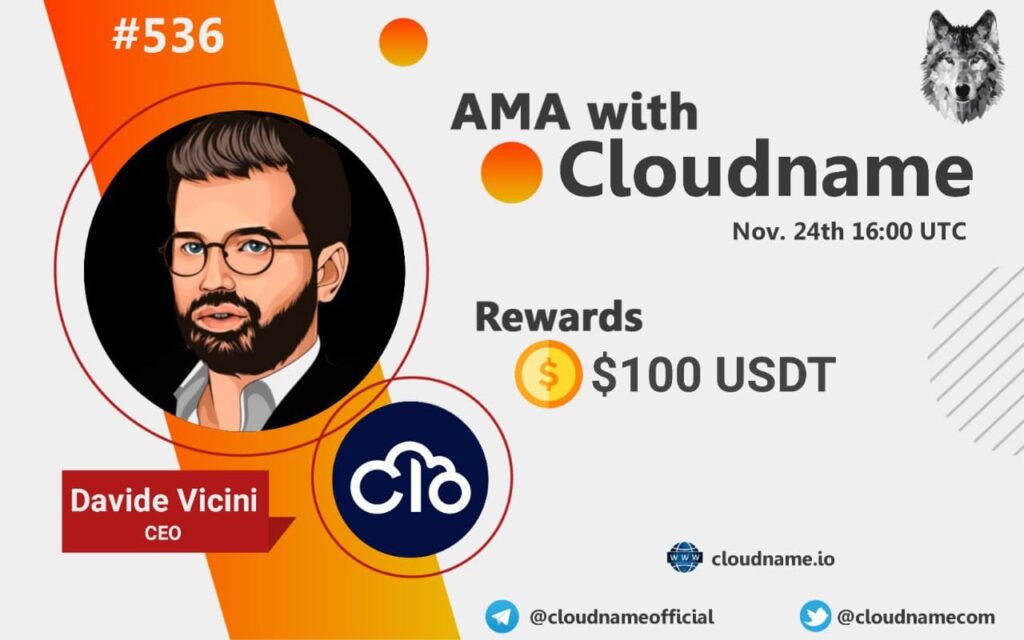 And here we will put some of the best questions:
Q1. Can you please introduce yourselves to our community ?
Davide : ⚠️ I'm Davide Vicini, CEO and co-founder of cloudname !
I come from Switzerland and in crypto since 2016 – someone perhaps knows Amun and 21Shares, I was there since beginning and now rocking with Cloudname ! ⚠️
Francesco : Francesco, co-founder. leading community and marketing efforts! looking forward to answer your questions here. Come from IBM, Digital Asset and ConsenSys and now Cloudname! Let's Rock!
Q2. Can you briefly tell us about Cloud Name project ?
Francesco : Super intro question!! We believe that names are the real estate of the metaverse. Each name point each of us around the web to enter different realities. Hence cloudname !!!
To us means that from now on everyone can bet / Trade / receive passive income / tokenise and have fun with traditional and web3 domain names !!
Q3. What are the advantages of Your project ?
Davide : Much more than we can currently see in the Domain market
With cloudname you can Tokenise domain name via NFT
Users can earn passive income from their domain names
Users can see all analytic for trading domain names
Users can register traditional and blockchain domain names
Users can trade Domains like there is no tomorrow !!
And remember that the platform is about to be launched in January !
Francesco :
here you see what we do compared to the competition
Q4 please tell us about the goal you want to achieve in this year!
Davide :
closing the private sale
expand marketing team (currently 4 people – into 12 people)
launching the platform in January
doing the public sale in January
🚀 🚀 🚀
Francesco :
Short answer building on the answer from @TheCryptoDave:
– Already developed MVP
– tested AI Algo
– IDO planned already with 2 exchanges, one is in the top 10 we all know
Q5 Every project has a story behind their name, Can you tell us more about the story behind this? Who are the team behind this project? can tell us their background?
Francesco :
We believe that names are the real estate of the metaverse. Each name point each of us around the web to enter different realities. Hence cloudname !!! To us means that from now on everyone can bet / Trade / receive passive income / tokenise and have fun with traditional and web3 domain names !!
And here we will put best questions from our members and Cloud Name fans:
Q1) At Cloudname you can access all the tools to tokenize your current domain portfolio using many of the major blockchains. But how can I tokenize a current real domain and take it to cyberspace to sell? Can you explain this process to us?
Davide :
Since we are authorised registrars, once you move your traditional domain in Cloudname you can easily choose the block Ian you want – decide in how many (1 or more) NFT you want to fractionalise your domain – from there Cloudname smart contracts do everything for you !
You will find your NFTs in you wallet ready to be traded
Francesco:
here is the tokenization slide for the visual people!
Q2) You mentioned that "Tokenized Domain Names allows multiple users to share its ownership". So how will be the partition of ownership? How can users share their ownership into another user? How will you ensure fairness in this multi ownership feature?
Davide :
So it's very easy, once price is settled, and many NFT of the same domain are created then users can trade or enjoy passive income on that domain
Imagine a domain worth 1m USD how much passive income it can generate ?
How many time will it be traded ?
If fractionalised everyone can join the most exclusive assets
A bit like participating to a fund that own a real estate
1 real estate = many owners
Q3) At CloudName, something that strikes me is that CloudName users can earn passively on the properties of their domains but could you explain me what are these ways to earn passive income? How many types of incentives can be developed from a domain?
Davide :
Sure!!
A Domain can earn from Renting, from Ads and from baring financed
Also Cloudname will create pools of domains with passive income – like ETF
in Cloudname users can also win domain with Domain lotteries !!! 🚀
Q4) For your roadmap I would like to ask What are your targets in 2021 and 2022 that you are focusing on? Will #CLOUDNAME enter the NFT industry in the future? Do you think of adding NFT to your next portfolio?
Francesco :
Sure. NFT is exactly one of our main vertical.
What we achieved and what are our next steps too (check roadmap)
– great team, coming from entrepreneurial background and fully crypto guys. We are growing the team as we speak, as of today we count 12 full time rockstars coming from NFT, 21Shares, Consensys, Digital Asset, IBM and traditional finance job
– Already developed MVP
– tested AI Algo
– IDO planned already with 2 exchanges, one is in the top 10 we all know
Btw here is the full roadmap
Q5) Can you list 1-3 killer features of Your Project that makes it ahead of its competitors? What is the competitive advantage your platform has that you feel most confident about?
Francesco :
So i think we build on the killer features but the real cool features is what CNAME (the token of cloudname) allow you to do:
– register traditional and blockchain domains anonymously and with crypto payment
– trade every domain instantly
– tokenise via NFT every domain without boundaries
– discover next market and semantic trends via our AI algos
– play lotteries with your domains
– receive Passive Income from domain investment
Francesco :
also, what if I told you 2 years ago to buy meta.com??
check this out
Q6) On Cloudname, there are 4 account levels, Noob, Rookie, Avenger, Ninja. Can you explain each offer for each of these levels? With each level, how much does the user need to pay to upgrade? Will the users permanently own the levels or do you just rent them out and pay each month?
Francesco :Hi Mansour, great question! Each level gives access to otherwise pay-to-use functionalities that i mentioned earlier! Check out this slide with more content on the levels!
Q7) 🌳Thanks to Cloudname, users can "beat" the market thanks to your predictive AI algorithms. How exactly do these algorithms of your platform work? How do they help us to maximize our profits?
Davide :
This is very good question!!
My thinking was "what if 10 years ago someone told me that the word Ethereum was going soooo mainstream and I could have bought defi.io ?"
We'll our Analytics and AI helps doing this !!
We built brains 🧠 behind our platform that helps users spotting semantic trends before they go hyped !! And so users can be recommended which domain to buy in order to sell them for much more !!!!
Q8) What is the importance of the community to your project? And how can we collaborate or help share the token for project development?
Community is the bricks of the house, we all know this being all in the decentralised world
Everyone can have a domain representing their wallet or their online shops or their startups so I really think we are all part of the Domain era !!!
Thanks for asking how we can collaborate together, we will start later on in November the first airdrop , and we would be very happy to consider Cryptotitans members for this!!
Also we are running a Ambassadors program which will lead the Ambassadors to receive tokens for their actions and to have for FREE the highest level in the Cloudname platform for the first 3 month !!!" Feel free to join the channel and let us know if you are interested!
Q9)Sir, Please provide more information on your ROADMAP. What are the most anticipated plans and events for the next few days and months that we should be aware of? Thanks Sir,🔥
Davide :
Super !!
platform launch JANUARY
PUBLIC SALE January
Stay tuned 🚀 🚀 🚀
For more info about roadmap check cloudname.io
Q10) Can you explain how is your Tokenomics Distribution? How many tokens Will be minted ? And How many tokens Will be locked by the team? Will it be less expensive or more expensive? Possible all links to all your social media platforms if possible?
Francesco:
sure, this is interesting! 380M token will be minted. Yes with a locking period and you can check our first pinned message for all the socials here in our channel but here for your interest:
👉 | Website|: https://www.cloudname.io
👉 |LinkedIn Page|: https://www.linkedin.com/company/cloud-name
👉 |Telegram|: https://t.me/cloudnameofficial
👉 |Twitter|: https://twitter.com/cloudnamecom
And this was the end of our AMA with CloudName.
If you have any other questions you can ask here:
https://t.me/cloudnameofficial
ℹ️ℹ️ Useful links ℹ️ℹ️
Website :- https://www.cloudname.io/
Medium :- https://medium.com/@cloudname
Twitter :- https://twitter.com/cloudnamecom