We hosted an amazing AMA with CoinFantasy on the 22nd of April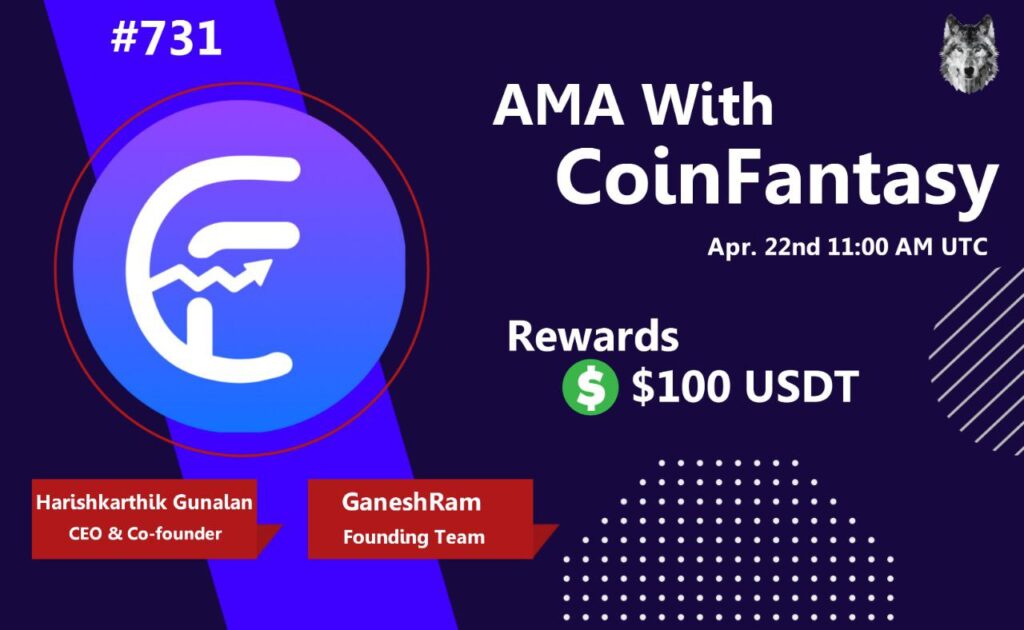 And here we will put some of the best questions:
Q1. Can you please introduce yourself as well as CoinFantasy?
This is Harishkarthik Gunalan, I am the Co-Founder & CEO of CoinFantasy. I have a master's degree from the University of Illinois at Urbana-Champaign. I have 9+ years of experience in the software industry and have worked in several Fortune 500 companies and overseen diverse teams at Sweden, UAE, USA and India. Besides, I have experience building several blockchain Dapps.
CoinFantasy is the World's first Play-2-Earn crypto fantasy trading game. It is a unique NO-LOSS gameplay in which users earn money just by playing more games on the platform
CoinFantasy aims to gamify crypto markets through our multiple categories of games, thus acting as a Layer-2 platform on top of the primary markets.
Q2. What are the advantages of Your project?
There are several advantages of using CoinFantasy, I would like to shortlist few advantages here:
Gamification of crypto – Trying to make crypto as fun
Risk free trading for users
Fantasy gaming Tournament to make it engaging
Play-2-Learn trading
Learn-2-Earn rewards
NFTs for exclusive access to financial hub in metaverse.
Q3. please tell us about the goal you want to achieve in this year.
Phase 1 roadmap:
• Beta game Launch
• Token Generation Event
• NFT minting / Marketplace
• Liquidity mining
• Metaverse beta launch
Phase 2 roadmap:
• Leaderboard
• Gamified Launchpad
• Token sets
• Social Trading
Q4. Every project has a story behind their name, Can you tell us more about the story behind this? Who are the team behind this project? can tell us their background?
We were observing that globally users were investing on crypto/stocks without understanding the financial implications.
The Robinhood saga with Doge coin is a perfect example in which users from the traditional space investing without understanding the volatility of the market that was our eureka moment for creating a platform in which users can get the exposure to the primary assets without any losses.
We believed that the perfect way to solve the problem would be to take the fantasy gaming route.
We are a team of more than 20+ members that are spread out globally. The development team and marketing team are from Canada, Singapore, Dubai and India. Our employees have previously worked at Fantom Foundation and Polygon. They come with deep experience in Blockchain Technology and Gaming.
Q5. NFT is one of the hottest and most sought-after topics in the blockchain space right now. Can you share your opinion on NFT with us? Do you think NFT will disrupt the current financial system? What is Your project's approach to the NFT sector?
Great question, NFTs are unique cryptographic tokens that exist on a blockchain and cannot be replicated. NFTs can help represent real-world items like artwork and real estate.
NFTs present a fundamental change to the way consumers buy and sell digital assets like music, purchasable content for video games, movies and more. And definitely NFTs would change the way we do banking in the coming years.
At Coinfantasy, as users level up in the platform, they will be able to mint unique NFTs that could used in game for additional points and also, exclusive access to the CoinFantasy financial hub on Metaverse.
And here we will put best questions from our members and CoinFantasy fans:
Q1. Many games today set high costs to start the game & therefore start with a small player base.Does #CoinFantasyIo require an entrance fee or starting conditions & if so,what are they? Do I need to hold an NFT or hold a certain amount of tokens in order to enjoy & play the game?
We are definitely a community driven project and we allow users to free to play games & win rewards at CoinFantasy.
Also holding NFTs to play the game is not a requirement to play the game but holding NFTs has unique advantages. Users will be able to get in-game benefits & exclusive NFTs for Metaverse access.
Q2. As a newbie to crypto and the gaming world, I sometimes have a hard time understanding how GameFi projects work. So, Is CoinFantasy suitable for Non-crypto players? Do you just want to attract experienced crypto players or can newbies like me participate too?
Great question, CoinFantasy is aims to take crypto to masses and it is open to everyone. Even users from the traditional space can play the game in 3 simple steps
Step 1: JOIN contest you wish to participate
Lockup the amount in CoinFantasy token to play (can unstake the tokens anytime after the game)
Step 2: SELECT a line up of crypto-stocks that would rise in value
Be very strategic to build the line up of crypto
Step 3: WIN real money by just playing the game
User with maximum points wins the game pool
So, there is no restriction for users from any domain/age-group. Anybody could participate in games at CoinFantasy.
Q3. I understand that Coin Fantasy is launching Early Access on Ethereum and Polygon network. will Coin Fantasy be connected to other blockchains such as BSC, and Solana? And what benefits can we get for being an early tester of Coin Fantasy?
We believe the future would be interoperable & a multi chain world. We are currently integrated to Polygon, Avalanche and Ethereum. In later phases, we would be expanding to other chains such as BSC & Solana.
Being an early tester/user, they will be eligible to receive huge rewards as part of the incentive mechanism. Subscribe in the website for early access 👀
Q4. You mention that player can "Win MEGA rewards by predicting the outcomes of your favourite coins". So is CoinFantasy basically a prediction game? Please provide some details on the games you are currently supporting. What type of games are you planning to add in the future?
Coinfantasy is not prediction a platform, we have taken the fantasy sports model in which users pick a portfolio & the best portfolio would be rewarded.
There are different categories of games at Coinfantasy:
Player vs Player
Player compete to outsmart their opponents to win rewards & level up
PvP based fantasy gaming where users compete & level up in the platform
Player vs Squad
Player join any game pool and compete against a group outsmart and win rewards
Several Championship/ Tournaments will be held from time to time that has huge prize rewards
Player vs house
Play against the House to level up & win rewards
Users can learn about the platform by playing against the house and win prizes.
Q5. CoinFantasy is designed to capture on-chain data of participating games, performance, user consistency & participating Game Pools with a "leaderboard" model how do leaderboards work? What are the disadvantages of being a bad actor on the platform?
In traditional fantasy football games, there is no difference between a user who has played 1 game or 100 games.
Being able to use on chain date of participating games, performance, user consistency & participating games, Coinfantasy will be able to enable to different incentive mechanism such as allowing exclusive games, defi elements such as lending, borrowing & insurance etc
But if you are bad actor, then the funds locked to create games would be penalized. Also, you will lose the ability to access credit, mint/sell NFTs etc.
Q6. Apart from having strong project team, VCs play key role in expediting the success of a project. Can you tell us some of your important backers or VCs?
These are some of our backers:
🤝 PARTNERS
👉 Polygon
👉 Avalanche
👉 Reef chain
👉 Frontier
👉 Lossless
👉 Unilend
👉 Biconomy
👉 Enjinstarter
👉 The Husl
👉 Phoenix DAO
👉 Strip Finance
👉 Pollinate
👉 Acknowledeger
👉 Poolz
👉 Polkalokr
👉 Ludena
👉 Trustpad
➕GRANTS
IndiDAO, Polygon and DARQ Labs
💰INVESTORS
Sandeep Nailwal (Co-Founder of Polygon), Avalanche Foundation, SL2 Capital, Cipholio Ventures, Poolz Ventures, Magnus Capital, Signal VC, Dutch Crypto Investors, Moonwhale Ventures, Maven Capital, Titan Ventures, New Tribe Capital, CSP DAO, Bluewheel Capital, ExtraWatts, Enjin starter, ZBS Capital & more.
Q7. Can you share your social media links so we can keep ourselves updated?
Sure these are the channels in which we are active.
Website: https://coinfantasy.io/
Twitter: https://twitter.com/CoinFantasyIo
Telegram: https://t.me/CoinFantasy1
Announcement Channel: https://t.me/CoinFantasy_ann
Instagram: https://www.instagram.com/coinfantasy.io
Medium: https://medium.com/coinfantasy
Discord: http://discord.gg/vPCCdj4QSH
LinkedIn: https://www.linkedin.com/company/coinfantasy
Youtube: https://www.youtube.com/channel/UCjG5uD_l-Wf1KffVZFKjcEA
Q8. Is your project a pojacet community only for English speaking an countries or for users not of other languages?
We are a global project. We support multiple language and currently we are active on TG in these languages – English, Spanish, Korean, Japanese & Vietnamese. Besides our game instruction will support these languages to enable users from different demographics to participate.
Q9. Do you have any plans to add Nft's to your ecosystem as this is the hottest topic in the crypto space?
Yes, we would allow users of the platform to mint NFTs of crypto tokens. These NFTs have utility in game & in metaverse. Also users will be able to sell these NFTs in the secondary market.
Q10. CoinFantasy brings a whole new concept here with the integration of Financial Markets into NFT Fantasy Games using blockchain as an enabler. Can you explain how this would work in the real sense? Who is your target user/market for this type of service?
Globally fantasy gaming is a $22.6 billion market & global derivatives is a $1T market.
Coin Fantasy aims to capture an untapped $100billion market of gamfying finance which comes at the conjunction of Fantasy gaming & Crypto.
Since there are no direct competitors in this space it gives a huge first-mover advantage to CoinFantasy.
Since the game play requires users to stake the tokens to play the game. This allows huge amount of tokens to be staked in the platform and automatically increasing the demand for the tokens.
Q11. Most users are looking for games with P2E functions as a new way to earn money. What is the attractive of "#CoinFantasyIo" about the money that can be earned by playing? How is the income generated, only by selling NFTs, or the game itself gives tokens while playing?
At Coinfantasy, users can do both as well as there are several incentive mechanism that rewards good actors in the platform through tokens, NFTs and Metaverse.
And this was the end of our AMA with CoinFantasy.
If you have any questions you can ask here:

Telegram Group: https://t.me/CoinFantasy1
ℹ️ℹ️ Useful Links ℹ️ℹ️
Website: https://coinfantasy.io/
Twitter: https://twitter.com/CoinFantasyIo
Announcement Channel: https://t.me/CoinFantasy_ann
Instagram: https://www.instagram.com/coinfantasy.io
Medium: https://medium.com/coinfantasy
Discord: http://discord.gg/vPCCdj4QSH
LinkedIn: https://www.linkedin.com/company/coinfantasy
Youtube: https://www.youtube.com/channel/UCjG5uD_l-Wf1KffVZFKjcEA