we hosted an amazing AMA with CRYPTONITE on the 14th of September
And here we will put some of the best questions:
Q1. Can you introduce yourselves to our community?
Hey guys how are we? Thank you for having us! We look forward to your questions 🙏🏼
We are Mathew Mettlow & Dan Hartley the founders of Cryptonite!!
We have both been in the BSC space for some time working on several successful projects…now it's our turn 💪🏼
We started this venture with the best intentions of a charity coin to help the rugged / scammed victims across the BSC space and it has evolved exponentially!!!
P2E game CRYPTO RUN (similar to temple run / space invaders)
NFT Platform coming soon!
Launching on Friday 17th September at 18:00 UTC with the BETA version of Crypto Run landing around launch!
Q2. Can you briefly tell us what is CRYPTONITE ?
Cryptonite is a superhero memecoin from Planet Crypton, heading down to Earth to save the BSC community from the victims of the ruggers and scammers of the BSC space 💚
We have a huge Rugg Pull Insurance wallet which will be given back those community members who have been a victime of a BSC scam! 🙏🏼
Q3. Let's now talk about the milestones you have achieved so far and about your upcoming plans?
Well, we have our website that is being updated every day!
3000 Twitter followers
6000 Telegram members
NFT platform almost
Our BETA game…CRYPTO RUN is 95% complete which will allow you guys to play and earn cryptonite tokens! 🚀💚
CRYPTO RUN is a mix between the most popular games ever played! (Space invaders / Temple Run) BUT you can earn Cryptonite tokens😉
Q4. Every project has a story behind their name, Can you tell us more about the story behind this? Who are the team behind this project? can tell us their background?
Well…Matt came to me with the idea of a charity token where we help out those people across the BSC space. We then went down the lines of creating Cryptonite…the meme puppy superhero! 💚🚀 And we linked it with a play on words from the film and comic books Superman!
Cryptonite is here to save the BSC community 🚀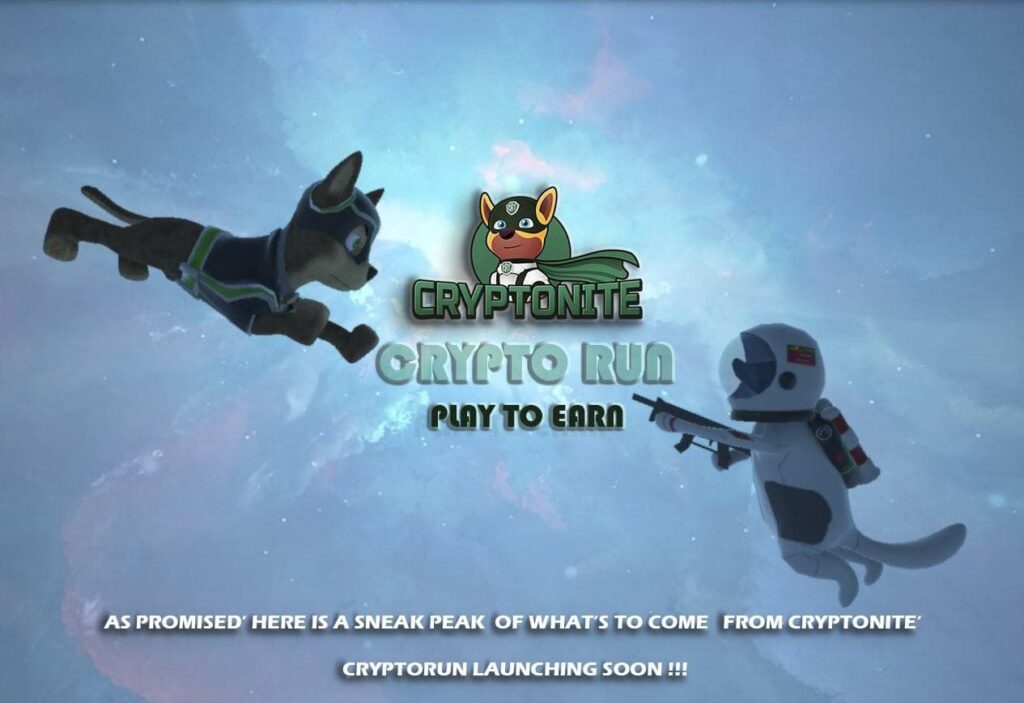 Q5. DeFi is one of the hottest and most sought-after topics in the blockchain space right now. Can you share your opinion on DeFi with us? Do you think DeFi will disrupt the current financial system? What is Polytrade Finance's approach to the DeFi sector?
I personally think that decentralised finance is the future. Takes people away from those horrible banks as those people are the BSC RUGGERS in the real world 👀👀👀
And here we will put best questions from our members and CRYPTONITE fans:
Q1) I wonder if the CRYPTONITE platform is specifically for gamers? What about non-gamer users? Can they still generate income even without playing your game? If so, what are the other possible ways?
I personally am NOT a gamer, Matt on the other hand is! And we feel the market gap for an old scholl style game where even our children can play will have a HUGE impact on the market. We will have a simple token collection platform once you have become successful at earning Cryptonite tokens ON CryptoRUN 🚀
Q2) While you build your project, do you take into account community feedbacks and demands?While you build your project, do you take into account community feedbacks and demands?
Yes we are a community driven token, this was our main goal from the start. This again is something that is missed across the BSC space massively 💚 ALL SUGGESTIONS will be taken on board and given to community votes
Q3) As we all know, #Cryptonite is a play-to-earn game, but every play-to-earn game demands a huge initial deposit before users can begin playing. As a result, I'm curious if users will be required to make an initial deposit in order to begin playing #Cryptonite games?
There is no deposit to play the game 😍 CRYPTONITE will be 100% FREE to play and EARN
Free download on iOS & Android 🚀
Q4) I see you are currently developing your game called "Cryptonite Game". Can you give us a little context about this game will be? Will it be a Play-to-Earn type of game? What is the concept of the game itself and where can we play it?
We are currently 95% ready for our BETA version which will be ready for launch! The idea of the game is to earn tokens whilst flying through space, ZAPPING those nasty raccon ruggers who are out to scam you alongside dodging those difficulties of space travel 👩🏼‍🚀
Q5) Cryptonite has a total supply of 1,000,000,000,000,000. We know that these high supplies if you don't have a buyback or burn model, the token devalues and loses its attractiveness. So what will the Kryptonite team do to make their token profitable and attractive in the long run?
Yes we burn tokens at every milestone, different burns for different occasions 🔥
Q6) Can you share to us your tokenomics ? How much is the total and circulation supply of your tokens? Will there be buy back system or token burning in the future ?
Yes our total supply is 1.000.000.000.000.000.
Buy tax: 7% 💥
├ 3% founders
└ 4% marketing
Sell tax: 13% 💥
├ 6% rug pull insurance
├ 4% marketing
└ 3% reflections
There will be burns 🔥 every milestone
And also a stealth 🥷 buy backs
Q7) NFT is really a hot topic in the cryptocurrency market now. So how is your project planning to develop NFT then how is your project planning to integrate it with DeFi?
Our NFT platform is currently being integrated with our website! So that the user can buy, sell and auction 💚
Yes 100% as we grow we will need more help, espeically when it comes to helping out the community members who have been rugged across the space 💚
Q8) What was your motive behind making your project?
Our motive has been to help out the BSC community like no other project has before. Imagine being rugged form a WL sale, and coming over to Cryptonite and we refund you your lost BNB…we will have certain terms and conditions of course which will help our project grow 💚
Q9) Staking programme is very important for any project, Can i stake your token? Do you have any plan of starting staking programme?
Wow what an amazing question!! We have saved this as we have so much planned for Cryptonites Launch, this will 100% be something we look at in the future 😍💚
Q10) Do you have a AUDIT certificates ? or, are you working to AUDIT your project, to make it more secure and reliable?? ?
Yes of course!! we are currently looking for a pre launch contract audit and a post launch contract audit 🙏🏼
We feel this will help for security 🔒
And this was the end of our AMA with CRYPTONITE.
If you have any other questions you can ask here:
ℹ️ℹ️ Useful links ℹ️ℹ️
Website :- http://www.cryptoniterelief.com/
Twitter :- https://twitter.com/cryptonite_crt