We hosted an amazing AMA with CSOV Token on the 3rd of May.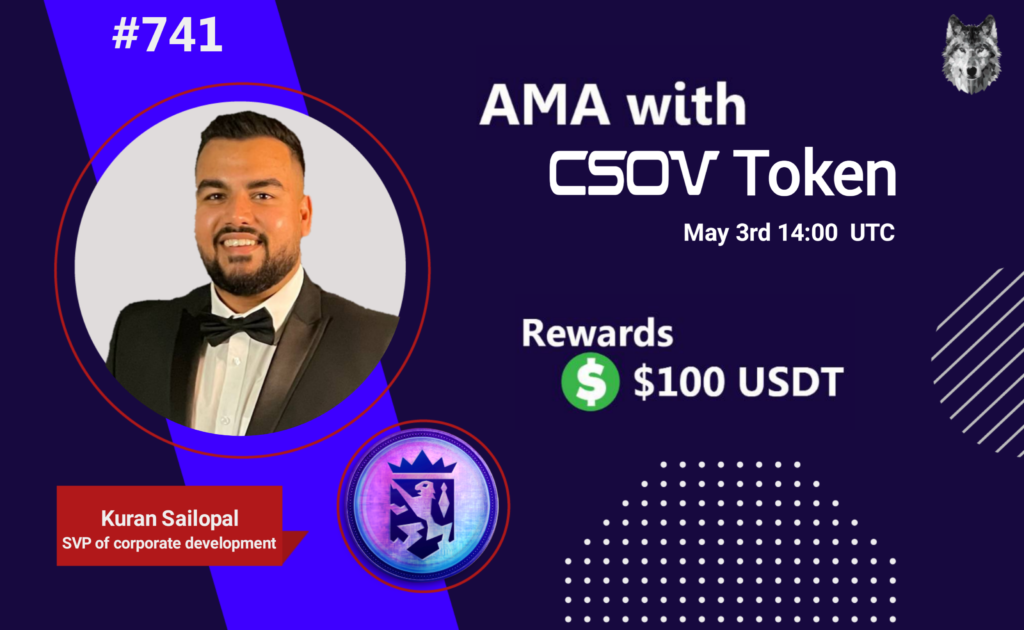 And here we will put some of the best questions:
Q1. Can you please introduce yourself as well as CSOV Token?
My name is Kuran Sailopal. I am the Senior Vice-President of Corporate Development at Crown Sterling. I have actively been working in space for 3 years, primarily leading business development for leading exchanges such as FMFW.io (formerly Bitcoin.com Exchange). Most recently I have been travelling the world advocating global adoption of crypto on all fronts, working on everything from ecosystem growth to launch strategies.
Crown Sterling's mission is to enable individuals to claim, protect and control their personal data, ushering in a new paradigm of Personal Data Sovereignty. From quantum-proof encryption products to a novel blockchain-enabled and tokenized ecosystem, Crown Sterling is transforming digital security with its non-integer-based algorithms that leverage machine learning and irrational numbers. You can find our website at Crownsterling.io
Q2. What are the advantages of Your project?
I think our greatest strength as a team is our ability to think outside the box. We are highly creative and adaptive with a keen desire to serve the needs of our customers. We have decades of experience within our dynamic team from corporate veterans to the brightest minds in blockchain technology.
I believe that leveraging our marketing experience in other industries grants us a unique competitive edge within the blockchain industry.
Another advantage of our project is the strength of our core technology, from revolutionary quantum proof encryption on blockchain to novel data compression technology. With the strategic partners we have in stall, I firmly believe our technology will serve as a basis for Web 3.0.
Q3. please tell us about the goal you want to achieve in this year.
Our platform will roll out both Web and Mobile applications, creating a seamless user experience to access Crown Sterling's novel product suite.
We will launch our very own crypto debit card, allowing token holders to use CSOV for purchases globally.
We will be demonstrating our novel Data (Mathematical) Compression later this year. We already have this for key compression, and we are now expanding on its foundation to include data/message text for all types of data. Given that the world spends almost 20% of the energy on data storage and related activities, we think this could have a huge impact on the planet while also decentralizing data storage for all. This is a critical aspect of our Personal Data Sovereignty mission.
We will launch a separate "Gateway" App called the BFN Calculator by Crown Sterling. Last year, we created the largest number calculator (mathematics) that performs all equations in constant time (effectively no latency whatsoever).
So much in stall this year!
I know this is a long answer, let's give the community a few minutes to read that.
Q4. Every project has a story behind their name, Can you tell us more about the story behind this? Who are the team behind this project? can tell us their background?
This all starts with our founder Robert Grant who is a polymath and truly one of the brightest minds in the world right now – Crown Sterling's CEO. He has a diverse background and career, having lived in nine countries and learned several languages. He spent most of his career in healthcare, but has always had a very strong interest in mathematics, geometry and physics. He recently authored the best selling book PHILOMATH (The Unification of Science and Art Through Number).
You can find more information regarding his previous project success on https://www.linkedin.com/in/rgrant888/ and more about him personally on www.RobertEdwardGrant.com
He also has a TV show just launched called the CodeX available on Gaia TV https://www.gaia.com/lp/codex?utm_source=ambassador&utm_medium=regrant&utm_campaign=tr-codex-s1-english&utm_content=codexlp&utm_term=&ch=tr
The White House announced recently that every branch must be on quantum-resistant encryption within six months. That decision says a lot!! We believe this vulnerability from quantum-computing advancement is a real issue!!! https://www.whitehouse.gov/briefing-room/presidential-actions/2022/01/19/memorandum-on-improving-the-cybersecurity-of-national-security-department-of-defense-and-intelligence-community-systems/
There is a SOLUTION – and it is geometric. A prime number prediction pattern discovered and published by our founder Robert Grant and colleague Talal Ghannam PhD in 2018/2019, led our founder Robert Grant to look deeper into the risk of quantum computing, as well as the geometric approaches to face it head on. https://www.prnewswire.com/news-releases/strathspey-crown-founder-publishes-first-infinite-prime-number-prediction-methodology-300816782.html
This paper was just the beginning of our founder Robert Grant's work exploring mathematically-based solutions to information-theory related challenges like cryptography and compression.
His most recent paper "A Novel Geometric Model of Natural Spirals Base on Right Triangle Polygonal Modular Formations," sets a foundation for a new perspective of elliptic curve analysis and its relation to polygonal modularity. https://www.crownsterling.io/newsroom/crown-sterling-limited-llc-founder-publishes-novel-geometric-model-of-natural-spirals/
Q5. NFT is one of the hottest and most sought-after topics in the blockchain space right now. Can you share your opinion on NFT with us? Do you think NFT will disrupt the current financial system? What is Your project's approach to the NFT sector?
We aim to change that through our Quantum Resistant encryption and novel compression technologies that will allow consumers to CLAIM, PROTECT, CONTROL and/or MONETIZE their data in the format of NFTs.
Data is now the largest asset category in the world. Though data is infinite, its value has outstripped all other asset categories in the world since 2018. But it isn't really the data by itself that is so valuable, rather it is the control of that data that has been tightly held by only a handful of Big Tech companies.
Next year, we will expand our Crown Sterling App to encrypt all your data and even geo location, search history and purchase history so that users can easily turn their data into salable NFTs.
While our NFTs will be able to be sold on many different exchange platforms, we will also establish our own NFT Exchange to make a market for the most valuable asset category in the world: Data.
This is Truly revolutionary! Data Sovereignty sits at the core of everything we do at Crown Sterling. We stand firmly for Freedom of speech and ushering a new paradigm of personal data soverigenty. Hence the name of our token Crown SOVEREIGN! We wanted our token to represent our grand vision and the role it plays in our ecosystem is crucial to achieving personal data sovereignty for individuals gloablly!
https://finance.yahoo.com/news/crown-sterling-adds-first-amendment-150000377.html?guccounter=1&guce_referrer=aHR0cHM6Ly93d3cuZ29vZ2xlLmNvbS8&guce_referrer_sig=AQAAACc1jYtQqmV2sR0DwNera_jqTIV60ycNaSJfR9O5k5PHggaLny1hfeeThxMOBhRE-wUyLoPZmtOBuFtbWM5ja0YY45Yz3hOf_EyWadMPPUfnyzTzDx-mJjoiWcL93yTjuCmCgsGnXwhbMr5ctZahNwi3ep9-h_Qnf46lwtrgN-2B
Q6. Where can I buy your $CSOV tokens now What is your current contract and how can I buy them? Will you have any other DeFI feature like staking, framing or NFT in the future?
You can find the exchanges to buy our token on https://csov.crownsterling.io/csov. OUr wrapped token (WCSOV) will soon be on decentralised exchanges such Uniswap very soon, you can currently purchase this on bitmart https://www.bitmart.com/trade/en?symbol=WCSOV_USDT&layout=basic, We also have a private sale running for any VC's who are interested.
We will be launching Staking rewards once we roll out our Node validator programme that will allow users to earn rewards on staked CSOV! There is honestly so much to come! We like build first then market after, I can assure you our technology that is derived from new discoveries is nothing short of revolutionary. We also are bringing a seamless user experience that this industry has been craving. With ease of access and simplicity at the heart of our user expereince alongside further utility of being able to use your CSOV for purchases via our debit card.
Q7. Can I access the Crown Sterling Encryption tool with WCSOV? Is there a limit to how many CSOVs can be exchanged?
To increase cross-chain compatibility and accessibility of CSOV and quantum-proof products, we launched an ERC-20 token last month. Trading pairs available are WCSOV/USDT and WCSOV/ETH. The wrapped CSOV token (WCSOV) is pegged at a 1:1 ratio through a smart contract on Ethereum. Available on BitMart; users can purchase and trade WCSOV, which can be later swapped into native CSOV to access Crown Sterling's quantum-resistant encryption and compression products and services suite.
We will be releasing a swap functionality between CSOV and WCSOV very soon. This creates ease of access for users from the decentralized ecosystem to access CSOV's novel product suite.
Q8. Trust is very important in business, what makes investors, customers and users feel safe when working with your project?
We pride ourselves in providing industry leading Customer support. We deal with all customer support requests dilligently and in a timely manner, this is very uncommon in the crypto industry which can often leave users feeling unvalued and lost. Scaling quality customer care is at the forefront of our growth strategy which we will endeveour in the coming months. Through our Founding team We have proven business success accross an array of industries using disruptive technology which makes all our community feel safe. It's the unprecendated level of expertise, dilligence and execution in a timely manner that instills trust. We are on track to deliver on major milestones in the coming month. With a revolutionary Quantum proof product offering, a growing community and ecosystem, I am truly elated to be part of such a journey!
And this was the end of our AMA with CSOV Token.
If you have any questions you can ask here:
Telegram Group: https://t.me/csov_crownsterling_chat
ℹ️ℹ️ Useful Links ℹ️ℹ️