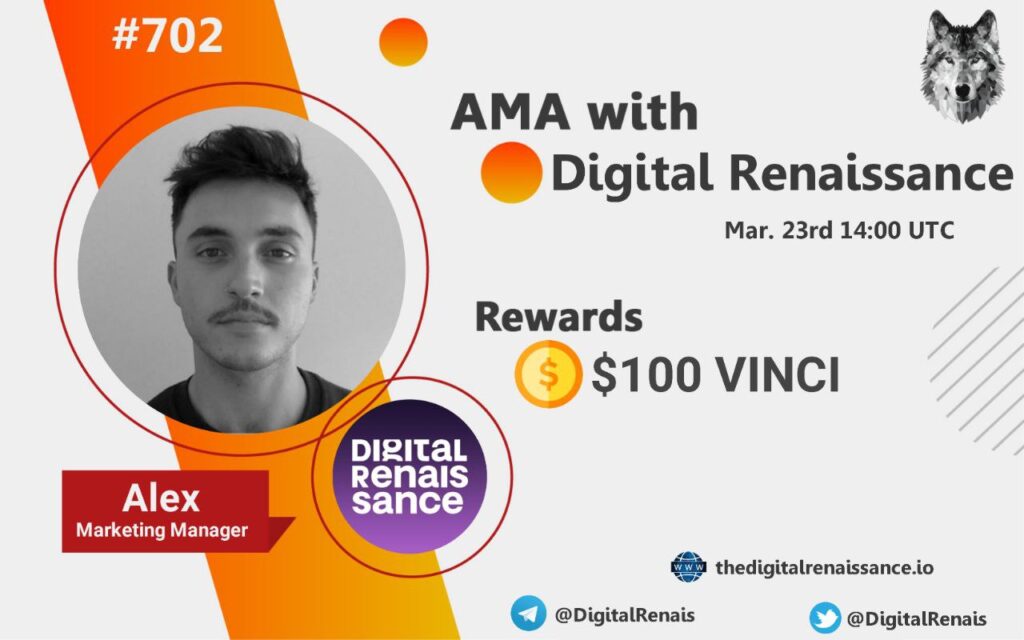 We hosted an amazing AMA with Digital Renaissance on the 23rd of March.
And here we will put some of the best questions:
Q1. Can you please introduce yourself as well as Digital Renaissance?
Of course. So my name is Alex, I am the project/marketing manager here https://t.me/DigitalRenais . Several years of experience in management, marketing, music and events. In a normal scenario of our execs wouldd be taking the lead in these AMA's.
But, considering they're quite busy setting up for our first official physical Digital Renaissance event, i'm stepping for this session 🙂 Let me just show a quick detail on the event that's taking place tomorrow 🙂 More info can be found here: https://t.me/DigitalRenais
Nevertheless, allow me to first give a brief overview of what DigitalRenaissance is, then I can introduce the management team one by one.
So, about Digital Renaissance? At the forefront, we are an NFT marketplace that solves issues we have seen in the current creative industry. I'm sure we can dive into details as this AMA continues, but in short, we are focusing on NFT utilities, platform integrity and blockchain compatibility.
With this, we are allowing fans to own a piece of their favorite artists through royalties, artwork and much, much more. Exploring and expanding on the boundaries of what is possible with music experiences and blockchain/NFT technology. As mentioned our flagship product is the NFT marketplace, but more details will be discussed throughout the AMA.
Here, i'd like to send some screenshots from our website of our executives, for the rest of the team and advisors you can find them on our website (www.thedigitalrenaissance.io). You'll notice that we're powered by a core team that is fundamentally focused in culture and tech: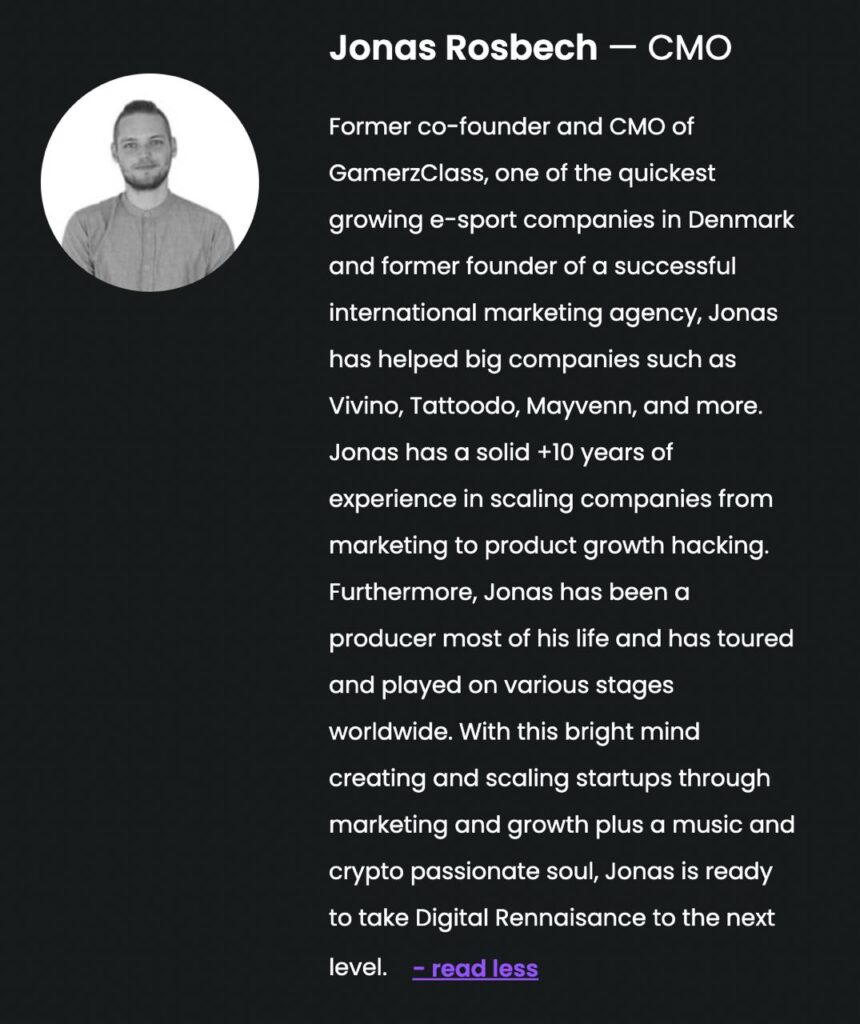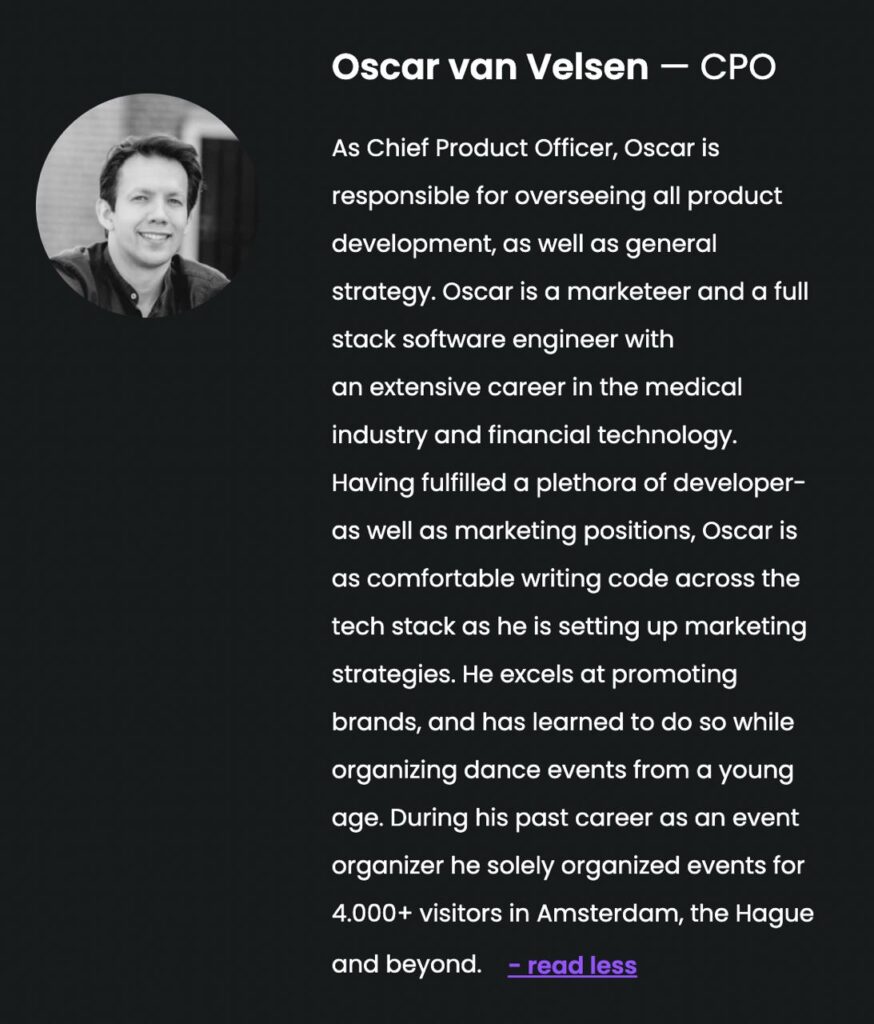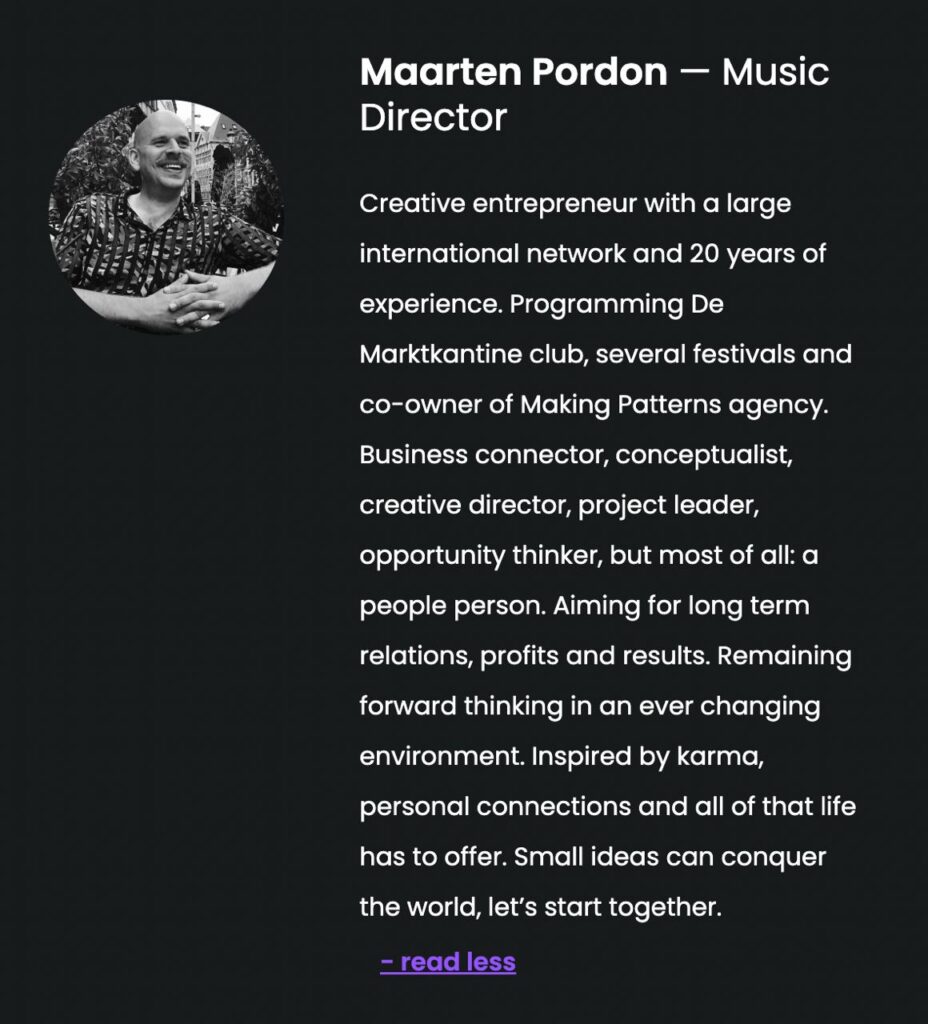 Oh also, let's spice it a bit up here. I will give out 1.000 VINCI (airdropped just before listing) to a random person that joins our Telegram chat in the next 15 minutes: https://t.me/+Mq_tVeg6RnBiMmU8. Here you will also be able to see our community activities and announcements we have such as our first event tomorrow :p
Q2. What are the advantages of Your project?
Sure. Let me just say that we are confident in the fact that the current NFT market is broken. It contains too many NFTs that at their core have no value. Too many outsiders, NFTs now even represent valueless, "rare", but ultimately useless tokens. We are here to change that. Token utility, is what we will bring and will be our main advantage.
Our royalty NFTs (ARX), our Unlockable feature, and using NFTs as tickets to go to real-world events, are the top 3 utilities in our NFTs. Other than that we also feel like our platform is unique and solves problems currently faced by industry leaders. No more forgeries, no more NFT scams, no more low quality. We invest in our curation team, in our branding, in the ability to create your own space on our platform to integrate your business with. We have the tech, and the culture. Hence the name VINCI as well.
There are foure aspects in which we will improve upon existing projects: Token utility, platform integrity, seller visibility and blockchain compatibility. I guess, I should dive into each of these.
Most critical part of token utility is that we can provide real value, instead of hoping "rarirty" and speculation can boost the price. First of all, it should be possible to not only add a JPG to the token, but also add other media and file formats. Then we combine it with one or more of the following four utilities: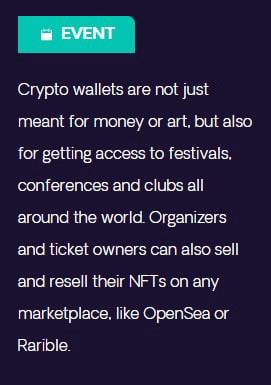 Platform integrity means we actually make sure there are no forgeries on our platform. We do curation and have direct and constant contact with every seller. Seller visibility is talking about the issue that if you go to big marketplaces, your art will be part of millions. Like a drop in the ocean. We offer a more exclusive and premium environment. Users can have their own NFT profile, where they showcase their NFTs to others. RIght now, this can be a big problem for collectors: How will people see what NFTs you have? Especially when they have additional utility added to them.
Our platform also allows you to turn your profile, into its own marketplace, with custom URL, like the Shopify of NFT Marketplaces. You can have your own platform. Lastly blockchain compatibility. We feel like NFTs should not be limited to a single blockchain. And they should be transferrable, that is why we will bridge to every single major blockchain in the future.
These are the main advantages we will bring out to the market.
Q3. please tell us about the goal you want to achieve in this year.
I think this would be best described with a picture of our Roadmap. One second let me pull it out.
But in sum our goals are:
– organize music festivals
– organize blockchain events
– revolutionize NFT and blockchain technology
– connect the real world to blockchain through our mobile app
– create many new ways for artists to generate income
In essense, add as much utility as possible to our native token and the NFT's that are purchased with it, so that we can provide the above mentioned.
If you guys, are feeling the direction we're going in we also have an ongoing pre-sale taking place over here: https://thedigitalrenaissance.io/vinci/ukWwfAJ76eJZdXBzo5yMf
Q4. Every project has a story behind their name, Can you tell us more about the story behind this? Who are the team behind this project? can tell us their background?
Sure, so as mentioned we are fundamentally deep in both, tech and culture. Our name was inspired by Tech and Art revolutionary,
Leonardo Da Vinci. Leonardo da Vinci was a visionary, a tech enthusiast and an artist. We want to position ourselves in the market across all these areas. Our project's name is Digital Renaissance because we are working day and night to create the next wave in art, tech and music revolutions. We see ourselves as the new revolution. Also, he represented exactly this spirit. Da Vinci, was a tech visionary and an artist- a "man ahead of his time" and that some of his visionary inventions weren't to be realised for centuries. It seemed more than appropriate to name our project and token after him 🙂
I've already briefed on our team. As mentioned our core backgrounds are based on tech, culture and music. Hence, the above answer as well 🙂 For more info on our team you can find here: https://thedigitalrenaissance.io/
A REMINDER: I will give out 1.000 VINCI (airdropped just before listing) to a random person that joins our Telegram chat in the next 15 minutes: https://t.me/+Mq_tVeg6RnBiMmU8.
Join the pre-sale, join the revolution : https://thedigitalrenaissance.io/vinci/ukWwfAJ76eJZdXBzo5yMf 🔥
Q5. NFT is one of the hottest and most sought-after topics in the blockchain space right now. Can you share your opinion on NFT with us? Do you think NFT will disrupt the current financial system? What is Your project's approach to the NFT sector?
I think a lot of people are misunderstanding NFT's thanks to the large collection of useless JPEG's that are around on all the major NFT platforms.
Currently, they're extremely hyped and there is a lot of speculation that a bubble will pop. In some regard, this is true and 95% of these NFT's will not remain anymore.
The one's that will stand are the one's that have a long-lasting form of utility.
I believe given the technology behind NFTs, we are seeing a completely newway of transacting, that will a 100% change the way we do business and hence, disrupt the financial systems we know today.
Any service or product has the capability to be turned into an NFT and have physical and digital use-cases.
The main feature about NFTs is the proof of ownership. But, with this proof of ownership we are able to do so much more, thanks to the smart contracts that can be programmed in NFTs.
And to ring this in to our concept, Digital Renaissance, this is why we our prioritizing providing as much utility as possible, because we want to be at the forefront of this new way of transacting. Particularly in the creative industry.
And we will put best questions from our members and Digital Renaissance fans:
Q1. Not all NFTs offered in the marketplace are valuable, so how does Digital Renaissance ensure that the NFTs produced, published and traded on its platform are valuable and successful? What strategies will be used to make it competitive in this market?
So, I touched on this before but, we believe the biggest difference is that we're providing as much utility as we can, both physically and digitally.
There are 4 units we will focus on, namely; artists royalties (ARX), physical and digital events (first physical), unlockables, and physical earnings. Think of it this way, you purchase an NFT from your favourite artists. Let's call him Drake.
Drake sells 5000 exclusive NFT's on our platform for 3000 VINCI floor price. Users who purchase this NFT from our platform will be able to receive fractionalized royalty fees from the songs that are earning fees, contracted in these NFT's. In this sense you are earning also by supporting the artist you believe in. If you purchased the track as the NFT, and the track becomes a worldwide hit, you have made gains by investing in and owning a part of the song and earning royalties in the song. That's one utility.
The next is events. Say the NFT you purchased has a feature where you are able to attend life-time all of the events from Drake because you purchased this NFT and with that there are unlockable features to do a meet-and-greet or do a collaboration, or manage part of the creative work. The options are limitless.
There's also physical unlockable features that can be added as well, where upon purchasing Drake's NFT's you can get a limited edition album or merchandise. It could literally be any added value. These are the types of strategies we're putting in place to ensure a successful and valuable output.
Q2. NFT games are becoming more and more common in our environment, but many of them are dying due to the lack of a profitable economic model. What has been the economic structure you have developed to make it a profitable game in the long term? How will you keep users incentivized?
So, first of all, we are not an NFT game. We are focusing on the cultural sector, starting off with music and then other facets such as design, visual and arts. But to answer the question in a broader term, we are actually implementing a feature of artist pools. One second let me take a section from our white paper (https://thedigitalrenaissance.io/digital-renaissance-whitepaper.pdf) to show you what I mean.
Users are incentived once again, based on the utilities we will be providing both on the VINCI token and the NFTs artists will create on our platform.
Q3. After checking the website, #DigitalRenais vision & Mission is good. But it needs a large user traffic to be sustainable over time. What is your marketing strategy to increase the validity of your project brand? Are you planning a strategic partnership to level up your project?
Yes, definitely. We're right now partnering up with the best of the best in various areas to spread the word and increase mass awareness. For example COPUS, the well known PR agency, already have had us featured in various music and finance newspapers around Scandinavia and it's just going up from here. We've also partnered with various influencer agencies in the crypto, but also mass media space.
We're also hosting one of the largest NFT art contests known to the space. Anyone can participate. It will have a total of $55,000 dollars worth of rewards.
More details on our website and here : https://thedigitalrenaissance.io/artcontest 🙂
https://thedigitalrenaissance.io/artcontest 🔥
REMINDER 😉 : I will give out 1.000 VINCI (airdropped just before listing) to a random person that joins our Telegram chat in the next 15 minutes: https://t.me/DigitalRenais
Q4. The NFT creation engines that are currently on the market are very good but some of them have compatibility problems for multiple blockchains, does Digital Renaissance NFT creation engine support multiple blockchains or is it only compatible with a specific one?
Yeah good and simple question 🙂 So, we started off in Polygon for cheap transaction fees and now we are bridging with Binance Smart Chain and Ethereum. As mentioned previously, the aim will be to expand to all major blockchain networks so that we can provide accessibility to a maximum capacity.
Q5. Users can trade and sell their NFTs for profit in Digital Renaissance ? It be Auction model only or it would also integrate buy and sell? Can you elaborate on whichever NFT trading model you would adopt, transaction fee and how the price of the NFTs are determined?
Sure, So, in the future users will be able to trade on our platform and with this, auctioning will also be possible. For our first series of NFT drops it's important for us to keep the drops accessible while maximising benefit for the artist so prices of NFT's won't be overwhelming. As mentioned, we are on polygon so the tx-fees are very low.
Q6. Audit is important for both trust and security. Have you done any audit of smart contract. Nice project?
Agreed. Currently we are using Solidity Finance and Gnosis Safe. More details can be found over here: https://solidity.finance/audits/Vinci/
Q7. Partnership is always an important factor for every project. So who your partner? What are the benefits you get from those relationships?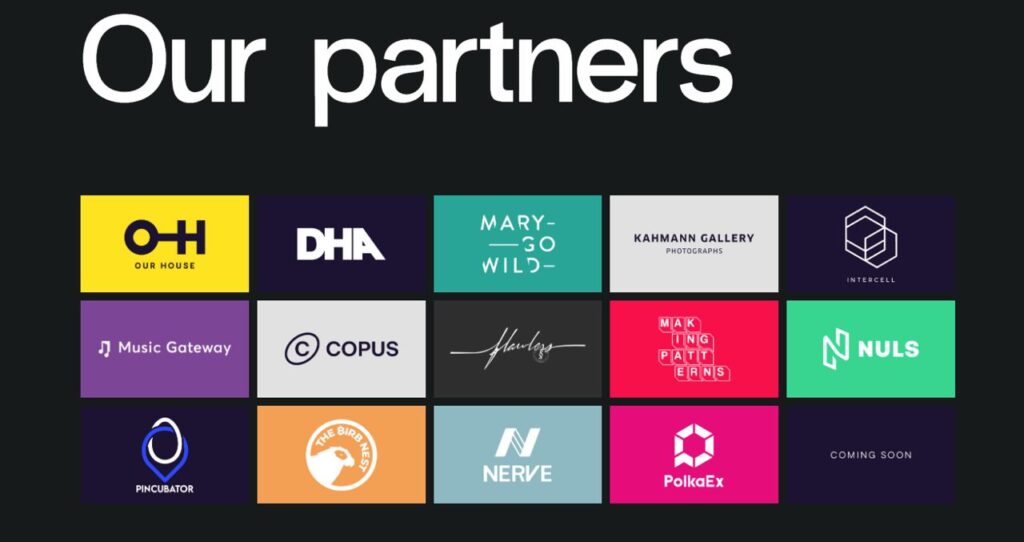 https://thedigitalrenaissance.io/ We are very thankful, for the position we're in. Thanks to our partners, we've been able to push ourselves further out to the masses and without their resources we wouldn't be where we are now. I would strongly suggest to read up about our relationships with them on our website. Very good reads!
Q8. Can you explain how is your Tokenomics Distribution? How many Tokens Will be minted? And How many Tokens Will be locked by the Team?
The tokenomics section from our whitepaper: https://thedigitalrenaissance.io/digital-renaissance-whitepaper.pdf
As you'll notice on page 22, we're now on our Bravo round of Token sales. Each raise succesfully sold out.
Q9. Are you a global project or local project? At present, which market are you focus on, or is it focused On building and growing to gain Customers, Users and partners?
Good question. We are not restricting ourselves to a specific demogrpahic. We want to strive for as many different cultural backgrounds and representations as possible. Particularly when we are tackling the creative aspect of it, I think it will be super interesting to see the global pallette we can provide for artists all over the world.
Q10. Since your platform is all about music, how would you consider anyone who doesn't really like music to be a part of DigitalRenais? How do users benefit from DigitalRenais and what is the process of earning here?
And for the final question, I would like to stress that although we are putting an emphasis on music first, we are not restricting ourselves to music. The platform is facilitating to all forms of art, be it music, design, photography, visuals, or anything else creative and cultural. So users, will not be restricted to only music, and can benefit in this way through fractionalized royalties and use-case physical and digital utilities that are programmed in the NFT's from our platform.
And this was the end of our AMA with Digital Renaissance.
If you have any questions you can ask here: Telegram Group: https://t.me/DigitalRenais
ℹ️ℹ️ Useful Links ℹ️ℹ️
– Website: https://thedigitalrenaissance.io/
– Twitter: https://twitter.com/DigitalRenais
– Discord: https://discord.com/invite/JkHDX8hbBn
– Medium: https://medium.com/@DigitalRenais
– Reddit: https://www.reddit.com/r/digitalrenaissance
– LinkedIn: https://www.linkedin.com/company/digital-renai/
– WhitePaper: https://thedigitalrenaissance.io/digital-renaissance-whitepaper.pdf