we hosted an amazing AMA with DOGEBOO on the 22th of July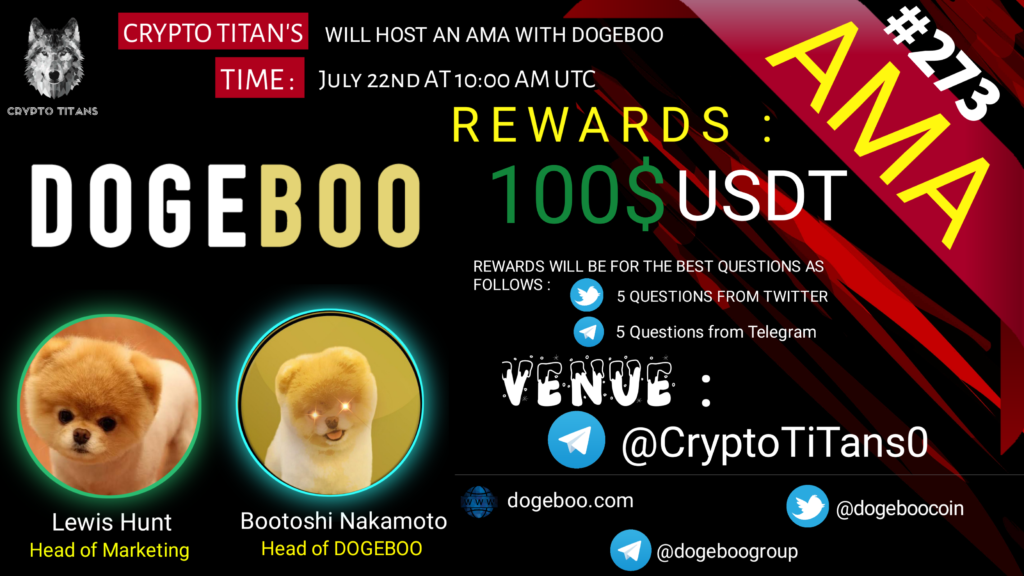 And here we will put some of the best questions:
Q1) Can you describe what is #DOGEBOO? We would like to know more about it and how it works?
Lewis Hunt : Dogeboo (DOGEBOO) was inspired by #Doge and #Boo, favored by pomeranian dog community lover. DOGECOIN is one of the phenomenal cryptocurrencies, even DOGECOIN is a cryptocurrency that is included in the list of the top 10 market caps. That's why we are so amazed and hope that by using the DOGECOIN name we can follow in DOGECOIN footsteps of success.
BOO is a dog name that is crowned as the cutest dog in the world, he died at the age of 12 which made many people cry when they heard it. That's why we choose the name BOO, because we wanted to bring BOO back to life in the blockchain world.
DOGEBOO is a cryptocurrency built within the Binance Smart Chain ecosystem , each transaction (buy/sell or wallet transfer) has ONLY 1% tax where: 1% of every transaction will be distributed to all DOGEBOO holders in $DOGEBOO.
$DOGEBOO have 2 Projects:
1.DOGEBOO LAND is a place for having fun from our games, we will have lot of games to play
2.DOGEBOO Auto Bot Trading
DOGEBOO is currently not listed anywhere, all of you can visit our telegram group https://t.me/dogeboogroup for more information, and we are having our presale stage 2.
Q2) Are you working on any partnerships or marketing initiatives to help build awareness for your platform?
Lewis Hunt : Of course! we've worked with many influencers to introduce dogeboo to the world, and cryptoTitans is one of them 🙂 it's an honor for us. we will hold several AMA before we are listed to pancakeswap, and will also promote to many influencers, youtubers and mass media. You all can check it in our channel, we have done a lot of promotion We will also hold lot of giveaways, and even now we are having an airdrop event, you can join the event by clicking the link https://t.me/DogebooAirdropBot
We also have been reviewed by yahoo finance https://finance.yahoo.com/news/dogeboo-bringing-boo-dog-back-043000063.html 🚀
Q3) What are your main features that distinguish you from other projects and what competitive advantages do you have?
Lewis Hunt : As I mentioned above, we have 2 very unique projects, and we are sure there will be a lot of fans, and of course that will be the attraction of Dogeboo.
Our main project is DOGEBOO LAND. It is a place to play and we will provide many games here. We will be available on Android first, and next on Apple. We know today that games have a very large market, based on data in 2020 alone, the revenue has reached a total of $165B!
It's a fantastic number isn't it? We are really interested to create game as our first project. The first game concept that we choose is a concept that has the potential to give you a reward if you are lucky! Yes, you heard correctly! You will be able to get rewards and of course the rewards is in the form of MONEY! DOGEBOO will always be used in all transactions at DOGEBOO LAND, and we will allocate 12% of the profit to BUY BACK so that DOGEBOO's price will continue to rise to the Moon You can check the full details in our V1 whitepaper at https://www.dogeboo.com/doc/DogebooWhitepaper.pdf
As we know, crypto gaming is quite populat now. We will fly high by creating gaming world too.
Q4) How has the experience and background of your team been effective in the success of your project?
Lewis Hunt : Our team consists of 4 core people who are close friends for a long time, so you don't need to worry about our teamwork. We have IT experts, marketing experts, analysis and strategy experts and also experts in gathering the crowd. we believe that with all of our backgrounds, dogeboo will be very successful. We are sure, Dogeboo will go viral!
Q5) I had seen Presale is on the way, can you please provide presale details?
Lewis Hunt : Currently we have not listed anywhere so be careful not to get scammed. Our presale stage 1 is just finished and now the presale stage 2 is ongoing on our website. Our presale price will be the same as the initial price when we are listing on pancake swap, and we will use the funds from the presale for LP, and for the rest, we will use it for marketing and development.
our minimum LP has been prepared for 250k$ and like I said earlier that we will use the presale funds to enlarge our LP, our target is 1 million$ LP when we list on pancake swap. For details of the date and how to join the presale, we will announce it on our telegram, so don't forget to follow our telegram channel too: https://t.me/dogeboochannel
And here we will put best questions from our members and DOGEBOO fans:
Q1) #DogeBoo will soon launch its two apps, the Dogebooland app and Dogeboo Trading Bot. Can you narate to us what is Dogeland app & Dogeboo Trading bot? How it works & what is the advantages of having #Dogeboo token when using the app & the bot?
Lewis Hunt : Dogebooland is a simple game application that can be enjoyed by all people. The first game concept has the potential to give you a Dogeboo reward if you are lucky! All Dogeboo token holders will get the privilege of every project work on.
Dogeboo Trading Bot is an automated trading application to find profit anywhere and anytime. The most important feature of the our trading bot is the smart money management system. With this feature, the bot system can adjust position taking according to their capital, and can help reduce the risk and play safe to earn profit. For trading security in the trading bot application, there is an auto profit withdrawal feature obtained from every position of your transaction to your wallet address. We also have applied so many layer of security to prevent our trading bot to be hacked, so everyone can trade safely.
Nowadays everything is very easy with technology, a lot of work can be done by robots, and we will also present it in crypto, where you can trade simply with measurable risk, because trading bots are more disciplined than when the trading are execute by fully human beings who are sometimes have psychologically unstable. This is an amazing concept, we will attract the attention of millions of people because everyone love passive income.
Q2) For any crypto project, 1% of it's success comes from the idea itself. 99% comes down to execution. I have seen many projects fail due to the lack of skillset& understanding of how the cryptosphere works.Does Dogeboo have qualified team necessary to make all your goals a reality?
Lewis Hunt : Yes, I agree with you, ideas alone cannot create huge success, there are many other factors, and indeed who is working on it is the one who will determine the success of the project. We are very confident in the ability and cohesiveness of our team, we are close friends who have known for a long time, so our solidarity is not in doubt, and our team also has a background that is very much needed in the success of crypto projects.
Philip erasmus served as head of analysis and strategy at DOGEBOO. He have experience in trading in forex, stocks, and also crypto for almost 8 years and earn millions of dollars from crypto,
Bootoshi nakamoto is currently working as head of IT division in Dogeboo. He has experienced in programming for almost 9 years. And 6 years ago at 2015 He have started to play with blockchain node then he fall in love with Crypto,
Lewis Hunt is the head of marketing division for DOGEBOO. He in charge for every publicity for DOGEBOO and any influencer dealing. He has 15 years of experience in network marketing and know how to build a strong foundation for every new project. He also a real life trader, for crypto, stock, and Forex,
Benny parker is a captain of the shiller division. He also head of dog lovers community with thousand of members. He will dedicated to make sure Dogeboo is heard by every level of society in the world And also you can see as stated on our website that we are supported by Doge Autobot, which has been running well for almost 2 years and has been proven to have given big profits to crypto investors through its trading bot. So we are very confident that the bot project from Dogeboo will be very viral and liked by many people.
Q3) Your project looks good but it confuses me that there are so many other good Blockchain project. Why should I pay attention in Your project to give it the importance it deserves? What are your planning to achieve with your project?
Lewis Hunt : There are many projects out there that offer only promises, only a few are realizing what is in the whitepaper. We are very different from them, we even have real projects that we have completed, for example Doge Autobot which has been downloaded and enjoyed by many people. You can check about our bot at https://www.dogeautobot.com
I think it's better to invest in a place that already has proof that the project is real and not just promises, right?
That's why my advice is don't miss this opportunity, contribute now at dogeboo presale: www.dogeboo.com/presale , we're offering dogeboo prices 3x cheaper than buying it at the public launch.
Q4) Nearly 80% of investors have just focused on the token price in the short term rather than understanding the true value of the project. Can you tell us about the motivations and benefits for investors to hold your tokens long term?
Lewis Hunt : As we have mentioned in our roadmap and whitepaper. All of our projects will generate money for investors. Passive income can be obtained from the dogeboo land and dogeboo trading bot projects. We will make every investors hold DOGEBOO for long term, and as you know, gaming crypto is viral now, so with our gaming project, we are sure that we can compete with others.
Q5) During these days you at DogeBoo have held many AMAs in different communities in the crypto world. My question is, besides the AMAs, what other marketing and advertising strategies are you implementing to make your project more known in the community?
Lewis Hunt : You can check at our telegram channel: https://t.me/dogeboochannel. We have contacted a lot of influencers and youtubers to promote Dogeboo and make sure Dogeboo will go viral! We've done a lot of marketing to introduce dogeboo to the world. And this is just the beginning, we will continue to contact and having a deal with a lot of top influencers to ensure that Dogeboo will be increasingly recognized by the world.
Q6) Will you list on cex?
Lewis Hunt : Of course we will list at CEX later. we have prepared a large fund to make DOGEBOO success and viral. After we list on pancake swap, we will immediately launch our project and then we will keep in touch with some CEX for listing. we already have a target and have been in intensive contact with CEX marketing. Just wait for the good news.
Q7) Can you explaine to us, why i must believe you? Because there is many scam project.
Lewis Hunt : Yes, that's right, it's a shame that there are people who have bad manner and scaming through crypto, but don't worry, not everyone are like that, a lot of developers are working seriously, and we can promise we are one of them. All business must start from trust and indeed time will tell everything.
To gain your trust, we have strong people behind us. our project is supported by the Developer of doge autobot application which has been downloaded for more than 10k+ at playstore and windows software (https://play.google.com/store/apps/details?id=com.dogeautobot.dga). That's why one of our projects has trading bot, because we will create a trading bot using dogeboo as the currency and you can join our telegram group: https://t.me/dogeboogroup so you can evaluate further.
Q8) will the total supply of Dogeboo coin be burned?
Lewis Hunt : yes absolutely, there is an interesting story behind our burn system, We will burn 50% Supply in 1 year. We are inspired by Boo the cutest dog in the world, he died in 12 years old, so we will burn every month until 12 times and reduce our supply, so the price will absolutely going to the moon for long term!
Q9) How important is the community to you? Will you have a community of non-English countries?
Lewis Hunt : Community is very important to us, because we know product is the king, but user experience and community is queen. That's why we made our project games and trading bot that can provide income for dogeboo investors.
And We have created 2 telegram groups besides English language, it is Indonesian: https://t.me/dogeboogroupid and China: https://t.me/dogeboogroupchn
Other countries will also be available, if you want to request to create a group in your country, you can chat me
So we will create a lot of community from a lot of countries to support us and grow big together.
Q10) Hello sir, I see On your website you are counting down to close PRESALE Stage 2 . How can we participate in your Presale Stage 2? do we need to do verification like KYC? what is the minimum purchase in Presale Stage 2?
Lewis Hunt : Yes, we are doing a stage 2 presale, you need to know how profitable it is for you if you contribute to a stage 2 presale, why? Because in presale stage 2 you can get 3x cheaper price than if you buy at public launch (pancakeswap)
How to buy DOGEBOO on presale: Click this link: https://www.dogeboo.com/presale
Click "Contribute now" button
Send BNB bep20 to the address listed on the website ( Minimum contribution is 0.2 BNB )
You can check your status about 10 minutes after you have transferred
DONE
It's very simple to contribute to the presale stage 2 😍 don't wait any longer, lets come to our website and contribute.
And this was the end of our AMA with DOGEBOO.
If you have any other questions you can ask here:
ℹ️ℹ️ Useful links ℹ️ℹ️
Website :- https://www.dogeboo.com/
instagram :- https://www.instagram.com/dogeboo
Twitter :- https://twitter.com/dogeboocoin