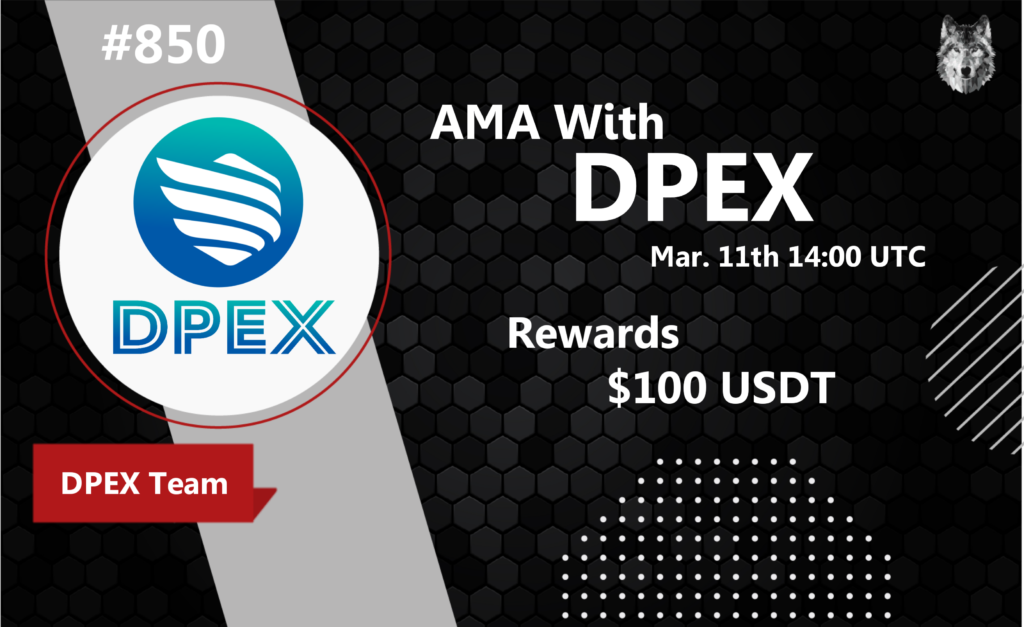 We Hosted An Amazing AMA Session With DPEX On 11th March .
Here We Will Present Some Of The Best Questions That Answered in The AMA :
Q1. Could you tell us the narrative behind DPEX and how it was given its name? Each project always has a captivating story to be told, so we'd love to hear more about the one behind this memorable acronym.
DPEX stands for Decentralized Perpetual Exchange (read the first letters) On DPEX, you can trade Bitcoin, Ethereum, Matic, and other digital currencies with up to 50X leverage from the comfort of your web3 wallets, such as Metamask or Coinbase Wallet – no need for a middleman or KYC!
Q2.What's the DPEX token?
DPEX-token is the key to unlock the vast potential of our ecosystem. By staking your tokens, you will be rewarded with 25% of all trading fees generated from the platform!
Q3.Any plans to get listed on Coingecko, Coinmarketcap profile updated?
Without question, it is essential that the DPEX-token be launched before integration can take place. As you are likely aware of, we have been featured on https://defillama.com/protocol/dpex and several first tier media outlets have already written about us! With this in mind, you can truly appreciate how much of an impact our token has made.
# CoinTelegraph –
https://cointelegraph.com/news/smooth-and-secure-crypto-trading-this-perpetual-dex-is-up-for-the-challenge
#bitcoin.com
https://news.bitcoin.com/3-ways-to-keep-custody-of-your-crypto-assets-and-trade-with-leverage-using-dpex
#Entrepreneur
https://www.entrepreneur.com/en-in/technology/self-custody-safety-and-good-leverage-are-key-to-managing/446767
#investing.com
https://www.investing.com/news/cryptocurrency-news/dpex-spearheads-with-audited-smart-contracts-and-fast-polygon-chain-3023219
#coinmarketcap
https://coinmarketcap.com/headlines/news/this-is-how-users-keep-crypto-assets-secure-while-trading-with-leverage/
Q4. Are there any referral programs that community members can benefit from when they bring in others? We have found out that those who begin to refer people early are the ones who gain the most over time.
Absolutely! Visit https://app.dpex.io/#/referrals to mint your referral code on-chain, and you'll receive lifetime fees directly into your web3 wallet – not only that, but the person being referred will benefit from discounts on their trading fees too! Everybody's a winner with this great offer.
Q5. Do you have any plans for the team to organize Twitter Spaces now and then to update the community and reach a wider audience?
We invite you to join the DPEX team for a Polygon Twitter Space AMA on 3/23 at 12pm EST! Don't miss out on this amazing opportunity – we look forward to your participation! Don't miss this opportunity to interact with official representatives and learn more about the DPEX platform, hosted officially by Polygon. More info will be announced about this official AMA with Polygon and DPEX.
Q6.Why there is only 1 option of Connecting MetaMask wallet? What if someone is not familiar with it? Are we allowed to connect any other wallet? Also tell so your platform have proper exchange system and trading like future, margin, spot and staking etc?
In addition to Coinbase Wallet, we have integrated WalletConnect, which grants you access to over 170 web3 wallets – almost all the web3 wallets basically. Going beyond that, for added security when trading, you can connect your hardware wallet, such as Ledger Nano, directly via MetaMask.
And to answer your second question, I believe you can have a read through our introduction questions in the AMA to learn about DPEX or directly visiting us on https://dpex.io
Q7.What are the key features of DPEX that set it apart from other projects and what competitive advantage do you have? How has the experience and background of the DPEX team been effective in the project's success so far?
Experience trading bliss by utilizing DPEX, a Decentralized Perpetual Exchange built on the Polygon chain. With lightning-fast order execution and remarkably low gas fees, you'll be able to trade with ease. Polygon has a user base that far surpasses the rest of DeFi space, boasting numbers up to ten times larger than those seen on Arbitrum used by similar platforms.
Our team comprises highly qualified and experienced individuals with a strong technical backgrounds and esteemed business-oriented entrepreneurs that have been in the crypto industry since 2013. That is before this first Bitcoin halving cycle, so we see ourselves as core part of the blockchain ecosystem and will do all we can to make it better and better.
You are welcome to try out https://dpex.io and experience our fantastic platform for yourself. It's really easy to getting started.
Q8.I think security is the most important aspect, my question is Has the #DPEX smart contract been audited with the certik team or others and #DPEX is there an ambassador program for the community, and if so what are the requirements and how?
Absolutely! To ensure the safety of our users, we have smart contract audits with both CertiK and Zokyo. Security is paramount to us on the DPEX team. For your convenience, the footer of our website at https://dpex.io contains links to all available audits.
Both security audits have been passed with a HIGH TRUST score 🔓✅
Q9. Is there a KYC requirement for the transactions we will make on the DPEX Platform? What documents are required for KYC, if any? Finally, what are the transactions we can do without KYC?
Here at https://dpex.io, we firmly believe in the fundamental concepts of decentralization and Bitcoin's original vision. That is why we don't require any KYC or identification processes whatsoever! Unlike many other companies, DPEX belongs solely to its community; it has no founder or board members owning the DPEX foundation. We are a DAO-governed foundation that can issue grants as needed – truly making this experience unlike anywhere else! It doesn't get better than this!
Decentralized Finance should be for freedom and privacy, that is what we stand for. We strive to offer our users a seamless and flawless user-experience that is unparalleled within the industry. You need to right now, head over to https://dpex.io and see it for yourself.
Q10.Now a lot of project same categories. It is truly challenging to pick one,for what reason would it be a good idea for us we pick DPEX what are the benefits and advantages you can offer?Furthermore,How might DPEX contend in numerous different Tasks entering the DeFi market?
Nowadays, obtaining complete control over your finances is very necessary. Banks are falling; exchanges are getting hacked, FTX is disappearing overnight, leaving people with no funds they had saved for years – it's simply not right. That's why we at DPEX strive to bring justice back by offering access to self-custody of crypto assets combined with the ability to trade through up to x50 leverage without any KYC verification! This solution provides users exactly what they've been looking for: secure ownership of their own funds while still having opportunities available in the trading world.
Q11. Do you have a whitepaper?
If you have, Please share it with us.
Lastly, Do you have plans for pre-sale?
You have the whitepaper at https://docs.dpex.io. Pre-IDO is fully sold out, but be prepared to participate in the upcoming launchpad IDO that is to be announced.
Q12.I read by using DPLP we can burn any index asset. So can you tell us in more detail about how the DPLP works? What is the price to pay for the printing and redemption of index assets here? How effective is DPLP as a platform liquidity provider?
DPLP is the liquidity provider token of DPEX.
Any time you add liquidity you will be provided this DPLP token. You can exchange back DPLP to claim back the liquidity provided at any time. When you exchange it back, you are burning DPLP.
The price depends on the performance of all assets and you can think of it as an "index" of crypto.
You can check the DPLP APRs/APYs and performances on our stats page at https://stats.dpex.io
Q13.How can I get started with DPEX? Do you offer any referral program?
https://app.dpex.io/#/referrals – Here you can get started and create your referral code. It's on-chain. Meaning that you collect fees directly to our Metamask. The person that use your code will get a discount. Lifetime. It's honestly really great. Try right now.
Q14. When will IDO start? Can you elaborate on IDO?
We are releasing our token on a top tier launchpad and planning to do so anytime in the upcoming week. The exact time is yet to be provided by the IDO platform but we know are are very close! Stay tuned and follow us on telegram & twitter to not miss any updates. It will be announced
Q15. What sets you apart from your competitors? What makes you special compared to your competitors? What particularity do you bring?
Along with trading seamlessly on our cutting-edge technological exchange, where you can do either direct swaps without price impact or leverage up to x50 – an incredible feat for a decentralized platform – you also have the option to provide liquidity and earn! Earnings arise from the index movement of BTC, ETH, MATIC, USDC, DAI, and 70% (yes seventy percent!) of this platform's trading fees, which is truly fantastic. So you can also passively earn from the trading fees by providing liquidity. See more here: https://app.dpex.io/#/buy_dplp
This Was The End Our AMA With DPEX .
If You Have Any Other Questions , You Can Ask Here : https://t.me/dpex_io
Useful Links:
Twitter:
Telegram:
Discord:
https://discord.com/invite/aPvKNytvZT
Medium: