we hosted an amazing AMA with Dragon Verse on the 11th of December
And here we will put some of the best questions:
Q1. Can you please introduce yourself as well as Dragon Verse ?
Hi, I'm Ellie, CMO of Dragon Verse P2E Game Project. I already had 6-year experiences in marketing for crypto field
and today I will share with you guys our newly launched project: Dragon Verse
Dragon Verse = NFTs + Gamefi +P2E + Alliance + Staking
Dragon Verse is a creative and innovative game project with the combination of NFT technology and new- generation IDLE RPG developed on the Binance Smart Chain platform
Dragon Verse will be the first ecosystem to combine the greatest aspects of gaming and digital collectibles, transforming it into the digital creatures universe.
Our System includes: Dragon Hatching,Staking to earn token $DRV, Marketplace to trade Dragon Pets between investors, gamers and community members.
Especially, players can join in Boss-fight Battlefield to receive Bonus $DRV.
Currently the game is in the testing phase on testnet
after the presale everyone will be able to join beta test the game within this month.
this is our trailer, you guys can see the test game here
Team has audited + kyc with Pinksale
https://www.pinksale.finance/#/launchpad/0x945C1D812d4A332062AD93800ee9BcEF87CCb6a0?chain=BSC
if you go to this link you can see the KYC + Audit signs
We are launching PRE-SALE event on Pinksale
It's tomorrow guys! 12/12 8:00 AM UTC
This Pre-sale accounted for 3.5%, selling Soft cap 750 BNB, Hard cap 1500 BNB
where 1 BNB = 7,000 DRV
Min buy = 0.1 BNB
Max buy = 5 BNB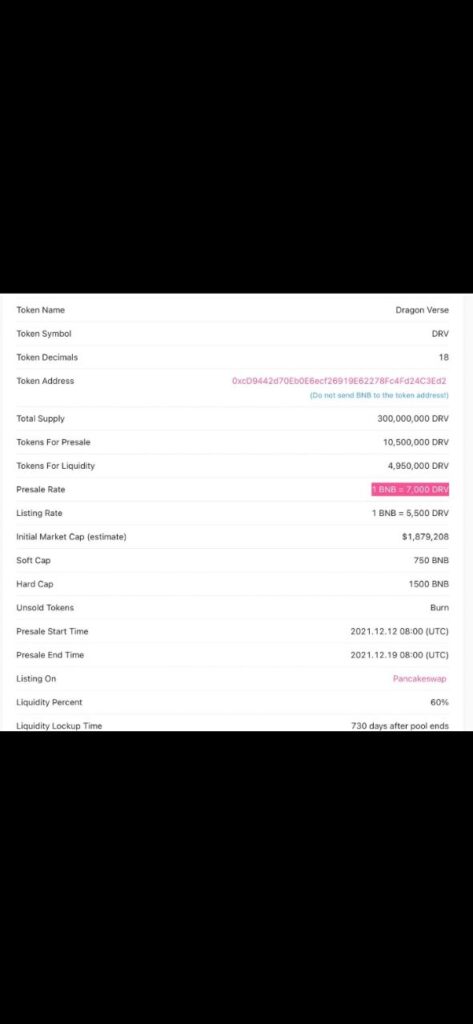 normal like other projects it pushes max buy 10 BNB
but here push 5 BNB to give more people a place to buy
Tokens are also locked
check the link here for more info guys
pre-sale is expected to end in 2 hours
sold out in 2 hours*
the last airdrop competition we attracted 100,000 participants
so pre-sale can be a big hit
Q2. What are the advantages of Your project ?
yes, when mention about our advantages, we really want to talk about our Ecosystem with strong benefits for holders
NFT Staking
The network allows gamers to stake Dragon NFTs and earn rewards in DRV. NFT staking will encourage gamers to collect the best dragons for rewards.
NFT Marketplace
Since there are many different Dragons, players can sell their Dragons on the marketplace. Moreover, you can get other better dragons in this marketplace.
Play To Earn
Of course, the most primary reason for the launch of Dragon Verse is to provide earning options. The NFTs and DRV tokens can all be a source of income for the players.
PVE and PVP Arenas
The PVE uses a story mode, which involves the gamers dragon fighting against the Dragon Dark Lord. PVP is where you play fighting another player. The one who destroys the opponent wins.
Deflation
The network will ensure that the DRV token remains deflationary in the long term. It will be charging a 6% transaction tax and adding it to liquidity pools.
STAKING FEATURE is one spotlight
players can earn more money
from stake $DRV
and earn more profits
Also
Characters, Inventory, and Maps are also very interesting
The game comes with a large group of characters, each possessing unique skills, and abilities. You can see some characters, backstories, and skills on the web page.
The game comes with a good inventory of weapons to help the dragons win. Some portions help give dragons fighting energy.
There are also different map settings to provide the best gaming experience. When writing this, the available map was spring forest. But, Volcano Land and Ice Continent were under development.
Q3. please tell us about the goal you want to achieve in this year.
we want to finish all the goals on our roadmap
Currently the project is on the right road
The 2nd and 3rd quarters of this year mainly focus on game development
and team formation
so in quarter 4, especially in this dec
after the presale ends, we will:
Push list cmc and cgk
Out staking to attract players, keep coin price
Toss NFT Box (limited) to buy
Launch beta test game
Launch NFT MARKETPLACE to buy and sell
=> After the presale, there will be many coin price increases. Not to mention, if I make it in time, we will also list on other CEX
The global team also has a policy to keep the price of DRV.
there will be 2 ways for deflation:
1️⃣ For NFT boxes: 1 person buys NFT boxes at a time. The DRV proceeds from the sale of those NFT boxes will be distributed as follows:
50% burn immediately > reduce inflation.
10% on Dev development Pool
10% on marketing
30% on game rewards and Staking 2️⃣ Staking
to understand more about the game we will launch
I will introduce you guys about Game mechanics.
In the game, each character will have 5 levels to evolve.
Map game has a total of 10 maps, currently 3 maps (currently testing the game to perfect all maps. Each map will have 10 rounds – round 10 will be boss fighting.)
There are 2 game modes: PVE and PVP
The game is simple, easy to play and easy to earn: 2 buttons attack and potion (attack and heal, add-on)
Conditions to play the game:
Buy DRV token
Buy NFT on MARKETPLACE (approximately 250$ each box)
Break the NFT box to get a dragon (random from lv1-lv5)
Bring the dragon invincible > win and receive rewards as Tokens. Token can be claimed on the trading wallet. Dragons can be sold, traded on MARKETPLACE or paired dragons to get higher levels.
https://doc.dragonverse.finance/products/dragon-fusion
for more info, you guys can check it here
Dragon fusion mechanism is quite similar to Rici but simpler.
There will be many things for the community to participate in in the ecosystem, with the simplest mechanism to reach the community.
Besides
Every month there will be a ranking system for token rewards and a world tournament
every players can join in and gain more rewards from it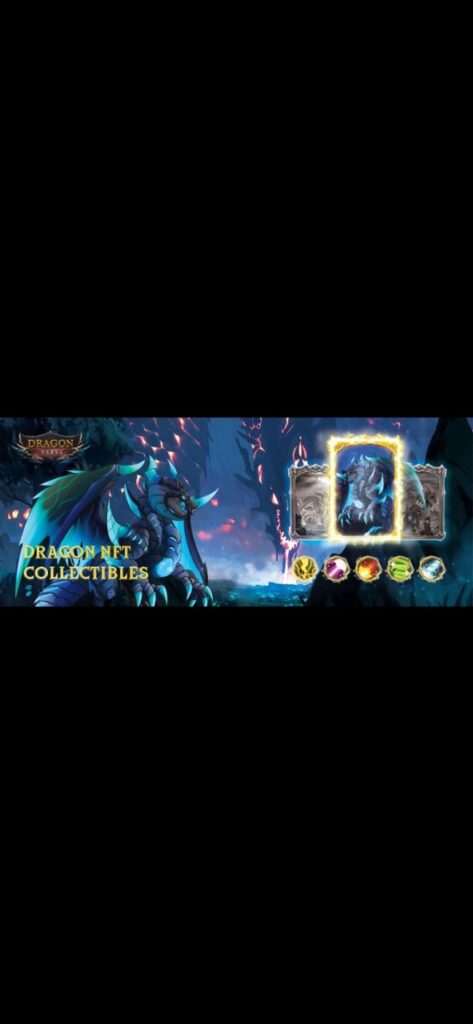 As you can see, the game has a character system of 5 main characters
Each of these characters will have its own system
There will be 5 attribute systems ranked from weak to strong:
Water -> Earth -> Fire -> Light -> Darkness
This is a review of a game using characters
In the game, each character will have 5 levels to evolve
level 5 will be the strongest
sorry, internet connection
The game map has a total of 10 maps, now the dev side has 3 maps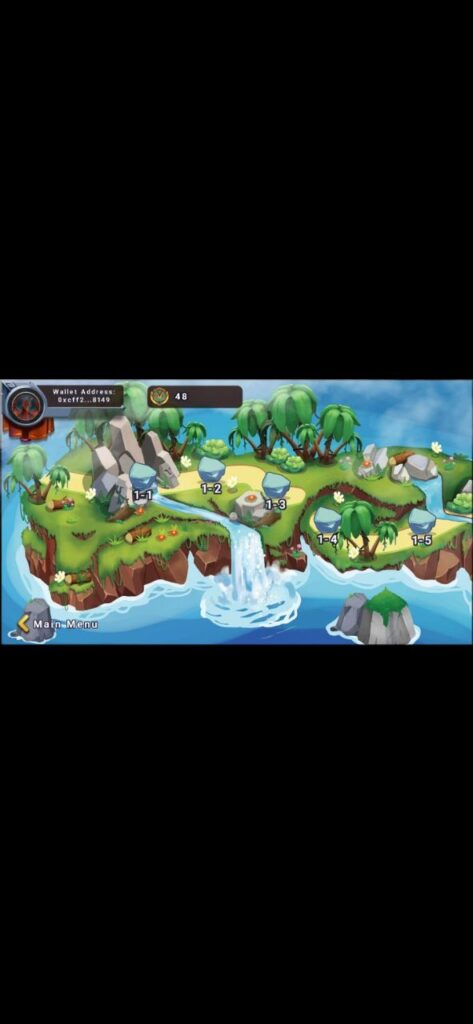 This is monster fighting mode (PvE)
This is fighting boss mode
Simple game, easy to play, easy to make money
In addition, the global team is also developing Metaverse Real Estate
After buying the land, the player has the right to use that land to lease it back, or organize a tournament
To learn more about this game, people can visit:
Website: https://dragonverse.finance/
Q4. Every project has a story behind their name, Can you tell us more about the story behind this? Who are the team behind this project? can tell us their background?
yes
so when we launch this project
our team are all dragon lovers
we love legendary stuffs
and we think that it would be cool to have a project named Dragon
our team is anonymous
But we haveexperts in different fields, all combining efforts to ensure the project succeeds. Including:
Brian is the Founder and CEO of the project. He boasts vast crypto knowledge and experience with blockchain.
Linda is the COO who also has some knowledge in crypto project management and operations.
Ellie takes the CMO position due to her expertise in community building
Gemma is the lead artist with vast knowledge in the creative field.
Vincent, the CGM, has deep knowledge of game software design.
https://doc.dragonverse.finance/team-and-partners
you guys can read it here
And here we will put best questions from our members and Dragon Verse fans:
Q1. Most P2E games start giving away a lot of tokens to the first few players and for a short period of time the game is profitable, but not sustainable, and because of that, its value soon decreases. How is Dragon Verse designed and how can you guarantee LONG-TERM profitability?
yes, our dev team has thought about this
and currently we have 2 approaches for deflation
NFT boxes: 1 person buys NFT boxes at a time
-> The DRV money used to pay for that will:
50% burn immediately -> reduce inflation
10% on Dev development pool
10% on marketing
30% on 2 Game Rewards & Staking
Staking: Staking will gather $DRV in the market and make it easier to control the volume, thus keep the price stable
and the third direction we are testing is to set limits for players per day
Q2. One of problem NFT games was that users only when they won small rewards immediately withdrew from the game, damaging the liquidity of the project. Dragon verse takes this reality into consideration and manages economic strategies to support the true lovers of its game?
okay
this is a good question
that's why we will make this policy for players
to keep the market + game stable
moreover, more incentives will be given to them
for example, Monthly tournament
or Metaverse Real estates
all of them will help keeping the interest from players can also grow the community
Q3. There are many NFT and Metaverse projects currently. So there must be high competitiveness in the market, and users are more selective when participating in new platforms. What are some prominent features that make DRAGON VERSE Games ahead of other blockchain-based games?
yes
in the STAKING FEATURE
we have combined Commission Referral System into
so besides the current holders, if anyone can invite more people to join in, they can earn more profits
and our community can be stronger and broader
Q4. I am interested in playing your game, where can I start playing games on Dragon Verse? Will the Dragon Verse game be available on the Appstore/Playstore? What role do you expect gamers and users to play in the development of the Dragon Verse ecosystem?
yes, it's very simple to join our game
You need to:
buy DRV
go to its marketplace to buy NFT Box (approximately $250 each)
Break the NFT Box to get a dragon -> random from lvl 1 to lvl 5
Bring the dragon into the battle game -> if you win, you will receive Rewards as Token
so only 250$ for initial investment
Q5. Dragon verse game offers the player not only excitement and entertainment but enables them to earn crypto and earn prizes for their activity. So, how about to non-players of your platform how can they earn crypto without playing the game in Dragon verse?
yes they can definitely can
there are 2 ways to do it:
Staking: stake your $DRV token to earn interest
Trading NFT: buy NFT Boxes/NFT Dragon and trade it
no need to play games
Q6.Where can I buy your tokens now What is your current contract and how can I buy them?? "Will you have any other DeFI feature like staking, yield farm or NFT in the future?
We are only running Pre-sale on Pinksale: https://www.pinksale.finance/#/launchpad/0x945C1D812d4A332062AD93800ee9BcEF87CCb6a0?chain=BSC
it's at 8:00 AM UTC 12/12
tomorrow
Soft Cap 750 BNB
Hard Cap 1500 BNB
Presale Rate 1 BNB = 7,000 DRV
Listing Rate 1 BNB = 5,500 DRV
when we finish presale, we will list on Pancakeswap and then you can buy it there, using our Contract
Q7. Do you have any coin burning/buyback schemes or any $token burning schemes to increase the value of the token token and attract investors to invest?
yes we have. Currently, the dev team will have 2 main directions to deflate:
NFT boxes: 1 person buys NFT boxes at a time
-> The DRV money used to pay for that will:
50% burn immediately -> reduce inflation
10% on Dev development pool
10% on marketing
30% on 2 Game Rewards & Staking
direction 2: Staking: holders staking will help gather DRV in the market and make it easier to control the volume
To learn more about this game, people can visit:
Website: https://dragonverse.finance/
Q8. I'm aware that DRAGON VERSE is not currently available for early access because of some of the improvements you are making on the game. Once this is completed, will the community be involved in how the game will develop moving forward or whatever the project team decides is final?
yes, we are only testing it on testnet, will release soon and get a whitelist for Test Beta
Q9. Where can I get the latest updates or more information about the project currently from where I can buy. Is it possible to get it just by catching it ??
yes good question, we already
We will work with leaders from each country and collaborate with them to spread the community
already have big investors from Asian countries like China, Vietnam, Philippines, Japan
And this was the end of our AMA with Dragon Verse.
If you have any other questions you can ask here:
https://t.me/Dragonverse_Official
ℹ️ℹ️ Useful links ℹ️ℹ️
Website :- https://dragonverse.finance/
Medium :- https://medium.com/@dragonverse
Twitter :- https://twitter.com/Dragonverse_OA
Gitbook :- https://dragonverse-info.gitbook.io/metas/
Reddit :- https://www.reddit.com/user/Dragon-Verse
Discord :- https://discord.gg/vSAm53y2
YouTube :- https://www.youtube.com/channel/UCo0vTv47JEf6rdbqQHT2Row