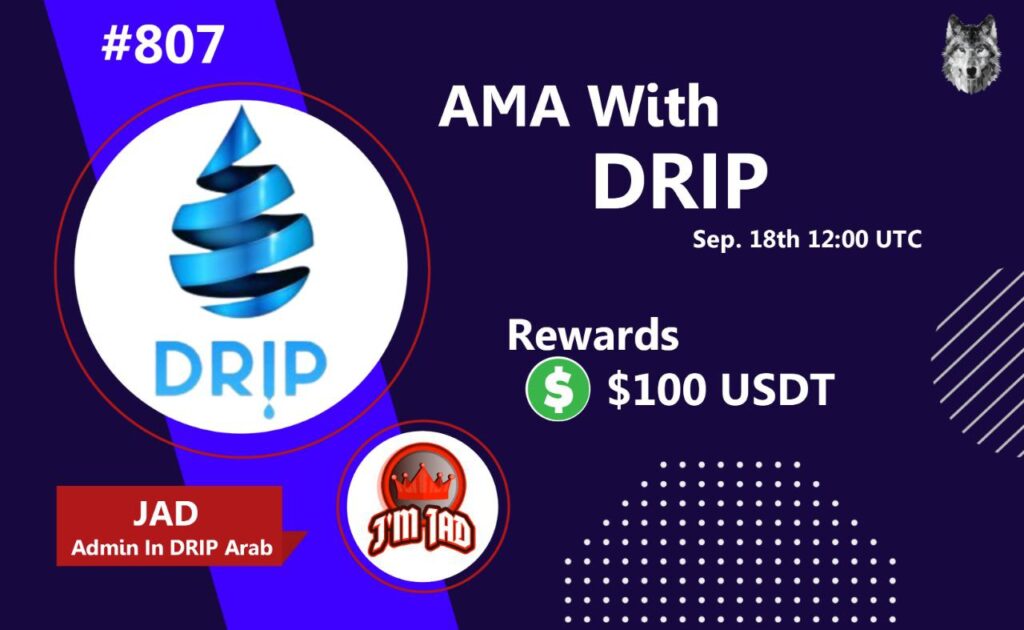 we hosted an amazing AMA with DRIP on the 18th of September
And here we will put some of the best questions:
Q1. Can you please introduce yourself as well as DRIP ?
sure
first of all, I'd like to thank CryptoTiTans for hosting this AMA and all of you for joining and for your interest in our projects.
My name is JAD, I'm one of the admins of the Arabic speaking official DRIP telegram group. I've been chosen to represent DRIP Network and to try to answer any questions your community may have.
DRIP Network is an ecosystem of DeFi projects, smart contracts and tokens creatively designed to maximize returns on investments while being secure, relatively low risk, sustainable and appreciating in value.
While today's AMA will focus on the core token of the ecosystem, which is, DRIP and its related smart contracts, it is important to mention that DRIP is not the only one. The development team, led by @Forex_Sh4rk, has been successful in building innovative projects for a few years now and is very active in building more in the future. The next big project is called The Animal Farm and is planned to go live on the 18th of October 2022.
What is the DRIP Network?
The DRIP Network is a deflationary daily yield project on the Binance Smart Chain (BSC). It is comprised of the Faucet, Reservoir and Fountain.
By locking DRIP tokens into the Faucet, players yield 1% daily returns (limited to 365% of total deposits and to 100K DRIP tokens). The paid-out yield comes from the transaction taxes on the DRIP token. Generated yield can be withdrawn or recompounded for exponential daily yields and a higher maximum payout.
Players interested in yield farming can use the Reservoir, by depositing BNB which is transformed into a DRIP-BNB LP token (DROP), which earns rewards from swap fees on DRIP's native DEX (decentralized exchange) and from Reservoir deposit and withdraw fees.
On the Fountain page, players can exchange between DRIP and BNB, using our native DEX. The DRIP transaction tax for buying DRIP using Fountain is waived. Additionally, there are DRIP-BUSD and DRIP-WBNB pools available on Pancake Swap.
What is the $DRIP token?
DRIP is the native token of our project. It is a deflationary (BEP-20) token on the Binance Smart Chain (BSC), as any crypto token, you can trade it or hold it. There's a 10% tax charged on DRIP transactions (with some exceptions), which goes to the Faucet tax pool. The initial supply is 1 million DRIP tokens. In a situation where there's not enough DRIP tokens in the tax pool to pay out Faucet rewards, new tokens will be minted to guarantee the rewards.
There's a lot more to cover, but that will make this answer way too long. There are hundreds of YouTube videos and Medium articles that go into much more detail that I encourage you to navigate. Here's some of the good content.
https://www.youtube.com/c/DripGuide
https://www.youtube.com/channel/UCOnIDPKmUYYVbFMroFlyHPw
https://www.dripplayers.com/media-categories/medium-articles
Q2. What are the advantages of Your project ?
$DRIP is a Deflationary Token: it captures value by being scarce and by being built on a robust, truly decentralized blockchain.
Development Team: The development team of the DRIP Network is one of the best and most trusted development teams in DeFi.
Sustainable Tokenomics: DRIP Network has been paying 1% daily ROI for every investor since April 2021, that's more than 500 days. It did this while other clones failed, rekt or rugged. DRIP is supported by a large community and a set of sustainability rules like locked deposits, whale tax and capped maximum payout of 100,000 DRIP.
Cheap Gas Fees: DRIP Network runs on the Binance Smart Chain and benefits from cheap gas fees. This makes daily compounding and all other transactions (claim, buy, sell, transfer, airdrop) cost effective.
Very Strong Community: as of today, there are more than 115,000 wallets in the Faucets. This number is expanding at a rate of 200 new wallet per day, see chart. The ecosystem promotes team building through a strong referral rewards system, which encourages good positive behaviour in the community. If you join any of the DRIP TG groups you can easily spot various ways of support ranging from financial support through random or structured airdrops, free and paid tools and utilities, technical support and a plethora of educational materials.

DRIP Network is an Ecosystem of Innovative DeFi Projects: each token in the ecosystem is designed to support the other tokens so all tokens appreciate in value. You need to hold BR34P token for instance to be eligible for referral rewards on DRIP transactions, this has incentivized investors to hold BR34P and helped pump its price to an ATH of $400. The newest project is The Animal Farm, which in summary is a large set of yield farms and pools that allow you to generate massive returns in one of the 2 farm's native tokens, AFP and AFD. The DRIP-BUSD farm allows you to stake your Faucet's returns to generate AFP governance tokens, which you can stake in another staking contract within the Animal Farm called The Pig Pen to generate BUSD dividends and grow your share of the Animal Farm. This means that you'll get great passive income in the form of stable BUSD coin without a need to sell any of the native tokens.
Q3. please tell us about the goal you want to achieve in this year.
The main goal for the development team is to bring more liquidity, price appreciation and improve the sustainability of the whole ecosystem.
A clear and strong roadmap is demonstrated in the below diagram which raised the level of excitement within the community. As explained in my previous answer, all these projects are designed to support each other and to give investors a way to gain massive returns without the need to sell any of the native tokens.
The Dev team hired an experienced Chief Marketing Officer to lead a massive paid marketing campaign to grow the community and bring more liquidity and sustainability to the ecosystem
Q4. Every project has a story behind their name, Can you tell us more about the story behind this? Who are the team behind this project? can tell us their background?
Forex Shark started observing high demand for daily ROI dapps back in 2020, he saw a potential in the idea but noticed a common pattern in almost all of them, they were either scams that stole people's hard-earned money, or legit projects suffering sustainability issues that only lasted for a couple of weeks.
Forex Shark took this simple idea and innovated around it and fixed all the issues in those ROI dapps. The result is a set of smart contracts that have been up and running 24X7 for more than 500 days returning 1% daily ROI for every investor.
DRIP Network is helping individuals and families around the world reach financial freedom. There are heaps of heart warming stories being told everyday by the community. Spend some time reading some of them in the testimonial TG group by visiting this link https://t.me/DripTestimonials
Q5. NFT is one of the hottest and most sought-after topics in the blockchain space right now. Can you share your opinion on NFT with us? Do you think NFT will disrupt the current financial system? What is Your project's approach to the NFT sector?
NFTs haven't been Forex Shark's focus but this is changing now because NFTs, while still in an early stage, are becoming more and more popular. This is reflected in the upcoming development of 2 roadmaps projects, Scratchy and the R34P DAO.
Scratchy is a lottery smart contract that allows buying NFT lottery ticket that may win massive prizes. Revenue generated from the sale of the NFT ticket will be used to buyback the native tokens. The NFT tickets regardless of being winning or loosing tickets will still have a value as they can be staked to generate passive income for the owners.
Entry to the new mini R34P DOA will be possible in future via NFT tickets. The mini-DAO is going to have a 1000 NFT whitelisted sale and each NFT will represent a spot in the mini-DAO. The cost will be 1/10th of the price of getting into the R34P DAO which is 300 R34P tokens (~$26,000). Members of the DAO get access to pre-sales for new DRIP Network projects and other external projects that Forex Shark himself plans to invest in. He considers what he brings to the DAO as a measure of his credibility, so he investigates each one thoroughly.
And here we will put best questions from our members and DRIP fans:
Q1. I'd like to purchase $DRIP token, but I couldn't find it in the pancake swap. Why is $DRIP token not available in the pancake swap? Which exchanges do we have access to the $DRIP token, and on which exchanges can we conduct token exchange transactions?
DRIP token can be bought on one of two Decentralized Exchanges (DEX):
• Pancake Swap (https://pancakeswap.finance/swap)
• The native DEX of DRIP Network called the Fountain (https://drip.community/fountain)
There's zero tax if you buy DRIP from the Fountain, and 10% tax if you buy from Pancake Swap. Make sure you buy the right token with this contract address (0x20f663CEa80FaCE82ACDFA3aAE6862d246cE0333)
https://bscscan.com/token/0x20f663CEa80FaCE82ACDFA3aAE6862d246cE0333
Q2. During the 2022 I got scammed a few times, rugs, exit scams etc. how can we investors be sure that this will not be similar? do you have a trusted team member?
I'm sorry to hear that, but unfortunately, this is very true, I hear similar stories almost every day. I encourage you and everyone interested in any kind of investment to spend quality time investigating and researching projects before making any investment decisions.
DRIP Network ecosystem inherits the risks that are common in all blockchain protocols, but unlike the majority of DeFi projects, it is developed by a trustworthy team with a very successful track record. The development lead, Forex Shark, has been working in crypto since 2012. He was brought on to do a bitcoin payment portal for a sports book and he's been working in crypto ever since. Projects he developed have never had a major exploit or scam. Forex never abandoned a project he developed, take R34P and BR34P for instance, these tokens are few years old and are still being supported and new use cases are being built to appreciate and stabilize their prices.
The biggest road bump he's ever had was the exploit in the Piggy Bank protocol that was discovered during the first few weeks of the first launch of the Animal Farm. But when you look at it, yes, it's not ideal but it could have been worse. We didn't lose our liquidity and all security protocols worked. All investments were protected, and everyone was credited back their AFP tokens few months back, and their AFD tokens just 2 days ago.
Q3. Can you explain to us about utility & use cases of $DRIP tokens in your ecosystem? What benefits that you offer to investors for holding Your token in the long term? Will there any passive income models provide by DRIP platform through staking & farming program?
As I explained in my answers to introduction questions, the whole ecosystem is designed to incentivise holding of the native tokens and removing supply from circulation.
The Animal Farm is a powerful use case and brings a lot of utility to support DRIP. The 1% daily ROI generated by the Faucet can be paired with BUSD and staked in the DRIP Garden smart contract which creates buy pressure that supports the price of DRIP and deepens the DRIP-BUSD liquidity which stabilizes DRIP price and makes it less volatile.
The first platforms to use Scratchy are DRIP and Animal Farm – and 15% of all of the BNB used to buy the NFT tickets will be used to buyback our native assets i.e. many millions each year!
There's a lot more but we have limited information available from the dev team to prevent idea theft.
Q4. Yield farming has come to stay in the DEFI space, please tell us how #Drip compares to many yield farms offering high APY on liquidity staking & why would crypto investors pick it over other yield farming opportunities?
DRIP is currently ranked at #3 under the DeFi category on DaapRadar, check it out here (Top BNB Chain Dapps | DappRadar).
According to (https://www.whalestats.com/), DRIP is the most used independent smart contract ecosystem in DeFi‼️ Independent means we are not getting our volume from severing other platforms, such as a DEX & we have a killer 2022/23 roadmap.
Check it out here (https://twitter.com/DRIPcommunity/status/1571262630614171648)
I encourage you to spend some time studying all the performance metrics provided by this website to have a better understanding of the size and potential of DRIP Network (https://dune.com/dripstats/DRIP-Token).
Q5. Non-crypto user is very important for mainstream adoption. How you are planning to attract non-crypto users to your project? Is #DRIP any upcoming partnership that will bring non-crypto users and real-usereal-use cases?
Interacting with DRIP Network smart contracts is easy, anyone with a Meta Mask or Trust Wallet can easily buy, sell or transfer DRIP. Interacting with the Faucet is a simple task, and you decide the frequency of how often you want to click one of the two button to claim your rewards or recompound them. But even for those new to crypto space, there are a lot of tutorials and step-by-step articles to guide the user on how to perform these actions.
We also have dedicated support TG groups to help anyone facing any technical issue or needing any kind of support.
Technical Support TG Group: https://t.me/DRIPtechdifficulty
Reservoir TG Group: https://t.me/dripreservoir
DRIP Main TG Group: https://t.me/DRIPtoken_Chat
DRIP Arabic TG Group: https://t.me/DRIP_AR
The Animal Farm Main TG Group: https://t.me/The_Animal_Farm
DRIP Price Bot TG: https://t.me/DRIPpricebot
Q6. Is there referral program? Can I earn by referral?
Yes DRIP has a great referral system that is detailed here https://dripedia.wiki/en/faucet/#teams-and-referrals
Q7. How can I see all the news and announcements of DRIP project?
the best way is to join the official TG groups to stay up to date with the latest news. Forex Shark has a special announcement only TG group where he posts important updates (https://t.me/forexsharkcalls)
Q8. Focusing on the other primary product and/or service offered by DRIP Network, which is THE RESERVOIR, I am really interested and would like to know what methodology you implement to ensure full and timely payment of $BNB rewards to people on THE RESERVOIR?
please join the Reservoir TG group or the DRIP Arabic group and get all your questions answered. for now you can go through the following diagram that explains the rewards using a simple example.
Q9. Do you have Whitepaper if yes, please share it with as secondly do you have plans for pre-sale? Now where can we Join l it?
yes the whitepaper is available here https://drip.community/docs/DRIP_LIGHTPAPER_v0.8_Lit_Version.pdf
DRIP is a listed token you can trade it on pancake swap or our native DEX the fountain
Q10. Do you have any plan for burning tokens in the future to reduce the supply of the token and increase its investment attractiveness?
Yes, some of the revenue generated from the sales of Scratchy tickets will be used to burn the native assets in DRIP and Animal Farm
And this was the end of our AMA with DRIP.
You can find us here:
Website :https://drip.community/
Telegram community :https://t.me/DRIPtoken_Chat
Telegram Arabic Community :https://t.me/DRIP_AR
Twitter :https://twitter.com/DRIPcommunity
CoinGecko :https://www.coingecko.com/drip-network
White paper :https://drip.community/docs/DRIP_LIGHTPAPER_v0.8_Lit_Version.pdf