We hosted an amazing AMA with Engine Token on the 22nd of January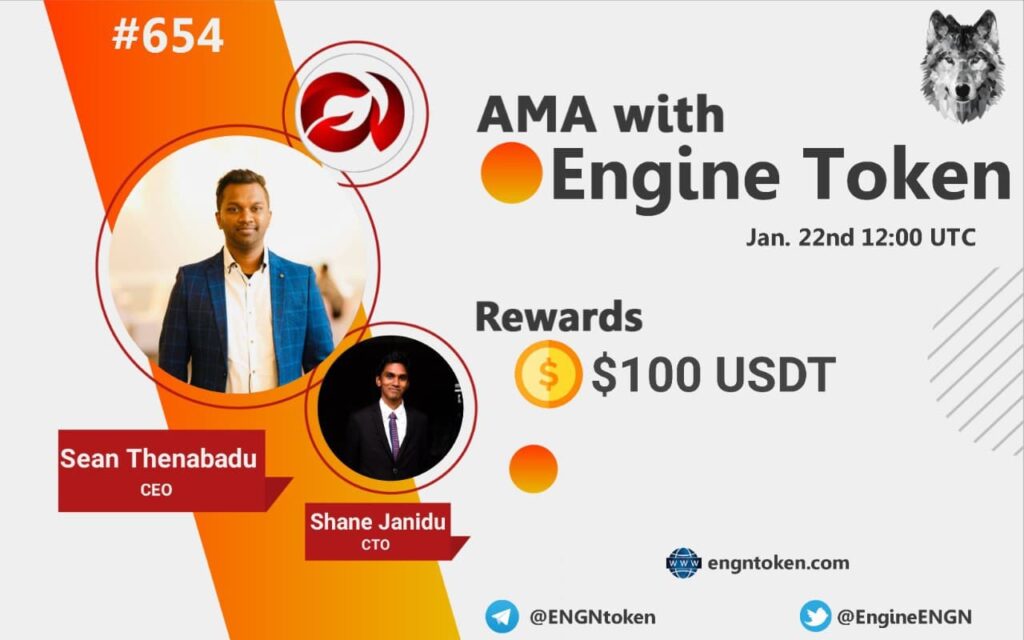 And here we will put some of the best questions:
Q1. Can you please introduce yourselves as well as Engine Token?
Sean Dev: I am Sean , founder and one of the developers of ENGN token.
My Head Developer won't be joining today due to person matters but my other Devs t.me/JohnWright91 and t.me/Wheatkings and one of our managers here today with us. t.me/NaturalBornShilla
Sean Garrity: Hey! I am sean garrity, Vc host for engn as well as coordinator for content and always working behind the scenes for next big moves by engn! Marketing, partnerships etc.
Engn token is the next movement in the cryptosphere. Linking gaming (already created games as well as devloping new games.) With our state of the art protocol we can now monetize every game ever created and link it with crypto.
We are moving mountains with our project.
In this ever-growing blockchain industry, ENGN creates a new opportunity for both game
developers and crypto developers by creating a protocol that makes it easier to integrate
blockchain protocols into conventional games.By using a revolutionary protocol that allows
the developers of games to incorporate outputs from non- blockchain protocols to blockchain
compatible data, ENGN allows
the game developers to integrate functionalities such as P2E and challenge pay events, NFTs
or even jackpot prize giveaways without having to hardcode blockchain functions or without
having to rewrite the game code.
Engine is an experimental development platform, which incorporates adaptive gaming
mechanics into blockchain platforms. Currently hosted on Ethereum, Engine uses a
revolutionary protocol that allows the developers of games to incorporate outputs from non-
blockchain protocols to blockchain compatible data.
As a type of enhanced blockchain bridge, Engine makes it possible for these same developers
to incorporate features into their games like Play to Earn and Player vs. Player wagering-
style competitions into existing games and their extended gaming universe. There is so much
more that Engine has to offer the blockchain and gaming universe–acting as a bridge across
the two ecosystems.Crypto and gaming enthusiasts win,thanks to the merging of multiple
sectors.
What if the games of the past, present, and future all allowed for the ability to incorporate
NFTs into assets, reward you with prizes,and more?That's the purpose of engn.
Another essential partof Engineis the roleof incubator for new and upcoming developers –
helping them to develop and publish games. A significant hope of Engine revolves around
bringing Indie games to the mainstream, creating a revenue stream, and a path that leads to
discovering talented developers.
In upcoming weeks our VR engn lounge will go live where you can come hangout and meet the team and have some beers or purchase merchandise.
We are also reaching out and being reached out with regards to our protocol.
Q2. What are the advantages of Your project?
Engn provides bridges between crypto projects and allows past and future games to be integrated onto the blockchain.
If you look at our website all information is available and ground breaking.
This company is extremely undervalued at the moment.
Q3. please tell us about the goal you want to achieve in this year.
Check out our demo on our channel. We have a team of 18 developers producing AAA quality games.
We are also bridging gas between crypto and gaming. We will be putting together an esports team to get twitch screams rolling also!
In this year we plan to take the cryptospehere by storm. Ppl will be looking tonuse our protocol for future games and our merchandise will be rolling out.
Our main goal for the year is creating our metaverse entry point in our vr lounge as well as launching our main game and a huge marketing push through twitch and our esports team.

Q4. Every project has a story behind their name, Can you tell us more about the story behind this? Who are the team behind this project? can tell us their background?
Game developers, game enthusiasts. Artists , storytellers and visionaries all United in a quest for a brighter future.
The team is well connected and organized. Solid tight core with very talented game devs at our side.
We have plans to legitimately form a monopoly in the gamefi industry.
Q5. NFT is one of the hottest and most sought-after topics in the blockchain space right now. Can you share your opinion on NFT with us? Do you think NFT will disrupt the current financial system? What is your project's approach to the NFT sector?
We are currently involved in talks with potential partners to take advantage of the nft space and all the possibilities it brings…
Our protocol can bring nfts into any gaming platform also! Imagine character skins, weapons skins as well. Imagine a golden egg in warzone or valorant with a 1 of a kind nft inside the game. Our protocol can do this.
Nfts will be a very important technology going forward.
And here we will put best questions from our members and Engine Token fans:
Q1. Many games nowadays charge a high fee to start the game & therefore start with a small player base. Does Engine Token have an entry fee or initial requirement & if so, what is it? Do I need to hold NFT or hold some tokens to enjoy & play ENGN game?
No free demo out right now, come check it out in our channel. We are very community based and dont want to charge for something we believe should be free to use.
It also leave a black state for new projects wanting tomuse our protocol
To use
Q2. Whale dumps, especially just after the fresh launch, is very frustrating and sometimes really damages the project. Please give some information about the Anti-Whale Mechanism feature of #ENGN. How trustable is it and how much will it protect the investors?
Engine project is well established and backed by legitimate investors. We are active every week in our community as well as new content everycouple weeks. A very safe project you can sleep on.
Any whale in our project has bought the dips.
They know what we are creating!
Q3. ENGN is a blockchain based game mechanics engine that simplifies game development on the blockchain. My question is about financials in your platform,, are you going to tax the developed game when it is launched? Will there be charges payed to Engine when the game went live?
No free demo out right now, come check it out in our channel. We are very community based and dont want to charge for something we believe should be free to use.
We are hosting a voice ama in our channel On monday.
Come see please! Our delivery is better in voice! Come get hyped!!!
Q4. You talk about new partnerships and cooperation agreements as key plans for the future, could you tell us about your current partnerships? What does Engine Token look for in a partner? What projects or organizations do you already have a relationship with?
We are working on some huge partnerships that will explode our market cap. Cant release any names right now until the deals are signed.
We cannot discolse aby partnerships until everything is hashed out as a team. We have many marketing partnerships as well. Bitboy being one of them.
I just want to reiterate how undervalued our project is right now.
Q5. When you say you are an experimental gaming development platform, what does that mean in terms of capacity and experience to deliver on your project roadmap and goals? How many years have you been in the blockchain space and can you list some of your previous projects?
We are an experienced team that has delivered on all our roadmap objectives so far. Due to ndas we cant disclose other projects.
Q6. Does your project support staking program? if yes. how is your stake system work what is the requirement for user, if they want to stake in your platform?
No staking sir.

Q7. Do you allow suggestions and feedback from the community? Are we allowed in decision making, do you put community into consideration?
Yes all suggestions welcome we are a very community oriented group.
Q8. Is the goal of your project to reach mainly large investors or will you create a global scale of millions of small investors? Is your project investment long term or short term?
Long term.
Q9. Is your project a community only for English speaking an countries or for users not of other languages?
English right now but will be multinational very soon as we expand.
Q10. How can I buy this tokens? Is it available on any exchange?
All project coins have their main utilities & real-life usecase! So, can you tell us What are the main role of your coin in your ecosystem?
Buy through uniswap.
Q11. Can you share your social media links so we can keep ourselves updated?
Yes come to our telegram for all social media information.

And this was the end of our AMA with Engine Token.
If you have any questions you can ask here:

Telegram Group: https://t.me/ENGINEtoken
ℹ️ℹ️ Useful Links ℹ️ℹ️