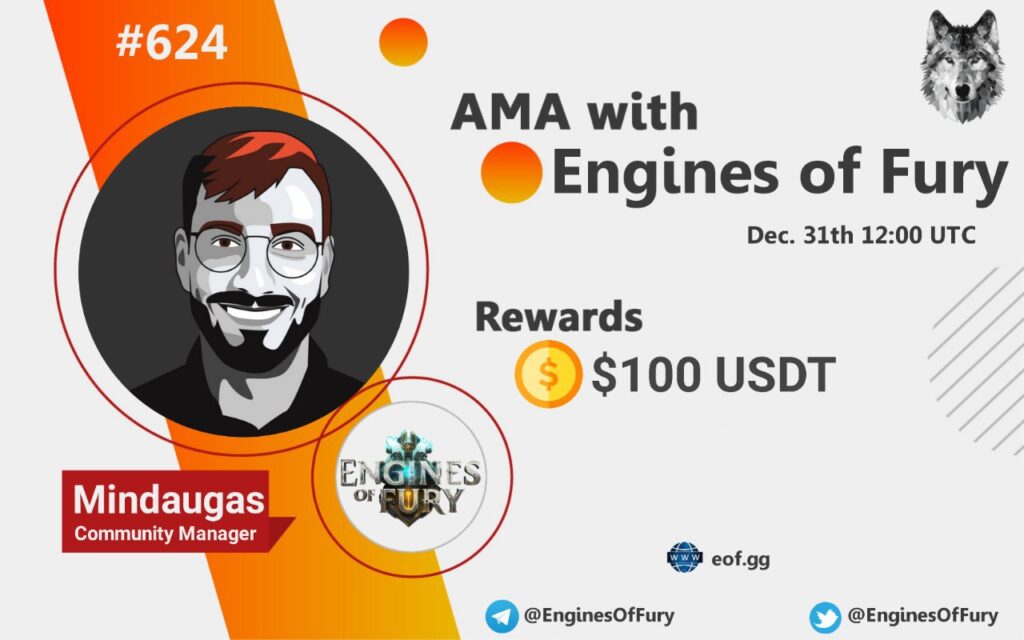 we hosted an amazing AMA with Engines Of Fury on the 31th of December And here we will put some of the best questions:
Q1) Can you please introduce yourself as well as Engines Of Fury ?
I am mindaugas, community manager and executive assistant of Engines of Fury. I work closely with board member team as well as the community to bring both sides most recent information and updates! Engines of Fury is an action-packed play-to-earn arena battler based on blockchain metaverse. The game allows players to engage in exciting PvP and PvE duels set in a gorgeous 3D rendered world where they can win tokens, forge NFTs, and earn profits.
Q2. What are the advantages of Your project ?
Here are some of the most outstanding features But to make it simple 1. Our proffessional and experienced team 2. Trustful partners with big investments 3. Great concept for a game which will be comming out in 6months!
Q3) please tell us about the goal you want to achieve in this year.
Well this year is already over, but we did a lot of progress. However in the next year we have planned many things. This is our roadmap, but 4 most important milestones are these: Q1: IDO/DEX/CEX launches
Q2: NFT marketplace launch Q3: PVE game launch
Q4: Full game launch 2023 & onwards: MMORPG launch
Q4) Every project has a story behind their name, Can you tell us more about the story behind this? Who are the team behind this project? can tell us their background?
The core team is of seasoned professionals – founding members of multinational game development studio, guys that have been part of one of the first ICO making esports gaming platforms (from back in 2017), and a lot of people with lots of experience in visuals, game dev, blockchain projects. And we have amazing advisors too – not all of them have been anounced, so please make sure to stay tuned on our socials haha! The name, Well it actually came naturally. We have quite a bit written on the backstory of where the players begin and why. What happened to the world. And what is yet to uncover. So in short – the Engine is the central point of the game's history, which is used to upgrade and forge weapons and armour so that the humanity could take back the world. We are going to be releasing the full lore of the game gradually.
Q5) NFT is one of the hottest and most sought-after topics in the blockchain space right now. Can you share your opinion on NFT with us? Do you think NFT will disrupt the current financial system? What is Engines Of Fury's approach to the NFT sector?
NFT – Disrupt the financial system – NO. I think NFT's is another way of investment in to digital assets, but if they have no purpose, its hard to liquidate them, for our example, our NFT's will be unique items/characters for you to use, and gain more $FURY, so it is way more useful and has an active usage than just an image that is called "NFT"
And here we will put best questions from our members and Engines Of Fury fans:
Q1) User experience is a very important issue in most projects. Does Engines Of Fury focus on this? What has EnginesOfFury done to bring the best user experience, especially to new users?
Our company has worked with many crypto projects for last 5 years. We are leading branding, UI/UX digital agency and we specialize in this, so trust me, user experience will be flawless. also you will need only 1 character to start the game, that should simplify things for all newcommers 😉
Q2) I am a crypto investor and I only care about prospect of a crypto that I chose, tell me the reason why I should choose your token over the existing one? What is your token advantage that can convince me to change from my favorite token?
Well, there is no convincing here, i'm happy you have your favorite token. The most important is our $FURY will be used in market place to purchase all NFT's and with increasing gamers community it will have a bigger demand. I think we're just at the right time with a stunning graphic game, so our token will be well known soon!
Q3) So many projects just like to speak about the "long term vision and mission" but what are your short-terms objectives? What are you focusing right now?
Our long term vision is to transition our game in to MMORPG with the help of community. And next year plans were mentioned before!
Q4) Protecting users data, privacy & funds has become a glaring problem that many companies/projects must face in their development phase. Can you explain a bit about the security architecture of your project against hacks and other form of vulnerabilities?
As we are now building the smart contract – audits are planned, but not done yet. But it will definitely be audited by well-known and sophisticated auditing firms. We take great caution when it comes to security.
Q5) Engines of Fury expect to develop the mobile version of your game by the end of 2022. Who will be in charge of the development of this version of your game? What features do you expect to add compared to the web version? Do you plan to make it available for both Android and iOS?
It will be the exact game, nothing will be different from PC version, Our gamedev team will do all of it, just like a pc game ! 🙂 And yes, we will try to make it both on android and iOS
Q6) Trust is very important in any business? WHAT makes investors. customer and users feel safe when working with your project?
The amount of worldwide investors who are working with us: Some of the partners/clients that were announced already include: -Kyros Ventures, a growing GameFi powerhouse in Vietnam and globally -DWeb3, a digital fund specializing in investments related to Decentralized Finance, WEB 3.0, and NFT -Metrix Capital, a digital asset investment and advisory firm with a focus on early-stage web3, decentralized finance, and NFT projects -Double Peak Group, one of the first family offices focused on investments in the digital asset and blockchain industry -BTC12, a blockchain-centered investment fund
Q7) Do you have any CoinBurn/BuyBack system or any "Token Burn" plans to increase the value of Token & attract investors to invest? What are the benefits for project holders and backer side?
Yes you will be able to melt your NFT's in to $FURY
Q8) Do you have any local communities as not everyone knows how to speak English?
Yes we already have Vietnamese and Spanish communities and we will have more soon, it will depend on demand!
Q9) How can I do my research about your project? Do you have any whitepaper released & Can you provide me all the social media links and blogs? thanks.
https://enginesoffury.gitbook.io/eof/ here is our whitepaper
Q10) What are the attractive features of your project? What are the vision and goals in your project that you want to achieve in 2021 and beyond?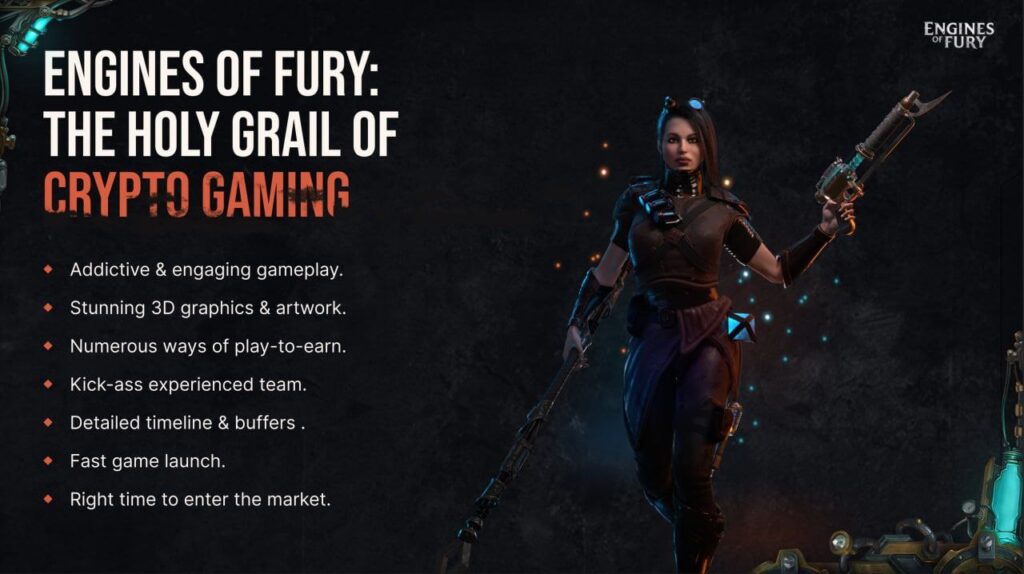 And this was the end of our AMA with Engines Of Fury.
If you have any other questions you can ask here: https://t.me/EnginesOfFury
ℹ️ℹ️ Useful links ℹ️ℹ️
Website :- http://bit.ly/EOFWebsite
Medium :- https://enginesoffury.medium.com
Twitter :- https://twitter.com/EnginesOfFury
Discord :- https://discord.com/invite
Instagram :- https://www.instagram.com/enginesoffury/
Tiktok :- https://www.tiktok.com/@Enginesoffury