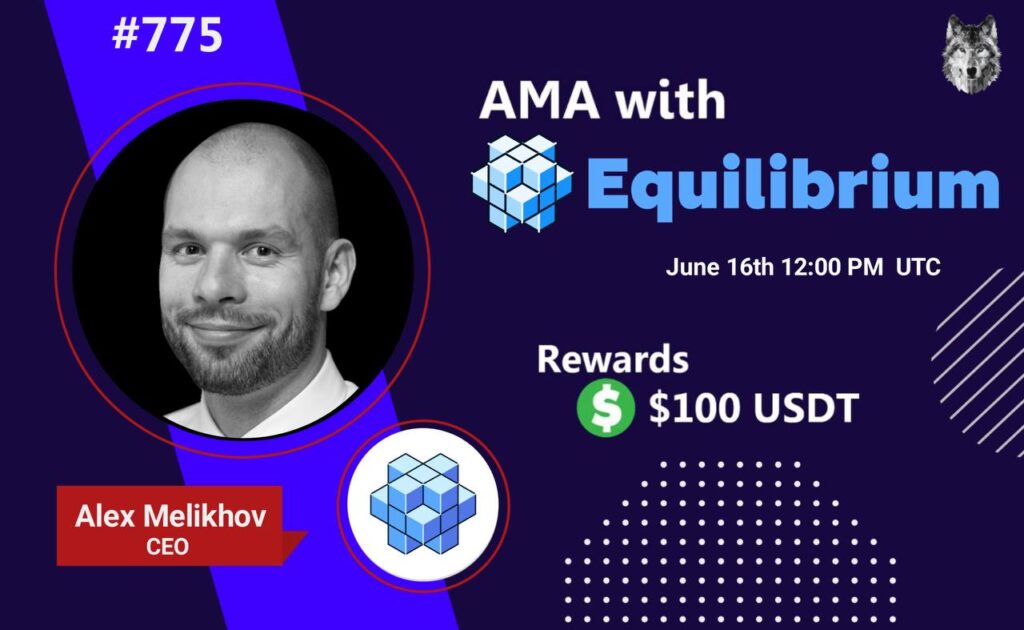 we hosted an amazing AMA with Equilibrium on the 16th of June
And here we will put some of the best questions:
Q1. Can you please introduce yourself as well as Equilibrium ?
Ok, I'm Alex Melikhov, the Founder and CEO of Equilibrium and Genshiro. I'm an engineer in applied mathematics. Before blockchain I was focusing on fintech, mostly payment systems and gateways. I became completely involved in crypto after co-founding Changelly in 2016.
My current team has been working together since 2017, when we began building on Ethereum. In April 2019 we launched the first EOS-based stablecoin. However, later we moved our tech to the Substrate since we were fascinated by its capabilities and technological advantages.
Currently we are working on Polkadot-based Equilibrium and its canary network on Kusama called Genshiro.
In layman's terms Equilibriums is DeFi 2.0 with high leverage. It's a one-stop platform to earn, borrow and trade at max efficiency.
From the user perspective, Equilibrium is the first interoperable money market that combines all significant DeFi use cases in one easy-to-use interface.
These use cases include pooled lending (like Compound), synthetic asset and decentralized stablecoin generation (like Synthetix and MakerDAO respectively), and trading (like dy/dx).
Equilibrium allows users to stake and earn, lend, borrow, raise liquidity in synthetic assets and decentralized stablecoins – all in one place.
Q2. What are the advantages of Your project ?
I will drop 5 advantages which are distinguish Equilibrium as truly DeFi 2.0:
Cross-chain all-in-one DeFi platform – basically as I said above, all DeFi instruments in one place. If you want to utilize DeFi with max efficiency, that's obligatory nowadays.
Own parachains on Polkadot & Kusama are already live – Equilibrium and Genshiro (our canary network on Kusama) are already part of the Dotsama ecosystem.
The first orderbook-based DEX on Polkadot with leverage up to 20X – can't say more here. We are the first project in Dotsama who developed a fully on-chain orderbook!
A money market with critical collateralization is as low as 105% – this will allow traders to perform risky, yet profitable trades.
Features: pooled lending, trading on margin, native decentralized stablecoin, synths, perpetuals.
Q3. please tell us about the goal you want to achieve in this year.
Let me show you our roadmap first folks
Here it is: https://bit.ly/EQRdmp
Feel free to check it
As you guys already know, Equilibrium has won a parachain slot and is already onboarded on Polkadot as the 12th parachain. This was one of our greatest milestones and we did it thanks to our wonderful community.
The next milestone, as I mentioned previously, is our DEX. We proudly announce the launch of our orderbook DEX! This is the premiere orderbook-based decentralized exchange (DEX) launched on the Dotsama ecosystem.
And the third one, is our fluid xDOT staking. Using it, you can vote for your favorite projects in Dotsama ecosystem. But you are not locking your DOT tokens for 2 years. With xDOT you are making it work for you. I will share a insights on how it works in details a bit later. However, let me share a link here: https://equilibrium.io/en/xdot
Our future goal is to launch the Equilibrium app in production as soon as possible. As you can see here, we are aiming on June / July🦾
Q4. Every project has a story behind their name, Can you tell us more about the story behind this? Who are the team behind this project? can tell us their background?
As I said during the course of our AMA, we are aim to launch DeFi 2.0 with all necessary instruments in one single app – Equilibrium
Speaking of the team, all of our team members is playing vital role in the development of Equilibrium and Genshiro. They are all experienced blockchain developers, however let me highlight some of them:
Lesley Czuma – our Business development lead
Peter Sergeev – Sr Project Manager Tech Team
Yves Renno – Lean Analyst
Benjamin Khrapov – Tech Lead
Also, if your community members want to learn more about our team. they can visit our website: https://equilibrium.io/en/about
Q5. Could you tell us more about your Republic campaign? What goals are you aim to achieve there and what are the key benefits for early contributors?
As you folks already know, we are running our Republic campaign. There're several goals we are trying to achieve right now, but – if I can say like that – one of the most important, is simplicity and adoption.
Our Republic campaign will help us to attract a lot of liquidity into the ecosystem in general and to the Equilibrium in particular.
Also, the only way of getting EQ tokens is to participate in our Republic campaign!
EQ waitlist is already open and you can join the campaign right now. Claim your EQ allocation now: https://equilibrium.io/en/republic-offering
And here we will put best questions from our members and Equilibrium fans:
Q1. I understand that Equilibrium is a project developed on the Polkadot blockchain, but why did they decide to use Polkadot instead of other more powerful blockchains like Ethereum or BSC? With winning the parachain slot, how will this help Equilibrium grow strongly in the future?
We've decided to move our technology to the Substrate since the idea behind it is an interoperability
Remember what did I mentioned above? We are aim to built DeFi 2.0 with full interoperability as well as with all necessary DeFi instruments in one single app
Because of the system of parachains and bridges, you can easily transfer any asset to your app and start leverage it immediately
That's why we choose Polkadot in particular and Substrate in general.
Q2. I see that Equilibrium has its own stablecoin the $EDQ stablecoin. How secure and safe is your stablecoin? How does its pegging mechanism work? How is this different from Terra Luna's UST?
EQ enables the community governance of Equilibrium. It can be used for transaction fees, product fees, and platform liquidity on Equilibrium
It also has several unique features which distinguish it as a unique token.
Let me share it with you
Governance token. EQ holders have a say in system changes and EQ-weighted votings.
Platform currency. Users pay transaction fees for operations on Equilibrium's Substrate and product fees in EQ.
Bailout liquidity. Liquidity providers can earn yield by locking EQ in Equilibrium's liquidity pools.
Staking opportunity. EQ holders receive rewards on their tokens staked to Equilibrium's governance
We also has EQD which is our stablecoin
EQD is collateral backed stable coin. That means that you can mint it only by providing your liquidity as a collateral. With collateral backed stablecoins the bank runs are not possible.
Overall you can check more information regards our token as well as tokenomy on our website: https://equilibrium.io/en/eq-token
Q3. I am a beginner in crypto, can a beginner use your platform? Or, is there a tutorial for beginners?
Sure! Recently we released our wiki with a lot of comprehensive articles. You can start reading it from the beginning. We have everything there: from creating Poladot.js wallet for how our innovative bailout mechanism works: https://docs.genshiro.io/genshiro/get-started/polkadot.js-installation
Q4. I noticed that #Equilibirum provides "Insurance via bailouts" to its users; could you tell us more about this? What exactly does this insurance scheme cover and how does it work? What types of scenarios can it be applied to? What are the advantages for users?
Exactly, this is a good one. Let me cover it also
Equilibrium's bailout mechanism is an effective new approach for managing debt and risk within a DeFi protocol.
Our system design introduces the role of a "bailsman." Bailsmen are users who pledge liquidity in advance of a market decline or black swan event, and they play a pivotal role in keeping Equilibrium and Genshiro running smoothly.
There's no need to quickly gather liquidity when the bad debt mounts up because our bailsmen have supplied this liquidity in the form of other crypto assets. It's immediately available when we need it.
You can read more on that here:https://docs.genshiro.io/genshiro/mechanics/bailsman-mechanics
Q5. This is indeed a great thing, that #EquilibriumDefi is trying to launch an AMM pools for swapping xDOT for actual DOT. Is there a ongoing crowdloan campaigns via xDOT platform and can we keep out $DOT liquid?
indeed, we are aim to launch our AMM pool. There will be DOT \ xDOT which you will be bale to swap at any time by providing liquidity.
Also, let me cover here our revolutionary xDOT mechanics. In general, xDOT is a special token you get when you contribute your DOTs to parachain auctions via Equilibrium.
Right after that you can use xDOTs inside the Genshiro money market: supply liquidity and earn APY over 45%, borrow liquidity against xDOT, trade on Equilibrium DEX using xDOT as margin. Sell xDOT or provide liquidity by putting them into the corresponding Balancer pool. So you can make use of your DOT and not just leave it for 2 years in the crowdloan module.
We set up a lot of partnerships with the most influential projects: Astar, Acala, Parallel, Clover, Efinity, Composable Finance, Centrifuge, HydraDX, Interlay. Thanks to that, our community were able to vote during their parachain campaigns and receive xDOT along with the crowdloan rewards.
Ok, let me share an announcement. We are currently have an airdrop campaign at the moment!
🤯 Introducing the Equilibrium Community Airdrop Program on CoinMarketCap from June 2 to June 22!
🎁 Participate and stand a chance to be one of the 1000 winners to earn from $50,000 worth of EQ tokens prize pool.
👉 Participate here: https://coinmarketcap.com/gravity/articles/29156
Don't forget that in order to participate you must join our Telegram:
Genshiro: https://t.me/genshiro_official
Equilibrium: https://t.me/equilibrium_eosdt_official
Q6. How can we participate in your Presale and what about Whitelist holders?
The only chance of getting EQ tokens is to participate in our Republic campaign here: https://equilibrium.io/en/republic-offering
Hurry up, this is the only way😊
Q7. I read Equilibrium is based on Polkadot and features a Kusama parachain called GenshiroDeFi. Your project intrigues me, what are the potential benefits offered by this Equilibrium technical architecture? How does it enable them to manage risk better than before?
Genshiro is a cross-chain protocol that helps users stake, earn yield, borrow and trade, using asset portfolios instead of single collateral vaults.
We're concerned about simple replication of Polkadot-based technology on Kusama. Simple ports like that don't make sense if you want to push boundaries and unlock the full potential of the DeFi market. Equilibrium definitely wants to build something that stands out on its own Kusama-based merits while bringing value to the Kusama network and its community.
Genshiro is already up and running! You can stake your crypto with up to 36% APY at the moment: https://genshiro.equilibrium.io/gateway/en/portfolio/earn
Q8. Is your Project A COMMUNITY only for English speaking an few countries or for users not of other languages??
No we do have several local communities as well:
Local community channels:
Equilibrium & Genshiro CIS
Equilibrium & Genshiro Vietnam
Equilibrium & Genshiro Spanish
Q9. Do you dig up GW tokens every day and withdraw your tokens after the tokens are introduced on the exchange, also what month are you going to launch the first game of GW tokens, and how can I earn and use in-game tokens, and what Can be used in the game?
Let me share our social media, so you can always be on top of the things with Equilibrium and Genshiro:
👉 Equilibrium Twitter: https://twitter.com/EquilibriumDeFi
👉 Genshiro Twitter: https://twitter.com/GenshiroDeFi
👉 Our Medium: https://medium.com/equilibrium-eosdt
👉 Publish0x: https://www.publish0x.com/@EquilibriumEOSDT
👉 Telegram community: https://t.me/equilibrium_eosdt_official
👉 Telegram News Feed: https://t.me/equilibrium_news_feed
👉 Genshiro community: https://t.me/genshiro_official
👉 Genshiro News Feed: https://t.me/genshiro_news_feed
Q10. Where can I buy your tokens right now what is your current contract and how can I buy them??
You can get EQ token only by participating in our Republic campaign: https://equilibrium.io/en/republic-offering
Or via our airdrop: https://coinmarketcap.com/gravity/articles/29156
And this was the end of our AMA with Equilibrium.
You can find us here:
Website :https://equilibrium.io/
Telegram Community :https://t.me/equilibrium_eosdt_official
Twitter :https://twitter.com/EquilibriumDeFi
Medium :https://medium.com/@Equilibrium_EOSDT
GitHub :https://github.com/equilibrium-eosdt
Whitepaper :https://equilibrium.io/docs/en/Equilibrium_WP.pdf