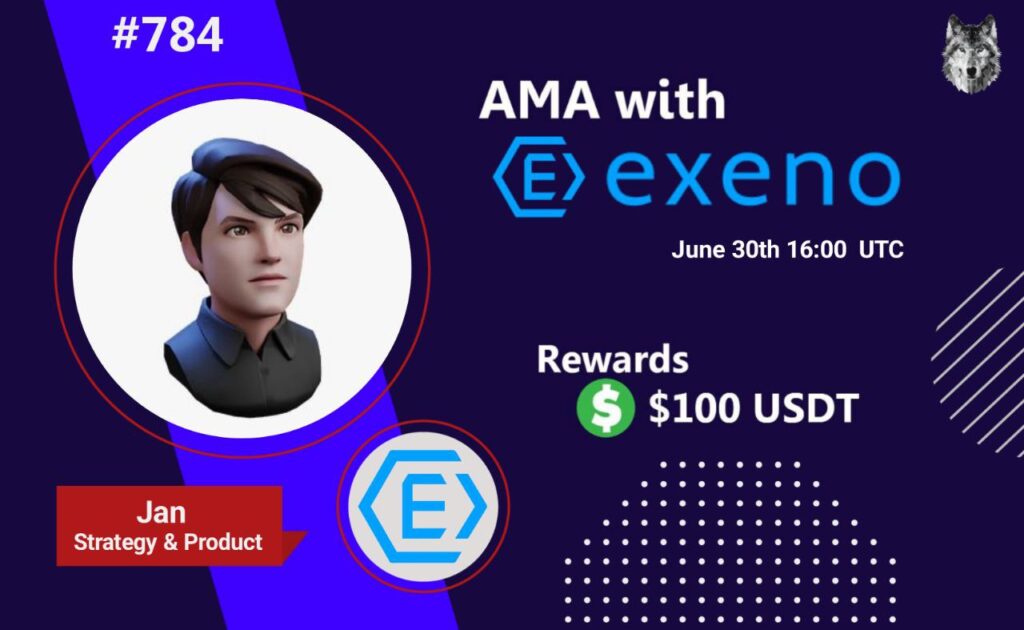 we hosted an amazing AMA with exeno on the 30th of June
And here we will put some of the best questions:
Q1. Can you please introduce yourself as well as exeno ?
Hi, my name is Gary and I am the Chief Growth Officer here at exeno. I've collaborated with the company to some degree for nearly two years now and officially joined last year. As a result, I've been able to witness first hand its rapid progress. For me exeno developing real well thought out products meaning to address real challenges within the blockchain & crypto space really got me excited and what we have planned this year from products to our new exeno coin sale that is now on continues to drive me. I was a crypto enthusiast since 2011, mining & trading and got focused in the industry more career-wise from 2017 within numerous blockchain & crypto projects.
exeno is the only company around fully focused on driving the full scope of the crypto based digital commerce industry, or as we are calling it, crypto commerce ("c-commerce").
The first version of its platform was deployed last year as a proof of concept (PoC) and not only were valuable learnings taken from it but the company also witnessed early promising sales.
As a result, this year exeno began its journey to develop numerous features that go beyond a crypto commerce platform and will add further functionality to the exeno ecosystem. So far exeno deployed version 1.5 of its site and marketplace (i.e. the site that is currently live). Its recently announced coin, exeno coin, will not only have numerous features on the current site but will also fuel the upcoming features planned for deployment and that are discussed on the whitepaper. You can see our initial whitepaper release here but please keep in mind that we are continuing to refine it: https://whitepaper.exeno.com/
We are heading towards our ultimate initial large goal, which is introducing the world's first fully functional, safe, secure, and seamless peer to peer crytpo only marketplace. Sure we may be used to this concept in the fiat based world, but due to the challenges posed by crypto, we have to overcome quite a bit to replicate that experience with crypto. Our team have already devised the strategies to overcome them and the platform is currently in development.
To summarize, we are a dedicated bunch of experienced people looking to drive this sector forward with already deployed products and more on the horizon to build an intuitive crypto commerce experience.
Q2. What are the advantages of Your project ?
Good question … I'll need a moment to answer that one 😊
We aim to solve the challenges with cryptocurrency still not being used as much as fiat for online commerce transactions. We want to build such an ecosystem that will have value for the current crypto users and the sector's newcomers. Indeed, we look at exeno as the whole system, not a selection of products or their features.
When we launched version 1.0 last year, it was an online merchant site with a payment gateway offered by a crypto exchange, i.e. nothing extraordinary. Taking from that and crypto consumer patterns we see within other more well-known segments of the industry, from DeFi to NFTs, we infused elements from the look and feel to web wallets into the first stage of the current version 1.5.
To take is all further, we also had to devise and launch our own coin, the high utility exeno coin that will have a true purpose within the exeno ecosystem now and with future versions and features. With this multi-chain coin, we are developing a multi-chain foundation such as a bridge to use the blockchain version of the exeno coin you want to use, as we believe to be leaders in crypto commerce, we need to be chain agnostic. Again all the new initiatives launching are in an effort to continue to make crypto commerce feel more natural, usable, and appealing to the masses.
All of what we are doing, however, leads to the ultimate initial goal: our massive version 2.0 platform which is in the works. To do that, not only do we need to develop new features and our own coin but also an unrivalled payment gateway that will bring options similar to those seen in traditional commerce but still not available in crypto commerce (for example, a fully developed resolution centre). To add to that, other areas include SSI based identity measures to make not only the shopping but also the user experience more fulfilling (for example, highly verifiable product reviews). And more:-)
Some highlights:
*exeno is self funded
*the company has a growing team of talent
*for over a year now it has deployed products and continues to do so
*it is the only company focused on the entire crypto commerce ecosystem
*Soon it will launch the world's first crypto peer 2 peer selling platform
*Currently it is in the presale stage of its new high utility multichain coin, exeno coin, which will power all current and upcoming features as well
We are always keeping the user experience and the varying knowledge of crypto in mind throughout the entire process.
Q3. please tell us about the goal you want to achieve in this year.
Ok here I go …
We aim to "bring crypto to life" – this is a motto that fuels our development roadmap. As mentioned already, we have just launched the 1.5 version of exeno marketplace, and exeno coin (also called EXN Coin) smart contracts were already deployed with the presale starting in May.
These first two products help us connect the e-commerce and crypto world to build up the crypto-commerce push. But crypto-commerce is a much broader idea, and it goes beyond spicing up e-commerce with crypto. Ultimately, we see ourselves as the platform where you can leverage multiple benefits that crypto can give you.
This year, we will further develop the marketplace with the next iteration to improve the user experience and constantly enhance the value proposition. With exeno coin at heart, we are about to launch a Stake Back program – a new take on the current concept of cashback within e-commerce. Imagine buying your favorite brand's phone and paying with exeno coin. Part of the price would come back to you as a standard cashback (in exeno coin) with a never seen before twist introduced by us: during the pending period before the user receives their EXN cashback, it is automatically staked for some time. In the end, the user receives the amount plus the stake earned with the option to continue to stake. It is a unique concept benefiting buyers as they can earn because of using EXN in a way that is a part of their standard behaviour (like buying a smartphone). We invented Stake Back, and I cannot wait for the moment we launch it. No other player has such a distinctive value proposition. Stake Back can also educate people, especially newcomers, on the benefits of crypto and can help them understand some basic mechanics they can use for their benefit.
That is just the beginning of the unprecedented features we're going to still introduce this year. Using exeno coin and the staking mechanics, we will also changed the rules of referrals and affiliate programs usually used on marketplace sites.
The next step is for us will be to become chain-agnostic, thanks to our bridge solution, that will also be delivered this year.
As already mentioned we are working on exeno 2.0, which will revolutionize the marketplace model known in standard e-commerce. We are now currently exploring how to launch an initial version early. The crypto industry we feel needs this product. It needs a marketplace where users and businesses can easily buy and sell for crypto. One can only imagine what we need to solve to enable this. Not only the anonymity & possible fraud risk challenges but even the coin price stability ones, and I am happy to say that the team already has a solution for almost all of these challenges!
Finally, we are also aiming to launch within Q3 a big collab with a very well known brand, but you are just going to have to continue to follow us to find out more 😉!
We have more products in the pipeline for this year and 2023, including enhanced NFT, meta-commerce and other ways to engage with metaverse, yet we do need to keep them confidential at this stage.
As you can see, we are not trying to introduce repurposed products but actually introduce well thought out and innovative ones. Unlike many companies in the industry, we have the team and resources to build them and that is exactly what we are doing!
Q4. Every project has a story behind their name, Can you tell us more about the story behind this? Who are the team behind this project? can tell us their background?
Sure
The founder, Tom Babiak, was in the ecommerce and software development industry for over 12 years beforehand. Based on his experience and it diversifying into crypto, exeno naturally came to be in 2020 officially. It was meant to be an entity that brought all that experience together under one roof and focused on resolving the challenges faced within the crypto commerce industry. While crypto is used more and more for day to day purchases, it is still not as common as fiat.
At first, it started out as a merchant site and the current version is that as well but with a more crypto style UX and web wallet payments.
We all gathered together in Q4 last year and pretty much agreed that this is great but is it really driving crypto commerce forward. We decided to become more ambitious and boldly state that we want to get to a stage that when someone thinks about crypto commerce, exeno is the ONLY brand that pops into their heads. So we got to work on our roadmap and prioritized certain projects such as the marketplace and exeno coin. We need our own coin to introduce what we are aiming to. We actually have a real purpose and need for it.
Onto the team:
Just around a year later both Gosia – our CMO – and I joined as the company's CGO. Gosia herself having over 15 years of experience within various international tech brands in sales and marketing and I myself in with nearly 20 years of experience in various international companies within a marketing, bizdev, and operational roles. Gosia has been a crypto enthusiast since 2018 and I have been one since 2011 and in the industry since 2017. We have a strong blockchain architect named Jakub whose experience in blockchain dev is just too long to list but he's worked on very large scale projects that many here would recognize. Our two senior dev members – Michal and Kamil – also have over a decade of experience each working on various related projects. Most of our staff have at least 5 years of experience with a decent proportion of that in crypto. The team is currently 34 people and growing with just under 20 devs and 10 commercial / marketing people supported by world class external agencies.
Q5. NFT is one of the hottest and most sought-after topics in the blockchain space right now. Can you share your opinion on NFT with us? Do you think NFT will disrupt the current financial system? What is Your project's approach to the NFT sector?
Another great question, thank you …
Admittedly it is among a handful of other topics. For us it is the potential of the technology rather than what it is currently being used for. We feel that NFT tech is just starting to show its application. In order to take the technology further, we are aiming to launch our own NFT marketplace which will offer pre-vetted content creators the opportunity to list and sell their goods. It will be powered solely by exeno coin, much like all of our features. That is not so exciting but that is also not where it ends though. We are already researching other relevant applications of NFT tech especially when it comes to crypto commerce such as proof of purchase for ownership / insurance purposes as well as complimentary assets with physical goods such as phone background sold as an NFT.
And here we will put best questions from our members and exeno fans:
Q1. Trust is very important for any business, what makes investors, customers & users feel safe when working with your project ?
Great question and one that is very important especially when it comes to crypto projects …
Personally before I invest in a crypto project or even use one, as we do not have the luxury of full regulation or governing bodies of sorts, I need to look at other elements. For me it the following is important:
Does the project have a mission / visions
What challenges is it trying to solve and how
Do they have a product (at least an MVP) BEFORE they launch an ICO/IEO/IDO/etc
How closely have they been sticking to their roadmap and deploying items on it
Where is the team / company based
How experienced is the team. I don't care too much about advisors, I care more about the actual team members who are building and working hard to deploy the project and drive it forward.
Collaborations
There are other points but those are the main ones
When it comes to exeno, I can say that we have a well thought out vision and mission; we are trying to solve the challenges faced within the crypto commerce and marketplace sectors; we have had a product launched for over a year before our current exeno coin sale launched and – in fact – we are self funded. Sales from the exeno coin will simply help us reach our goals sooner; We have launched all our features on our roadmap with an acceptable level of delay; the team is based mainly in the EU and – as mentioned before – highly experienced. Finally we have some strong collaborations including with Binance Pay and connect (for our bridge) with more on the horizon
Q2. What are the additional benefits of holding $EXN tokens over not holding your tokens and are there also advantages for long term holders? What plans do you have in place to help drive token demand and scarcity?
When you buy and hold exeno coin, you are buying:
the world's first multi-chain crypto commerce coin built from the ground up to drive this industry forward
a coin associated with a company that is REAL, this is not just a website with a whitepaper, you can go right now and buy products with crypto
a coin that will power all upcoming features on our roadmap including ones that will enable critical elements for the full functioning of the world's first peer 2 peer crypto only marketplace, exeno 2.0
you are supporting a very experienced and talented team that actually works hard
It will be the only coin that supports innovative features like our version of cashback called Stake Back, it will be the only way affiliates will be paid as well as other partners / merchants
The team is currently also exploring adding a DAO element associated with the coin in some manner enabling exeno coin holders to partake more hand on in the project
In fact we are so confident in the project and where we are heading that we don't even have a vesting period, when people buy the coin in the current presale stage. Once we are done with the presale / ICO or IEO stage, we already have plans to list the coin with one of the large centralized exchanges within a month after. Unlike many other projects, we actually have to list on an exchange as we need our coin to have a USD value as soon as possible in order for it to start being used within our ecosystem and our features. So you can also remain confident that it is a huge priority for us.
Q3. Can you tell us about the main Exeno targets you are currently focusing on and the market you are trying to reach? Are you going to make Exeno project that grows on a global scale or will you be active only in certain regions for now?
Nice question and here comes the answer 😊
The main targets for the mid term future (until Q1 2023):
Successfully deploy exeno 2.0 the p2p marketplace
Have a successful round of sales for the exeno coin as that will allow us to increase our resources further to deploy projects and promote them sooner and stronger
We are starting with an English version of the site mainly but we also do have access to translation services and we will soon be examining the regions where we see activity with our products and regionalize in that manner so our aim is to go global with a region by region approach.
We still have some critical hires in progress to strategically expand the team.
Of course we also have ambitious revenue and user targets but they are confidential currently 🤫
Q4. On your website you don't mention that you have done any internal or external audit of your smart contract, so can you give us details if you have done any audit before? And in case you haven't, would you plan to perform any review of your smart contract in the near future?
Finally a question where I can provide a short answer. It is very good feedback that perhaps we do not show it enough but we did indeed do an audit of our smart contracts with one of the best crypto audit companies on the planet, certik: https://www.certik.com/projects/exeno-coin .. what is also worth mentioning is that for such a recent audit, we have a very high score and rating which not only are we proud of but is also a result of the top team we have on board. Taking this feedback on board, we will aim to show this more clearly
Q5. I AM INTERESTED to investigation in your project. When and where can i buy your tokens? Is it already listed exchanges?
right now during our presale stages, you can purchase our exeno coin for lower rates here: https://app.exeno.com/ but you can also find out more here: https://coin.exeno.com/ … our team built this proprietary platform in house and it not only allows you to buy either the eth, matic, or bnb version of exeno coin but it will also configure your metamask to accept coins on these blockchains. Currently we plan to run our pre-sale until the end of July … we are in talks with the largest exchanges now for an IEO but we will share more information on that soon. Once that IEO happens, we will shortly thereafter list the coin on an exchange for trading with the current estimation at no later than end of September
Q6. How old is the EXENO platform,and what are some of it's major achievements since inception?
The company has been around since 2020. Last year we deployed exeno 1.0 which was a proof of concept version to analyze the crypto commerce market and learn about it as well as how users behave within it. We applied these learning to the currently live exeno 1.5 version adding a more FNT/ crypto feel plus more crypto native payment options. Now we launched a multi-blockchain coin, exeno coin and soon a infrastructure to support it. We have many upcoming features planned for launch this year
Q7. What do you have?
1- Telegram Group✔
2-YouTube Channel✔
3- Tik tok channel✔
4- Discord✔
5- Twitter✔
6- Website✔
For this project, where can I get the latest information and what is the latest plan for your project?
Answer is a very simple one, you can find all our social media channels using this link: https://linktr.ee/exeno
Q8. Is your project is only for elite investors, how about others with small funds, is it open to everyone?
Is your project is only for elite investors, how about others with small funds, is it open to everyone?
while we are currently in discussion with institutional investors for a wide variety of investment types (including equity based), our project and our exeno coin is for everyone to invest into and be a part of. We absolutely need a large community of believers, supporters and users 😊
Q9. Hacking has become more sophisticated, and the potential for cyber strikes is a formidable threat … So, how secure is the #ExenoOfficial platform? What security methods and systems does #ExenoOfficial use to protect user assets and data from hackers?
So to answer this question let's split exeno down into its core elements: a marketplace, payments and finally exeno coin as well as its infrastructure for further development. Security is a key feature for us and we practice industry standards and beyond in fact to ensure that people can experience a safe and secure environment no matter how they interact with us. I am happy to say that it is the top priority; however, due to us wanting to remain secure, I am afraid it is also confidential how we do it 😊 🤫
And this was the end of our AMA with exeno.
You can find us here:
Website :https://exeno.com/
Telegram community :https://t.me/exeno_com
Twitter :https://twitter.com/ExenoOfficial
Discord :https://discord.gg/WwkNzJN7aM
Facebook :https://www.facebook.com/exeno
Instagram :https://www.instagram.com/exeno.official/
Linkedln :https://www.linkedin.com/company/exeno/?originalSubdomain=pl