we hosted an amazing AMA with GoMeat on the 5th of July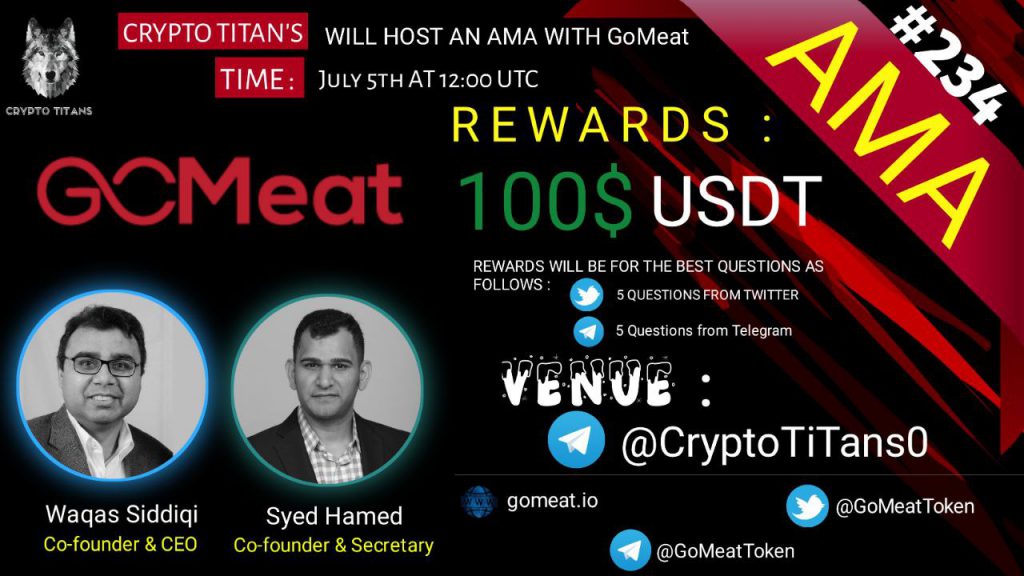 And here we will put some of the best questions:
Q1) Can you please introduce yourselves as well as GoMeat ?
Waqas Siddiqi : My name is Waqas Siddiqi and I am the co-founder of GoMeat! I have 20+ years of experience of setting up and managing consulting practices and successfully delivering large scale tech project for some of the largest companies in the world – I started my career from South East Asia and after working in Middle East and Europe for few years, I am finally based in New Jersey in USA since last 6 years. Today in this AMA I am supported by Kanwal Sultan who is out ICO Lead and have been with GoMeat since the start of the initiative.
In all Western countries speciality (Halal and Kosher) meat is only available in specific stores most of which are not digitalized where consumers visit in person and wait in long line for their orders and no professional home delivery services are available – the authentication of such meat is also a big question to these consumers. With $1.7 trillion global Halal+Kosher market and 10,000+ stores only in North America, GoMeat is the first digital marketplace and a revenue generating company with 200 stores and 4500+ customers in USA, connecting consumers with specialty meat stores offering online ordering and home delivery services. Our plan is to take it to next level on blockchain by providing traceability and authentication of speciality halal or Kosher meat to our customers via Hydra blockchain, which offers low transaction fees, high scalability world wide, gas royalty for the business project and strong advisory support.
Q2) What are the advantages of Your project ?
Waqas Siddiqi : We have many stakeholders of our solution as we are trying to solve a genuine problem and over the years of our operations we have identified multiple advantages – although we have written details in our white paper but let me quickly summarize – our key stakeholders are: 1) Consumers of Halal/Kosher meat, 2) Speciality Stores, Farms and slaughterhouses 3) Delivery Driver Network 4) Certification Boards – we are in the center of all and trying to connect them on a platform which offers convenience and savings in time and money to consumers with transparency and traceability of the meat they are ordering, to automating and digitalizing the industry (stores, farms, slaughterhouses, certification boards) which are manual – this will help them increase their revenues by having an online presence on the platform and bring efficiencies in their processes. we will highly encourage all to study our white paper for details!
Please visit https://gomeat.io for details.
Q3 please tell us about the goal you want to achieve in this year?
Kanwal : Glad you asked. After 3 years in the business, we have refined our operations and learnt tremendously along the way. Public feedback and the COVID pandemic situation have proven the need for a business like ours. Our plan now is to expand our operations to other cities in the US so we can bring convenience straight to the doorstep of more consumers! We currently have over 200 stores on our platform, by the end of the year we are planning on having over 500 more stores onboard and increasing the number of customers through marketing.
After the ICO, we plan to list GOMT on multiple exchanges that best fit our needs!
You can read a summary of our roadmap here: https://gomeattoken.medium.com/introducing-gomeat-token-97235760f356
Q4) Every project has a story behind their name, Can you tell us more about the story?
Kanwal : The idea for GoMeat came about when the founders bonded over the inconvenience of being a specialty meat consumer. The long lines and chaotic store environment give a tough time to everyone but add that to a busy schedule and it's a recipe for disaster.
Our founders wanted to acquire specialty meat but without all the hassle, similar to the convenience provided to non specialty consumers.
Thus it felt natural to put the words "Go" and "Meat" together as it perfectly relays what we do- deliver fresh meat straight to your doorstep,on the same day!
Please note that GoMeat platform does carry groceries and foods too apart from meat. But I'm sure all consumers will confirm that buying specialty meat is indeed the most tiring of all 3.
And here we will put best questions from our members and GoMeat fans:
Q1) GoMeat has a support system that works 24 hours and even a refund process. Can you tell us what types of products can be refunded on your platform? What does this process include and how do you ensure that the quality of the products you offer is always the best?
Kanwal : That's a wonderful question! Customer care is utmost priority for GoMeat which is why our Customer Service Representatives are available 12 hours a day and seven days a week to provide assistance to any customer, driver or store owner who may need it. Please note that GoMeat is NOT a meat seller, we are a technology startup providing a digital marketplace connecting specialty stores with consumers.
All of our 200+ stores are always instructed to adhere to GoMeat protocols and our 35+ drivers do ensure that the correct order is delivered.
We have a dedicated customer service team to cater to our 4.5k+ customers. In case of any issues, customers can reach out to our team via live chat, call and email. The customer service representative then reaches out to the store and driver to trace the origin of the issue. The customer is always duly refunded for any missing or incorrect items.
Q2) Many new tokens being launch everyday. As an investor, why would we rather choose to invest with $GOMT ?What are the plans ahead to increase the value of $GOMT in the market & to attract many people to trade & buy $GOMT ?Any benefits for holding $GIMT for long?
Kanwal : While there is indeed an abundance of projects, I can assure you that none are catering to the specialty industry and resolving these issues. Please note that the specialty industry generated over $1.7 trillion in 2020 alone yet no specialised delivery or digital certification services exist to cater to this massive niche.
Unlike many projects which are merely ideas awaiting execution, GoMeat has been successfully running since 2019. In fact, we generated over $300k in 2020 alone. We have a proven business case that has real use and is solving an issue which plagues roughly 2 billion people globally.
Please note that we are keeping our investors best interests at heart which is why we have a detailed burn mechanism and tokenomics mentioned in our whitepaper. To name a few: all unsold tokens will be burnt, our first burning is scheduled for the quarter after ICO completion etc. You can read more about our mechanism in our one-pager: https://gomeat.io/pdf/White%20Paper%20One%20Page.pdf
We are also currently in conversation with our advisors to choose the best exchanges to list on. GOMT is a deflationary token with only 5 million total supply out of which 2.5 million is up for purchase. Our limited supply, excellent burn features, real use case and strong team make GOMT an ideal token for purchase.
Q3) I saw that many projects were unstable for a short period of time. At first they started with hard work & good attention, after a few months later they didn't pay attention to this project. Then it ended there. So how do you plan to survive in the market?
Kanwal : Project abandonment is indeed a major issue in the crypto domain but I can assure you that the our team stands firmly behind the GoMeat vision. For reference we already have 4.5k+ customers, 200+ stores and we generated $300k+ in 2020 alone!
The idea for GoMeat came about in a chance meeting when all the founders bonded over the hassles of being a specialty consumer and realized the great potential this industry has. GoMeat was started in 2019 and has been successfully operating with rave reviews from our customers. Our whitepaper was also written back in 2019 but we wanted to establish our business case first and only then enter the blockchain domain. We waited 3 years to refine the whitepaper, business and learn as much as possible so we can successfully execute our expansion plan now. Thus for us, project abandonment isn't likely as we already have a revenue generating business which is the need of the hour! Our only challenge right now is to scale as fast as possible!
Food is a necessity and the specialty food market is only increasing by the day! We're the first ones in the market to do this and we are confident that we will be able to execute our expansion plan flawlessly!
Make sure you visit our website for more details: gomeat.io
Q4) As you aim to have 1000 stores for the year 2021,so what marketing strategy and funding way you are engaging in your platform to achieve this 1000 stores for GoMeat? Can you tell us in what location where you will be branching out GoMeat stores?
Kanwal : Store on-Boarding is one of the key aspects of our scale and expansion plan. Over 90% specialty stores have still not gone digital and they cannot afford the expenses to incorporate technology which is why they want a service like ours which can digitalize them at a fraction of the cost.
We feel very confident in our expansion plan based on our learnings in the last 3 years.
Lets keep in mind that there are 10,000+ stores in United States alone catering to a $32 Billion market and we have onboarded only 200 for now to prove the concept of Halal Meat Online Ordering and Delivery thus we have a long way to go.
We are currently operational in States of New Jersey, Illinois (Chicago), Texas (Dallas, Austin and Houston), Georgia (Atlanta), Pensilvania (Philadelphia) and Florida (Orlando, Miami, Tampa). Only these States have about 4500+ stores so our plan is expansion in areas where we exist as we already have some presence and support system.
You can see our complete expansion plan and growth forecast in our whitepaper: https://gomeat.io/pdf/White%20Paper%20GoToken.pdf
Q5) As at this moment, which community are focusing on, what's your area of interest. Can every one access Your project?
Kanwal : That's an excellent question! While Muslims and Jews are the primary consumers of specialty meat, our 3 years in the market show that our audience is much wider and more diverse than that. Speciality meat unavailability and Certification is a global issue which is why we are looking to take our services around the world.
Apart from offering specialty meat, we also have grocery stores and restaurants on our platform which cater to diverse ethnic groups. Therefore alot of consumers use our services to place orders at their local ethnic stores.
Additionally, specialty meat stores are an excellent option for getting fresh, premium meat that you can have custom cut according to your own needs which is why over 50% of our users are non-specialty consumers.
Thus our audience is highly diverse, ethnically and religiously.
In conclusion, our platform is ideal for those looking for specialty foods, fresh meat or ethnic groceries. People can participate in our ICO after filling out the KYC form on our website: https://gomeat.io/icopanel/login
You can check out our diverse community by joining our telegram group: https://t.me/GoMeatToken
Q6) Can you describe about what are the use of your token in your platform? how do i possible to get your token?
Kanwal : Hi Hon. That's al excellent question!
GOMT is a utility token with a real use case! On our platform, you can use GOMT to pay for you meat, grocery, food orders.
Paying with GOMT will also provide you with exclusive discounts, free delivery and much more!
Our burn mechanism was created keeping in mind that we want to increase GOMT utility over time so the customers buying power will also increase!
You can buy GOMT now with 20% bonus at https://gomeat.io/icopanel/login
Q7) Whats the total supply of the token ? Could you share a detailed tokenomics of mainnet token's supply distribution?
Kanwal : Hi Elliot. GOMT is a deflationary token with ONLY 5 million total supply
Out of these 2.5 million are available for purchase in 2 stages.
The bonus value will keep decreasing as we progress in the second stage
50% for ICO SALE
25% are for future reserve and expansion
20% for team and founders
2% reward management
3% exchanges and liquidity.
Q8) I have read that GoMeat will have the Specialty Meat Certification, but how will it achieve the standard quality control of the meat, if in each country the quality and the way it is determined is usually different?
Kanwal : Hi Ysabel, that's a very important question to address.
Please note that GoMeat is NOT a meat seller, neither is it a religious/regulatory body.
Our vision with our blockchain based specialty certifications is to provide transparency to the buyers so they know the origins of their meat and they can make well informed choices.
Each board will have the liberty to certify meat according to their own rules. Our certification will provide customers with the satisfaction of knowing who certified the meat and where it is from.
Q9) Why are Muslims and Jews a target market for GoMeat, and what is the marketing approach to get to those specific communities, that are usually conservatives and not so open to new circumstances?
Waqas Siddiqi : GoMeat is trying to solve an everyday problem of consumers of halal and kosher meat – we are not limited to only Muslims or Jews as Halal and Kosher is associated with these communities – however, you ll be surprise to learn that this meat due to its nutritious values is being consumed by many other communities beyond these two. One of the key data points we had in our 3 years of operations is that almost 50% of our consumers are beyond these two specific communities. This data point supports the market size of $1.7 trillion globally and $32 Billion for Halal meat only in US. For penetrating these communities, we have made a comprehensive marketing and promotional plan and about 50% of our funding raised will be used for marketing and promotion. Gladly we have lessons learned in past few years which we intend to leverage heavily and are the basis of our confidence for a successful venture 🙂 lastly, younger generations in any community is tech savvy and understand the time value of money and would not want to wait in lines for hours and would prefer to order online and get it delivered – that is also an important consideration for our challenge of adoption and scale.
Q10) Do you have any Coin Burn / BuyBack systems or any $Token Burn plans to increase the value of Token & attract Investors to invest?
Kanwal : Hello, yes you will be glad to know that we have a very thorough burn plan outlined in our whitepaper.
Our aim here was to keep our investor's best interest at heart and to increase the token utility. Some key features include:
-All unsold tokens will be burnt
-3% revenue burnt in first quarter after ICO completion
-revenue burn increase by 1% every subsequent year
-upon hitting 3 million in annualised gross volume. An additional 3% will be burnt quarterly
More details in our whitepaper: https://gomeat.io/pdf/White%20Paper%20GoToken.pdf
And this was the end of our AMA with GoMeat.
If you have any other questions you can ask here:
ℹ️ℹ️ Useful links ℹ️ℹ️
Website :- http://gomeat.io/
Twitter :- https://twitter.com/GoMeatToken
YouTube :- http://youtu.be/N92dLn8sxOM