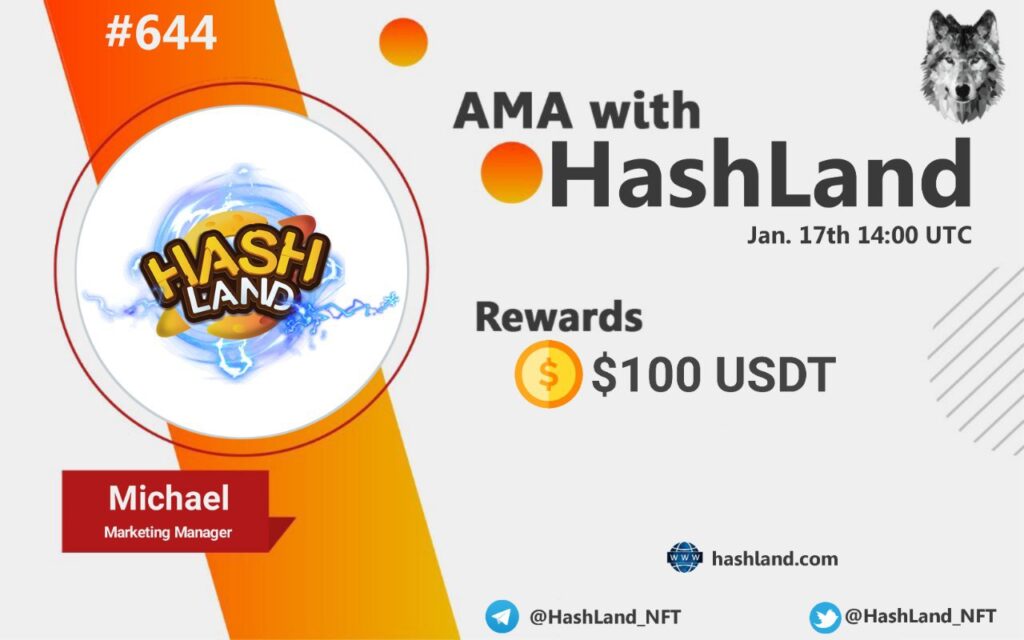 we hosted an amazing AMA with HashLand on the 16th of January And here we will put some of the best questions:
Q1) can you summarize the advantages of HasnLand for us?
HashLand has its own metaverse, which mainly includes:product, circulation,and use. The three corresponding products are HashLand NFT, HashLand Market, and HashLand GameFi. Let me briefly introduce their respective advantages HashLand NFT: Our NFTs all have a unique hashrate mechanism. The first batch of NFTs have both BTC and HC hashrate. The BTC hashrate comes from the real mining farm owned by HashLand. At present, the first batch of NFTs have been sold out, and the second batch of NFTs has HC hashrate. HashLand NFT has a total of five levels, which are synthesized in a four-in-one mode, and there is a certain probability of an additional level. This is friendly to players of all levels. Of course, if you are lucky enough, you can also have a more powerful "HashLand Ultra NFT". in terms of HashLand Market,which is the most powerful point of our market is that users can trade while mining HashLand GameFi: This is also the most interesting project on our platform. Our GameFi adopts a reasonable economic model and chooses games with extremely high playability as chain games. I believe this is something that other chain games cannot do. .To date, over 20,000 users have joined our first game, Hash Warfare.
Q2) I believe everyone is familiar with BTC. Can you briefly introduce the purpose of HC?
Michael Michael: HC is the governance token of hashland, which exists in BSC. In addition to having the foundation of governance tokens, it can also be used to upgrade HashLand NFT; HC can be exchanged for general props in GameFi, which are used to improve the combat power of occupations and complete the game items in circulation. In addition, HC is also used as a reward in the P2E model.
Q3) Can you briefly talk about the current status of P2E and the obstacles involved? How does HashLand GameFi avoid it?
First of all, I have always said that P2E is a work mode rather than an entertainment mode. I believe that people who come to the metaverse are not just for the fun of playing games, but for making money. Therefore, many projects on the market use P2E as an entertainment to money-making model, which allows players to easily obtain benefits, but this cannot be maintained for long. Since it is a work mode, it must require you to work hard to gain benefits. In HashLand GameFi, you need to fight, complete our tasks or play games with other players to get a lot of money. Our first game is of the ARPG type. The player can only get the benefit that belongs to him after he has repelled many enemies. Of course, in PVP, only the more powerful summoner can get the personal benefit that belongs to him.
Q4) that is really looking forward to it! I saw the introduction of DAO in the relevant materials. Can I introduce it in detail here?
There are 21 seats in HashLandDAO. Among them, 5 are for developers, 4 are for early stage, and the remaining 12 are determined according to the position locked ranking. The members of the DAO organization will jointly build HashLand and enjoy the dividends brought by ecological development. Not only the platform revenue dividend rights, but also the game scene dividend rights, the priority subscription rights for rare cards, etc. At present, we have locked ⛓all the liquidity of 2 million US dollars in HC, and this part of the funds will also be put into DAO.
Q5) How do you assess support from the community? What is your marketing strategy? What message do you hope to convey to the community through the AMA to make investors aware of your project?
This question is very interesting. In fact, it also includes the reasons why the project has achieved such results. This has nothing to do with the project itself and the marketing strategy. I think it is better to analyze why the community chooses this project.
As we all know, Gamefi is the main value application of NFT at present, but the value and price of NFT seem to be only directly related to the size of the project itself. This is an unhealthy phenomenon, so in the first IP "I am MT" NFT asset, the first attempt was made to integrate Bitcoin's hashrate into NFT, which fundamentally provided the underlying value support for these NFT assets . The community and the market have seen a brand new attempt, a breakthrough evolution in us. It can also be said that the project is doing a kind of community experiment, and from the current performance, many people are willing to follow the project to explore the new future of Gamefi and NFT development. The tacit understanding and spirit between the project, the community, and the market is exactly what I hope to convey through AMA.
Q6) Can you please provide some information on the roadmap and how Hashland has progressed so far?
As of today, a total of 60,000 NFTs have been minted in NFTs, and 28,000+ NFTs have been destroyed by synthetic higher level NFTs. The platform currency HC also launched on Pancake on November 18, and the NFT stakes mining on the official website has also started. HashLand's first GameFi, called Hash Warfare, will start its second season at 12pm (UTC) on January 21st, and the yield is very impressive. We will continue to invest in games to empower HC and NFT, and our chain games are definitely not ordinary web games. We will create interesting and research-based high-quality chain games to become the strongest in the blockchain world. game platform.
Q7) How is HashLand NFT gold farming in the game ?
After you have HashLand NFT, you can display your hero in the game as long as you insert the NFT slot. There are mainly the following gold-farming modes. 1-PVE: After passing each level, you will get a part of the HC reward. This reward is continuous and will be issued every day until the end of the season. 2-PVP: When you successfully defeat your opponent, you will get a certain amount of HC rewards. 3-World BOSS: After killing the world BOSS, all participants will distribute the HC income proportionally. 4-GVG: Form a guild with your friends to defeat other guilds to gain profits.
Q8) Does HashLand NFT need to download the APP, or can it be played directly on the official website, does the game need to register an account?
The game needs to be entered through the bound mailbox, and each mailbox can only be bound with three wallet addresses. You can enter the game on the official website GameFi interface. At present, the APP side has been tested, and of course we have also opened the web version of Hash Warfare,and data exchange⛓.
Q9) How many NFTs are needed in the game to play the game?
You can experience the game without NFT, because two free heroes will be given at the beginning of the game, but the combat power of the free characters is limited. You can use diamonds to draw a lottery to get heroes who will not generate NFT to fight for you. These heroes will be cleared after the season ends. You need to have more and more advanced HashLand NFTs to join the game to help you defeat more and more powerful enemies for higher profits.
Q10) Can the rewards obtained in the game be withdrawn? How do I withdraw?
The main rewards in the game are HC. You can trade in PanCakeSwap to exchange for BUSD.
Q11) I just suddenly discovered that there are numbers on each NFT. What do the numbers on HashLand NFTs represent?
The numbers on HashLand NFT represent HC hashrate (left) and BTC hashrate (right). The higher the value, the higher the hashrate. The higher the value of NFT, the higher the combat power in GameFi. The new NFTs will no longer have BTC hashrate and our new NFTs with new heroes will be on sale tmr 8 am UTC those heroes possess stronger power to fight in the game!! And here we will put best questions from our members and HashLand fans:
Q1) In HashLand, do users/players need to download the APP, or can play it directly on the official website? How much NFT does an in-game player need to start playing on
HashLand?
Yes, players need to download the APP on the official website.At present,our game supports playing on Android phones. You can also use Android emulators to play our games on desktop computer. In fact, we give each player two heroes to experience our game.The team in the game consists of three heroes, which means that players only need to buy one NFT to form a complete team to start the adventure. Of course,we recommend that players have three or more NFTs to flexibly adjust their game strategies and earn more profit
Q2) Most NFTs games currently suffer low player base due to expensive initial cost for a new player to take part in the game, How does HashLand is attracting large group of players? can you talk some of its features which make it different from other ?
The NFT in our first game HashWarfare is divided into five levels, NFT can mine and P2E at the same time, the card prices of the five levels and the combat power in the game are also different,players can choose their own lineup configuration,then buy NFT and fight.Of course, in theory, the higher the level of the card, the higher the income you can get.At present, the price of HashWarfare's first-level NFT is between 30-50BUSD. We will also give each player two free heroes to form your team in the game, so players only need 30-50BUSD to form a complete team.Of course, we also encourage players to use our gifted heroes to experience our games, and then develop investment and play strategies according to themselves.Such a low threshold and various ways to get token have differentiated us from other chain games. We believe these features will be the main factors that HashWarfare attracts players.
Q3) I saw your gamemode…. So, how many battle modes are there in the game? Are there other functions within the game if I want to level up or gain experience to have more skill is it necessary to buy skill packs or how would it be in "HashLandNFT"?
We just finished the first season of HashWarfare. After the first season, we collected a lot of suggestions from players, and screened and developed good suggestions during the off-season. We want to build a excellent chain game together with players. at present, we have opened PVE and PVP two modes of earning token. PVE is to open a chapter and reach three stars in each level to participate in the distribution of the bonus pool of the chapter. The later chapters are more difficult, and the bonus pool is also bigger.; PVP is to get higher rankings by constantly challenging players with higher rankings, the higher the ranking, the more HC rewards you can get.Soon we will also launch world bosses and guild battles to enrich the game content.
Q4) What are some of the major achievements that #hashland has achieved and what milestones are planned in the upcoming months/years?
In the future, does #hashland have a plan to beat your rival or cooperate with them? Our first batch of NFTs were sold out in 5 minutes on the Binance NFT market, and we were No.1 of Top Collections on the Binance NFT market for ten days. Next, Hashland will improve our DAO, listed on more centralized exchanges,and participate in the Binance MVB. Users can see the latest roadmap on our Twitter.Hashland is committed to becoming a game distribution platform. Our main competitors are Mobox and Gala.Each game provided by the Hashland platform will pay great attention to game quality,build a reasonable economic model, and attract players with excellent gameplay.Hashland We will continue to develop new games in the future, so please look forward to it.
Q5) As the majority of the NFTs up having little to no value, it is difficult for liquidity to exist because people don't constantly trade them in pairs therefore it becomes difficult to liquidate the NFTs. Can you tell me how Hashland has planned to solve this major issue?
Hashland have different ideas on that problem,we chose to empower NFT cards,the main funtions of Hashland NFT is GameFi, BTC computing power and HC computing power.
While players can get HC by playing games, they can also get benefits from the HC and BTC computing power of NFT.The BTC computing power on Hashland NFTs is provided by the BTC mining machines actually held by Hashland.Each Hashland NFT is bound with unique HC and BTC computing power, providing a value support and actual value for NFT. btw our new NFTs with new heroes will be on sale tmr 8 am UTC and two free heroes will be given after u registerd and logged in!
u can buy our tokens in pancakeSwap as i said before
Website: https://hashland.com/
Q7) Can you share to us your tokenomics? How much is the total and circulation supply of your tokens? Will there be buy back system or token burning in the future?
Symbol: HC Contract Address: Chain:Binance Smart Chain(BEP-20) Total: 21,000,000 Pre-Mined: 2,100,000 Daily Output: 7200 Deflation Model: 0.25 HC per Block; 7200 HC per day; 10% cut every 3 months,for three years. Before the official launch of GameFi, 45% HC production will be burnt. All destroyed HC will be sent to the address: 0x0000000000000000000000000000000000000010
Q8) Is this your project only for elite investors, how about others with small funds, is it open to everyone?
our project is aiming to everyone,we give two free heroes to fight in th game ,only if u registered and logged in , and get rewards to rankings up to 500,u should know that we only reward top 200 in the first season,we now expended a lot of ranks
Q9) Revenue is an important aspect of all projects for survival and sustainability. So, how does your project plan to generate profit and return?
there are two main ways u can earn,first is that u can stake your NFT to mine,both HC and Btc,Second,you can get youe distribution from your ranks
Q10) Are you going global? Or is there current target region that your project working on at the moment? Any possibility for recruiting ambassadors?
yes,we are doing it globally,everyone can participant in our game,but i have to say sorry that our ambassadors are enough and threshold is not high,it's why we wanna everyone have at least some experience
And this was the end of our AMA with HashLand. If you have any other questions you can ask here:
https://t.me/HashLand_NFT
ℹ️ℹ️ Useful links ℹ️ℹ️
Website :- https://www.hashland.com/#/home
Twitter :- https://twitter.com/HashLand_NFT
Medium :- https://medium.com/@hashland_
Reddit :- https://www.reddit.com/r/hashland_community/
YouTube :- https://www.youtube.com/channel/UCHPvO4AMd-EwMtM0du9N20g