we hosted an amazing AMA with HeroesofNFT on the 25th of October
And here we will put some of the best questions:
Q1. Can you introduce yourself to our community?
I want to give some information about me
I am one of the cofounders of Heroes of NFT project.
Below you can see my CV in summary.
Co/CEO; has a bachelor's degree in Electric and Electronic Engineering, a master's degree in MBA and worked in system administration field with strong abilities in shell scripting and python in the public sector for some years and has over 13 years of total experience in the energy sector as an executive. He is an early investor and validator of Avalanche.
In terms of crypto, I am in crypto since 2016. My main investment is in Tezos, Avalanche and Ethereum. I am an early investor of Avalanche and participated in the ICO. I am a validator as well in Avax. Now I become one of the co-founders of Heroes Of NFT. As a team, we started to work on this project in March 2021. Also, I would like to give some information about the team. Below you can see the qualifications of the other team members below.
Co/Business development and Financial Affairs; has a bachelor's degree in Economics and a master's degree in MBA, and over 15 years of experience in multinational companies as a financial analyst and corporate finance Executive.
CO/Blockchain & full-stack developer; has a bachelor's degree in Computer Sciences. and expertise in C/C++, Nodejs, Solidity. Developer for 6 years mainly specialized in backend development with a total experience of over 12 years and a serial entrepreneur.
CO/Game Developer; has a bachelor's and a master's degree in Computer Sciences; and Expertise in Object-Oriented Architecture, Socket programming, C/C++/C#, Unity, Unreal Engine, VR and AR developments; with total experience of over 12 years.
one more thing about the team
Although we don't disclose our identity publicly, our partnership knows who we are. As a team, we are living in the same city and know each other. I believe it is very important for a team to know each other personally. All of us graduated from the same university and I really like the team spirit that we have.
Q2. Can you briefly tell us what is Heros of NFT?
Heroes of Nft is a turn-based collectable trading card game. Players can battle in the arena playing against each other and show-off their skills with unique hero cards.
The never-ending possibilities will put competitors to the test of becoming true strategists. While the in-game items will change the gaming pace drastically, future various game modes will allow players to experience different challenges. Users will confront each other in serious tournaments and the winners will get generously rewarded.
Wallet ownable spell cards, weapons and cosmetics will bring your heroes extra power and extra customization options. Moreover these items will be sold on the marketplace to bring more volume on the HON economics. Our novel Play 2 Earn mechanics will allow players to be participants of a real game economy.
PvP and PvE modes are rewarded separately with mintable HRM tokens while the real prizes are distributed in serious tournaments. HON token holders will designate the game's future thus they'll be the real game masters. Having all of these features, Heroes of NFT distinguishes itself from the others.
Q3. Let's now talk about the milestones you have achieved so far and about your upcoming plans?
We achieved many milestones! let me give you some metrics.
-The design of the NFT cards to be used in the game has been completed, play2earn game mechanics has been finalized,
-Proof of concept game developed on unity and closed beta tests of the game have started.
-The smart contract for the sale of NFTs has been deployed and we have started NFT sales. Over 5,800 NFTs has been sold as of today.
-Revenue generated with an amount of approx. 2,300 Avax (more than 150k usd)
-Our contracts have been audited by Certik. https://www.certik.org/projects/heroes-of-nft
-Both Hon Token and HRM token developed as native multi-chain tokens to benefit X-Chain's speed and low transaction fees. Heroes of NFT will be the first multi-chain DAPP on Avalanche Network.
-In every AMA, i am disclosing something that has not been known by the public. now here we go.
-We sold more than 230k USD worth of tokens in our strategic sale. Moreover, we will have a private sale and an IDO, which means that we will secure enough funds for the project, for sure.
For this reason, Heroes of Nft is a real gem on avalanche but just took the attention of real OGs of Avalanche.
HON Token is our governance token and it is hardcapped to 200million. In five years, it will be distributed to yield farmers and single stakers. Only %8 of the token supply will be sold in strategic sale, private sale and public sale.
%92 of HON token will be produced by yield farming and single staking. It is a fair launch and there is no premint token for the team and treasury!
In order to attend our private sale, people need to become a beta tester by buying 10 Heroes of NFT cards and they will receive 500 hon token as an airdrop. Moreover they will be white listed in our private sale. We have nearly 250 beta testers. I guess they will finish all the tokens in the private sale:) Everything is going great with the project.
one more thing before going to another question
Since we have a running game, I mean a product, our community is really supporting us. Thanks to them and we promised them that early adapters will be awarded!
Q4. Every project has a story behind their name, Can you tell us more about the story behind this? Who are the team behind this project? can tell us their background?
In the first question, I give information about my background, and our team members' backgrounds. But as i told that we are doing everything inside of the team except illustrations and character designs. Unfortunately we dont have artistic skills:) we are developing the game, our smart contracts, game mechanism. All the technical things, we are doing within the team.
but why we choose a game to develop?
The main reason why we chose nft gaming in march 2021, is because our cofounders are really into the game. We are gamers and we want to develop what we like! The name was found by one of our developers. Even He has a sword and a shield in his home lol and also he likes cosplay very much. He is doing cosplay with characters he likes.
We want to give this enthusiasm to the name of the game. Also i am fan of "heroes might and magic", but our metaverse is in the future with multidimensional worlds. Opps i dont want to give more details about it but our metaverse will be released in Q1 2022. Then we decided the name of the project to be "Heroes of NFT" It is the combination of "Heroes" and NFT
Q5. DeFi is one of the hottest and most sought-after topics in the blockchain space right now. Can you share your opinion on DeFi with us? Do you think DeFi will disrupt the current financial system? What is Heros of NFT's approach to the DeFi sector?
For sure, defi will disrupt the financial system. I have been in crypto since 2016 and i can see that many people left spot trading and joined the DEFI sector. The future is coming and it is defi. But until now everyone is talking about DEFI but the next big thing is the NFT. Imagine a project which combines DEFI and NFT. Heroes of NFT is mixing DEFI and NFT together. We are not a project that took advantage of NFTs trend. We started working on NFT and gaming in March 2021. I can see that many cash-grabbing projects are launched just to use the name of NFT to take the advantage of NFT trends.
NFT, DEFI and gamification are the key success of our project. Our value generation model is very important in our strategy.
-Heroes of NFT Value Generation Model
Play to Earn games have economically closed system. For this reason, any provided stimulus to play to earn ecosystem is very crucial. For this reason, Heroes of NFT will share %20 of revenue with the ecosystem. In a closed system, establishing any dependences between parties are very important for a sustainable economy. We created a division of labor and roles in the Heroes of NFT ecosystem. With this innovative model, people don't need to play the game but still can benefit from Heroes of NFT.
This is our value generation model. It is very innovative
We will share the revenue with the community. imagine blizzard is sharing the revenue with the game players:) sharing revenue will bring really good price stability for our tokens.
And here we will put best questions from our members and HeroesofNFT fans:
Q1) Is blockchain gaming, people are always worried about the transaction speed because they worry about their transaction going to fail. How fast and secure is HeroesOfNft gaming platform? If the number of users spikes, will transactions on HeroesOfNft get congested?
Thanks to Avalanche superior subsecond finality, there will be no problem with the transaction speeds. This is why we are on avalanche, this is why we love avax.
Avalanche has a superior tech, it is unbelievale, the subsecond finality is great and also the capacity network is amazing. more than 4500 tps
For this reason, we guranteed that no transaction will fail since Heroes of NFT is running on avalanche
Q2) Researching about you, I could see that Heroes Of NFT has been working with Chainlink. What is the main purpose of this collaboration? Exactly what aspects of your project do you hope Chainlink can help you improve?
Fairness is very important for us. Users will be able to create new NFTs with their character cards or they will be able to upgrade their erc1155 nfts but all of the mentioned process will happen according to output of probability functions. This randomness will be provided via chainlink.
Randomness is important since noone can create randomness by using hash or other cryptographic functions inside a smart contract. We had an agreement with chainlink to make them our randomness function provider.
Also you know that best projects are working with best partners in crypto:) Since we satisfied the requirements of Chainlink, they started marketing our projects.
Q3) Current NFT is a hot topic, but are NFT not just for art. Does your project think that more real world use cases will emerge for NFTs as time goes on, why should we take NFTs seriously?
We have started working on this project since march 2021. At that, time this NFT mania was not very much. We believe that other than the artistic NFTs, the most usable form of NFTs will be in gaming since digital ownable asset types are numerous in gaming. In the past digital assets were not common. it is a new phenomena and people will understand the importance of owning digital assets since people are spending most of their time in a digital world that motivates them to have their own digital assets. People outside of crypto, can not understand the importance of the NFTs and even DEFI. But soon they will face with the real change and the important question is that "Are you ready for it? "
Q4) Do you focus only on gamers users or do you also focus on users interested in profitable investments? I do not consider myself a professional gamer or play regularly as part of my routine.Even if I don't consider myself a "gamer", can I receive passive income through HeroesofNFT?
We have always a place for the non-gamers. We designed our ecosystem according to it. You dont need to be a gamer to be part of heroesofnft.com This is why heroes of nft is different than the other projects.
also please take a look at to this explanation.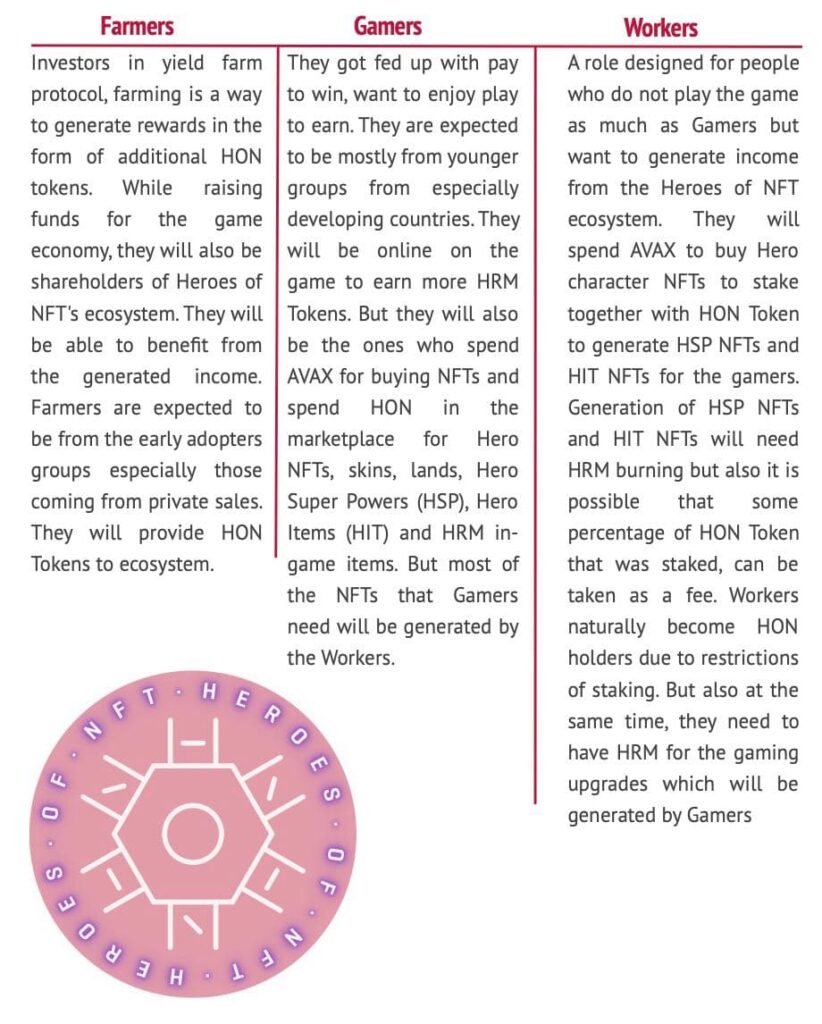 We have three kind of participants and only one of them should play the game. Workers and Farmers dont need to play the game.
so we are welcoming everyone to our Heroesofnft.com ecosystem.
Q5) Please tell us know where can we buy HeroesOfNft' token? Is it available on any exchange? Binance, Huobi, Bitmart or somewhere?
we are doing our strategic sale just for people or groups who can support the project in terms of marketing and liquidity providing. Then we will do the private sale to our beta testers who are whitelisted. To be whitelisted and have a seat in the private sale, everyone should follow the steps in the following tweet. https://twitter.com/heroesofnft/status/1436445806505205775?s=20 Private sale participants will receive 500 hon token additionally!
Then people will be able to buy HON token from traderjoe, elk and pangolin DEXes. Ladies and Gentlemen, HON token is doing a fair launch. If i were you, i would not miss that chance. Fair launches dont happen in crypto very much.
Q6) 🌳Hon Token is the Heroes Of NFT governance token, capped at 200 million and to be distributed over 5 years. Why did you decide that your tokens should be distributed over a relatively long period of time? Why exactly 5 years?
Because we want to do a fair launch. We dont do accelarated yield farming as well. For instance some people will join the project in 2025 and they will be able to farm the HON token. We want to establish a long term relation with our community.
Q7) Do you have AUDIT certificate or are you working to AUDIT your project, so that the security of the project becomes more secure and reliable?
https://www.certik.org/projects/heroes-of-nft our contracts have been audited by the Certik. Security is the most important thing for us.
Q8) Where i can get all the latest news about ? Do you have Twitter/Telegram/Discord community? If yes can you share the link here because there is a lot of fake telegram/twitter groups?
https://twitter.com/heroesofnft is our twitter account and also you can see all the community telegram group in this tweet https://twitter.com/heroesofnft/status/1452225206496514055?s=20
Q9) How important is the community to you? and how can we collaborate or help you for the development of the project. And what is your real purpose???
If you are an active member of the community, there are too much space for growth. We are following members and if we like how they are active than providing them proposal and making them members of Heroes of NFT team. Other than the co-founders we have 5 collegues working with us now. They were community members with great motivations. Also we are paying in USDT.e and also providing HON token to them. Ohh i forgot, we are giving free NFTs to team members as well!
Community is important for us and we tried to work with our community members as much as possible.
Q10) Please provide more information on your ROADMAP. What are the most anticipated plans and events for the next few days and months that we should be aware of?
today, we are disclosing our new roadmap with killing features. https://twitter.com/heroesofnft we will make the announcement from our twitter account. For instance, In Q1 2021 we will launch our metaverse. This great details will be mentioned by our twitter account
And this was the end of our AMA with HeroesofNFT.
If you have any other questions you can ask here:
https://t.me/heroesofNFTofficial
ℹ️ℹ️ Useful links ℹ️ℹ️
Website :- http://heroesofnft.com/
Twitter :- https://twitter.com/heroesofnft