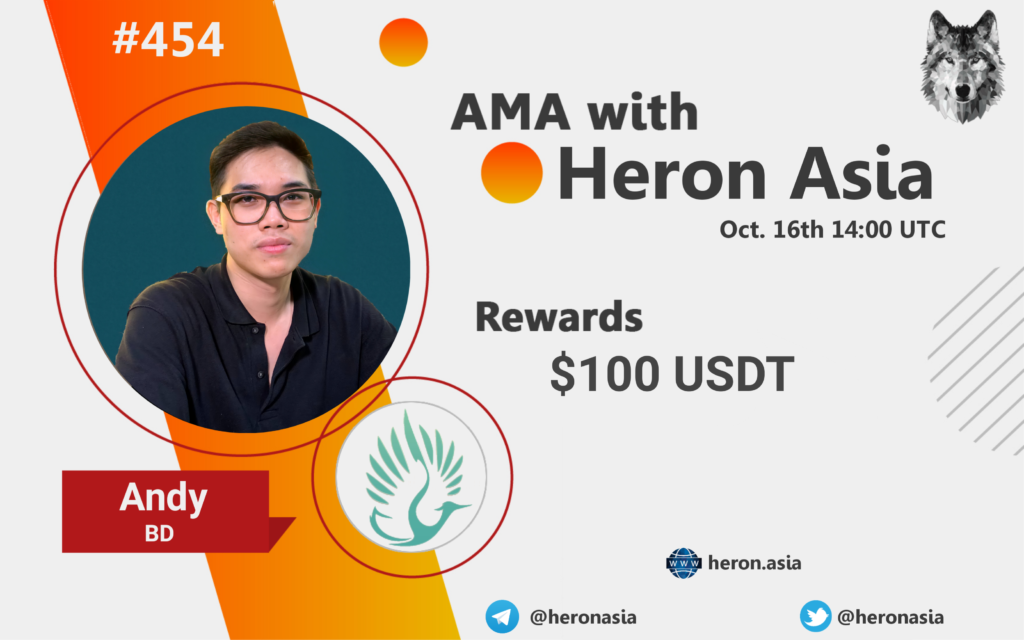 we hosted an amazing AMA with Heron Asia on the 16th of October
And here we will put some of the best questions:
Q1. Can you please introduce yourself as well as Heron Asia ?
I'm Andy, representative BD of Heron Eco Retreat
A summary of our project,
From the crypto view, Heron Eco Retreat is a wellness-oriented complex that implements Blockchain technology in order to enhance user's experience in this blockchain world. We want to apply blockchain technology to traditional bussiness models in a way that it's profitable in both world.
Looking from traditional tourism perspective, Heron Eco Retreat is visionized to bring people back to nature and help us reconnect with her by serving luxurious services and products.
Q2. What are the advantages of Your project ?
Heron Eco Retreat is the first to bring blockchain technology this far when combining with traditional tourism.
Bitbook and Travala are 2 famous name you'd hear when talking about blockchain with tourism but so far they're just staying at providing services.
What we do is to create an ecosystem where HERON owner could use the token to get vouchers to travel and use our real-life luxurious services. People could also make profit by trading it on our HERON marketplace
one last thing about our project is that, since everyone is so hyped about NFT and go crazy about it, NFT is currently over-priced and would create bubble sooner or later.
our advantage is that we link NFT to real-life products, therefore it has true value and when the NFT bubble burst, the value of our real-life services would serve as a support price area, prevent it from price slippage.
Q3 please tell us about the goal you want to achieve in this year
so far, we've acquired all the legal papers to make sure we are allowed to construct on such a massive amount of lands
Heron Eco Retreat is 30,000 square meters, there were many strict conditions to be met but our core team has handled them all and now is moving to the building phase. We've planned to finish the whole project and have a grand opening at the end of 2022
Q4. Every project has a story behind their name, Can you tell us more about the story behind this? Who are the team behind this project? can tell us their background?
About our story behind Heron Eco Retreat, when winter comes, birds will fly south to search for places to hibernate. That's exactly like us, digital nomad. We're tired of the hustling, all the stress and responsibilities make us ovewhelmed and we need to recharge yourself. That's when you think of Heron Eco Retreat
About our team, we are compromised of high level individuals in both the crypto and traditional space.
Our founder is Mr. Thang Trinh, who has background in tech and has more than 5 years of experience in developing wellness & retreat projects. He is speacialized in partnership development, growth strategy and team scaling up.
Besides, Mr. Phu Nguyen, Mr. Son Tran, Mr. Khanh Mai & Mr. Thang Nguyen are our core-team members, each of them is in charge of different part of architecture, construction, finance and hospitality operation, to ensure providing the best experience for our customers. They have nearly 15 years of experience in the hospitality industry, have consulted and operated hundreds of large and small resorts, both domestically and internationally, such as FLC, Datanla Waterfall, LangBiang and so on.
We are so confident to make a wonderful series of resorts for our customers to have an amazing wellness & retreat experience.
Q5. NFT is one of the hottest and most sought-after topics in the blockchain space right now. Can you share your opinion on NFT with us? Do you think NFT will disrupt the current financial system? What is Heron Asia's approach to the NFT sector?
As I mentioned above, NFT is being over-priced as it has no real value and use cases in real life. NFT is creating finacial bubble in crypto world. And that's exactly the problem that Heron Eco Retreat wants to solve.
We want to embed real-live services and products into the NFT so that when the bubble burst, the price of the token itself would never crash because the real-life price of our services at Heron Eco Retreat would serve as a support price area
And here we will put best questions from our members and Heron Asia fans:
Q1) Mentioned on your website that. When securing 01 slot, you need to invest $750 to hold 74,000 HE tokens. You could buy more than 01 slot if you love to retreat several times.So my question would be where can I buy HE token? What are the best features of HE Token?
We're launching our private sale and public sale phase for IDO. You could buy HERON token on Launchzone's pad
here's the link: https://pad.lz.finance/
more info about where to buy token after IDO would be released on our announcement channel: https://t.me/heronasiaann and our twitter: https://twitter.com/Heronasia
About the token's ultilities, first is that you could use those 74,000 HERON token to stake in our Heron pool. Staking your token here would have them locked for 1 year and then after that, liquidator would be incentivized with HERONNFT which could be converted to a voucher of 2 days 1 night at Heron Eco Retreat
the more of HERON token you hold, the more HERONNFT would be given to you
now with the HERONNFT, you could turn it into a voucher to stay at Heron Eco Retreat or, you could bring those NFT on Heron Marketplace to trade with other people to earn profit more quickly
so far Launchzone has not updated Heron on it's launchpad but they will soon, and we would announce on our Announcement Telegram: https://t.me/heronasiaann
you could also join our chat telegram to talk to the community
https://t.me/heronasia
We also have Twitter to keep followers updated to the lastest news of the project https://twitter.com/Heronasia
Q2) It says Heron Eco Retreat is designed to reconnect with Mother Nature, promoting a green stay paired with whole-body wellness. So in short, this project is here to sell the vacation? If not, explain and convince us why we don't want to miss this opportunity with #HeronAsia?
We are a traditional tourism bussiness with the aim to intergrate with blockchain technology to enhance user's ability to enjoy and earn profit in crypto world. $750 is all you have to spend to have slot at Heron and you could stake it to get a voucher of 2 days 1 night every year for the next 15 years after we grand open Heron. If you want to come and enjoy traditionally, 2 days 1 night at Heron cost 160$ and I could do a quick calculation for you that you must spend $2400 to stay at Heron once every year. There are also other benefit from trading our NFT on our marketplace so it's suitable for both short-term and long-term investor
Q3) Most of the NFT DeFi with Gaming & mining concepts are sometimes unsustainable because they do not have intrinsic token value that benefits users in the long run. Can Heronasia guarantee profits for its users, have a high token value and can be used in the long term until later?
As everyone knows, NFT is so hyped right now since it's price could jump to the moon in a really short period of time
but price goes up doesn't mean value would also go up
most of NFTs in crypto world right now is pretty useless and has no real-life value
what we are doing here is to give HERONNFT a real-life value and usability
owning HERON token would help you get more HERONNFT and with these NFTs, you could turn them into services and products you want to have at Heron Eco Retreat
if you own HERONNFTs but can't travel then no worry, it could be traded on our marketplace and I bet you all would have different strategies to earn the most out of them
Owning with just 750$, you could have a place at Heron every year in the circle 15 years
and one more thing is that the success of Heron Eco Retreat would pave way for many other Herons to be launched all over Vietnam, which mean you could travel anywhere you want throughout Vietnam once a year with just $750
Q4) I understand that Users have to have HERONFT to have a 2 day 1 night retreat package. But how can we get this HERONFT? Can it be bought seperatlly,or is it mandatatory to stake $HERON? Also,is it possible to sell our HERONFT to another user,so they can exoerience the package?
you must own HERON token to stake and then you'd be incentivized with HERONNFT
if you don't own HERON token then you could buy HERONNFT on Heron Marketplace
Our Marketplace is created in order to help people trade there NFT together
when you've not booked at Heron, that NFT is equal to a 2 days 1 night package but has no information on who and when.
so by trading on Heron Marketplace people could also experience the package from the NFT they traded for
Q5) What are plans adopted by Heron Asia to have a global adoption? Their are many country which still consider digital currency a taboo. How do you plan to market your products in such regions? What are the plans to increase awareness in the non-crypto space?
This is actually not a problem since we're working on other languages version on our website.
Data would be collected and we would choose the most demanding languages to add to our website. This requires a lot of customer insight so we're working on it
about people's perspective on crypto, we're acutally not worried about it since many countries in the world are accepting bitcoin in general and cryptocurrencies for specific. People's view on crypto would soon change. We also have plans to educate our non-crypto-natives that use our service in a traditional way. Social media is our next big move in our strategy to spread our name and what we do here at Heron Eco Retreat to help people get a better knowledege on crypto
Q6) Can you share more details about your tokenomics? When will be the TGE and when the token sale will begin?
Token ticker: $HERON
Spec: BEP-20
Contract Address: TBA
Allocation
Total Supply: 235,000,000 $HERON
Allocation for the Private Sale: 222,000,000 $HERON
Private Sale Price: 1 $HERON = 0.01014 BUSD
Hard cap: 2,250,000 BUSD
Adding liquidity: 11,100,000 $HERON
Adding liquidity fee: 112,500 BUSDTotal for Private Sale: 2,137,500 BUSD
Allocation for the Public Sale: 13,000,000 $HERON
Public Sale Price: 1 $HERON = 0.015 BUSD
Hard cap: 195,000 BUSD
Vesting Schedule
To maintain a healthy growth of $HERON value, we introduce the following vesting schedule for both Private Investors and Public Investors:
10% to be released at TGE
90% to be released in the next 12 months at the monthly rate of 7.5%
Cliff for one month
Q7) Is your platform suitable for crypto beginners? Or does it only limited for professional users ?
Our platform is perfectly design to suit crypto beginner's need. We want this project to be the first big thing to apply blockchain tech and bring it further from anyone has done it. This would help us reach and educate non-crypto-natives and change their view on cryptocurrencies
Q8) I was reading your website and the truth is that your project is very promising, but, in relation to the payment mechanism that you will accept, how will the process be and what kind of tokens will you accept?
as long as you own HERONNFT, you could easily book our service through our system and you would receive a QR code to check in when you're at Heron Eco Retreat. This QR code is as uniqe as the NFT since one NFT could only generate 1 QR code and this QR code could only be scanned once to make sure there's no other NFT like yours
Q9) Where i can get all the latest news about ? Do you have Twitter/Telegram/Discord community? If yes can you share the link here because there is a lot of fake telegram/twitter groups?
we have all latest news updated on our social media, make sure you follow them all to get up to date
Website – https://heron.asia/
Telegram Group – https://t.me/heronasia
Telegram Channel – https://t.me/heronasiaann
Q10) Does this project have any real future? Or have no thoughts of the future?
this is an interesting question and I want to dive deep in it
first of all is the future of tourism in Vietnam. As you may know, Vietnam has been really really popular among worldwide traveler due to our beautiful food and richness in culture and history
Vietnam is at the period like Thailand 5 – 7 years ago which was the time Thailand tourism dominates the whole SEA
now we're at their place. Everyone is talking about Vietnam and everyone wants to travel to Vietnam
whoever has been to Vietnam all want to come back for the food and the scenery
now let's talk about our project
Heron Eco Retreat is built in an total area of 30,000 square meters, on a hill full of trees and faces a huge lake
from the city center of Hanoi (Vietnam capital and also the most wanted for every travelers) it takes just one hours of car ride to get there
completely away from the bustling urban
you could see that the demand for staying at Heron Eco Retreat has been really high right?
now we add blockchain technology into it and create a space for people to virtually invest in it even from the other end of the globe
with the support of Heron Marketplace, token and NFT owner could maximize their ability to earn profit by holding more token to get more NFT to convert to more days staying at Heron or by trading NFTs with others in need of the NFTs to stay at Heron
I could tell you that Heron Eco Retreat in the future would be massive and acquire a really high demand from both travelers and investors
And this was the end of our AMA with Heron Asia.
If you have any other questions you can ask here:
ℹ️ℹ️ Useful links ℹ️ℹ️
Website :- https://heron.asia/
Twitter :- https://twitter.com/heronasia
LaunchZone whitelist :- http://heron.lz.finance/
Telegram official community :-
https://t.me/heronasia