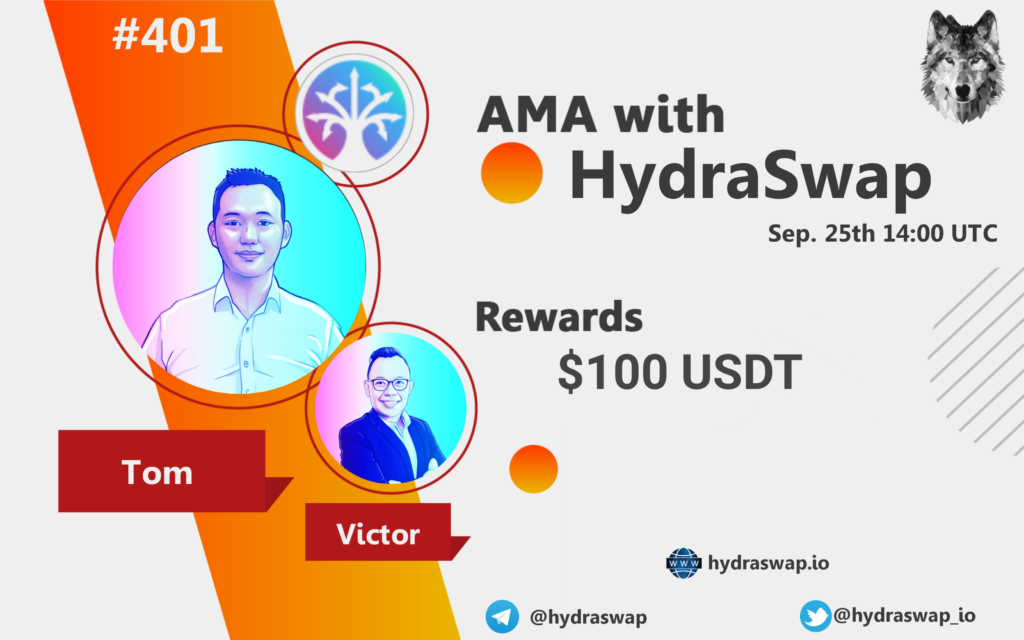 we hosted an amazing AMA with Hydra Swap on the 25th of September
And here we will put some of the best questions:
Q1. Can you please introduce yourselves as well as HydraSwap ?
I'm Tommy and I'm part of HydraSwap.
We have astonishing team! It's the best i've ever been a apart of in my long startup caree
I'm Victor Lee, core team and DeFi lead for Hydraswap. I'm experienced crypto entrepreneur since 2016. Ventured into crypto and DeFi and never look back since.
I'm experienced in product and DeFi/crypto and also worked in Standard Chartered Bank as product innovation manager.
A seasoned entrepreneur and also a programmer in smart contract as well.
I lead marketing.
i've been building startups my entire life. I've built at least 10. Most have failed, 2 have had the great success of being acquired by Rocket Internet and anheuser busch inbev
The rest of the team is just as incredible.
Our CTO has built a CEX before launching the HydraSwap DEX
Our CEO traded a 5,000,000,000 trading book with 50,000,000 yearly profit at JPM
Hydraswap is a cross chain DEX on Solana
Our vision is to become a mega app that provides a one stop solution for liquidity providers and traders for managing and trading assets cross-chain.
We will be building our base DEX on Solana. With a TPS north of 50k and gas costs under 1c, we strongly believe that Solana is best placed for supporting a high frequency trading ecosystem.
With HydraSwap we will bridge the fragmented liquidity on DeFi and coupled with Solana's throughput we will enable DeFi to scale further unthrottled.
Q2. What are the advantages of Your project ?
Hydraswap unique differentiator:
Superior Performance The average 50,000 TPS throughput and less than 0.5s processing speed powered by Solana allow us to deliver a CEX-level user experience.
Low Gas Cost Almost 0 gas cost allows us to make complex interactions with smart contracts, such as the commission calculation for referral programs. This is impossible for those high-cost DEXs such as those on Ethereum.
Strong HMM Market Making Mechanism High asset utilization rate, low price slippage, dynamic, and multiple market-making strategies. This ensures that a LP retains all rights.
New Generation Initial Hydra Offering IHO Mechanism Project teams can set up liquidity pools efficiently and effectively. The interests of both project teams and participants will be protected throughout the entire process of token issuance.
Cross-chain Solution This allows us to trade, deposit, and withdraw assets between different public chains with no boundaries. The cross-chain interactions are empowered with HydraSwap's superior performance.
This are our main advantages vs our competitors:
Speed We will be able to offer sub 1s transaction times, sub 1c gas costs. This will allow you to significantly improve trading performance.
Cross-Chain Bridge Our cross-chain bridge will provide a seamless experience for managing your assets cross-chain including swapping, trading and liquidity mining.
Growing Solana With Solana's power we will enable a whole new suite of order types that will give you upto 10x lower price slippage on large orders.
Proprietary AMM model Our HMM algorithm really pushes us ahead. Our algo team has over 20 years of traditional finance trading experience.
This makes for a very intuitive trading process.  We've designed algo and our UI to enable trading of all kinds.  It's a DEX built by traders for traders.
Q3 please tell us about the goal you want to achieve in this year
Hydraswap updates for 2021.
Our DEX is live now. https://app.hydraswap.io
We have an extensive roadmap and are well on our way. Our Beta is out now. This thanks to our 10+ person dev team, cranking out awesome tech.
You're right, we are building out features that are hot right now. And they are the foundation that allows us to build the next layer of operability.
What we'll bring to Solana and DeFI is incredible optionality and usage by bridging chains. And the DEX is the 1st part of that.
Now the best part is how we're able to build so fast. Our CTO and our tech team has already built an outstanding CEX. They used their knowledge there to build the HydraSwap DEX.
That's why we can boast CEX level capability on a DEX.
Q4. Every project has a story behind their name, Can you tell us more about the story
HydraSwap comes from the mythical Greek creature the hydra. The beauty of the hydra is that when you injure it, harm, it, admonish it, it comes back stronger than ever.
When you attack it, when you cut off it's head, the hydra doubles in strength. 2 heads grow in it's place where there was only 1.
And here we will put best questions from our members and Hydra Swap:
Q1) While you build your project, do you take into account community feedback and demands?
Of course.
We build Hydraswap because we understood the painpoint of having an advanced DeX and how to create the best decentralized trading exchange that is used by Traders and institutional traders.
Our core team lead, Ayush was a trader in JP Morgan and is currently building the DeX based on his knowledge in the investment banking sector.
We listen to the real traders who trades billions every year and created a product that is suited for these institutional liquidity providers.
Q2) On your website, I saw an exceptional new product "HMM" brought by the Hydraswap Team. How will it help to bring adoption, increase capital efficiency and better liquidity to traders across the HYS ecosystem? Please provide a brief idea of its functionality to the community?
HMM is an updated automated market making algorithm, an AMM. An AMM is the fundamental piece of all DEX's that is responsible for the pricing and the volume on the DEX. We've been building beyond what is a normal AMM.
HMM is an abbreviation of Hydra Market Maker. We've built on top of the Uni V3 AMM that has concentrated liquidity and added more.
The core mechanism in an HMM lies in introducing the oracle price as a reference to imitate the manual market making operations. And it introduces a new element that no other AMM has, a 'Compensation Parameter'
We have back-tested our HMM algorithm and it provides 2-4x better returns to liquidity providers. By providing better pricing with less price slippage. All of this leads to significantly reduction of impermanent loss.
Q3) The hydraswap project has HMM pools but I would like to know how the project controls and mitigates risk in these groups? Who do you consider as competitors? How do you plan to overcome the challenges in the future
All of the Hydraswap codes are under process of being audit by tier 1 smart contract auditor. As we are putting our own $ into the liquidity pools, we are not risking this.
Our competitors are other DeXs in the DeFi ecosytem. There are no 1 good solution for a great cross-chain DeX and we are looking to solve that.
Our challenges is getting enough traders and liquidity providers to use our best in class Hydraswap DeX comparing to the rest.
Q4) An interesting feature that caught my attention was your integral cross-chain mining, so could you explain to me what this mining consists of and how beneficial it will be for the users to be able to participate in your mining
Cross-chain swap is 1 of our plan. Mining would be done once we have launch the nodes and liquidity mining for HYS token.
Anyone who contributes to the mining will gets more HYS token. This token represents great APR% and ROI for any stakers.
Hydraswap will be launching our LP rewards program for bootstrapping liquidity.
The program will run for 4years to generate a long term user growth and incentives. This will be launched in soon.
We will also launch a bug bounty program after our official release. This will incentivize the Hydraswap community members to earn rewards while improving the Hydraswap app and user experience!
Q5) Can you tell us more about the project's roadmap? Are your goals still on track? What is the biggest goal that your project has towards the end of 2021 and to achieve that goal, have you outlined a detailed plan?
Our one goal is to be the cornerstone DEX on Solana. All our developments are for this singular purpose. Our beta is out now. https://beta.hydraswap.io/. You can see what we're capable of.
Our next launch will include Uni V3's concentrated liquidity, our HMM that will help liquidity providers make more money and CEX functionality like limit orders. HydraSwap will be the biggest DEX on Solana.
Q4 is a big quarter for us.
We will launch our full app before our IDO.
We'll have our IDO in Q4
And we're beginning the implementation of the cross-chain bridge.
Q6) I want to follow your project in long term and Don't miss any update. Kindly share your social media links..(because there are many fake groups)??
Twitter: https://twitter.com/HydraSwap_io
Telegram: https://t.me/hydraswap
Medium: https://medium.com/hydraswap
Discord: https://discord.com/invite/AA26dw6Hpm
Official website: https://beta.hydraswap.io/
Q7) Are you planning to promote your project in countries / regions where English is not good? Do you have a local community for them to better understand your project??
We are in the localization and looking for community to participate. Please feel free to recommend any good translator and community mods based on these languages.
Indonesian
Vietnamese
Korean
Japanese
Chinese
Russian
Q8) Where can I currently buy Token?
The HYS (Hydraswap) token will be launch in Nov during our public sale. Please join us to get into our public sale then! Stay tune with our social media.
Twitter: https://twitter.com/HydraSwap_io
Telegram: https://t.me/hydraswap
Medium: https://medium.com/hydraswap
Discord: https://discord.com/invite/AA26dw6Hpm
Official website: https://beta.hydraswap.io/
Q9) Although ETH 2.0 is delayed. When it is deployed on Blockchain, the problems of transaction fees and network speed will be solved, most of the projects today are built on BSC, so what do you think when your project uses the network? BSC instead of ETH?
It all depends on your view of Crypto in the next 10 years.
Where will it be and what will we be using it for.
I love ETH and sometimes BSC. But new blockchains will always be coming out. And different blockchains offer different advantages. That's the nature of humanity, to spread it's wings and always keep trying. what will happen is the network that connects the different blockchain will become strong enough to support many different chains. We are seeing the beginnings of this, here now with the cross-chain bridge
Q10) Can the unique design of "Hydra Market Maker" or HMM be adopted by any AMM DeFi projects from various networks? How flexible and dependable is your AMM structure and capabilities?
I really hope others adopt our HMM. It would be an honor to push the DEXs even an inch closer to our TradFi counterparts, which is the dream of this project.
After the Audit, there is a high likelihood we'll make our code open source.
This isn't the trend on Solana now, but we're hoping to be part of the change that brings transparency and openness to Solana.
And this was the end of our AMA with Merch DAO:
If you have any other questions you can ask here:
ℹ️ℹ️ Useful links ℹ️ℹ️
Website :- https://beta.hydraswap.io/
Medium :- https://medium.com/hydraswap
Twitter :- https://twitter.com/HydraSwap_io
Discord :- https://discord.com/invite/AA26dw6Hpm
Telegram official community :- https://t.me/hydraswap