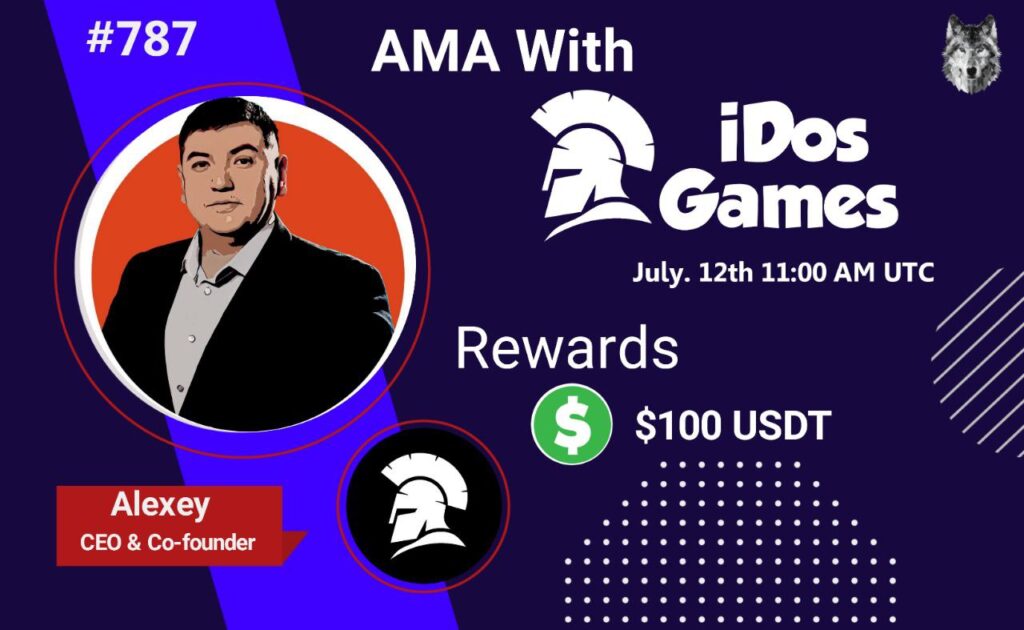 We hosted an amazing AMA with your iDos Games on the 12th of July.
And here we will put some of the best questions:
Q1. Can you please introduce yourself as well as iDos Games?
We are indie mobile games developers. The main advantage is all our games are free. You don`t need to buy NFT or any assets to start playing our games. Most of P2E games are on browser, our games are available on Google Play Market.
Q2. What are the advantages of Your project?
All our games are totally free, so you don`t need to know much about crypto and etc. You just download our game and play!
Q3. please tell us about the goal you want to achieve in this year.
Game is available on Android. IOS will be available in a few months. To this date we achieved:
+ 105 000 Downloads
+ 20 000 Active Users
+ 1 000 Ingame Purchases
By the end of this year we plan to reach 1 000 000 users in our games.
We`re having an IDO event that starts on July 15th
⏰Hurry up and join our #Gleam #Giveaway to participate in the IDO!
👉Go & Register at gleam.io/Q3DLQ/depro-labs-x-idos-games-ido-community-whitelist-on-dodoGleam
Start : 14PM UTC 2 July 2022
Gleam End : 14PM UTC 14 July 2022.
Q4. Every project has a story behind their name, Can you tell us more about the story behind this? Who are the team behind this project? can tell us their background?
I used to work as a sales manager in lots of companies. I like IT since I was a little boy and when I met Aidos and heard what project is he doing, I decided to start working with him. Most of our employees are students, some of them graduated this year.
Q5. NFT is one of the hottest and most sought-after topics in the blockchain space right now. Can you share your opinion on NFT with us? Do you think NFT will disrupt the current financial system? What is Your project's approach to the NFT sector?
Very interesting question) NFT becomes popular all over the world. We believe that this is a very promising direction and we are implementing it into our game ecosystem. We plan to launch our own NFT marketplace for all our players. I do not think that in the near future the NFT will replace the classical financial system, but everything is possible)
And here we will put best questions from our members and iDos Games fans:
Q1. To start the game on iDos Games we must have at least one NFT Fighter. That means we can have more than one NFT Fighter, really? If yes Can you tell me what is the price range for each NFT Fighter? Will each character have a different price level?
You don`t need to buy any NFT, assets, lands and etc. For most of the skins in our games, you can earn coins)
Q2. I understand that iDOS is a platform that combines Metaverse: NFT, and P2E. Can you explain how you would incorporate these elements into your game? What kind of experience will players get when playing on iDOS? How will they interact with each other?
There are few ways of interactions.
1. To play together in the game.
2. To interact in the marketplace by selling or buying NFTs.
Also all our players can use their NFT skins in the whole ecosystem. We will announce about it with description a bit later)
Q3. There are many NFT game projects incorporating Metaverse today. So there should be high competitiveness in the market, and users more selective when participating in new platforms. So, what are the excellent features that make iDOS stand out from other blockchain projects?
As i told before, we are Gaming company. Our main advantage is that Game – first, crypto later. We try to make our game as interesting and high qualitatively as possible. And our games are totally free for everyone.
Q4. There are two important factors to try to predict the future of the Play to Earn model. The first is a growing gaming community and the second is cryptocurrencies and NFTs. When does iDOS plan to incorporate these elements into its game? How will it strengthen the community?
The most interesting thing is that we are connecting both gaming and crypto audience) We have good games, with NFT skins)
Q5. What are the different game modes that you offer to your users? Can I get rewards in all of them? What are the different ways to generate income through "iDOS GAMES"? Do you plan to integrate tournaments or events in the future?
Now we have: Team deathmatch, training mode and PVP modes. We are preparing a big update with improved graphics and Battle Royal mode.Here`s the link: https://youtu.be/qzPhjBrhL0g
Q6. Do you have any.. 1- Telegram Group 2-YouTube channel 3- Tiktok Channel 4- Website 5- twitter For this project? From there where can I get the latest information, what social media can I follow to get the latest Your project information?
Official Links
🌐Website 🖼Presentation 📙Whitepaper 👋 Linkedin 💬TG group chat 🐦Twitter 🤖Discord 📇Medium 📲Download ShootGun 📲Download 2048cube
Q7. Can I play the game on both PC and mobile? What do I have to do to play?
We`re on mobile devices for now. PC is not available.
Q8. I saw that #iDosNFT Games is a team of indie-game developers in Kazakhstan. So what are your thoughts on giving each player the opportunity to play, have fun and earn crypto at the same time? Have you decided to create a metaverse for it?
Yes definitely. We are actually worldwide, People play our games in more than 170 countries in the world.
Q9. Many games today set high costs to start the game & therefore start with a small player base. Does an entrance fee or starting conditions & if so, what are they?Do I need to hold an NFT or a certain number of tokens in order to enjoy & play the thanks sir #iDosNFT?
As i mentioned before, you don`t need to buy anything to start playig our games. Follow the official links in our chat to start playing games by yourself)
Q10. Do you have a AUDIT certificate? or are you working to AUDIT your project, so that the security of the project becomes more secure and reliable?
We`ve been audited by Certic. You can find the link on our website: https://idos.games/
Q11. Most NFT games currently suffer from a low player base due to the high initial cost for a new player to participate in the game. So how does #iDosNFT attract such a large group of players? Can you talk about some of its features that make it different from others?
We`re growing really fast. And now we plan to reach 1 000 000 players by the end of 2022.
And this was the end of our AMA with iDos Games.
If you have any questions you can ask here: Telegram Group: https://t.me/iDosGamesChat
ℹ️ℹ️ Useful Links ℹ️ℹ️
– Website: https://idos.games/
– Telegram Announcement: https://t.me/idosgamesofficial
– Twitter: https://twitter.com/iDosNFT
– Discord: https://discord.gg/jQtdZVw43X
– Medium: https://medium.com/@iDosGames
– WhitePaper: https://lp.idos.games/