we hosted an amazing AMA with Islandpunk | Move2Earn on the 4th of June
And here we will put some of the best questions:
Q1. Can you please introduce yourself as well as Islandpunk ?
I'm Yang alias Zackinho – CEO of Islandpunk
Let's briefly go over our project for the uninitiated:
Islandpunk – a NFTs Play to Earn game launched on BSC platform with exciting and outstanding features: Oracle, PVP, Zerogas, Stake to Earn, Wake up to earn, Move to earn and many more interesting events.
Move to earn: Users walk and run to reach a required distance for a period of time while maintaining certain movement speeds to earn rewards
Wakeup to earn: Players wake up at a chosen time to obtain a bonus ticket
Play to earn (Stake to earn): PVE as staking to create a labor-saving experience for our gamers
PVP: Players compete with one another to rank up and earn weekly rewards
Oracle: Every in-game price is fixed by usdt
Zerogas: Our game puts an end to gas fees
As a matter of fact, our game is the first to have both Move2e and Oracle as well as the second NFT M2e game that is available on both android and ios
Q2. What are the advantages of Your project ?
As I just said, we are proud to be the first project that has both Oracle and M2e and the second game to be listed on both Android and IOS
We built a comprehensive ecosystem with complementary features: zerogas, oracle, move to earn,.. so players can maximize their profits
In addition, we plan to add BO and Lottery features to provide players with more chances to earn money
We also held lots of events like airdrop, testnet,… to keep our community active and excited
There is more good news to come, stay tuned!
Q3. please tell us about the goal you want to achieve in this year.
We aim to reach high ATHs after listing and plan to collaborate with more KOLs as well as expand to other non-crypto fields such as sports, clothing… Are you guys excited to see our NFT shoes in real life ?😁
Moreover, we will open nation-based communities to better assist members whose mother tongue is not English.
We plan to deploy mainnet after listing and maintain game stability for future development. We are putting every effort in project development to bring out a full-fledged product
Everything is going according to plan, let's look forward to a bright future ahead
Q4. Every project has a story behind their name, Can you tell us more about the story behind this? Who are the team behind this project? can tell us their background?
Actually, we came up with the name Islandpunk on the spur of the moment. "Island" refers to the Stake2earn feature, which happens to be one of our strengths compared to other projects. "Punk" is kinda random, we thought it would fit the name and it did just that. Hence, we got the name IslandPunk.
Our core team consists of 5 members, they were all handpicked by me and were elite figures in their fields
⭐️CEO: Harvey Dung, an expert with 10 years of experience in business administration and human resources, has more than 8 years working in blockchain field and has administered various crypto groups. He is also a well-connected figure, having partnerships with many big projects.
⭐️CEO: Mr. Yang, a veteran in blockchain field with 10 years of experience, is a famous figure on Weibo. In addition, he also has great connections with other partners and KOLs on the blockchain-related subject.
⭐️CTO: Mr Aman, who graduated from Indian Institute of Technology Bombay (IITB) in 2012, has 10 years of experience in blockchain technology and partook in several gamefi projects in many positions.
⭐️CMO: Mr Daniel, who has over 7 years of experience in blockchain field, is the admin of popular guild games groups with up to 40,000 members and have been in charge of similar vacancies in other gamefi projects.
⭐️Designer: Mr Brian, who is a web developer and 2D/3D designer, has proficiency in graphic design software such as: 3DsMax, Adobe AE, etc. He also has a variety of his products sold on OpenSea, and participated in myriad gamefi projects as a designer
Q5. NFT is one of the hottest and most sought-after topics in the blockchain space right now. Can you share your opinion on NFT with us? Do you think NFT will disrupt the current financial system? What is Your project's approach to the NFT sector?
I think NFT is here to stay, it is considered a ground-breaking technology that have many potential benefits.
NFT game is currently trendy, we can see many famous games out there like axies infinity, thetan arena that utilize NFTs
I don't think that NFTs will ruin the financial system, they are 2 independent things and won't likely get in the way of the other. In fact, I believe that in the future, we will see more NFT integrations in the real life, bringing more benefits to humans in accordance with the financial system
Our project has a set of NFTs: ships, eggs, monsters, shoes, cases
They are valuable in-game items that can be sold or buy at will
Players use those NFTs to play our game and enjoy all features. Here are some pics of our NFTs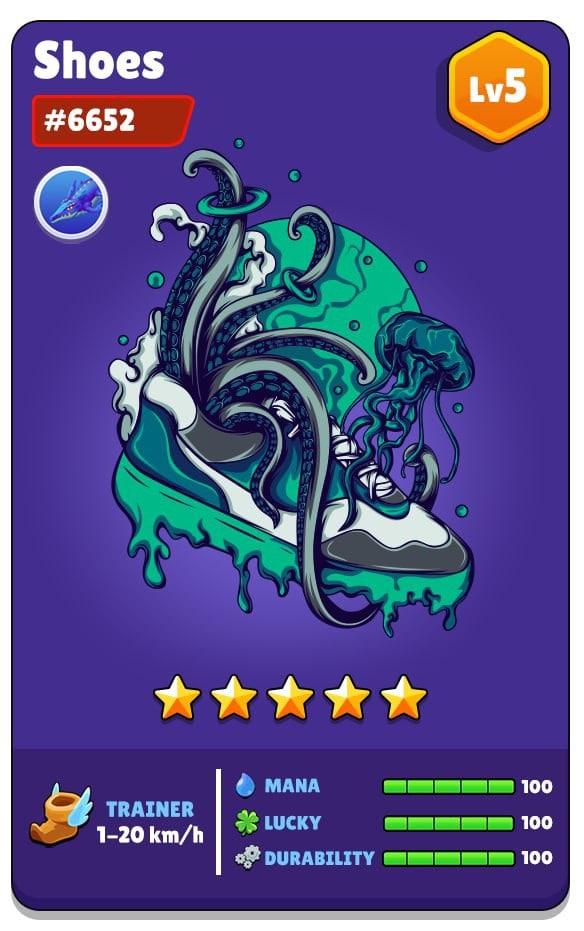 And here we will put best questions from our members and Islandpunk | Move2Earn fans:
Q1. Mobile games are popular this year and possibly in the future, because they are simple & can be played anywhere & at any time. Will #Islandpunk be available on the Playstore/Appstore? How can a player get the game by pay or free form easy ways?
I'm glad to say that IslandPunk is available on both Android and IOS and it's totally free to download
For Android users, you can easily install APKs provided by us. And for ISO users, our app has been approved by App Store, check it out: https://apps.apple.com/vn/app/island-punk/id1627030816
Q2. Marketing is a central element for every project, so that everyone knows the potential that a project can bring is vital to achieve the goals set. What is your strategy to attract new users and investors to "#IslandpunkISP" project and keep them long term?
Marketing does play a vital role in a project, it determines whether the project can achieve success or not
With that in mind, we created pre-listing and post-listing marketing plans to ensure that our community retains its interest in Islandpunk
Regarding pre-listing marketing, we announced it here: https://t.me/IslandpunkOfficial/54720
And after listing, we will hold even more AMAs and organize events to hype up the community and spread the awareness of Islandpunk. So far, we have held some intriguing events in our group such as: testnet feedback event, longest distance event, wl event,..
Our community showed great interest and we got high attendance in all of the events. For example, there were over 50k registrations for testnet.
We plan to collaborate with non-crypto brands like in fields like clothing, sports,…
We may hold tournaments with big prize pools to create a competitive scene for players, which will surely attract more gamers and even pave the way to make Islandpunk an esport? Who doesn't love esports ?
Q3. What is your anti-inflation mechanism? I see there are many metaverse game projects with high X at the beginning but they are not sustainable now, how can you maintain a stable token price that can attract users to join your game?
There are many projects that skyrocketed then crashed shortly afterwards due to unstable game economy
So right from the get-go, we aimed to create a stable product that can withstand the test of time. We implemented Oracle and Zerogas into our game in order to eliminate inflation. These 2 features will reduce the impact of token price to game economy and also avoid any token price crashes.
Additionally, we limit the number of NFT monsters each account to 10 in order to prevent excessive minting. We also have a plan to buy back ISP to ensure high liquidity for our project
With all those measures and a good product, we are confident in bringing the most stable game to our community
Q4. Currently, most projects and platforms are in English. How will your project reach non-English local communities? Make it easy for people around the world to use your service. Do you have any plans to develop projects in different languages?
We understand that language barriers are a big problem as they prevent communities from union.
For English players, we have written concise game rules so that people can start playing and get the hang of our game easily
For non-english players, we have a plan to open nation-based communities to better assist them in playing the game and investments. We will hire moderators corresponding to each community to provide the best support for our members. What's more, we are considering adding more languages to our game, the major ones like Chinese, Vietnamese, Korean.. so that people from all around the world can have an enjoyable gaming experience with islandpunk
Q5. What is the most ambitious goal for your #IslandpunkISP project? What is the ultimate vision that your project is trying to achieve in the cryptocurrency market? Explain to us about that. I would appreciate it if you could share some upcoming updates with us?
Obviously, the ultimate goal is to hit high ATHs after listing and maintain game stability as well as have a strong player-base
We aim to help people make adopt good habits by playing our game like walking, running….
Moreover, we plan to expand our ecosystem by developing spinoff projects, it can be anything as long as it's suitable and loved by our members.
Please follow our social media because there are good news coming
| Twitter | Telegram group chat | Medium | Telegram channel | Discord | Website | Gitbook | Pitchdeck | Audit | KYC | Contract | CMC| YouTube|
Q6. Zack:
Name 5 outstanding features of Islandpunk?
Jaki:
Oracle, Zerogas, Stake to Earn, Wake up to earn, Move to earn
Q7. Zack:
Explain Move2earn feature?
Kim:
Move to earn: Users walk and run to reach a required distance for a period of time while maintaining certain movement speeds to earn rewards
Q8. Zack:
Name 5 launchpads that we don't IDO on?
Kyl:
Lunapad. Bscpad. Tronpad , harmonypad , METAVPad
Q9. Zack:
What is the vesting schedule for Islandpunk's IDO ?
Ahmed:
33% on IDO, one month Cliff, 33% month
Q10. Zack:
Name all types of Islandpunk NFTs?
Jesse:
NFT shoes, monsters, ships, eggs, cases
And this was the end of our AMA with Islandpunk | Move2Earn.
You can find us here:
Website :http://islandpunk.io/
Telegram Community :https://t.me/IslandpunkOfficial
Telegram Announcements :https://t.me/IslandpunkAnn
Twitter :https://twitter.com/IslandpunkISP
Discord :https://discord.gg/7T9dyN8Cy4
Medium :http://islandpunk.medium.com/
CoinMarketCap :https://coinmarketcap.com/currencies/islandpunk/
Audit :https://t.me/TechAudit/921
GotBook :https://islandpunk.gitbook.io/islandpunk/
Pitch deck :https://docsend.com/view/wgcc3e4xkh8jjkhx