we hosted an amazing AMA with JOJO on the 24th of October
And here we will put some of the best questions:
Q1. Please briefly introduce yourselves
JOJOLord:
Hello everyone, nice to meet you here.This is JOJO Lord, one of the founding members of the JOJO team.But I prefer my other identity: JOJO community volunteer.
The members of the JOJO team come from all over the world, our core members are located in Japan, and our members in Singapore, the United States, India and other countries are also actively working. Most of the members of the JOJO team have very rich experience in NFT, DeFi, and games, which is why our products can develop so quickly.
This is the JOJO Website: https://jojo.fun/
Musashi:
Hello, Musashi from Fate/Origin here. Fate/Origin is the first game incubated by JOJO Gamebase. It is a 3D MMORPG Play-to-Earn game. Many of our team members have more than 10 years of experience in the game industry.
With the popularity of NFT, we are also very interested in blockchain games. The $JOJO team contacted us more than a month ago. After research, we believe that JOJO has great potential. We finally decided to join JOJO Gamebase and became the first of 12 games incubated by JOJO.
Q2. Please introduce the $JOJO token economic system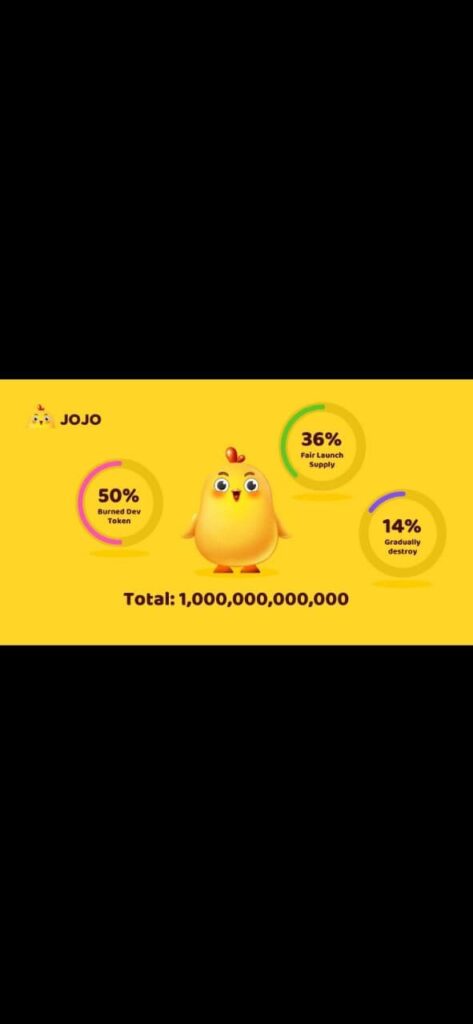 JOJOLord:
First of all, $JOJO is a completely decentralized MEME Token without any pre-sale and team reservation, the total circulation of $JOJO is 1 trillion, initially, 50% of the tokens are put into the black hole address, 36% into the PancakeSwap for Fair Launch, and 14% are gradually burned;
SUPER BURN & HODL-to-Earn mechanism, 10% of the amount of each on-chain transaction will be deducted, of which 4% will be allocated to all holding addresses including black hole address, so the deflation will never stop;
The launch time of $JOJO is less than 3 months, and now more than 62% of $JOJO has been burned. This is very amazing.
Stake-to-Earn mechanism, 3% of the amount of each on-chain transaction will be directly transferred to the JOJO NFT pool, and you can stake your JOJO NFT to earn $JOJO.
Also in 3 months, there are already more than $7,500,000 worth of $JOJO in the JOJO NFT Pool, and all these $JOJO will be distributed to those who stake JOJO NFT.
If you have $JOJO in your address, with the frequent increase of $JOJO on-chain transactions, the vaule of $JOJO in your address will gradually increase, and the JOJO NFT pool in the JOJO community will also become larger.
Certik has also completed the audit of the JOJO contract, this is the audit report: https://www.certik.org/projects/jojo
And you can buy some $JOJO from PancakeSwap now: https://pancakeswap.finance/swap#/swap?outputCurrency=0x78a499a998bdd5a84cf8b5abe49100d82de12f1c
Q3. Can we know more about how to Play-to-Earn with Fate/Origin
Musashi:
You can "Play-to-Earn" from the following 4 aspects.
NFT Mining
After you get F/O NFTs, you can stake them into the mining pool and earn $JOJO every minute. Of course, how much you get depends on your NFT quality and current hashrate. You can choose when you have it Upgrade the computing power for it, which will increase your mining income exponentially. You can also use $JOJO to increase your hashrate and increase your income several times.
In-game item trading
First of all, you need to have NFTs, and you can choose to equip them in the game. This will make your attributes in the game stronger. You can get advanced materials through modules such as dungeons, BOSS battles, and PVP. You can sell it to the in-game trading market to get Token profits.
Game task
Complete various types of tasks specified in the game, you can get rich Token income.
Trade NFT
The 40 types of NFTs in the game will be divided into 4 categories. If you want to fully experience all the functions of the game, then you'd better have these 4 types of NFTs. The NFT in the game can also be upgraded. When upgrading the NFT attributes, it will burn some NFTs. This will make the demand for NFT in the game very high. You can trade them in JOJO NFT Market.
Q4. What work has JOJO done now?
JOJOLord:
In about 3 months, JOJO has completed the development of JOJO Bounty, JOJO NFT Market, JOJO NFT Pool, JOJO NFT Blind BOX, JOJO NFT Refining, JOJO NFT Breeding, JOJO NFT Casting, JOJO Knight Order System, these are not just JOJO's Product functions are also the capabilities of JOJO, and these capabilities can also be given to JOJO partners.
JOJO Bounty System: Helps start new projects on BSC quickly. More than 30,000 people have already claimed JOJO Bounty NFT and joined the community of JOJO and our partners.
And you can earn some free JOJO Bounty NFT here: https://jojo.fun/bounty
JOJO NFT Market: JOJO NFT, as well as various NFTs incubated by JOJO Gamebase in the future, are all game NFTs. Only when users see their game attributes in NFT Market, can they better judge the value of these NFTs, so we create JOJO NFT Market, which is also the most suitable market for game NFT on BSC.
If you want some Origin JOJO NFT or JOJO FUN NFT, it's the time now: https://jojo.fun/nft-market/auction
JOJO NFT Pool: JOJO now has an NFT Pool of more than $7.5 million. These tokens will be distributed to users who stake JOJO NFT to JOJO NFT Pool. In the future, our partners can also create their own NFT Pool through JOJO.
Your can stake your JOJO NFT and earn $JOJO: https://jojo.fun/pool
JOJO NFT Blind BOX & Refining & Breeding & Casting: These are the capabilities of JOJO NFT. New NFTs are sold through blind boxes, JOJO NFT can refine genes, JOJO NFTs with genes can breed new Child JOJO NFTs, and JOJO NFTs can also be cast into more rare NFTs.
JOJO Knight Order: The JOJO Knight Order is our way to grow the JOJO Army and the JOJO community. Each user will get an exclusive invitation link. After other users enter JOJO official website for the first time and connect to BSC wallet through this link, the invitation relationship will be established.
After completing the corresponding tasks, users will be promoted to the corresponding tiers of the JOJO Knight Order and get corresponding rewards. You can even create your own JOJO Knight Order.
Welcome to JOJO Knight Order: https://jojo.fun/knight
In addition, JOJO APP has entered the final test, and JOJO Gamebase also started running last week. The first game we incubated, Fate/Origin, will be launched soon
Q5. Do you have plans to launch your own APP? What is unique about it?
JOJOLord:
JOJO APP is definitely not just a BSC wallet, this is not what we want. It will perfectly carry multiple scenes including JOJO NFT Pool, JOJO NFT Market, JOJO NFT Analysis, JOJO Gamebase, and people can experience all the functions in JOJO.FUN Metaverse on their mobile phones.
JOJO APP will also associate each BSC address with JOJO ID and JOJO Men. JOJO Men will be a customizable 3D avatar, you can see it in JOJO APP and the future JOJO World. We have also borrowed from the practice of ENS, JOJO ID will also be a string of characters that are easy to remember, such as "JOJOLord.bsc".
When you bind your BSC address with JOJO ID, the characters that are easy to remember and the 3D NFT avatar can represent your BSC address. We will also discuss with the BSC official the feasibility of using JOJO ID to transfer funds between addresses, but this is achievable in the JOJO APP.
And you can learn more about JOJO APP and JOJO ID here: https://jojometaverse.medium.com/jojo-app-jojo-id-community-beta-is-about-to-start-2edc95779ab7
Q6. Can you briefly introduce the roadmap of your game?
Musashi:
Fate/Origin is a large-scale 3D game. Generally, the development time of such a game will be more than one year. But the good news is that we have completed a large part of the development work, so if it goes well, we can enjoy the game in 2021. At the same time, we also have a 6-month roadmap.
October 2021
1.Development and deployment of NFT contracts.
2.Game official website release.
3.The game enters the test, and release the DEV LOG every week.
Early-November 2021
1.Launch the INO (Initial NFT Offering) on JOJO Gamebase.
2.Listed on JOJO NFT Market.
3.Start the NFT Pool.
Mid-November 2021
1.More AMAs.
2.Expand the Community.
December 2021
1.Release the Beta APP.
2.Invite KOLs to test the game.
3.Game Beta APP released to the community.
4.Iteration of the game.
January 2022
1.Join BSC MVB Program.
2.Fate/Origin 2.0 development and testing.
3.Cooperation with other ecological projects.
March 2022
1.Launch Fate/Origin 2.0.
2.Deploy to ETH/Solana.
Q7. Can you tell me more about JOJO Gaming Era?
JOJOLord:
In our vision of JOJO.FUN Metaverse,
JOJO.FUN Metaverse = NFT + GameFi + SmartToy + JOJO World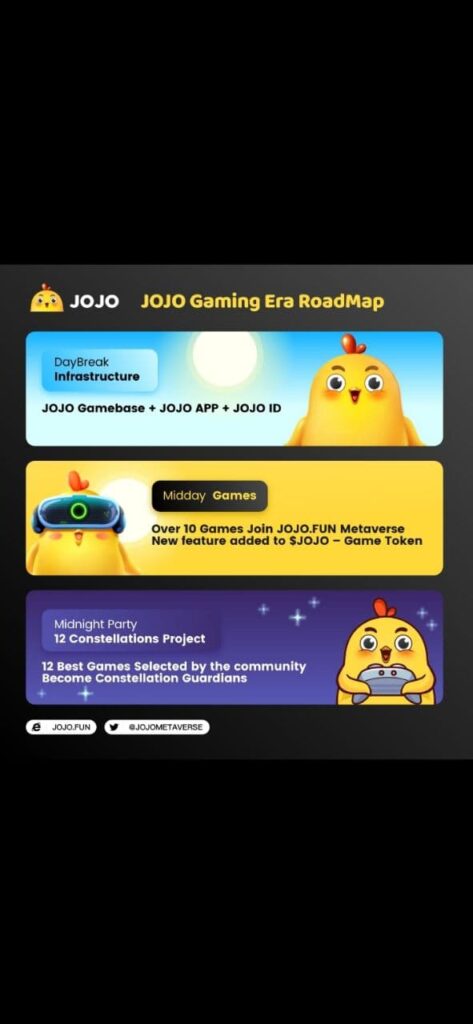 We have successfully completed the "NFT" part of the work. Now, JOJO officially enters "JOJO Gaming Era", we will divide it into 3 stages of "Daybreak, Midday, Midnight Party", and further empower $JOJO through 12 excellent NFT games.
DayBreak:
We will complete the infrastructure release at this stage, including JOJO Gamebase, JOJO APP and JOJO ID. JOJO Gamebase is a game incubator and "APP Store" on BSC, JOJO APP is the entrance to the entire JOJO.FUN Metaverse, and JOJO ID is the unique identification for users to join the JOJO.FUN Metaverse.
Midday:
JOJO Gamebase will run at full speed at this stage. A large number of NFT games will join JOJO.FUN Metaverse through JOJO Gamebase. $JOJO will also become a Game Token at this stage and be used in games incubated by JOJO Gamebase.
JOJO NFT Evolve System will also be launched at this stage, Origin JOJO NFT, Child JOJO NFT, JOJO FUN NFT, these 3 NFTs will be able to become the NFT in the game through the "JOJO NFT Evolve System", and you will see these 3 this kind of NFT burned through different scenarios, and as the number decreases, they will become more precious.
Midnight Party
JOJO will launch the 12 Constellations Project and select the 12 games in JOJO Gamebase that have made the most contributions to the JOJO ecosystem. "12 Constellations" will join JOJO World with us in the future and become the first batch of builders of JOJO World.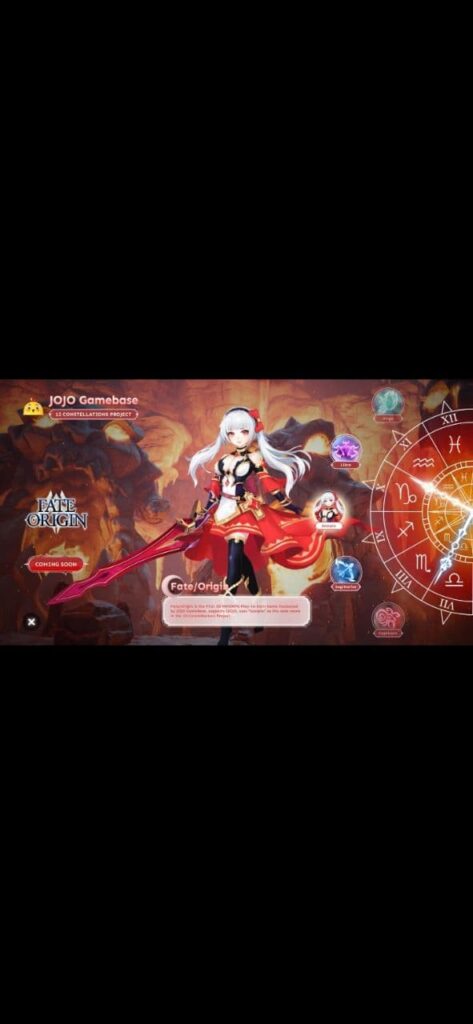 We have announced the first game incubated by JOJO Gamebase, Fate/Origin, a large-scale 3D MMORPG Play-to-Earn game. They plan to launch INO on JOJO Gamebase in early November and release their NFT.
Fate/Origin will release NFT blind boxes in the near future, now you can subscribe it, we will notify you via email 24 hours before the blind box is on sale.
Now, more than 2000 people have subscribed to it
Subscribe Link: https://jojo.fun/gamebase/1
Q8. How are Fate/Origin and JOJO connected??
Musashi:
Yes, of course there will be a connection, and we can be excited to say that we have completed in-depth cooperation with JOJO. The relationship between Fate/Origin and JOJO is in the following aspects.
Origin JOJO
If you have more hashrate in JOJO Genesis NFT Pool, you will get some discounts when you purchase Fate/Origin NFT.
$JOJO Token
Fate/Origin will support $JOJO. You can use $JOJO in the game, including purchasing items, trading materials, trading NFTs, and so on.
NFT Pool
Fate/Origin NFT can be staked to the mining pool on JOJO Website, which allows you to earn high profits every minute, and I'm excited to announce to everyone in advance that JOJO will support us. The initial NFT's The mining pool will put a large amount of $JOJO, thank you very much JOJO, this will be very friendly to the community.
Evolve System
We will put a part of NFTs into JOJO NFT Evolve System, Origin JOJO, Child JOJO, JOJO FUN, these 3 kinds of NFT can be used in JOJO NFT Evolve System, they will be burned, and then you can get Fate/Origin NFT.
JOJO APP
If you want to authorize the address and use the payment contract in the game, then you need to download the Fate/Origin and JOJO APP at the same time, because Fate/Origin will use the function of calling the JOJO APP.
NFT Protocol
The NFT Protocol in the game are jointly completed by the Fate/Origin team and the JOJO team. They gave us a lot of very good program suggestions and helped us complete the development.
NFT Market
The NFT of "Fate/Origin" will be launched on JOJO's NFT trading market in the future.
Follow us:
https://twitter.com/Fate_Origin
https://discord.gg/QsxJ8pjsrj
Q9. What role does $JOJO play in the JOJO.FUN Metaverse?
JOJOLord:
At this stage, we can divide the JOJO.FUN Metaverse into 4 modules:
JOJO NFT Pool
JOJO NFT Market
JOJO Gamebase
JOJO World
As this picture shows
In JOJO NFT Pool, users stake JOJO NFT and Game NFT to earn $JOJO, Stake-to-Earn;
At the same time, in this process, people will stake $JOJO to the mining pool to upgrade their hashrate, which will pump $JOJO;
In JOJO NFT Market, users can bid to earn $JOJO during the auction: if you are the last bidder, you will get the auction item; if someone bids higher than you, you will get 20% of the difference as reward, Bid-to-Earn;
Of course, you can also sell your NFT on the market to get $JOJO. In addition, BNB can also be used in JOJO NFT Market, and all of these BNB will be converted to $JOJO from PancakeSwap. All of these actions will pump $JOJO;
In JOJO Gamebase, people can play-to-earn in the game. $JOJO will be used in the game and become a Game Token; and all BNB consumed in these games will also be exchanged for $JOJO, which will pump $JOJO. The more games that join JOJO Gamebase, the stronger $JOJO will be.
JOJO World also supports Play-to-Earn. $JOJO will be the universal currency of JOJO World. People also need JOJO NFT and JOJO ID to join JOJO World.
If you want to fully experience the entire JOJO.FUN Metaverse, then you need to have $JOJO, JOJO NFT and JOJO ID.
And here we will put best questions from our members and JOJO fans:
Q1) The NFTs on your platform are the tool of everything, they can be used for trading, battle and gaming but how versatile they can be? is there a way to improve the NFTs with extra items and get better stats and price or fractionalize them for trading?
JOJOLord:
In our design, Origin JOJO is the most precious kind of NFT. It can be used for mining and breeding, and directly used in the game through the JOJO NFT Evolve System
And, JOJO FUN NFT will also have similar functions
We will also airdrop the NFT in the game incubated by JOJO Gamebase to JOJO NFT holders through various activities, just like this: https://jojometaverse.medium.com/the-rules-to-get-jojo-mount-nft-in-fate-origin-97f43502d767
After JOJO APP is launched in the future, it will contain a data statistics module, where you can see more information about JOJO NFT
Q2) JOJO will launch 6 types of JOJO NFT, called "Origin JOJO". With a total supply of 14,515 JOJO Origin. Can you explain in more detail about it? what are the advantages of having it? How can users participate and what are the requirements to get this type of JOJO NFT?
JOJOLord:
The correction is that all Origin JOJO NFTs in the blind box have been sold out. Of course, we still have some Origin JOJO NFTs that will be released through events.
Now, the new Origin JOJO will only be born in two ways. Some will be airdropped to our supporters, but these numbers will be small
Others will be cast by JOJO FUN NFT
JOJO FUN NFT is a set of NFTs issued by us in cooperation with Binance NFT. 17,300 NFTs were sold out in 1 second.
You can stake your NFTs for mining, or cast them into rarer NFTs
After the future JOJO NFT Evolve System goes online, you can turn them directly into the NFT in the game
Q3) Currently I read that JOJO already has "JOJO Bounty, JOJO Blind BOX, JOJO NFT Pool, JOJO NFT Market", in 1 or 2 months. and will see launch "JOJO Refine, JOJO Breed, JOJO APP" and other functions. So can you provide this Feature? how far and progress so far?
JOJOLord:
We already have them
JOJO Refine: https://jojo.fun/refine
JOJO Breed: jojo.fun/breed
JOJO APP has entered the final test, you will see it soon
Q4) Gaming sector is extremely competitive & many platforms had to work very hard to reach their current user numbers. How will JOJO team compete with the existing gaming platforms & what extra features will JOJO offer to attract the gamers from the other platforms?
JOJOLord:
The good news is that we already have a community of more than 260,000 members. This will be a force that cannot be ignored. "How to let community members play-to-earn in the game" is a question we are thinking about. I don't think there is any community that has such powerful product features, and more and more games will join us in the future.
Q5) I've heard that #JOJOMetaverse will incubate "12 excellent NFT games"? Why 12, will you add more in the future? And can you give us details about the upcoming launch of #FateOrigin, the 1st game incubated by #JOJOGamebase?
JOJOLord:
Maybe I think 12 is my lucky number lol 😂
Of course, it's actually because we have already contacted some game teams willing to join JOJO Gamebase, so we think 12 is an achievable number.
Of course, I think that in the end there will be far more than 12 games hatched by JOJO Gamebase, "12" may only be a goal within 1 year
Q6) Welcome Sir Can you share information about your token widget? What is the benefit of your token in your ecosystem? Do you have farm or quota advantage?????
JOJO Lord :
This picture can basically answer your question. In addition, we will launch JOJO/BNB Yield Farming next week, and more news will be announced tomorrow. Welcome to follow us on Twitter: https://twitter.com/JOJOMetaverse
Q7) If I want to invest in your project, where can I buy the tokens that are available in all the wallets? If I make a withdrawal in my own wallet, will it be as complicated as most other projects?
Musashi:
Fatw / origin does not issue tokens at present. The boxes and props of the game will support $JOJO payment. You can get $JOJO.
https://jojo.fun/gamebase/1
Q8) I read that in JOJO's entertainment metaverse,designers can use the perfect tools provided by JOJO to
castNFT and castphysicaltoys.So,does it mean that we can convert our NFT to a unique physical doll?Is
this carried out on the same platform is it only for Asia ?
JOJO Lord:
I think you are talking about JOJO SmartToy, which will be the focus of the next stage. We will contact some great designers and help them release some physical toys. At the same time, each toy will be associated with an NFT in the JOJO.FUN Metaverse through NFC/AR and other technologies.
And this was the end of our AMA with JOJO.
If you have any other questions you can ask here:
ℹ️ℹ️ Useful links ℹ️ℹ️
Website :-https://jojo.fun/
Discord :- https://discord.gg/QgpwAGyVmT
Twitter :- https://twitter.com/JOJOMetaverse
Medium :- https://medium.com/@JOJOMetaverse