we hosted an amazing AMA with JOJO on the 13th of August
And here we will put some of the best questions:
Q1) Please briefly introduce the JOJO team.
The members of the JOJO team come from all over the world, our core members are located in Japan, and our members in Singapore, the United States, India and other countries are also actively working.
This year, we have seen many miracles in the blockchain field. $SHIB has achieved great success, which represents the victory of the community to a great extent; The trading volume of NFT has increased hundreds of times and NFT games represented by Axie Infinity have made very surprising performance; In addition, the concept of Metaverse has been understood and recognized by more and more people.
Many people in our team have accumulated rich experience in blockchain and NFT, we have experience in the development and operation of NFT game and NFT trading market, and many of us are game lovers. Therefore, we decided to develop $JOJO based on BSC
This is the JOJO Website: https://jojo.fun/
Q2) Please introduce the token economic system and product ecology of JOJO from an overall perspective.
First of all, $JOJO is a completely decentralized MEME Token without any pre-sale and team reservation, the total circulation of $JOJO is 1 trillion, initially, 50% of the tokens are put into the black hole address, 36% into the PancakeSwap for Fair Launch, and 14% are gradually burned.
SUPER BURN & HODL-to-Earn mechanism, 10% of the amount of each on-chain transaction will be deducted, of which 4% will be allocated to all holding addresses including black hole address, so the deflation will never stop.
The launch time of $JOJO is about two weeks, and now more than 61% of $JOJO has been burned. This is very amazing.
Stake-to-Earn mechanism, 3% of the amount of each on-chain transaction will be directly transferred to the JOJO NFT pool, and you can stake your JOJO NFT to earn $JOJO.
Also in 2 weeks, there are already more than $1,450,000 worth of $JOJO in the JOJO NFT Pool, and all these $JOJO will be distributed to those who stake JOJO NFT.
JOJOLord:
That is to say, if you have $JOJO in your address, with the frequent increase of $JOJO on-chain transactions, the vaule of $JOJO in your address will gradually increase, and the JOJO NFT pool in the JOJO community will also become larger.
Certik has also completed the audit of the JOJO contract, this is the audit report: https://www.certik.org/projects/jojo
We already have JOJO Bounty, JOJO Blind BOX, JOJO NFT Pool, JOJO NFT Market, in 1 or 2 months, you will see the launch of JOJO Refine, JOJO Breed, JOJO APP and other functions. Unlike most meme coin, $JOJO has a strong product ecosystem to support it.
In addition, JOJO Gamebase will incubate a variety of NFT games, and we will release physical toys combined with NFT + NFC / AR technology together with well-known IP, each toy corresponds to an NFT in the virtual world. We have begun to devote ourselves to this work and have made positive progress.
Our ultimate goal is to establish a JOJO.FUN Metaverse with the "Play-to-Earn" mechanism as the core with the JOJO community.
Q3) What do you think is JOJO's advantage over its competitors?
Based on ACGN culture, create the most beloved MEME COIN;
Super burning + currency holding dividend mechanism, allowing your assets to continue to increase in value;
Games + toys + NFT + trading market + NFT issuance and incubation platform to create ecological products;
NFT+NFC/AR technology, breaking the boundary between virtual and reality;
Introduce many super IP and designers to jointly build the JOJO entertainment metaverse.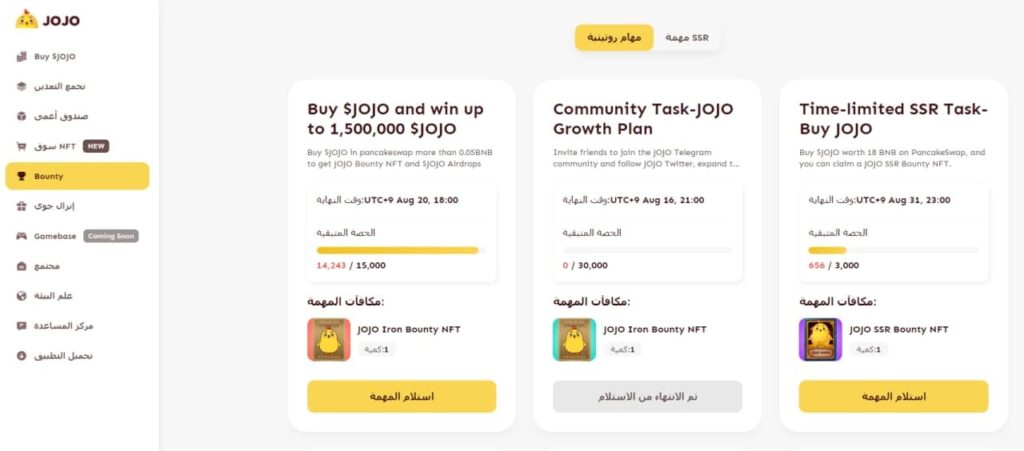 We have a strong community, and our team is very clear about what we should do. $JOJO has been launched on PancakeSwap, our Bounty system has been running for nearly 2 weeks, and more than 50,000 people have received JOJO Bounty Task.
We are turning the road map into reality step by step.
Q4) Can you introduce JOJO NFTs in detail?
At this stage, our NFT mainly includes four types: Origin JOJO NFT, Child JOJO NFT, JOJO Bounty NFT, JOJO Buddy NFT.
We will launch 6 kinds of JOJO NFT, which will be called "Origin JOJO". The total supply of these Origin JOJO is 14,515 and will never increase. Most Origin JOJO will be sold in blind boxes, and the other part will be distributed to users who have made contributions to the JOJO community.
Furthermore, these Origin JOJO have breeding functions. We have learned from the scheme of Axie Infinity. Now there are more than 1 million Axie NFT, and each Axie NFT can still be quickly sold at an average price of $300. Two Origin JOJO can reproduce a Child JOJO. According to genetic differences, now we have thousands of different images of Child NFT, and I believe it will continue to increase.
In order to better reward users who have made contributions to the JOJO community, we also specially prepared "JOJO bounty NFT". As long as you complete the task on the bounty page of our official website, you can get bounty NFT.
You can get our Bounty here: https://jojo.fun/bounty
We also selected some excellent NFT projects on BSC, and users holding these project NFTs can receive a JOJO Buddy NFT for free.
We also learn from the practice of YOOSHI of BSC project, and allocate 3% of the amount of each on-chain transaction to JOJO NFT pool. The above 4 kinds of JOJO NFT have the "HashRate" attribute, you can stake these NFTs to the JOJO NFT pool to earn $JOJO.
JOJO NFT Pool: https://jojo.fun/pool
Q5) Is there anything special about JOJO's blind box?
The total supply of Origin JOJO NFT is 14,515, most of which will be sold in each issue in the form of blind box. Before each issue goes on sale, we will announce the number and probability of different types of NFT in blind box of this issue. Generally speaking, the earlier you buy a JOJO blind box, the higher your chances of getting a rarer JOJO NFT. The rare JOJO NFT will bring you greater advantages in subsequent different playing methods, such as "Refining" and "Breeding".
The distribution method of sales revenue of JOJO blind box is as follows:
50% is allocated to black hole address;
40% is allocated to NFT pool;
10% is allocated to the development team.
Now, JOJO NFT Blind Box has completed 9 phases of sales, and each phase is sold out within 1 minute.
I believe that many people have not bought the blind box or have not obtained the Origin JOJO that they want most. Please remember that the sooner you buy, the cheaper, the more surprises. Every Origin JOJO are very rare, so no matter which NFT you get, congratulations.
JOJO NFT POOL has more than $1,450,000 of $JOJO. With the increase in the number of JOJO Telegram members and Twitter Followers, we will add up to 2 billion $JOJO to the JOJO Genesis NFT Pool.
JOJO Telegram:https://t.me/JOJO_Official
JOJO Twitter:https://twitter.com/JOJOMetaverse
Q6) What other uses does JOJO NFT have besides mining?
JOJOLord: In 2017, we had regarded "game" as one of the most consistent fields with NFT. Therefore, in JOJO, in addition to "Stake-to-Earn", "game" is another important application scenario of JOJO NFT.
To this end, we have designed a wealth of "Refining" and "Breeding" systems. JOJO GamePad is regarded as one of the most important products in JOJO ecology in the next stage. We will incubate a variety of NFT games through JOJO Gamebase. JOJO NFT holders can participate in these games earlier and even obtain the early share of these games. We believe that blockchain games still have great potential, and We have seen the mission of JOJO Gamebase to hatch more "Axie Infinity".
We will also combine several well-known IP to launch JOJO SmartTOY, combining NFT + NFC/AR technology, the NFT in the digital world can be one-to-one correspondence with physical toys in reality. Our ultimate goal is to break the boundary between virtual and reality in JOJO.FUN Metaverse with the help of NFT and blockchain technology.
And here we will put best questions from our members and JOJO fans:
Q1) JOJO has two main mechanisms that are vital to the development of the project, Super Burn & Hodl-to-Earn and the Stake-to-Earn. So, can you give details of how these mechanisms work? What roles do they play in the project? How do they benefit the JOJO community?
Only more than two weeks after JOJO went online, over 61% of $JOJO has been burned, which is amazing.
After each on-chain transaction of $JOJO occurs, 10% of the amount will be deducted, of which 4% of $JOJO will be allocated to each address holding $JOJO, including the black hole address. It is precisely because of this that as long as you hold $JOJO, the number of $JOJO in your address will continue to increase.
Stake-to-Earn then
Now, JOJO already has a JOJO NFT Pool of more than $1.45 million.
https://jojo.fun/pool
You can buy a blind box to get Origin JOJO NFT. We have sold 9 JOJO NFT Blind Boxes, and each issue is sold out within 1 minute on average. Sales will continue.
https://jojo.fun/blind-box
You can also complete tasks to get JOJO Bounty tasks, such as follow JOJO Twitter, join JOJO Telegram group, buy $JOJO, buy $JOJO blind box, etc. After completing these tasks, you will get JOJO Bounty NFT.
Both Origin JOJO NFT and JOJO Bounty NFT can be staked to JOJO NFT Pool to earn $JOJO
Q2) JOJO GamPad promotes game incubation and distribution. How will this initiative help create a new blockchain gaming financial system, making games not only interesting and fun, but also profitable? What are the requirements to be part of the JOJO incubation?
JOJO Gamebase is a game incubator that will provide services for game developers and gamers at the same time.
Gamers will find good "Play-to-Earn" games through JOJO Gamebase and make money in the game.
At the same time, JOJO Gamebase will also provide users with good investment opportunities. Users can use $JOJO to participate in the incubation of the game and earn profits as a member of the game team.
Q3) One of JOJO's goals is break down dimensional barriers. Taking advantage of blockchain interoperability,which allows toy figures in the real world to interact with NFT in the virtual world in the JOJO entertainment metaverse,could you tell us more about this dimensional bridge?
This will be our next phase of work. In the real world, there are many excellent companies that make popular characters in the virtual world into toys. This is already a huge industry.
JOJO will go further. We will launch JOJO SmartTOY. Every JOJO SmartTOY will correspond to an NFT in the JOJO.FUN Metaverse. They are both toys in the real world and NFT in the virtual world.
This work is in progress, and we will announce some news about JOJO SmartTOY 1.0 as soon as this month, so stay tuned.
Q4) Axie Infinity is one of the iconic games of today, which generates some of the best profits in this market for its players. My question is, what are JOJO's plans to become a platform similar or better than Axie? In what ways do they plan to outperform their competition?
I don't think JOJO and Axie are competitors, of course we will make some comparisons with Axie, like these:
In fact, we welcome cooperation with Axie. JOJO.FUN Metaverse will be a complete game ecology, which will serve both game developers and game players.
JOJO helps game developers to publish their own games and game assets. This kind of help will be reflected in technology, community, and funding at the same time.
JOJO will also help gamers understand how to play-to-earn. We think that as JOJO.FUN Metaverse grows, some people will take Play-to-Earn as their profession and make a living.
If you want to participate in incubating NFT games and earn revenue, JOJO Gamebase will also help you. You will see many different types of games in the JOJO.FUN Metaverse.
In the whole process, $JOJO and JOJO NFT will play an important role.
Q5) I've read that in the JOJO entertainment metaverse, designers can use the perfect tools provided by JOJO for throwing NFTs and throwing physical toys.. So does that mean we can turn an NFT of ours into a unique physical puppet..?
After we launch JOJO SmartTOY, JOJO NFT will be associated with physical toys, which will be realized through NFT+NFC/AR technology.
Q6) Could you please provide some info about your Roadmap and how Market is progressing so far?
This picture basically shows JOJO roadmap within 1 to 3 months.
JOJO has been online for more than two weeks, and we have now completed all the work of the first stage of the roadmap.
Q7) ANIME, YAKUZA, SAMURAI are Japanese characteristic which are very popular all over the world, do you have any plans to bring this concept into your project? I would love to see NFT with famous anime Themes like One piece, AOT, Tokyo Revengers, etc. What your oponion about that?
IP and designers are the targets we want to introduce, and we have made some progress. The fastest, in this month, you will be able to see JOJO SmartToy 1.0 on Amazon Japan. This will be a very interesting thing, and we think it is very meaningful.
Q8) Success of a project also depends on how large the community Is.Do you have plans to spread awareness to both crypto users & non crypto users in the world?Especially non-English speaking countries that may be restricted from accessing your project?
In fact, JOJO already has Global Ambassadors from more than 30 countries, and this number is still increasing.
We are still recruiting ambassadors, if you are interested, you can contact us. In addition, our Bounty system is continuing to expand the JOJO Community
We have more than $1.45 million in NFT mining pools, and these $JOJO will be distributed to those who hold JOJO NFT. This is a great incentive.
Q9) Is there an age restriction for playing JOJO GAMEPAD and if so, what is the age range recommended playing the game?
Gamebase is not a game. It is both an NFT game incubator and an NFT Game APPStore
you see
So JOJO Gamebase will have many different kinds of games, I think everyone can find a game that suits them, and Play-to-Earn
Q10) Do you have Whitepaper if yes please share it with us and secondly do you have plans for pre-sale? Where can we join it?
Our Dream Paper: https://jojometaverse.medium.com/jojo-dreampaper-9c63d2a46f50
And if you want to have some $JOJO, you can stake JOJO NFT on our site to earn $JOJO, or just buy some on pancakeswap: https://pancakeswap.finance/swap#/swap?outputCurrency=0x78a499a998bdd5a84cf8b5abe49100d82de12f1c
And this was the end of our AMA with JOJO.
If you have any other questions you can ask here:
ℹ️ℹ️ Useful links ℹ️ℹ️
Website :-https://jojo.fun/
Discord :- https://discord.gg/QgpwAGyVmT
Twitter :- https://twitter.com/JOJOMetaverse
Github :- https://github.com/danecoin/