We hosted an amazing AMA with Laika Verse on the 25th of March
And here we will put some of the best questions:
Q1. Can you please introduce yourself as well as Laika Verse?
I'm Grace, CMO of the Laika Verse Project.
I'm one of the Core team in the project.
All of us have a background in company operations, web/game design, UI/UX, marketing in gaming sectors and has joined crypto field since 2017.
Overall we have 12 people in Dev team including Game Dev.
For more details, you guys can visit: https://doc.laikaverse.com/our-team
About LAIKA VERSE, I want to show you guys a Trailer: https://youtu.be/d4z2eRFp8_Q
If you guys notice, continuing to the heat of Fan Token projects lately, Laika Verse is actually a fan-based token inspired by Fandom of the very first dog went in space – Laika.
This is a real history event and until these days we are still admiring this hero doge.
That's why LAIKA is born.
With a mission to serve not only Fans of this doge but also bring everyone together and go to the moon.
Basically, Laika Verse project = RPG Play-to-Earn + Web3 + Metaverse + NFTs + Staking.
and it's based on BSC Chain to utilize the cheap transaction fees for users.
In the upcoming plan, we are preparing for the Pre-sale Event on 31/3
which is on Pinksale: https://www.pinksale.finance/#/launchpad/0x4895926fd63b923bd72682786C72e6C7D4DCa0A6?chain=BSC
Presale Time: 8:00 UTC 31/3
📍Soft: 200 BNB
📍Hard Cap: 400 BNB
📍Presale Rate: 1 BNB = 29,500,000,000 $LAIKA
📍Listing Rate: 1 BNB = 21,000,000,000 $LAIKA
Liquidity Lockup Time: 730 days
We are aiming to finish Hard Cap in 1 day, so hope that you guys will join in and bring this baby to the moon.
Q2. What are the advantages of Your project?
So we are having 3 main advantages: Firstly, we are already working on the Game Development since the last 4 months and right now in April we will launch our Beta Test Game. This is really great because Laika community won't need to wait for any longer.
Secondly, we had completed the development of our Character Themes in NFTs.
thus we will have:
2 types of $LAIKA NFT Collection:
1️⃣ is Laika NFTs on Opensea Marketplace: https://opensea.io/Laikaverse
At the moment, the first preview images of Laika NFT Collections have been released and after the pre-sale ends, Laika NFT Collection on OpenSea will start selling to community following bidding method.
2️⃣ Is Laika NFTs Warriors – the NFT characters that players will own to join Laika Verse game. Within next month when the Laika Verse NFT Marketplace is officially released, players can start buying their Laika Warriors (NFTs) and thus join in our Test Beta Game 2 weeks later.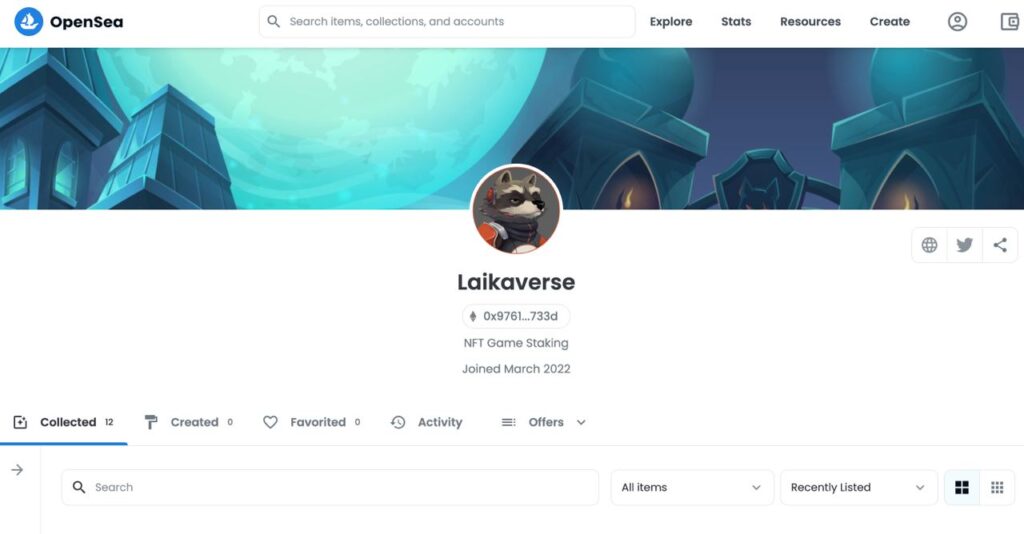 Here is some initial NFTs in the upcoming collection.
Finally, because our base is a Fan Meme Token, it is now leading the trend in Crypto Market and will soon become a X100 project.
Q3. please tell us about the goal you want to achieve in this year.
In this year, following our Roadmap, we are trying to release the official game in end of April and reach 10,000 active players in May.
The $LAIKA token itself will have the goal of reaching x3 after the Pre-sale ends, x10 after the Test Beta game and x100 in the next 3 months.
Q4. Every project has a story behind their name, Can you tell us more about the story behind this? Who are the team behind this project? can tell us their background?
Yep, so the Dev team are all dog lovers and crypto lovers too.
So when we know about Laika story, we were inspired and want to create a combination of Fan token & Meme token.
That's why we are having LAIKA VERSE project like today.
Q5. NFT is one of the hottest and most sought-after topics in the blockchain space right now. Can you share your opinion on NFT with us? Do you think NFT will disrupt the current financial system? What is Your project's approach to the NFT sector?
Yep, our Dev team believes NFT will become a popular application not only in blockchain but also in daily life.
NFT is the main driver in our LAIKA VERSE System right now.
Because the LAIKA VERSE game will have two types of combat: PVE (Player vs Environment) and PVP (Player vs Player). You can also farm items and LAIKA Tokens that will allow you to advance in the game and develop Laika verse's economy.
If you want to access the game, you will need to have at least 1 LAIKA character (an NFT)
And you will need to buy it through internal NFT Marketplace of LAIKA VERSE ecosystem.
Laika Verse NFT Marketplace provides you with the opportunity to create (or as we call it, mint), sell, purchase, bid on, collect, trade, showcase and otherwise. With high liquidity, Laikaverse NFT Marketplace is a peer-to-peer marketplace for NFTs colleted or created in the games that users can trade easily and quickly on 24/7 basis. Rare digital NFTs items can be stored securely and displayed in NFTs Marketplace.
This is a very potential ecosystem with great features.
And here we will put best questions from our members and Laika Verse fans:
Q1. What is the game story on which the entire game and metaverse of laika is based on ? Can you tell us a little about this story and the importance it has on the entire laika verse?
Yes, the game story of LAIKA VERSE is very adventurous.
In a parallel universe, Laika, the first dog in space completed her mission and returned to Earth. During her space exploration, she met a fate and evolved into a new species. After returning to Earth, Laika used alien technology to create a new empire on Earth and the galaxy – the Laika Verse. Five hundred years later, the Laikaverse empire has spread across the galaxy, the descendants of Laika- Laika warriors have traveled across the universe to explore and conquer mysterious unknown lands deep in the universe. Your mission is to recruit and form your own expedition team to conquer the universe.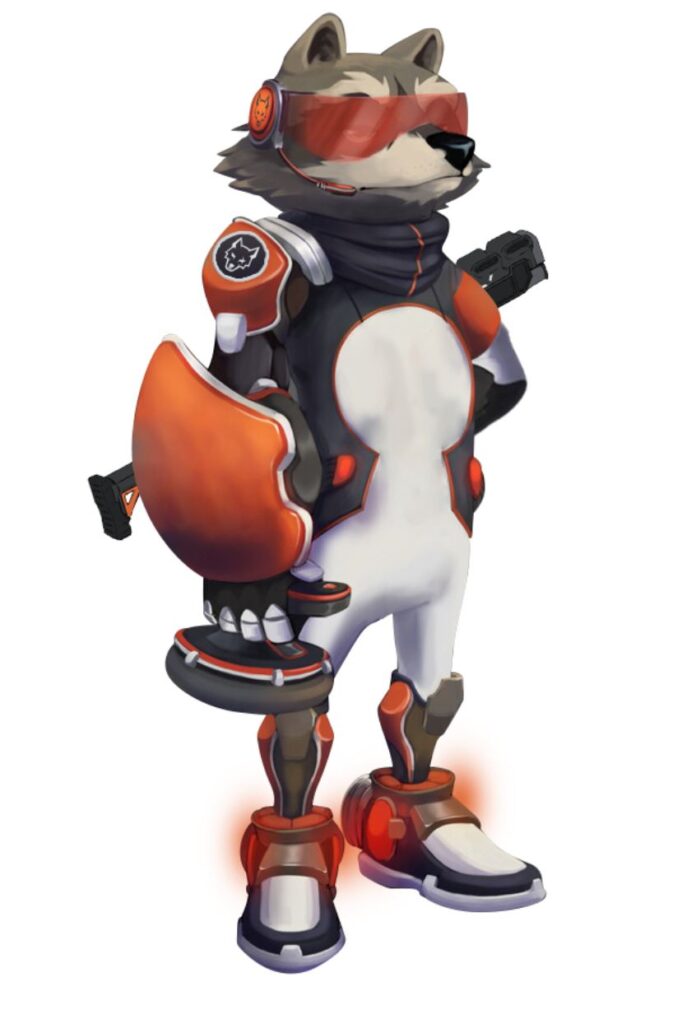 Looke how she evolved.
Laika Verse takes advantage of blockchain technology's perks to create a universe where Laika warriors are the main characters. Players' mission is to recruit and training with the Laika warriors throught semi auto-battle style system.
$LAIKA is the primary utility token of Laikaverse ecosystem. It simplifies the payment process and supports the growth of Laikaverse ecosystem.
That's the whole LAIKA VERSE world and the story does impact how players can explore the whole metaverse with $LAIKA.
Q2. Many games today set high costs to start the game & therefore start with a small player base. Does LAIKA VERSE an entrance fee or starting conditions & if so,what are they?Do I need to hold an NFT or hold a certain amount of tokens in order to enjoy & play the game?
Yep, you will need to have at least 1 NFT Character to join the game, and the price of each NFT character is expected to be sold at $200 per character.
That's a reasonable price to join the game because you can earn from it forever and the character can be sold back to the NFT Marketplace if you don't want to play anymore.
In the end, due to this Play-to-earn mechanism, you can easily earn passive income everyday with LAIKA VERSE.
Q3. One problem with most Play-2-Earn game is that they keep rewarding players with their token without considering the fact that having excess token in circulation could destroy the token value. I would like to know how you intend to control the supply release?
Yepp, first we will need to understand the Tokenomics.
To be more specific, here is the tokenomic distribution:
Symbol: $LAIKA
Decimal: 18
Blockchain: Binance Smart Chain
Burn: 60%
Pre-sale: 3%
Liquidity pool: 12%
Ecosystem: 15%
Team Development: 5%
Marketing + Partnership: 3%
Charity: 1,5%
Airdrop: 0,5%
As you can see, most of our distribution is for the game & ecosystem development.
While continue to attract new users coming in the game.
We will also have burnt mechanism to ensure the token supply is stable and lessened over time.
Which will make the price of $LAIKA higher and higher everyday.
Q4. Will LaikaverseNFTs implement any mechanisms to prevent investors and whales from big market crashes when their tokens start to rise? Or will it have the same vulnerability as many other games where traders make the game crash?
Yep, as I said before, there will be burnt mechanism for every transaction from internal & external.
And we will have a fund to buyback if there is a crash.
That fund will come from Pre-sale.
Because Pre-sale took 3%
400 HC will help LAIKA VERSE creates a good LP and Funds to buyback.
Q5. The economic model is what players care about. Could you talk about your economic model. Besides the fact that @Laikaverseis the Play-to-Earn game,what are the other financial models applied within the project? Is there a possiblity to use your token for staking or farming?
Yepp, our Ecosystem is diversified and always beneficial for players.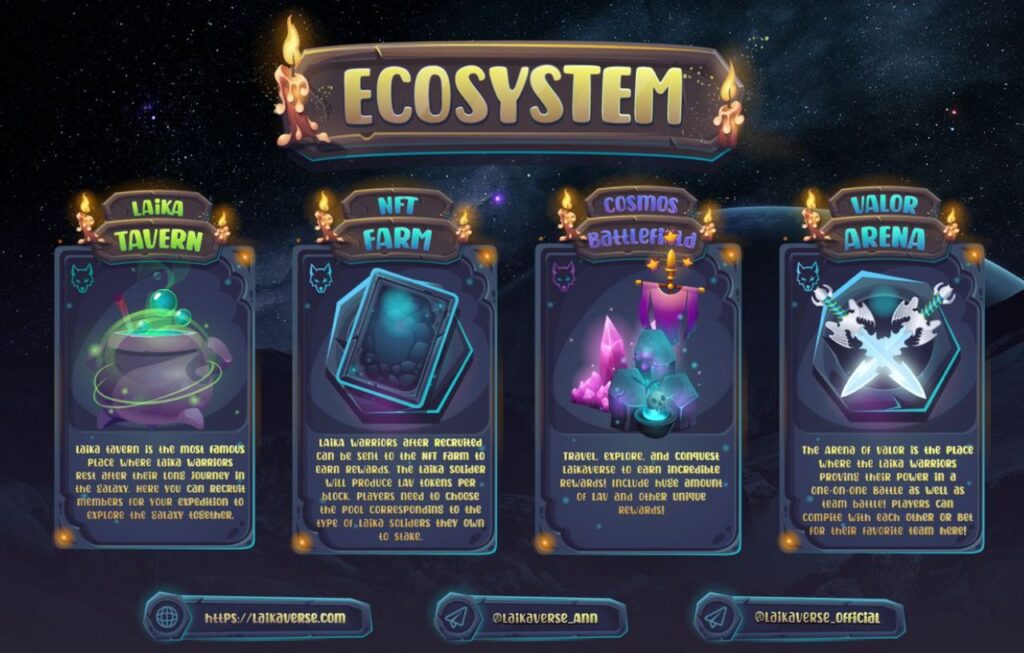 Laika Verse is a massively NFT Metaverse building on blockchain technology where millions of players worldwide can enjoin the blockchain-based NFT game as their side life! Laikaverse creates a complete blockchain gaming metaverse that connects game players, developers, communities, and distributors.
Laika Tavern: Laika Tavern is the most famous place where Laika warriors rest after their long journey in the galaxy. Here you can recruit members for your expedition to explore the galaxy together.
NFT Staking: Laika warriors after recruited can be sent to the NFT Staking to earn rewards. The Laika Soldier will produce LAIKA tokens per block.Players need to choose the pool corresponding to the type of Laika Soliders they own to stake.
Cosmos Battlefield: Travel, explore, and conquest Laika Verse to earn incredible rewards! Include a huge amount of LAIKA and other unique rewards!
Arena of Valor: The Arena of Valor is the place where the Laika warriors prove their power in a one-on-one Battle as well as team battle! Players can compete with each other or Bet for their favorite team here!
NFT MARKETPLACE: Laika Verse NFT Marketplace provides you with the opportunity to create (or as we call it, mint), sell, purchase, bid on, collect, trade, showcase and otherwise. With high liquidity, Laikaverse NFT Marketplace is a peer-to-peer marketplace for NFTs colleted or created in the games that users can trade easily and quickly on 24/7 basis. Rare digital NFTs items can be stored securely and displayed in NFTs Marketplace.
Q6. Do you have audit certificates? or Are you auditing your project to make it more secure and reliable?
Yes we have.
🤩 AUDIT RESULT: Congratulations our Laika Gang!!!
👉 Laika Verse's Smart Contract passed Solid Proof assessment.
👉 Audit report: https://github.com/solidproof/smart-contract-audits/blob/main/SmartContract_Audit_Solidproof_LaikaVerse.pdf
😎 Now all Laika members can feel confident investing in our $LAIKA token!
👑 Pre-sale event: https://www.pinksale.finance/#/launchpad/0x95eE11032EbF48a69D8c1A22422CeA8C1f29a992?chain=BSC
#AUDIT #LAIKA
So our project is legit.
Q7. What is your plan about globalization? Do you have local forums for those users who don't understand English well? What can we expect to see from your platform in the short term (sometime in 2021), 2022 and beyond (long-term goals)?
Yes we are planning to attract more investors from around the world, currently we have:
🇺🇸 Laika Verse Official US Community: @Laikaverse_US
🇲🇨 Laika Verse Official Indonesia Community: @Laikaverse_Indo
🇰🇷 Laika Verse Official Korea Community: @Laikaverse_Korean
🇻🇳 Laika Verse Official Vietnam Community:@Laikaverse_Vietnamese
🇷🇺 Laika Verse Official Russia Community: @Laikaverse_Russian
🇸🇬 Laika Verse Official Singapore Community: @Laikaverse_Singaporean
🇳🇬 Laika Verse Official Nigeria Community: @Laikaverse_Nigerian
🇸🇦Laika Verse Official Arabia Community: @Laikaverse_Arabs
Q8. Staking program is very important for every project? Can i stake your Token? Do you have any plan of starting staking programme? plz tell us sir?
Yes you can stake $LAIKA to earn everyday and dont need to play the game. We will have our own Staking Feature releases in April after the pre-sale is done. Staking is popular now and every investors deserve to have their income increased passively. That's how we bring better benefits to our $LAIKA holders.
Q9. Do you have a oy whitepaper? If yes, please share it with us. Secondly, Do you yohave plans for pre-sale? Now where can I join it?
Yepp, here is our Documents: https://doc.laikaverse.com/
And here is our PRESALE EVENT 31/3 on PINKSALE: https://www.pinksale.finance/#/launchpad/0x4895926fd63b923bd72682786C72e6C7D4DCa0A6?chain=BSC
It's starting in 5 days so prepare for your budget
SC 200 – HC 400 BNB
Q10. Do you have any.. 1-Telegram Group 2-YouTube channel 3-Tiktok Channel 4-Website 5-twitter For this project? What Social media Can I follow to get the latest Your Project information?
For more information, join in our Global group chat: Telegram Group: https://t.me/LaikaverseNFTs
Website: https://laikaverse.com/
Twitter: https://twitter.com/LaikaverseNFTs
And this was the end of our AMA with Laika Verse.
If you have any questions you can ask here: Telegram Group: https://t.me/LaikaverseNFTs
ℹ️ℹ️ Useful Links ℹ️ℹ️
– Website: https://www.laikaverse.com/
– Telegram Announcements: https://t.me/LaikaverseNFTs_Ann
– Twitter: https://twitter.com/LaikaverseNFTs
– Medium: https://medium.com/@laikaverse.info
– Reddit: https://www.reddit.com/user/Laikaverse
– YouTube: https://www.youtube.com/channel/UCJdsAbs81uqQWrGp6CXJjIA
– WhitePaper: https://doc.laikaverse.com/