we hosted an amazing AMA with Listenify on the 31th of October
And here we will put some of the best questions:
Q1. Can you please introduce yourself as well as Listenify ?
yes
so I'm Charlotte from Listenify Project
I'm one of the Core team in the project
I started joining into crypto field since late 2019, so it's been 3 years now for me in the field
Overall we have a total of 7 people in the Dev team
our team are diverse and from around the world
Listenify is born from our intention to create an interactive music platform that are fully integrated with Web3 technology
Q2. What are the advantages of Your project ?
yepp
so because Listenify is taking the music and audio creating industry one huge step further towards the decentralized creator economy
we are trying to build up a Web 3.0 monetization infrastructure to support musicians and content creators in completely new ways
basically, we are providing good benefits from music and for music lovers
which includes artists and their fans
Our ecosystem consists of
play-to-earn (P2E)
listen-to-earn (L2E)
Metaverse based on a proprietary blockchain
that will empower opportunities for all
just imagine joining into a platform where listening to your favorite songs can actually feed your pockets
I believe the essence of our technology (or the platform itself) is the biggest advantage for users
Q3. please tell us about the goal you want to achieve in this year.
yes
within this year, we are aiming to create a playground for more than 3000 active music lovers
On marketing targets, we are aiming to list our token $AUDIO on 1 CEX & increase partnerships with emerging artists around the world to stream on our platform
one of the key goals is also developing the NFT Marketplace for users, as we have prepared the NFT collection for all
the NFT marketplace is super potential as it is also the key to our Play-to-earn gamefi
Q4. Every project has a story behind their name, Can you tell us more about the story behind this? Who are the team behind this project? can tell us their background?
yes, Listenify has a funny story behind it
at first, the founder himself is a big fan of Snoop Dog and Post Malone
and of course, all of these artists love cryptocurrencies
the founder is inspired from these artists and he was trying to think of a way that he can connect both music artists and fans together
and that's why we got this project
the name Listenify is just simply a new verb created from the "listen" word, but with more engine-like and tech-like in it
and the founder of this project is also has more than 5 years experience in crypto field
so no worries haha
Q5. NFT is one of the hottest and most sought-after topics in the blockchain space right now. Can you share your opinion on NFT with us? Do you think NFT will disrupt the current financial system? What is Your project's approach to the NFT sector?
yes, I believe NFT is one of the most important drivers for such projects like us nowadays. And of course I love NFTs, I love investing it and catching up with it
I dont think NFT will disrupt the current financial system, it would just be a good tool and a good investment if you treat its value right
the NFT sector in Listenify project is a crucial driver
to play our game or even join in our listen-to-earn platform, you will need to own at least 1 NFT
we have a total of 4 NFT types
First is Free NFT, it is for music lovers who want to socialize and try the app.
which is the NFT you can get to do listen-to-earn activity everyday
The second is EarnPods Pro, where it can appear on your avatar and gives you extra opportunities to win bigger rewards
Third is EarnHead and fourth is EarnHead Pro, where the rates to help you get higher rewards are higher
to know more about the rates, you guys can visit: https://docs.listenify.io/boxes-items-and-nfts/nfts/effects-of-nfts-on-luck-factor
And here we will put best questions from our members and Listenify fans:
Q1. In order to play Listenify, what type of payment do you apply to make it easier for players?
Will there be an option to connect to Metamask & Wallet Connect while playing?
yep, all Metamask & Wallet Connect will be available for players to join in both listen-to-earn and play-to-earn application
we will let users set up their profile with wallet connection and when they receive the rewards, it will be directly sent to their connecting wallet at that moment
Q2. Nowadays language is a big barrier to many crypto enthusiasts, well, we all know many projects support the English-speaking community. So, are you aiming to use local communities to raise more awareness of your #Listenify project among these people in different countries?
yep, definitely it will be our main strategy to develop the community faster
we are currently working with many global ambassadors on this program and we will announce different global groups within a short time
each group will have their admins who talk in their mother language to easily explain latest news to every member in the group
Q3. Listenify ' roadmap only goes through the last quarter of 2022. What are the plans that you have in your project for 2023? What goals do you plan to achieve as a priority before the end of this season?
Yes, as I mentioned eariler, within this year, we are aiming to create a playground for more than 3000 active music lovers
on the next year, we are hoping to be listed on the 2nd CEX platform, as well as releasing the ListenVerse Platfotm Beta for users to try
Q4. How will you stand out from the digital world and how will your innovation attract people to buy/invest and people who are considering investing a lot of their money in other NFTs like Axie, Mobox, etc.? Also, should we expect a more exciting Play to Earn model?
Listenify will stand out by 2 things:
1 is its mission to create a community where people can socialize and achieve the common taste of humanity with music and maximize their incomes at the same time
2 is the Exclusive Room Hall function where it can be a new connection gate for both artists and their fans. Fans can now chat and engage with their idols as Listenify will collaborate with emerging young artists to host rooms that follow their type of genres. With each room, there will be a maximum of 10 spots or 10 audiences who can access and chat with their favourite artists. In these exclusive rooms, emerging artists can either teasing new songs with fans or doing song covers.
Q5. What your "#Listenify" long term marketing plans? How, or through which big partnerships do you plan on utilising to pass your product onto the normal -especially non-crypto people? What's the most ambitious goal of your project?
for the long-term marketing plan, we will still focusing on increasing our collaborations and partnerships with
Crypto communities and
Music artists
by doing so, it's easier for us to spread the project to both crypto and non-crypto users
the most ambitious goal for our project is of course be able to create a big playground for more than 100k people around the world with famous artists as hosts
and I believe we can do it in the near future
Q6. Do you allow suggestions and feedback from the community? Are we allowed in decision making, do you put community into consideration ?
yes of course, we will have community feedback session on our platform every month to make sure they can have the best experience ever
Q7. When is IDO and can you provide Tokenomics?
we will have our token presale start tomorrow on Pinksale at ⏰ 1st November at 12:00 pm UTC: https://www.pinksale.finance/launchpa d/0xe360E189CA23C68069164abb777DDaB929767d56?chain=BSC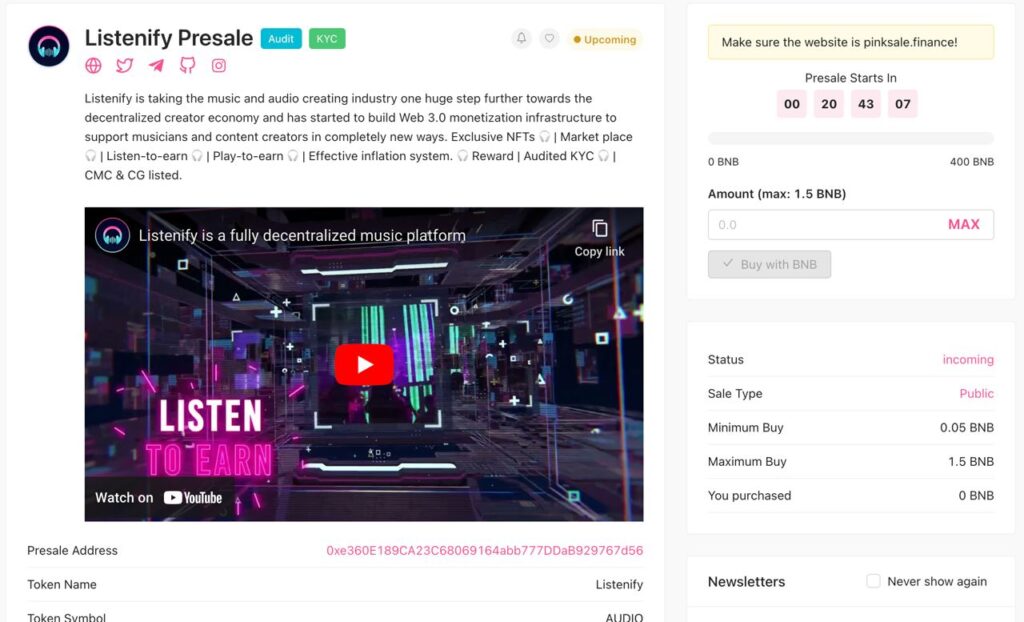 this is our tokenomics, you can check it on: https://docs.listenify.io/token
Q8. According to the roadmap, what is your most important next priority?
we will focus on pancakeswap listing first and we hope it will be a hit of at least x5
Q9. Can I earn from the Listenify Project? How can I earn from the Listenify Project?
yes you can earn from 3 ways:
Listen-to-earn
Play-to-earn
Trade your NFTs or your recordings on our marketplace
Q10. Where i can get all the latests new abouts ? Do you haves Twitter/Telegram/Discords communitys? If yes can you share the link here because there is a lot of fake telegram/twitter groups?
Yes, join us on: Websites | Community | Telegram Channel | Twitter | Github | Instagram
And this was the end of our AMA with Listenify.
You can find us here:
Website :https://listenify.io/
Telegram Community :https://t.me/Listenify_io
Telegram Announcements :https://t.me/ListenifyAnnounce
Twitter :https://twitter.com/Listenify_io
Medium :https://medium.com/@Listenify
GitHub :https://github.com/Listenify
Instagram :https://www.instagram.com/listenify_io
Audit :https://blocksafu.com/project-detail/0xb0B2d54802B018B393A0086a34DD4c1f26F3D073
Whitepaper :https://docs.listenify.io/