We hosted an amazing AMA with MetaFi on the 25th of March.
And here we will put some of the best questions:
Q1. Introduce yourself to our community?
I'm Luca, CMO of MetaFi.
A bit about me: I originally come from a strategy & marketing background – having worked in several industries from diplomacy, to social partnership, I most recently founded a digital marketing studio, where in 2021 we were able to generate +3M for DTC brands all over the world.
I've also been an avid trader for the past several years, so when Matt approached me with the concept of MetaFi everything seemed to perfectly align.
Sort of felt as though everything I had previously done in my career led me to this project haha.
Q2. What is MetaFi?
MetaFi is the first ever Metaverse World of Trading.
You will enter the metaverse, buy tokens and NFTs in the metaverse – and chat about your trades with others.
But it doesn't stop here.
We're also building the first ever Metaverse Bank – a place where your NFTs and tokens maximize their true potential.
We scan the internet for the best APY or find a guild that pays to rent out your NFT
This way the Metaverse Bank unlocks the most profitable way to hold your assets – based on your risk appetite.
Take a look:
Here's a little example for you guys – MetaFi World Teaser: https://twitter.com/MetaFiorg/status/1491055962748485632
Q3. What can you do in the MetaFi Metaverse?
This world is divided into trading zones inspired by ancient Egyptian civilization.
Zones include: Crypto Exchange, Crypto VC, NFT, FinTech, Decentralized Earning, Stock, Commodity and others.
Within these zones, users trade, display their NFTs and communicate with text, images, or voice.
And for the first time in history, Web3 assets will be traded on Web3.
Here's a little visual of our DEX Zone:
Q4. What is a Metaverse Bank?
The metaverse Bank maximizes the passive income from your Metaverse Assets: tokens, NFTs, and land.
The banks are different within each MetaFi World city: some are open to $METAFI token holders, others serve the MetaFi Citizens holding our NFTs.
Banks may specialize in:
🔥 Digital Real Estate
🔥 Staking or LP programs for highest APY
🔥 NFT Delegation
🔥 NFT-backed loans
And many other services.
Q5. MetaFi NFT launch is coming. Can you share more details about MetaFi NFT utilities?
MetaFi is launching the Genesis NFT collection of 4,000 unique MetaFi World Citizen NFTs.
This collection will bring utility from day 1.
There are three main utilities ⬇️
First, Initial Metaverse Offering boost – you will get a boost on your allocation when participating in the MetaFi's launchpad.
Second – you will receive guaranteed allocation in the community round of $METAFI token (the whitelist).
Finally, our Genesis collection opens up metaverse utilities in the MetaFi World of Trading – including $METAFI staking boost, VIP services in the Metaverse Bank, and bigger voting rights in MetaFi DAO.
I actually have an exclusive sneak peek of our NFTs for you Mohamed.
(don't tell the rest of the team I showed you haha 🤫)
Q6. MetaFi is powered by $METAFI token. What is the purpose of your token?
$METAFI brings a true revolution in token utility.
There are 4 main dimensions of $METAFI ⬇️
🏦 UTILITY: Metaverse Bank access to make passive income.
🤗 REFERRAL: rewards for inviting friends.
🌎 GOVERNANCE: choose where treasury funds are allocated.
📈 DEFLATION: weekly buy-back and burn events.
IGO is coming soon 😎
Q7. What are your upcoming milestones and plans?
In the next month, we will do:
– 10 partnerships with major metaverse and real-world gaming / FinTech projects.
– Metaverse trailer released.
We're also running an early community campaign and with rewards for early members.
To make the most out of it,
join our community channels:
Follow on Twitter: twitter.com/MetaFiorg
Join Telegram group: t.me/metafiorg
And here we will put best questions from our members and MetaFI fans:
Q1. Binance smart Chain blockchain is having high transaction speed and cheap gas fees, Are you planning to launch your mainet or switch to other blockchains in the future?
MetaFi is as multichain as you can get – we not only support EVM compatible chains, but also most major non-EVM compatible chains.
However, most of the launches are going to be on Terra, Solana, Fantom, BSC, and Polygon.
Q2. The concept of Metaverse has received a lot of hype since Facebook rebranded to META, and a lot of crypto projects have jumped into this too. So, I was wondering, how does MetaFi plan to stand out among all of it competitors, specially META? What will you offer that others can't?
MetaFi was born to finally allow to trade web3 assets in web3 – you will be able to buy and sell tokens and NFTs in a social environment.
Despite the Growth of Web3, it is not widely adopted: most trading happens on centralized exchanges (Web2) AND most chatting happens on Web2 social media: Twitter, Telegram, or Discord.
We are here to change that!
Also, trading outside of crypto is more social than ever.
Powerful trading communities is a market mover – look no further than GameStop last yearWith that, trading is more open and inclusive than ever: thousands of retail investors discover trading every day.
Finally, trading is easier than ever: starting is as easy as downloading an app like Robinhood.
All of this calls for a solution that would make crypto trading easy, social and fun.
Meet MetaFi 😎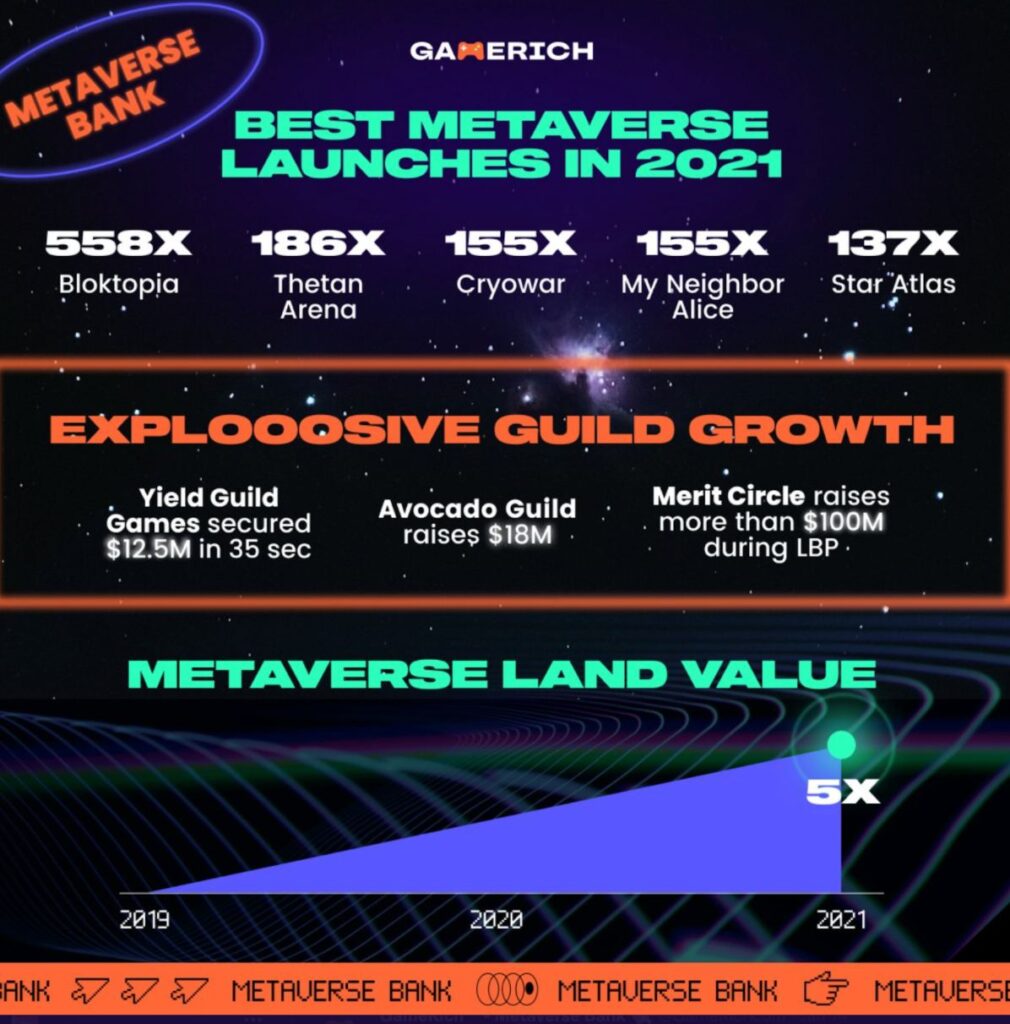 Q3. NFT space is flooded with low quality NFTs, making it hard for collectors, users to find the art they really want. How will you be able to give users high quality NFTs? What will it be consider as high quality on @MetaFiorg and how will you determine what NFTs are worth?
In MetaFi, traders can curate their personal Metaverse experience: visit friends, build a home and explore different ways to earn and invest.
For example, you can simulate real-world luxury experiences by building a private NFT Villa in a gated community or receive private banking treatment in the Metaverse Bank. The more active you are – the more you chat, trade, and engage – the more opportunities will be unlocked.
Just one of our many NFT villas.
Q4. what is the background, of the your project, team do you think team's qualifications, and experience, able to support the long-term development, of the project?
I've already given you a little brief on myself.
Here's a debrief on the rest of our star-studded team.
MetaFi brings a rockstar team with rich backgrounds from both crypto and traditional industries
Core team is:
Matt Danilaitis – Founder
Previously venture capitalist and investment manager, working in investment teams managing over $10 billion in assets. More recently advisor to blockchain games and metaverse projects. In MetaFi, Matt's key focus is bringing Web3 asset trading to the Metaverse for the first time and igniting a new industry: Metaverse banking.
Vladimir Rogojin, PhD – Blockchain Lead
15-year experience specializing in Blockchain, Cybersecurity, Deep Learning and Big Data. Deep theoretical background, solid software development skills coupled with long and significant academic experience. Passionate about 3D game development. Highly interested in cutting-edge technologies.
Kyle Joyce – Gaming Lead
Senior gaming product strategist and Founder of a full service game studio. Kyle has experience bringing AAA+ games to market across mobile, PC, browser, and VR gaming. At MetaFi, he is utilizing the latest technology in-house to create the most engaging metaverse trading experience.
Arturas Bagdonas – Development Lead
Senior software engineer with ample experience in the European startup space and keen interest in blockchain development. At MetaFi, he is overseeing the development team and working alongside the product team to deliver the most innovative frontend solutions for MetaFi traders.
Modesta Zemgulyte – Design LeadA
ward-winning designer with track record in both crypto and traditional industries. Previously designer for The Economist, Modesta brings a wealth of experience managing design teams and delivering visual assets with a focus on social media. At MetaFi, she is leading the brand's design and creative direction and ensuring brand consistency.
Q5. Regarding marketing, what plans, ideas and next steps does "metaFiorg" project have to attract investors and users? Do you intend to leverage the popularity of social media to make "metaFiorg" Project even more popular?
Oh absolutely we do!
That's my job haha 😎
MetaFi has been hard at work in building the ultimate trading world.
For that, we are working with more than 150 influencers from 10+ countries to grow our community.
Also, we are onboardiing more and more metaverse partners – now more than 20 Metaverse projects will use our products from day 1.
These clients include SpaceFalcon, Metastrike, DinoX, Project SEED and many others.
Q6. You talk about new partnerships and cooperation agreements as key plans for the future, could you tell us about your current partnerships? What does @metaFiorg look for in a partner? What projects or organizations do you already have a relationship with?
I already spoke about this regarding partnerships with MetaFi's trading platform.
But I can certainly clarify this from our Launchpad POV.
Our focus is AAA games and metaverse projects. As a rule we look for two things – BOTH proven ability to build strong crypto communities (marketing) and product expertise.
We have seen a lot of game studios building crypto games and failing – because they don't understand marketing.
At the same time, we have seen crypto veterans starting to jump into gaming and failing miserably on the game quality side.
Ideally, our games will have a combination of community building and triple A product.
Our partners for the launchpad will always be kept to these standards.
Q7. Do you have a video tutorial so we can learn more about your project? Do you have a YouTube channel or something? Can you share it with everyone?
As of right now, you can find everything you need to through our Twitter & Telegram.
HOWEVER
We are planning to launch our YouTube very soon, so make sure to stay tuned for that.
Some very exciting content coming for you there.
Q8. Do you have AUDIT certificates? "or" are you working to AUDIT your project, to make it moe secure and reliable?
Security is crucial.
And we don't take it lightly.
Our approach is first auditing our token $METAFI – it has already been audited by Hacken.
After that, we are conducting the audit of our launchpad smart contracts, with which our users will be interacting with.
Finally, we are launching a bug bounty campaign, where all white-hat hackers and community members will be able to find and report any potential vulnerability of the platform.
Q9. So you mentioned "Metaverse Bank" earlier. Can you decipher that?
Sure, I can briefly breakdown the concept for you.
Personally, it's my favourite feature 💆‍♂️
Essentially, the metaverse Bank maximizes the passive income from your Metaverse Assets: tokens, NFTs, and land.
The banks are different within each MetaFi World city: some are only open to local citizens while others are reserved for premium clients holding $MetaFi.
Each Metaverse Bank provides a different set of services: they may specialize in digital real estate, staking or LP programs, NFT delegation, lending, wealth management and other services.
Much more info to come on that very soon.
And this was the end of our AMA with MetaFI.
If you have any questions you can ask here: Telegram Group: https://t.me/metafiorg
ℹ️ℹ️ Useful Links ℹ️ℹ️
– Telegram Announcements: https://t.me/metafiannouncements
– Twitter: http://twitter.com/metafiorg
– Pitch Deck: https://docsend.com/view/s3khw4mamfwpbkgu/
– WhitePaper: https://gamepaper.gamerich.com/