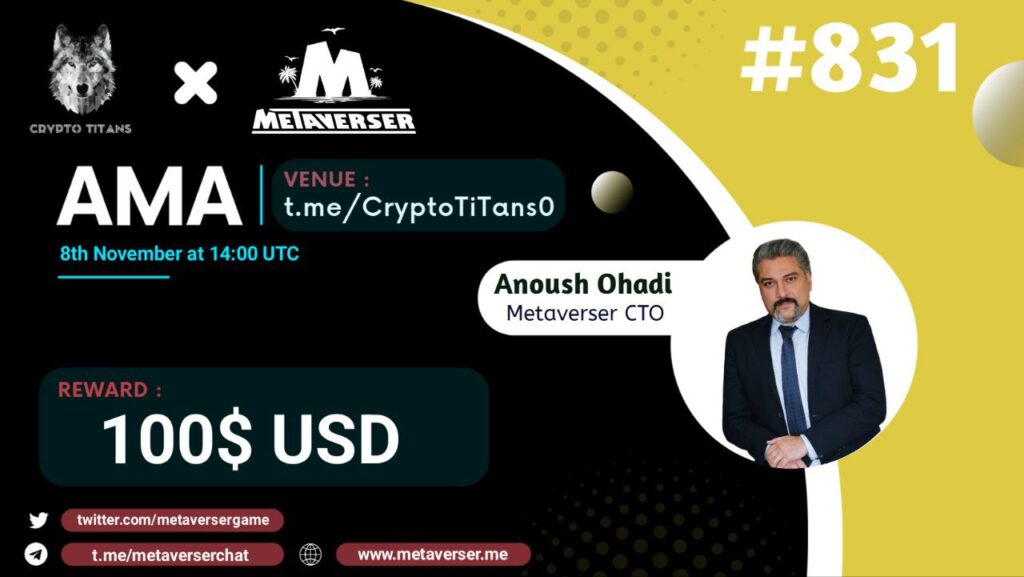 we hosted an amazing AMA with Metaverser on the 8th of November
And here we will put some of the best questions:
Q1. Can you please introduce yourself as well as Metaverser ?
Hey everyone, My name is Anoush Ohadi, I'm the CTO of Metaverser. Basically, Metaverser is the first ever multi-platform, soon to be multi-chain virtual world, where we have made earning money very easy and free. It's a free-to-play, play-to-earn game with thousands of active users.
Q2. What are the advantages of Your project ?
We have created a game with the highest quality to date unlike Sandbox or Decentraland. Most importantly, we have made earning money pretty simple as we have users earning over 500 dollars by playing for free.
We are the first authentic multi platform metaverse, and we already have these platforms up and running, iOS, Windows, MacOS, Android.
Q3. Please Tell Us About The Goal You Want To Achieve In This Year And The Next Year .
Our goal is dissected into two parts, first part is the number of players, we have over 10,000 registered users and around 800 active users. Our goal is to increase the number of registered users to up to 50,000 and active users to 10,000 by the end of this year. We are also targeting over 1 million number of registered users by Q3 of 2023.
Our second goal is about brand partnerships, we are looking deeply into bringing high end brands into the Metaverser. We have just opened up our Shopping mall with over 30 stores, our goal is to hopefully fill each store up with top brands around Q1, Q2 of 2023.
We have now just partnered up with a high end fashion brand called VSD COUTURE, and we'll be partnering up with more soon!
Our most important goal is to strengthen our gamification, 15th of october we opened our skate park and on 13th of november we will have our zombie house, dedicated to halloween.
Q4. Every project has a story behind their name, Can you tell us more about the story behind this? Who are the team behind this project? can tell us their background?
3 years ago, I heard about play to earn metaverse which I instantly thought that it's such a great idea to play and earn. I first started playing Decentraland for over 3 months, 3 hours daily, earning in-game gems.
After I was done with earning enough gems to purchase an NFT, I went to purchase the NFT which I then received a message of saying you cant purchase the NFT.
This was a very bad experience and playing Decentraland was no fun whatsoever.
This is Why with the experience I have in 3D and gaming development. I decided to manage a team of high professionals to create a great play to earn with highest quality of gamification so users can enjoy playing while earning.
We have a very good team of 35 people, developers and 3D curators. They have all been working hardly day and night in making Metaverser the best Metaverse game to this day.
Q5. NFT is one of the hottest and most sought-after topics in the blockchain space right now. Can you share your opinion on NFT with us? Do you think NFT will disrupt the current financial system? What is Your project's approach to the NFT sector?
In my perspective it all depends on the utility. Most of the NFTs that you see right now have no utilities behind it. We have tried to add as much utility as we can for our in-game NFTs, plus the beautiful artworks that artists have partnered up with us.
Users can technically purchase our NFTs and earn upto 30% boost reward.
I think this is a great idea in the future to partner up with artists in order to help them sell their NFTs while giving rewards to our users for purchasing them.
This is the reason why we sold of our VSD COUTURE's NFTs in less than 11 minutes!
As we have mentioned before on our social media, the whole point of these NFTs sales is that we will burn all the profits we get from this which is going to increase our token Price.
This burning event is taking place on November 10th, in 2 days. It's a great chance to buy our MTVT token before it's too late 🚀
Also we are not like any other projects that sell NFTs on any stores other than our ingame store called " NFT SHOP ". The whole point of this is to help people earn money in our game through our play to earn method and purchase these NFTs, and furthur sell them on the marketplace to earn money.
Here's where you can see how much people have earned through our free to play, play to earn method.
https://metaverser.me/players.aspx
This is where you can see that how much our users have earned through our methods.
https://panel.metaverser.me/tradehistory.aspx
Here you can see that we have sold NFTs worth 800, but the minimal amount of users earning money in the past 2 weeks was 500 dollars.
We have weekly challenges as well which happens weekly for each game that we have. The users that are competing in those games, we give the top 3 users rewards such as $MTVT, $GBEX.
https://metaverser.me/Roller-Skate-Player.aspx
Also to mention that, we have a huge event in 2 days which is the biggest event in the history of our game. The first ever token burning of MTVT.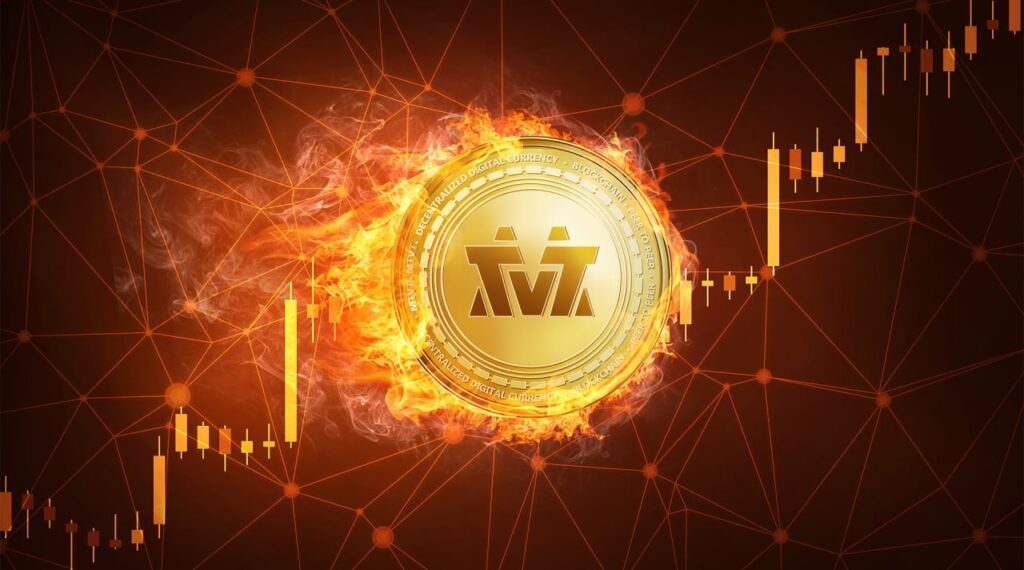 Metaverser has announced the first token burning event, happening on Nov., 10th. Metaverser $MTVT to soar to a new all-time high with this burning.
Don't miss out before it's too late! 🚀🚀🚀
🔸 https://apnews.com/press-release/ein-presswire-newsmatics/virtual-worlds-c472b3ae2bbe982dab216caf27d10e30
🔸 https://www.germanmediatoday.com/article/599298904-metaverser-mtvt-to-soar-to-a-new-all-time-high-with-its-first-token-burn
🔸 https://www.fintechworldpost.com/article/599298904-metaverser-mtvt-to-soar-to-a-new-all-time-high-with-its-first-token-burn
The day we converted our land sales from BNB to MTVT, whatever amount that we earn from these land sales will be burned. To this day we have earned over 2 million MTVT which will be burned
And the profits we made from the VSD COUTURE's NFTs will be burned on november 10th, evening time as well.
And also, we are planning on buying a significant amount of MTVT from the market and instantly burn it. As a conclusion, we will be witnessing a new all time high!🚀
We will be doing the token burning event once ever 3 months, and we have a huge event in the Metaverser at the night of november 10th, which we will announce tomorrow. Whoever that attends this event, can earn a good amount of our ingame token as a reward.
This will be a huge reward which you will be able to purchase atleast two NFTs from our marketplace to either play with them or sell them for a great profit.
It's the best time to start signing up on Metaverser, create your avatar and play our fun game!
https://panel.metaverser.me/login.aspx?s
And here we will put best questions from our members and Metaverser fans:
Q1. Does your game allow player to player interactions? Some gaming platforms provide weekly/ monthly reward to players based on their performance. Will your game have special rewards for the most outstanding builders/players of the week?
We do have a spin to win daily reward, plus a leaderboard which at the end of the month, the top 3 leaders will receive rewards from our team. Here's the link as well https://metaverser.me/players.aspx
Plus the weekly awards as I have mentioned above. We also have top creative contents every week which will be sent to us by our users. We will pick the top 3 and award them with a prize as well.
https://www.instagram.com/p/CkBKhPSPfQv/?igshid=YmMyMTA2M2Y=
Q2. Could you name some competitive advantages of #Metaverser that makes it comparable to other metaverse platforms? What are the benefits to attract users to the virtual world and interact with on the platform?
Metaverser, is the first ever multi platform, soon to be multi blockchain play to earn virtual world. We have implented a method that you can easily earn guaranteed money whilst playing for free.
We are on the verge of moving into the games of AAA in terms of quality and gamification. And also, our builder method is pretty simple with great execution like no other metaverse.
With basically with a click of drag and drop, you can easily change billboard pictures, and we also have voice chat and video chat on Metaverser.
Whoever enters your building, your exclusive building's text chat will come for when if you're not available to reply to them in game. The messages will be automatically be sent to your telegram for you to answer.
We have also integrated with binance pay which helps start ups.
Q3. Not only metaversergame but also a lot of projects are currently looking at metaverse and NFT games. So, my question is What benefits does the players have in playing Metaverse ? And what will encourage them to enjoy it instead of traditional games?
The benefit of playing in the Metaverser is the amount of money you can earn for free. For instance, you can check our trade history and see the amount of money that is traded throughout the day https://panel.metaverser.me/tradehistory.aspx
Also, playing in the Metaverser will always be free. But, in the next month, if you want to play the game, you will need to purchase some $MTVT and hold it in your Metamask wallet in order to play.
So I suggest to everyone to start creating avatars and playing before this happens 😉
Q4. Most investors metaversergame are focusing on token pricing and have no accurate idea of ​​the use and value of the project in the long run. In this case, what are the benefits for investors in holding tokens? Do you have any plans to increase demand in the long run?
First of all, the burning system that we have is unlike any other project. We are constantly trying to burn tokens every few months so we can lower the circulated supply which results into the increase of our token price.
Even if you look at our $MTVT chart, despite the bear maket. Eversince we got listed, our price hasn't reached below the listing price. From the first day, whoever that invested on our token since the first day is not at loss.
You will not see a similar chart like ours during this bear market.
Q5. Could you explain us about the achievements you've made as of now, and also your #Metaverser objectives for the next year? What are your plans for growth and what are your main goal elements right now? Do you have a certain key advantages which you can use to attract users?
Metaverser is the first multi-platform game which is a huge achievement itself. We are planning on bring high end brands, artists by Q2 of 2023. Our other projected goal is to increase our number of registered users from 10,000 to 1 million. Most importantly, our main key advantage is our play-to-earn method.
Also, we will atleast have a new game every month which you will never see in any other metaverses/
Season Three
Zombies are counting down the moment to meet you 🧟‍♂️
Coming soon…
Also a reminder, 13th of november is our opening of Zomibie house. So make sure you join in and play our game!
In the next month we have a surprised new game for our community which I cant discuss more about it 🙂
Our goal is to attract real gamers that are currently playing other games and never really put time in to blockchain games.
Also, we are in the process of getting the PEGI +7 Age, which we will be getting soon. And after that we will be creating gave for kids, teens and adults. A huge market is expecting us!
Q6. Can I currently buy Token?
Yes on bitmart and pancakeswap
Q7. How many blockchains supported by your #Metaverse platform? And what are the plans for integration of other Blockchains? Is there anything in pipeline?
Now bsc & polygon, and soon more 🤗
Q8. Can you talk more about your token? What will you do in the future so that Metaverser can list other exchanges and, moreover, significantly increase trading volume?
We are now listed on Bitmart and Pancakeswap
here's the link to pancakeswap https://pancakeswap.finance/swap?outputCurrency=BNB&inputCurrency=0xB92c5e0135A510A4a3A8803F143d2Cb085BBAf73
Bitmart https://www.bitmart.com/trade/en?symbol=MTVT_USDT&layout=basic&theme=dark
We are in talks with LBANK and Huobi and Gate.io as well.
And also we are negotiating with Binance aswell, and hopefully will get listed by the end of 2023.
Q9. Will there be a staking feature??
when exactly and how?
We have a strong Staking of over 50% APR.
https://panel.metaverser.me/open-staking
Q10. Do you allow suggestions and feedback from the community? Are we allowed in decision making, do you put community into consideration??
Our DAO, basically our private sale investors are in charge of the feedback and decision making. They play a huge part of our game.
And this was the end of our AMA with Metaverser.
You can find us here:
Website :https://metaverser.me/
Telegram Community :https://t.me/metaverserchat
Twitter :https://twitter.com/metaversergame
Discord :https://discord.com/invite/edsuBzM89b
Medium :https://medium.com/@metaverser
Facebook :https://fb.me/metaversergame
Instagram :https://www.instagram.com/metaversergame/
GitHub :https://github.com/TerraMetas/metaverser
YouTube :https://www.youtube.com/c/metaverser
Whitepaper :https://metaverser.me/metaverser-whitepaper?v=2