we hosted an amazing AMA with MFRM on the 17th of September
And here we will put some of the best questions:
Q1. Can you please introduce yourselves as well as MFRM ?
Mark B – Visionary APE:
I am Mark Berisha, CEO of APEcoin, MFRM, and one of the founders of BUSTA. I got involved in crypto about 7 years ago as an investor, became a full time trader about three years ago, and then 14 months ago, me and a group of crypto enthusiasts launched the APECoin ecosystem, basically an incubator for crytpto projects which thus far has spawned mfrm.io and busta.gg
Hazel B: I am Hazel, CDO at APECoin and MFRM. I first got interested in crypto and blockchain at a Bitcoin Conference in 2014. I have been hooked ever since. It has been exciting to watch blockchain technology and adoption elevate over the years. It became apparent my skill set could translate into this space. I am now full time crypto and enjoying every minute of it!
Q2. What are the advantages of Your project ?
Hazel B: I would say one of the biggest advantages is our team and our community. This is the truth. We have been around for over a year, starting with APECoin and we still have people in the community who have truly been there from the beginning.
Among our team, we work relentlessly around the clock, to make our ideas a reality. We are innovators and like to provide projects to the world which no one else has done yet. It is very exciting!
Every choice we make considers our community and how it will impact them. We are all in this together. Very unique and special.
Q3 please tell us about the goal you want to achieve in this year?
Hazel B: The goal for MFRM at the end of this year for MFRM is to expand our utility even further beyond our newest product Token Backed NFTs (more on this later). We can't disclose much more detail on these additional utilities as we aim to be first to market, however, they will be incorporated into our DAO, Therefore, our overall project will truly be a perpetual utility machine.
This results in a project fully run by the community
Q4. Every project has a story behind their name, Can you tell us more about the story
Mark B – Visionary APE: Well we are a project of long time crypto enthusiasts and entrepreneurs and when we launched the ecosytem, APEcoin seemed like a no brainer
as we aped into building new projects
MemeFarm was an out growth of that original project and the most recent rebrand to The Monkey Firm seemed like a logical next step to reenforce the overall brand
And here we will put best questions from our members and MFRM fans:
Q1.One of the goals of MFRM is to disrupt the OTC market with NFTs and their innovative features, what new functions can NFTs bring to that market and how are them going to change it for good?
Hazel B: Correct, we are disrupting the OTC market with what we call Token Backed NFTs.
They are a very simple solution to a very complex problem.
Not just pretty pictures, but vessels of perpetual utility
We won't divulge too much on what we are personally developing as our future steps, but we can promise it is exceptionally exciting and hugely scalable.
We aren't the only ones taking advantage of what they can do.
For one example outside of our project, Gary V, a huge influencer is using NFTs as tickets to his online conference… there are many more out there, but literally the creativity and utility of NFTs is endless….
Q2.I can see that you have 2 tokens here the $MFRM & $APE Tokens and I've read that they have been recently migrated to Binance Smart Chain. So it would be nice if you can differentiate these two tokens and with their Tokenomics & Utilities? Also share here their contract addresses.
Hazel B: Indeed! This is a very important aspect to who we are as project.
APECoin was our first project which was started over a year ago. It began as a fun meme and developer token, but it is now a fully fledged incubation token. Any project we create under the APECoin umbrella will see holders of these tokens benefit.
Underneath the APECoin umbrella we have MFRM with our ART NFT Marketplace and our Token Backed NFT Marketplace. Then there is also BUSTA @Visionary227 will share a little more on BUSTA
Mark B – Visionary APE: BUST is another project spawned from the APECoin ecosystem, you can check out all things BUST at https://t.me/busta_official
We have developed an awesome crash game at https://crash.busta.gg/ where you can play the game with BNB to earn BNB if you can eject from the rocket before it explodes, soon it will be playable with the BUST token as well as partner tokens
We have also developed our own customizable DEX at https://dapp.busta.gg/swap
One of the great features of the BUSTA DEX is the ability to customize transactions fees
These taxes are done at the router level
vs many projects that have them built into our contract
One of the huge benefits for our existing coins(APE and MFRM) is we were launching partners on the DEX
and we did not need to modify our existing contract
As an example
MFRM and APE will launch on the DEX with the following breakdown
We have broken down the following fee structure for each token below:
MFRM
2.5% total fee
0.1 to bust
0.4 to liq providers
0.5 treasury
1.5 permanent locked liquidity
APE
4% fee
0.1 to bust
0.4 to liq providers
0.5 treasury
1.5 burn
1.5 permanent locked liquidity
By doing this we were able to give our current communities even more of an incentive to be stake holders
Q3.One of the things that caught my attention from the MFRM project is your "Token Backed NFT" feature. Can you explain more clearly about it and how it works? And Can you give us a step by step guide on how users can print and list "NFT Supported Token" on your platform?
Hazel B: So, the Token Backed NFTs were designed to disrupt the OTC market.
Currently, there are a lot of headaches involved in OTC trades.
We want to eliminate these issues such as delays due to timezones, agreements on escrow services (which can be expensive), potential scammers looking to steal tokens etc.
Our Token Backed NFTs are a "one-click" solution for peer-to-peer traders
These images go into more in-depth details on the process of how the NFTs work.
Please have a look at our website also mfrm.io
It is such an easy and simple solution.
Any BSC token can be traded here, the fees for any sale is only 1%
So for the 1% fees from the NFT transactions on our site, we break it down for 25% of the fees going to liquidity, 25% goes to staking, 25% will buy back and burn APE and 25% will buy back and burn MFRM
Thought this would be helpful for the previous question
Q4.How would MonkeyFirm coordinate the two end/users within a transaction given that their time zones are different? How do you deal with this transaction scenario?
Hazel B: Ah, I see I may have partially answered this before, but great to expand too
Great question as this is one of the key issues. It is really up to the buyers and the sellers. A unique feature is our chat box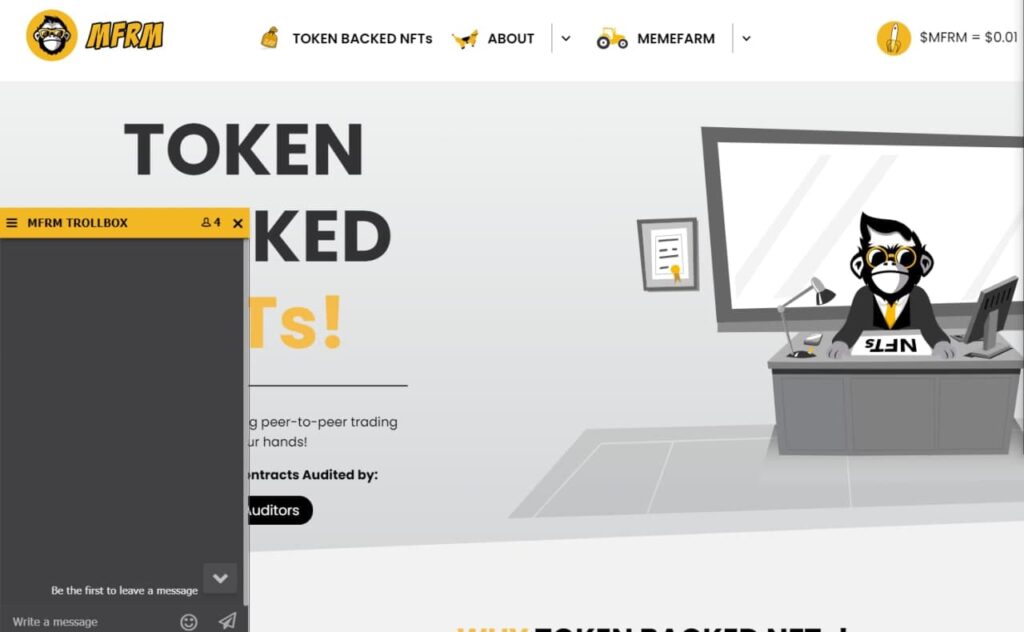 So in here, a sale can be discussed (what tokens sold and for what amount the seller would like to receive) once the sale has been agreed upon, the NFT can immediately be created for sale. It is then up to the buyer when they click "buy".
Also, it is worth noting, sellers can also link unique URLs anywhere to sell their Tokens e.g.
Click on the above link, it takes you directly to the Token Backed NFT for sale.
As you can see there are some MFRM for sale there at the moment 😀
Q5.I've learned that The Monkey Firm generate revenue by charging 1% fee on its NFTs and marketplace and then returning it to the token holders in a form of buybacks. How can you and your team realize income from your project?
Mark B – Visionary APE: Our revenue model is very simple. Our Token Backed NFT's AND our art based marketplace both have a 1% fee and those fees are returned to MFRM holders in form of buybacks/burns, permanently locked liquidity and staking rewards as soon as staking is ready to go (soon tm). 25% of the fees will go to our DAO and hodlers get to decide what to use it on. We have a working product out already and as we gain more users the revenue will keep on growing. So instead of making future promises, we provide perpetual utility now and a revenue model to go with it! That being said, we do also have future plans but they are Top Secret for now!
Q6.Do you have AUDIT certificate or are you working to AUDIT your project, to make it more secure and reliable to us?
Hazel B: Yes, we take our security very seriously. Our Token Backed NFTs are audited by https://www.rdauditors.com/
Q7.Can MonkeyFirm list 1-2 deadly traits that make MonkeyFirm stand out from the competition? What competitive advantage does the MonkeyFirm platform have that make you feel most confident?
Hazel B: We are first to market with our Token Backed NFTs and we adapt to what is happening in the industry to ensure we always stay ahead mfrm.io
Q8.Creator tools that is equipped with the MFRM platform, you can watch watch will allow minting of NFT? How easy is it to make the buying process easier by doing this to the trading group that discovers via the blockchain?
Mark B: Currently users can mint both Art Based NFTS as well as the Token Backed NFTs, we have further NFTs with utility under development, as for ease of use, the marketplace is very user friendly
Q9.Can I buy your tokens right now, and if so, which wallets do yoou support? Can you tell me about your team's history? How will you and your team complete this project in the midst of the current pandemic (COV-19)?
Mark B: Our projects are currently available to be purchased on dapp.busta.gg/swap as well as Pancake Swap, we support both Metamask and TrustWallet on our dapps
Q10.Staking is one of the strategies to attract and keep users in the long term. Does your project have a plan around staking?
Hazel B: We certainly do! We staking currently under development for MFRM, which we are very excited about. Also, if you are interested in staking, it will be worth checking out our other project BUSTA https://dapp.busta.gg/pool.
And this was the end of our AMA with MFRM.
If you have any other questions you can ask here:
ℹ️ℹ️ Useful links ℹ️ℹ️
Website :- http://mfrm.io/
Medium :- https://go-apecoin.medium.com/
Twitter :- https://twitter.com/Go_MFRM