we hosted an amazing AMA with Mogul on the 5th of August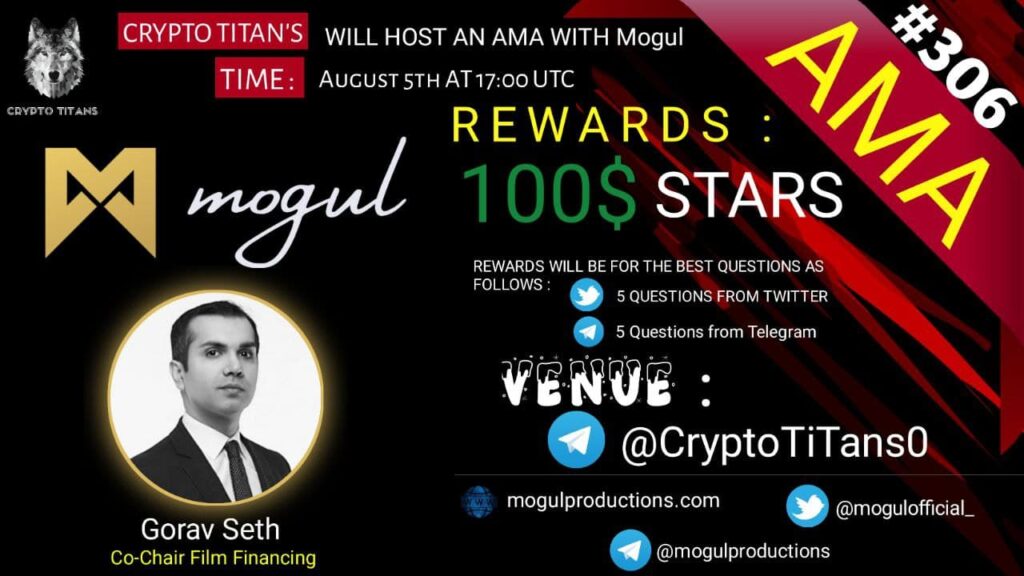 And here we will put some of the best questions:
Q1) Can you please introduce yourself as well as Mogul?
I'm an Advisor& Co-Chair of Film Finance for Mogul. My profession, I'm an investment banker and venture capitalist having spent over 12 years in Canadian capital markets working on Bay Street (Cdn version of Wall Street). I've raised over $4b in financings and have also helped finance/take public more than 100 companies. I spent several years at a leading independent investment bank working on financings, mergers & acquisitions and advisory for mid-size public companies. I currently run the capital markets division for the largest wealth manager in Canada.
Before my life in finance, I spent nearly 20 years in the film and entertainment industry as a manager for actors where I did things like oversaw and managed their careers or raise money film independent films,
It's because of my background having worked in film and finance that i was able to see the HUGE opportunity with Mogul and what they can do to disrupt the industry.
Q2) What are the advantages of your project?
Mogul is a DeFi film funding and NFT platform for the entertainment industry. We are the first globally to be democratize the independent film industry by giving token holders the ability to vote for the films they want to see get made and have them financed. Users, can not only help finance and get involved with the hollywood films themselves, but also earn really interesting rewards and experiences for each film in our showcase such as attending premieres, meeting the stars, going behind the scenes, etc.
On the NFT side, we have a fully functional and robust NFT platform where you can mint, trade, buy/sell NFTs. This works really well with the film side because it gives us the ability to make NFTs for the entertainers, filmmakers, etc. and offer those to our $STARS community. We can do limited edition runs of video clips, images, signed posters, etc. The talent and entertainers love it because it helps them create additional revenue streams for their projects without having to rely on conventional forms of distribution,
We actually did a NFT drop for a famous marvel artist named Rob Prior that sold for nearly US$200k a few months ago. Rob works with the big studios on all these big comic book films, etc. and his art would typically only garner $15-30k a piece. We are able to host a live stream event where he painted a Wolf of Wall Street painting in real time, turn it into an NFT and then burn it so it only lives on as an NFT. The first time an artist has destroyed their own physical work of art. We got 500k users worldwide watching the event and beat some big celeb's NFTs such as Flloyd Mayweather, Snoop Dogg, etc.
Q3) please tell us about the goals you want to achieve in this year?
Mogul wants to be the defacto token for the entertainment and film industry. We want to continue to drive adoption and help democratize the film space so the fans can have a voice in the content they want to see made. Specifically, we are want to build on our existing partnerships and fund some hollywood films that land big stars with support from our community. We want to get some big celebrity names to support us, media & production companies, agencies, etc. These are some of the things we are working on and expecting to see come to light over the coming months.
Q4) Every project has a story behind their name, Can you tell us more about the story?
Mogul Production was really inspired by the story behind the blockbuster film, Deadpool. If you dont know the story, the jist of it is that Ryan Reynolds was trying to make that movie for years and all the big studios kept rejecting the film because they didnt think an R rated comic book film would do well. What Ryan Reynolds did was he made a teaser trailer and put it on to the net. The fans went absolutely crazy and loved the concept. So much so, that they forced the studio to make the film. The rest is history.
The point is the power of the crowd and making films or content based on what the viewers and fans want to see.
We wanted to do that with Mogul and give power back to the fans (our $STARS token holders).
The film industry, especially for independent films, is archaic and dying. We think DeFi and NFT could help revolutionize how films are financed, how intellectual property can be protected and monetized.
Mogul can help streamline and provide transparency for the filmmakers and people that fund their films.
And here we will put best questions from our members and Mogul fans:
Q1) What do you view as the potential barriers to the success of the project? In the next three to five years where do you position your company among other strong competitors?
I think some of the barriers in entering the movie biz is in the acceptance of crypto/blockchain with the film industry.
We believe that through our success in our first NFT auction with Rob Prior and the future success of our first ever movie slate that we have shown Hollywood that we are ready to be a major and legitimate player in the space.
We keep adding team members that can entrench Mogul and STARS tokens as the defacto player where movies meet blockchain. We've shown that we can do it, and now it's time to scale our efforts.
In 5 years, which is an very long time in crypto, we hope to have a global community of film fans and crypto enthusiasts who are part of Mogul because of the consistent partnerships and announcements of new movies and NFTs. We created a circular ecosystem for the future success of the project where everyone who is part of Mogul is being rewarded and can earn profit participation in the films they select themselves. We wish to transform the market for NFTs in entertainment where it is simple to understand and a part of every film or piece of art or music that gets made.
Q2) What is your strategy for building a strong community? Do you agree that the power of the community will lead your project to develop globally? What services do you provide to the community?
Building community is essential to the success of any crypto project. We have a dedicated Head of Community on staff who regularly engages across all of social channels and with all of our marketing efforts we try to bring all of our partners to engage with our community members through Telegram AMAs, Mogul Lives on our Instagram page, and more. It's all part of bringing Hollywood to crypto. We also have our ambassador program and we have monthly calls with our leadership and the community and make an honest effort to make sure our staff is consistently engaging our users.
We believe people form a community around collective vision around a project and what it can do to change its industry and we believe that we're setting that vision that crypto is bringing movies and Hollywood to blockchain through DeFi products and NFTs.
Q3) Do you have any plan for burning tokens in the future to reduce the supply of the token and increase its investment attractiveness?
We actually have a strategy already in place. The $STARS token is used as an in-app currency within our Mogul platform (www.mogulproductions.com). Every time the tokens are used to purchase anything on the platform, we burn 50% of the tokens we receive. For instance, the Rob Prior art piece was auctioned off on our platform. The tokens we received, we burned 50% of so you can see it in our circulating supply if you check out etherscan.
Q4) Regulation is very essential. Many projects were closed in many countries due to failure to get proper license and permit to operate. In order to go mainstream how does Mogul team deal with these issues? Are you a regulatory compliant project?
Yes, we work with our team of lawyers to remain compliant with our business and with our token. The team is extremely conscious of the regulatory framework and wants to stay above board for everything we do. We're a fully doxxed team with an incorporated company working in one of the most regulated industries in the world (film finance)
so we are calculated and careful with our moves to make sure that our project lives for a long time without any scrutiny.
Q5) What kind of partnerships with different projects/platforms/protocols can we expect from #Mogul in the future? Could you give us some examples of how other projects can leverage #Mogul ?
We are planning on making our token accessible across the world and across all major blockchains. You can expect to see many new partnerships with regard to making STARS more accessible and building out our community on the crypto front. We recently announced the bridge to binance smart chain and are now accessible in places such as Apeswap or Beefy Finance! In the entertainment space, we're targeting groups that can help us a) find more content for our movie showcase and b) provide tier 1 level talent to collaborate with on NFT drops. This will come in the form of partnering with individuals, agencies, and production companies in Hollywood.
Q6) COVID 19 has slowed many economies around the world but as a crypto business has it affected you negatively or positively? Secondly, are you still on track to achieve your targets as the road map says?
COVID has certainly impacted every industry across the world in different ways. I think for the film industry, it's been particularly difficult. Lots of productions got delayed or shut down and the conventional theatrical releases for film have all transitioned to streaming platforms where people can watch everything they want from home. For us, I think it's been positive because the film industry does need to find a better way to access capital and connect with the fans. The old system is broken and i think COVID's lockdown of the industry and challanges it has created is actually a huge opportunity for Mogul. Although there are still challenges we face on small things ie trying to provide experiences such as a day on movie set as a reward is difficult because of all the covid restrictions and testing…otherwise, i think it's been good for us. People in the industry are struggling and are forced to look at new ways to do things and we provide a great solution.
Q7) How can I buy this token? Is it available on any exchange?
We are listed on a number exchanges and that is only going to continue to grow. You can buy $STARS on places like uniswap, 1inch, bitmart, latoken, etc. Check out https://coinmarketcap.com/currencies/mogul-productions/markets/ for all the listed exchanges right now.
Q8) How do you plan to spread awareness about your project in different countries/regions where English is not spoken well??Do you have local communities for them to let them better understand about your project?
We have multiple language groups on Telegram and we have a WeChat community in China. We also have a PR team that specifically focuses on translating our news to the Asian community to make sure that we're engaging across the world. We also have a team in Vietnam that engages the local crypto communities there. Many of our VC partners have made excellent introductions to localized crypto marketing groups across the world that we will start to continually engage with.
Q9) There are many scandalous projects out there. What guarantees that your project is different from theirs?
I'd look at the amazing team we have assembled. We have an academy award winning and emmy winning producer, Cindy Coward produced the award winning film Traffic and has worked with the biggest stars in the world. We have Paul Sparkes, who co-founded Difference Capital (which got bought by the crypto company Mogo – it's listed on the Toronto Stock Exchange) and valued at $400m! We have well known and seasoned actors such as Lyriq Bent who has appeared in 60+ diff films and tv shows such as the franchise horror series, SAW, or Four Brothers, Showtime's The Affair, etc.
Q10) Mogul-funded films are shown on the platform so that all members participate in the text-to-screen process. Where can I get information about Mogul-funded films? Do you have a list available? Also, do you have plans to fund more movies soon?
We just launched the vote for our latest showcase. Here are the 3 films – all which are backed by big producers i.e. Phillip Goldfine and Kevin Weisberg. Each of these films will start shooting soon and announcing some major stars coming on board together with distribution partnerships with companies (Netflix, Amazon, etc.). Take a look and see. There's info on our website, www.mogulproductions.com
And this was the end of our AMA with Mogul.
If you have any other questions you can ask here:
ℹ️ℹ️ Useful links ℹ️ℹ️
Website :- https://www.mogulproductions.com/
Medium :- https://medium.com/mogulproductions
Twitter :- https://twitter.com/mogulofficial_/
Linked :- https://www.linkedin.com/company/mogul-productions-incorporated/
Reddit :- https://www.reddit.com/r/mogulproductions/
Github :- https://github.com/mogulproductions
Facebook :- https://www.facebook.com/mogulproduction/?view_public_for=110028973737735
YouTube :- https://www.youtube.com/channel/UC0jod6RYPcm1vFx4P9V85kg
Instagram :- https://www.instagram.com/mogul.official/