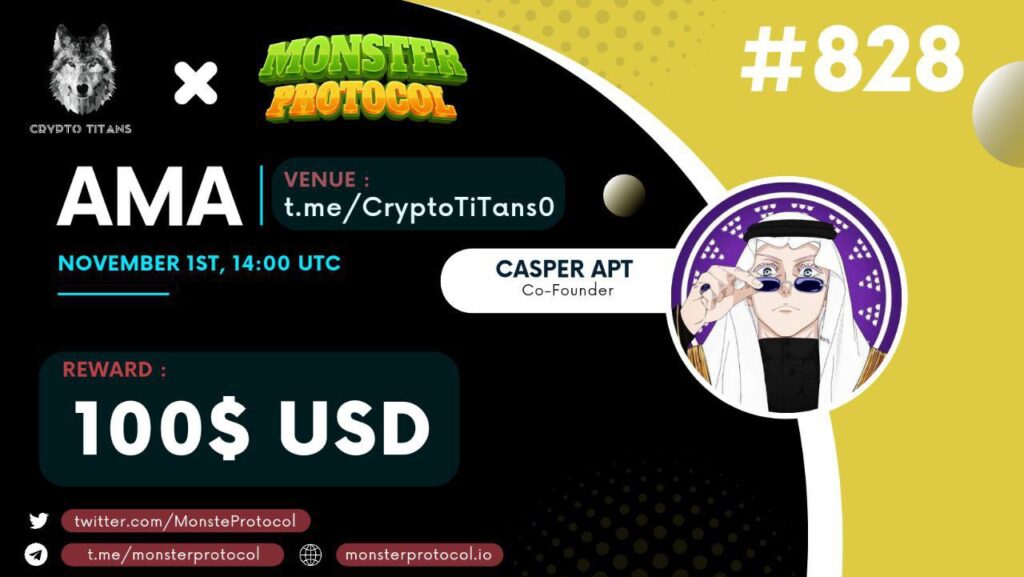 we hosted an amazing AMA with Monster Protocol on the 1st of November
And here we will put some of the best questions:
Q1. Can you please introduce yourself as well as Monster Protocol ?
Hey everyone my name is Casper and I'm one of the co-founder of Monster Protocol. I started crypto couple year ago and been helping many project as advisor regarding play2earn. Now with my experience I want to launch my own project and hopefully making something huge ! 🎩
Yes sure, Monster Protocol it's a play to earn game with a authentic ecosystem.
For the season 1, you have to open boxes to find monsters. The first player to find 8 monster will be rewarded the huge prize pool.
To have access to this game you need to hold tokens only. Obviously some people will have higher chance to find the monsters if they hold more tokens. If you want to know more feel free to check out our Whitepaper.
Q2. What are the advantages of Your project ?
Monster Protocol make sure to give the more resource of income and also the one who have small capital can still earn. We are project that put our community first, because obviously without community we are nothing.
Q3. please tell us about the goal you want to achieve in this year.
Year 2022 is almost finish, but the best would be to build a big relationship with ours community so we can build More in the near future. 👏
Q4. Every project has a story behind their name, Can you tell us more about the story behind this? Who are the team behind this project? can tell us their background?
So we have a well experience team, one of the co-founder have work with several Venture Capital and have work also with DAO Maker. We also have a top game designer that own his company. Also, Our contract dev is one of the biggest in the binance smart chain.
Q5. NFT is one of the hottest and most sought-after topics in the blockchain space right now. Can you share your opinion on NFT with us? Do you think NFT will disrupt the current financial system? What is Your project's approach to the NFT sector?
Regarding NFTs I think it's will rise again, in fact Aptos chain is coming and we see a lot of NFT project success. Regarding our project we are planing to implement the NFTs in the season 2. We want to make sure it's a free to play in the season 1.
And here we will put best questions from our members and Monster Protocol fans:
Q1. Can you tell us some of remarkable ways to earn more $MST token's in your platform? What are the benefits of buying your tokens especially now that we are in bear market? What are the advantages of holding $MST for a long time?
In this bear marketing people is looking for multiple source of income, Monster Protocol is going to make sure to give the more ressource of income to our community. We have many idea to implement and some of them is already implement. Regarding the user as I said if you atleast participate you maybe can be chose for the airdrop of the season 1.
Q2. NFT hype is still going on and now everyone thinks NFT's are really the future for many real world issues so I want to ask do you plan to create your own marketplace?
We are planing to build our own NFT Marketplace and people will
Be able to buy/sell with BNB/BUSD.
Obviously NFTs will be the future do everything.
Q3. I think one of the biggest aspects of the project's success is the community support. Most projects have programs that their users interact with. Does #MonsteProtocol have specific plans to attract and expand the community and improve the user experience?
We will make sure to having a close relationship with our community by doing AirDrop and make several vote in our DAO platform.
Q4. Does Monster Protocol users required to undergo KYC? Do you have policies such as limiting withdrawals to customers who do not comply with KYC that leading exchanges like Binance offer to their communities? What are the withdrawal limits for unfinished KYC and Completed KYC?
Nobody will have to do KYC in our platform as I said we want to make sure everyone have the chance to play our season 1 and earn $MST tokens.
Q5. One of the drawbacks of some P2E games is that they require a high initial investment to start playing, many of which are very expensive. Can we start playing Monster Protocol Game with a small amount of capital? Will there be any discounts or benefits for early subscribers?
Everyone can play the game and have the chance to earn play-to-earn. Their will be some discounts and benefit that will be announced couple days before the presale.
Q6. Monster Protocol is the first crypto game to win ecosystem that wants to give back as much as possible to the community. How are you designing this game, to benefit the community? And what are your marketing strategies?
The game is design is unique and our Econ system is also unique. Our goal is to bring the more income to our players, because we know in this bear market it's really complex.
Q7. What is the most ambitious goal of your project? Could share with us any Upcoming Updates?
We want to take off the ecosystem to the next level and prove to people play to earn is still big in the market.
Q8. What are the radar major partners now and have you done any partnership with ventures? is there enough fund raised by your Monster Protocol project?
So far we have some good partnership as WebCoin Capital and Tiger Ventures.
Q9. Is your project A community only for English speaking an countries or for users not of other languages?
We are an English community but we planing to set a discord with multiple language from many part of the world.
Q10. Is your project only for elite investors, what about others with smaller funds, is it open to everyone?
The project is for every type of investors, we want to make sure everyone is able to have is chance.
And this was the end of our AMA with Monster Protocol.
You can find us here:
Website :https://monsterprotocol.io/
Telegram Community :https://t.me/monsterprotocol
Twitter :https://twitter.com/MonsteProtocol
Discord :https://discord.com/invite/XgPNuxYt
TikTok :https://www.tiktok.com/@monstersprotocol
Whitepaper :https://monster-protocol-1.gitbook.io/monsterprotocol/