we hosted an amazing AMA with Moonpoly on the 11th of October
And here we will put some of the best questions:
Q1. Can you introduce yourselves to our community?
ARTEM | MOONPOLY.IO CEO:
My name is Artjom, and I'm a co-founder / Game Designer / Ux/Ui designer of Moonpoly project. I got a background as a project manager in an IT company. We are a team based in Latvia, Riga.
@ctdev Viktor, is a Lead developer of our company and he got more than 15 years of experience in IT yield.
@NikitaKaper is COO of Moonpoly and he is in crypto since 2015. Did a lot of different projects out of Crypto Field and worked also cooperated with blockchain projects in field of Marketing
Q2. Can you briefly tell us what is Moonpoly ?
ARTEM | MOONPOLY.IO CEO:
In 2 words, we are Moonpoly, Monopoly style game built on Binance Smart Chain. But we created own rules, dynamic and fresh gameplay. During game design sesions, we calculated that the average match on our board would be around 15-30min.
Nikita | COO Moonpoly.io:
Moonpoly has also such features like Play to Earn, playable NFT's collections and we also got plans to implement Staking and Farming.
Q3. Let's now talk about the milestones you have achieved so far and about your upcoming plans?
ARTEM | MOONPOLY.IO CEO:
We successfully launched our DxSale hard cap was gattered in 10 minutes. Currently, we posting daily game development updates with videos and comments and game progress state. On October 15 we going to launch marketplaces where people will be able to buy and sell their NFT Moon Heroes.
We are currently working with 3 influencers who will be added to the game, their 3d models will be available on the marketplace, in a limited edition 10/10. In general, there is a lot of influencers and projects who are interested to have their own personal In-game model so yes we are working hard.
The important thing to mention out that we are going to have the Alpha version in October where people will be able to earn CMP for testing our game and platform in general. Registration to Alpha will be open this week. There will be some requirements to participate for example you need to hold CMP tokens.
Nikita | COO Moonpoly.io:
Also I would like to mention that we do AMA sessions with our community 3-5 times a week and moreover we give daily video updates of game development.
I think this gives a lot of transparency to investors and it is really important to mention.
Here is one of our latest video updates from Friday.
Q4. Every project has a story behind their name, Can you tell us more about the story behind this? Who are the team behind this project? can tell us their background?
ARTEM | MOONPOLY.IO CEO:
The first time we came up with an idea about the Moonpoly game, we played Monopoly game with friends. All of us intro crypto, and someone said: " Is there a Crypto Monopoly game. And we like.. huh?" We started to google it The first mention of the Crypto monopoly game was on Reddit 8 years ago. People wish to create a Monopoly game on a Bitcoin, but transaction speed and commission were crazy… so the idea died.. Later, someone made CryptoCoinMonopoly deck that you can print and play at home. Still, there wasn't only Monopoly game… later on, we decided that we couldn't make a Crypto Monopoly because there would be trademark issues high chance of getting sued by copyright holders. So we decided to call it Moonpoly and changed square form to circle. We created our own rules and added more fun to a playable fast online versus other players. About our team we mentioned in the begging. But in general we got international team and we always looking for young talents to join us share ideas and etc. More about our team you can learn on our web-site: https://moonpoly.io/
Q5. NFT is one of the hottest and most sought-after topics in the blockchain space right now. Can you share your opinion on NFT with us? Do you think NFT will disrupt the current financial system? What is Moonpoly's approach to the NFT sector?
ARTEM | MOONPOLY.IO CEO:
The thing about NFTS, in general, is that a completely different approach for the artist to create. In our case is game development. Imagine when you are playing any game you actually not owning it, even if you bought it. When you buy the game you not actually buy a game you buy access to IT. In NFT you owning a game asset so you owning a part of the game isn't it cool guys? Of course many game developers in next years will start to experiment with NFT and we will see big companies from game development industry will enter this field.. for now we are innovators here, and we have rights and time to become a leaders in NFT use case in games.
NFT is changing the way how people will use and try new products what companies is offering.
And here we will put best questions from our members and moonpoly fans:
Q1.As we all know, #Moonpoly is a play-to-earn game, but every play-to-earn game demands a huge initial deposit before users can begin playing. As a result, I'm curious if users will be required to make an initial deposit in order to begin playing #Moonpoly games?
Nikita | COO Moonpoly.io:
Our users will not need to make any colossal deposit. All our users need to buy an NFT hero and place a bet to create a game. We understand that people want to play and earn money without spending huge amounts of money, this is absolutely normal. Therefore, our users have nothing to worry about, the initial deposit will not be large and unbearable for our users.
Also there will be free playing models, which will not have any special abilities, like NFTs, but people will be able to play even with them.
Q2.I looked at the #moonpoly website. Maybe #moonpoly in the future will be a very demanding game with all its fun. How can I play the game? I need to download any app or is it on the website?Are there any special requirements for mobile devices to play games smoothly and easily?
Nikita | COO Moonpoly.io:
There are no special requirements that could complicate the game for our users. Everything is absolutely simple, you go to the site, select the "PLAY" button. Choose the character that you have. After that, choose the board you want to play on.
Our main goal is to create a simple yet dynamic game. We want our users to play and earn with us. The easier the game is, the faster people will start playing MOONPOLY!
We got a plan to launch Alpha in the end of October, than after tests – release Beta in December and in January 2022, when Game Rewards CMP pool will be unlocked we will launch full version of the game.
After that we will start work on adopting game for iOS and Android as well. Of course it will work in browser from day 1, but it is always better to launch mobile games in app, isn't it?
Thereover it will not take much time, as game is done on Unity, which has really easy implementation in Apps.
Victor | Moonpoly CTO:
the game will be playable in the browser, with the use of WebGL technology.
the game is 3d, but it's not demanding, and we're working on performance, so that most of the devices will be able to play it.
also in the future, the 2d version of playing field will be added, as an option for those who have lower-end devices, and still want to play.
as for the mobile devices, they also support webGL and it should be playable from the browser, but we're planning on applications released to App Store and Google Play
Q3.Can you tell us the requirements to be a NFT hero in the game? What is the maximum amount of NFT heroes ? How many have already registered? Do the users need to hold $CMP to play the game ? Can we earn by playing the game?
ARTEM | MOONPOLY.IO CEO:
If we are talking about to have OWN MODEL in game there are two ways to become an NFT hero. First, you can buy this opportunity for 2 BNB, or if you have a developed account on social networks, you can contact us and get a hero as cross partnership reward.
If you are asking where to buy NFT Moon Hero you can buy it on our marketplace on the October 15!
In the game itself, the maximum number of players will be 6, but at the moment we have 7 heroes and there will be more. As with many games, you choose who to play for by analyzing the choices of other players.
Yes, CMP is the main coin in the game. You must have it in order to play and buy NFT heroes.
Yes, you can earn by playing the game. This is our main goal, to create a game in which users can earn money. It is clear that users will also be able to lose, but the losses in comparison with the opportunity to earn are minimal.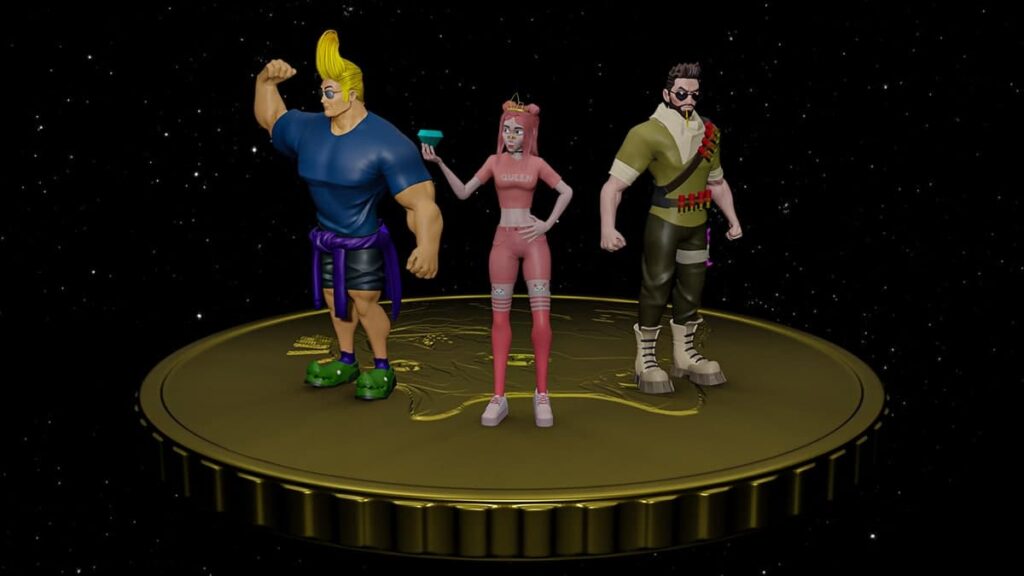 Here is example of cross partnership NFT Moon Heroes personal models for influencers
They are in limited edition 10/10
50% of earnings from selling them will be burned.

Q4.In MoonPoly, every user has a player HERO to manage. Since every HERO is an NFT, what is the minimum & maximum number of HERO a player can have at one time? How can you train and improve your HERO? Is it possible to have multiple HERO for one user?
ARTEM | MOONPOLY.IO CEO:
You can buy all the heroes and just choose who to play as before each game. You can improve your hero, but for now it is in development and we do not want to reveal this information. But yes, our users will have the opportunity to improve the hero, There is a Grade and Limitation for every Hero and grade will be also upgradeable, in future different grade of one hero will looks different so your game model will evolve.
Q5. I read that in Q4 2021, you will launch new NFT block cards, Decks, Moon Heroes and the MoonPoly Marketplace, could you tell us, what will be the features of these, what steps should a user follow to participate in the sale of such products and how will your Marketplace work?
Nikita | COO Moonpoly.io:
Well, by roadmap this was planned for Q2 2022, but yes, we will launch it all much faster. First of all we are focused on Marketplace and Game development right now. We plan to enable our users to make the game board and decks the way they want. This will increase interest.
Steps are really easy. First of all I would like to mention that Marketplace will be released on the 15th of October (this FRIDAY).
NFTs will be available for sale in CMP tokens. So it is the best time to buy CMP tokens before that, especially now, when the price is so low.
After that you will just need to connect with your metamask and choose the NFT that you want to purchase. Interface will be super easy in use for experienced and unexperienced users as well.
This is very important to develop things clear for everyone. And we will achieve this goal for sure.
Q6.𝘿𝙤 𝙮𝙤𝙪 𝙝𝙖𝙫𝙚 𝙖 𝙏𝙤𝙠𝙚𝙣 𝘽𝙪𝙧𝙣𝙞𝙣𝙜 𝙥𝙡𝙖𝙣 𝙩𝙤 𝙞𝙣𝙘𝙧𝙚𝙖𝙨𝙚 𝙏𝙤𝙠𝙚𝙣 𝙫𝙖𝙡𝙪𝙚 𝙖𝙣𝙙 𝙖𝙩𝙩𝙧𝙖𝙘𝙩 𝙄𝙣𝙫𝙚𝙨𝙩𝙤𝙧𝙨 𝙩𝙤 𝙞𝙣𝙫𝙚𝙨𝙩?
𝘿𝙤 𝙮𝙤𝙪 𝙝𝙖𝙫𝙚 𝙖𝙣𝙮 𝘾𝙤𝙞𝙣 𝘽𝙪𝙧𝙣 / 𝘽𝙪𝙮𝘽𝙖𝙘𝙠 𝙨𝙮𝙨𝙩𝙚𝙢𝙨 𝙤𝙧 𝙖𝙣𝙮 𝙏𝙤𝙠𝙚𝙣 𝘽𝙪𝙧𝙣 𝙥𝙡𝙖𝙣𝙨 𝙩𝙤 𝙞𝙣𝙘𝙧𝙚𝙖𝙨𝙚 𝙩𝙝𝙚 𝙫𝙖𝙡𝙪𝙚 𝙤𝙛 𝙏𝙤𝙠𝙚𝙣 & 𝙖𝙩𝙩𝙧𝙖𝙘𝙩 𝙄𝙣𝙫𝙚𝙨𝙩𝙤𝙧𝙨 𝙩𝙤 𝙞𝙣𝙫𝙚𝙨𝙩?
Nikita: Yes, we are burning CMP. First of all we have decided to burn 1 Billion of token from Dev funds every Friday until the game release.
as you can also track by Tokenomics – we will burn 50% of CMP tokens received from sales on our NFT marketplace.
At the end there will be left only 250 of 500 Billions CMP
Q7.So can you tell us how to become an #Ambassador of the game Moonpoly? Where I can get more detailed information about the terms of cooperation? And what are the advantages and opportunities MoonPoly gives to its Ambassadors?
Victor: please contact @Endlessway55 😉
here's a bit of info on how to get featured in a game: https://www.moonpoly.io/become-hero
Q8.Where can I buy your tokens now,, what are your current contracts and how can I buy them and what are the benefits??
Nikita:
You can buy tokens on Pancake Swap or on Poocoin.
Here are links:
https://pancakeswap.finance/swap#/swap?inputCurrency=0xcFd947B1Ad06c39522fB67fb00b21a3FDA906e34
https://poocoin.app/swap?outputCurrency=0xcFd947B1Ad06c39522fB67fb00b21a3FDA906e34
There is 10% Tax applied:
5% goes to CMP token Holders (so hold token is already beneficial)
2% goes to Liquidity Pool
3% goes to Dev Vault
Q9.A lot of scam projects lately. Pulling the rug creates a loss for investors. why should we trust your project? Aren't you going to do the same?
Can you list 1-3 killer features of Your Project that makes it ahead of its competitors? What is the competitive advantage your platform has that you feel most confident about?
Artem: Yes, since there is many rug pulls happend crypto investors scarred to invest in a new project. But our project have different approach, you can check our web-siite and find our whole team there and link to social networks of the team. https://moonpoly.io/
Our most interesting feature that we are online multiplayer game, so this game will be interesting not only for crypto people but for usual gamers to.. We also have planned afk staking and farming for people who wish to earn but don't wont to participate actively in games.
Q10.Would there be A need for more team members and ambassadors?
Nikita:
Of course. Currently we are hiring more 3D model designers and affiliates. We got a large queue of influencers that are ready to become our Ambassador on the current stage.
And we are not going to stop to onboard new a bigger influencers to our team on a daily basis.
When Alpha Game will be available (in the end of October) – it will be much more easier to get on board even biggest influencers for sure. So yes, if you got any proposals – feel free to write us or send us CV to the e-mail via website!
And this was the end of our AMA with Moonpoly.
If you have any other questions you can ask here:
ℹ️ℹ️ Useful links ℹ️ℹ️
Website :- https://moonpoly.io/
Discord :- https://discord.gg/kPkkfadE85
Twitter :- https://twitter.com/CryptoMoonPoly