we hosted an amazing AMA with MorganDAO on the 7th of June
And here we will put some of the best questions:
Q1. Can you please introduce yourselves as well as MorganDAO ?
Lynn:
I'm Lynn from MorganDAO. I was introduced to the blockchain world since 5 years ago and involved in blockchain development since last 2 years.
Hazel:
Hey guys, I'm Hazel from MorganDAO. I have been in the block industry for 2 years, started off with Bitcoin and then got into the DeFi space. Thanks for having us today. 🔥
MorganDAO is a decentralised reserve currency protocol built on the BNB Chain, which aims to preserve users' purchasing power. Morgan consists of automated treasury growth protocol with a steady flow of revenues from staking and early-stage investments that reward holders. Aside from having protocol managed treasury and protocol owned liquidity, Morgan also implements multiple innovative features inspired by the DeFi space.
The team recognises that traditional DeFi will eventually come to an end. As traditional DeFi is always subject to limited traffic and single source of income, panic selling happens easily. Also, the treasury or the liquidity provider (LP) is not being utilised wisely, which later causes idle funds that could be of better use.
To solve the problems mentioned above, the team decided to create our own ecosystem around MorganDAO. MorganDAO is based on the M.O.S.S model, which combines Morgan Chain, Olympus, Settlement Fee, and Seed Fund. This model is designed to create more innovative cases for $MOS, thus promoting buying pressure and increasing liquidity.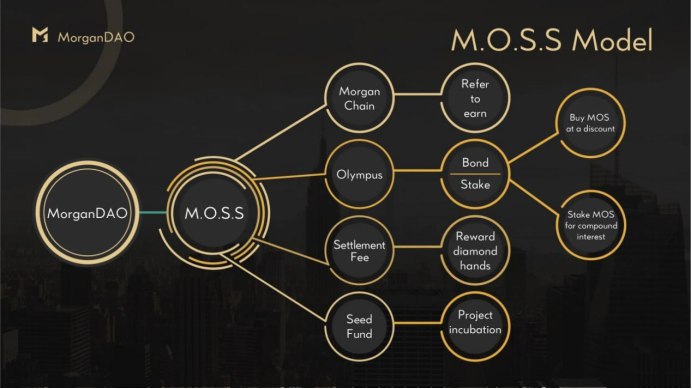 Morgan Chain – A Refer-to-Earn system to incentivise users for promoting the project.
Olympus – A decentralised reserve currency protocol for preserving users' purchasing power.
Settlement Fee – A form of selling tax for reducing the selling pressure and hence promoting the price stability of the reserve currency.
Seed Fund – An investment initiative for enhancing fund usage and increasing profit opportunity.
Morgan's goal is to build a policy-controlled currency system, in which the behaviour of the MOS token is controlled at a high level by the DAO. This system is designed to optimise for stability and consistency in the long run with the intention that MOS can function as a global unit-of-account and medium-of-exchange currency. In the short term, the team intends to optimise the system for growth and wealth creation.
Lynn:
https://youtu.be/L4SDasi7zJo
Q2. What are the advantages of Your project ?
Lynn:
Morgan Chain is a profit-sharing model created by MorganDAO with the integration of Web 3.0 technology, that is based on a core principle – REFER TO EARN.
As we would like to lead the users from non-DeFi to the DeFi field, we need to get more users to know about DeFi by providing education and opportunities for them to earn great passive income. In order to achieve that, we need the help from the community and that's the reason why Morgan Chain is created. Morgan Chain rewards users for referring new users to the protocol, its power of compounding will help us to spread the message out effectively and hence achieve our goal of leading more people into the DeFi space.
If let's say MorganDAO starts off with 1,000 holders (which is a small number by the way) and each holder refers to at least 3 people, that is already 3,000 referrals! Never underestimate the compounding effect of referring. The compounding effect can easily multiply the traddic and sales in a matter of days, which creates a win-win situation for the users as well as the protocol. Aside from enjoying high staking rewards, users are able to earn without an upper limit by referring. Meanwhile the protocol is able to achieve deep liquidity and abundant growth in the treasury that ensure the development goes well.
If you are a social magnet, you could earn more money easily by telling your friends about MorganDAO.
WHAT ARE THE BENEFITS:
●Rewarding Commissions – Get paid for every new friend that joins
●Fair and Free – Anyone can participate
●Personalized Dashboard – Share, monitor and track your referrals all on our official website
https://docs.morgandao.money/basics/morgan-chain
Q3. please tell us about the goal you want to achieve in this year.
Hazel:
Now, we have more than 20 communities which have been entrusted to create exposure and educate the masses on DeFi. Soon we will be conducting our IDO and launching the protocol liquidity soon in the mid of June.
In 2022, we look forward to increasing more token utilities by forming partnerships in the BNB Chain ecosystem, and launching our own MorganSwap. We never forget our mission for once, which is to help users to preserve real purchasing power. And this has to be done by:
Leading users from non-DeFi to DeFi field, get more users to know about DeFi.
Providing opportunities for users to earn great passive income.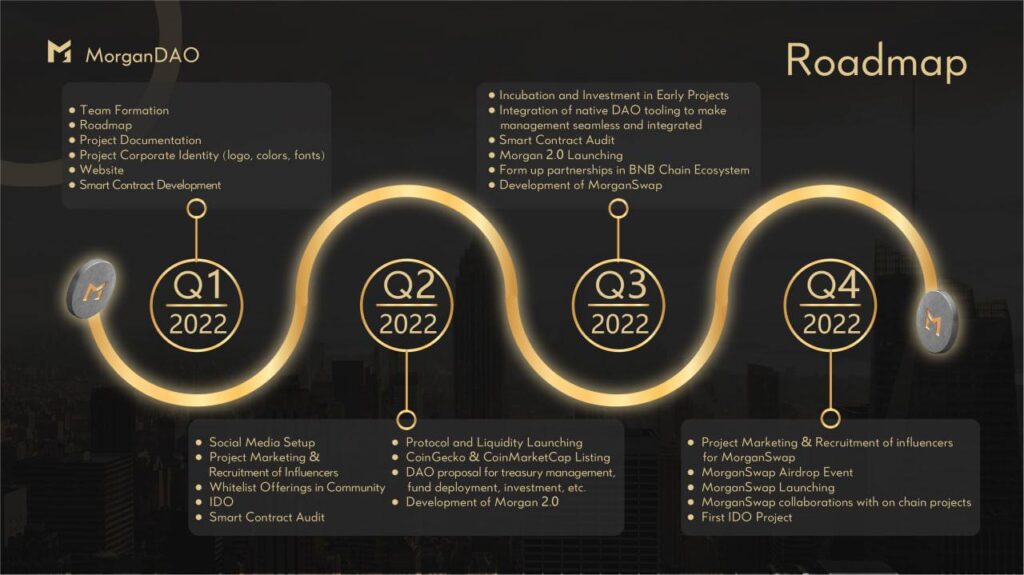 Q4. Every project has a story behind their name, Can you tell us more about the story behind this? Who are the team behind this project? can tell us their background?
Lynn:
Morgan is one of the earliest horse breeds and it is amongst the most well-known horse breeds. Morgan is versatile and surefooted with a muscular body.
Our team members fell in love with Chinese culture and "Feng Shui". In "Feng Shui", horse symbolises speed, perseverance, loyalty, strength and success. There is one saying in Chinese "MA DAO GONG CHENG"(马到功成). In English, the horse arrives, so does success. It means things are going well and it's a victory from the start. That's the wish of our founding team for MorganDAO.
Thousands of crypto enthusiasts have taken advantage of DeFi to multiply their capital and earn substantial profits. As a result, a new breed of next-generation DeFi platforms is springing up that seeks to bridge the gap and MorganDAO is leading this trend. We would like to let more users around the world know about DeFi by providing education and opportunities for them to earn great passive income.
Our core team members are mainly from Asia and Europe, we get involved in the cryptocurrencies related field since 202, and have moved our prefence into Decentralized Finance since last year, DeFi in its abbreviated form, enables the deployment of traditional finance products using contracts that are permissionless and trustless.
We want to be the gold-standard in the DeFi space while providing an easy-to-use platform for our users to explore DeFi space seamlessly.
Q5. DeFi is one of the hottest and most sought-after topics in the blockchain space right now. Can you share your opinion on DeFi with us? Do you think DeFi will disrupt the current financial system? What is Your project's approach to the DeFi sector?
Hazel:
The idea of DeFi was born around 2017 and since then the DeFi space has increasingly attracted attention from the public. The reason why is that financial activities in DeFi are decentralised and thus transparent, it returns the control to individuals. On top of that, DeFi space is bringing secure transactions without tedious paperwork and assessment.
DeFi is reshaping the world and giving new passive income opportunities to individuals. Because of these reasons, individuals would eventually be leaving centralised finance for decentralised finance.
Nobody care about your money as much as you do. We have heard cases of prestigious banks going into bankruptcy back in 2008 such as Lehmen Brothers if you still believe that putting your money in the bank would be the best way in investment education and helping every single one of you to become an independent investor. That's exactly why it's our vision to nurture users to become brilliant investors. If your savings is only limited to 1% interest per year in the bank then why not take it out and start investing to multiply your wealth? DeFi will definitely multiply your wealth way faster and help you to grow your retirement portfolio in a very safe and transparent manner.
MorganDAO strives to innovate in the DeFi space by integrating DeFi 2.0, a DAO-governance and a profit-sharing model. The protocol is designed to preserve users' purchasing power that can withstand the test of time. It provides multiple ways to earn passively and actively. Users can participate by bonding, staking and referring.
And here we will put best questions from our members and MorganDAO fans:
Q1. Hackers are very active in the market and almost every day we hear about another hack attack. Can you please provide some information about the security arrangements for your project? How safe is investor funding? Do you already have an audit?
Lynn:
MorganDAO will always give priority to security and project sustainability. We want to make sure our investor' funds are being safeguarded, thus we are sending our smart contract for audit after we have achieved our fundraising goal.
Generally smart contract audit takes between 2 to 3 weeks, depending on the complexity of the project and smart contract size and we will strive to achieve this by keeping continuous communication with auditors and making sure smart contracts and codes are audited on a regular basis.
Q2. Marketing is a central element for every project, so that everyone knows the potential that a project can bring is vital to achieve the goals set. What is your strategy to attract new users and investors to "#MorganDAO_" project and keep them long term?
Hazel:
Project marketing is often one of the most concerned issues among the investors. We are pleased to share with you a few elements that we are focusing on to enhance our marketing strategy.
The first is to provide an easy-to-use platform with multiple ways of earning good profits. We strongly believe that staking will replace 'fixed deposit' introduced by the centralised institutions. We will further enhance this by providing a more diversified and high staking yield platform with high security. With that, we are able to provide financial services to all groups of entities from individuals/families to Small Medium Enterprises all the way to Multinational companies.
The second is to collaborate with KOLs and communities. Currently we have collaborate with a few KOLs and more than 20 communities to educate the masses on DeFi topics and to increase our project exposure. Aside from that, we are doing our best to have AMA sessions in the communities of different countries. We try to hold the sessions in their local language to ensure the message is spreading g our effectively. Besides, a portion from the DAO income will be allocated for marketing purposes to ensure the marketing activities keep going on.
The third is Morgan Chain. Morgan Chain is a refer-to-earn mechanism to reward users for promoting Morgan. 10% referral incentive would be given to the introducer for every bond purchase done by the referred user. This mechanism is designed to motivate the users for promoting the projects continuously.
Q3. Bonding allows us to bought MOS at a discounted price after a fixed period of time while staking allows you to earn more MOS tokens via an auto-compounding mechanism. So how exactly we can buy it? When will you plans to launch IDO?
Lynn:
There are two ways to purchase MOS. The first is to purchase it on PancakeSwap after MOS is listed.
The second is to purchase MOS tokens at a discounted price through bonding, and this is done on our dApp.
IDO will be conducted in the middle of June. The IDO price per MOS is 8 USDT, while the listing price of MOS is 12 USDT.
Q4. MorganDAO is developing a decentralized reserve currency, MOS, on the BNB blockchain based on the MOS model. Why did you choose to build your platform and currency on the BSC network? What advantages does this blockchain bring to you?
Hazel:
Team chose to build the platform on the BNB Chain (which is previously known as BSC) due to a couple of reasons.
First, BNB Chain has solidified its position as the third most popular DeFi ecosystem, with close to $12 billion in assets held in its most successful DeFi protocols.
Second, users can benefit from extremely high throughput, low transaction fees and fast transaction completion time. It is definitely a low-cost alternative as compared to Ethereum.
Third, as we want to lead more users from non-DeFi to the DeFi field, choosing a high exposure platform with user-friendly transaction cost would give us the advantage in promoting the project.
Q5. Can we (as token holders) participate in governance of MorganDAO_ project? And what mechanism has you implement to make sure the Fairness of decisions making between small and big investor?
Lynn:
Of course, MorganDAO is governed by the community. Token holders are given decision-making authority based on the proportions of their holdings. They can vote for new proposals or changes on the protocol. Team would make sure the voting mechanism and process is transparent and fair to the investors.
Q6. CAN you explain How is Your Tokenomics Distribution? How many tokens Will be minted ? And How many tokens Will be locked by the Team?
Hazel:
Regarding the tokenomics, you may refer to the infographic below.
During the initial stage, 47,500 MOS tokens will be minted.
37,500 MOS tokens (at the price of $8 USDT) of which will be issued to IDO users.
10,000 MOS tokens (at the price of $12 USDT) will be added to the liquidity pool, which is worth $120,000 USDT
Q7. Do you allow suggestions and feedback from the community? Are we allowed in decision making, do you put community into consideration ?
Lynn:
Yes, we do. MorganDAO is governed by the community, we appreciate all the feedback and would take it into considerations. Community proposals would be voted and executed by the community.
Q8. In recent years stablecoins like USDT have had devaluations of more than 20% due to high costs of goods. Morgan's goal is to create a reliable and relatively low risk reserve currency. Can Morgan replace USDT? Will your currency always have the same stable value as stablecoins?
Hazel:
MOS is not a stable coin. Rather, MOS aspires to become an algorithmic reserve currency backed by other decentralised assets. Similar to the idea of the gold standard, MOS provides free floating value its users can always fall back on, simply because of the fractional treasury reserves MOS draws its intrinsic value from.
Back to your question again, MOS can't replace USDT. USDT is one of the decentralised assets that back up MOS.
Q9. Why did people hold $MOS token for the future? Whats the difference to other? Some coin/token will dump after the presale, how did your team handle this? How do you find a way to change the dumpers to become a holder for this project?
Hazel:
It's not uncommon to see some coin/token dump after the presale. We have taken several measures to handle that.
First, a 12% selling tax is imposed on the seller. The measure is taken to reduce the selling pressure and encourage long-term holding as the tax collected would be used to reward diamond hands and contributors.
Second, the staking APY is high. If users choose to sell right after the launch of MOS token, they would get a profit of about 44% after deducting the selling tax. However if they choose to stake, they can earn much more than that because the stakes balance will compound automatically every 8 hours.
Third, Morgan has a refer-to-earn mechanism, which is Morgan Chain that rewards users for promoting the project. For every bond purchase from the referred user, the introducer will receive a 10% referral incentive. As the reward mechanism helps to drive up the demand towards MOS, it contributes to the price appreciation and stability.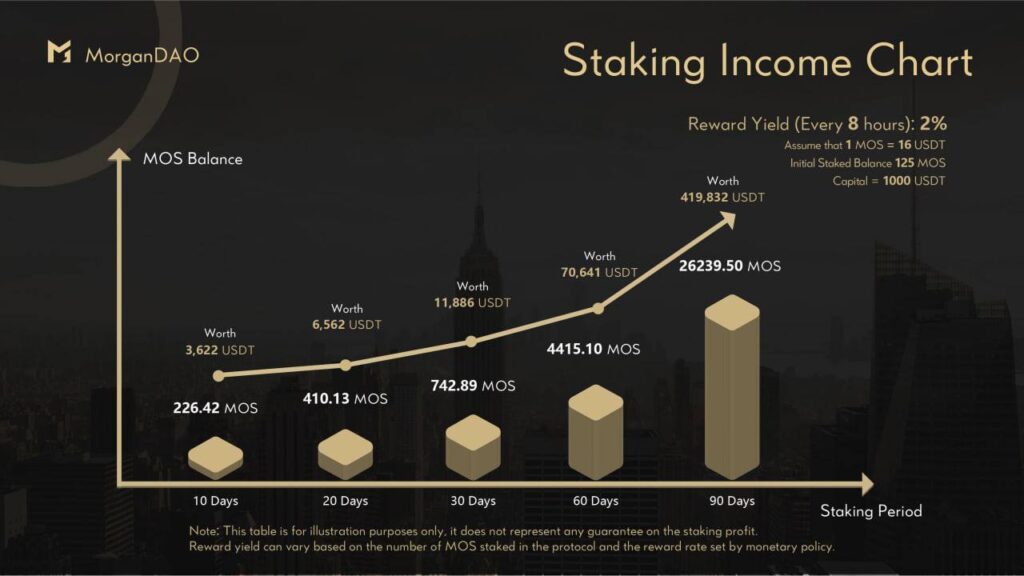 And this was the end of our AMA with MorganDAO.
You can find us here:
Website :https://morgandao.money/
Telegram Community :https://t.me/MorganDao
Twitter :https://twitter.com/morgandao_
Medium :https://medium.com/@morgandao.money
YouTube :https://youtube.com/channel/UCf2YtkRvhS8aIHM9SBY54lQ