we hosted an amazing AMA with MT Tower on the 26th of September
And here we will put some of the best questions:
Q1. Can you please introduce yourselves as well as MT Tower ?
Gary:
Michal has 10 years in advertising experience within digital advertising agencies worldwide such as DENTSU. For the past 4 years he has been working for the gaming and metaverse industry. He participated and lead metaverses projects for clients as Roblox, Decentraland, Minecraft, Vodafone, Microsoft,
Gary has 20 years of international senior marketing, business development, and operational experience across industries including iGaming, gaming / esports, and the last 6 years within the blockchain industry working with projects in the NFT, DeFi, ecommerce, mining, crypto, and many other areas.
MT Tower is both lifestyle and gaming platform allowing people to make new social connections, meet brands, and create their own world. Users will run life as an avatar, and some even as virtual influencers and – what happens in MT Tower – can also be shared on all social media platforms. We want to break the rules of traditional social media, and bring people a new Web 3.0 / metaverse social platform with culture, engagement, virtual experiences, and content such as art for them to create their own fame and influence. MT Tower is aiming to expand beyond existing social platforms, and has the ability to do just that with tokens, entertainment, and immersive experiences. It is driving the way forward for Social Media 3.0
Q2. What are the advantages of Your project ?
Michael Wojciechowski:
I'll take this one 🙂
MT Tower Metaverse is a Virtual Influencer software to connect all Brand social touch points into one big ecosystem. We allow people to make new social connections, meet brands and create their own world inside our Metaverse…
Users will run life as Virtual Influencers not only inside our MT Tower Metaverse but as well on all existing social media platforms providing them selves to make fame from it.
PLS have look on our USP's here: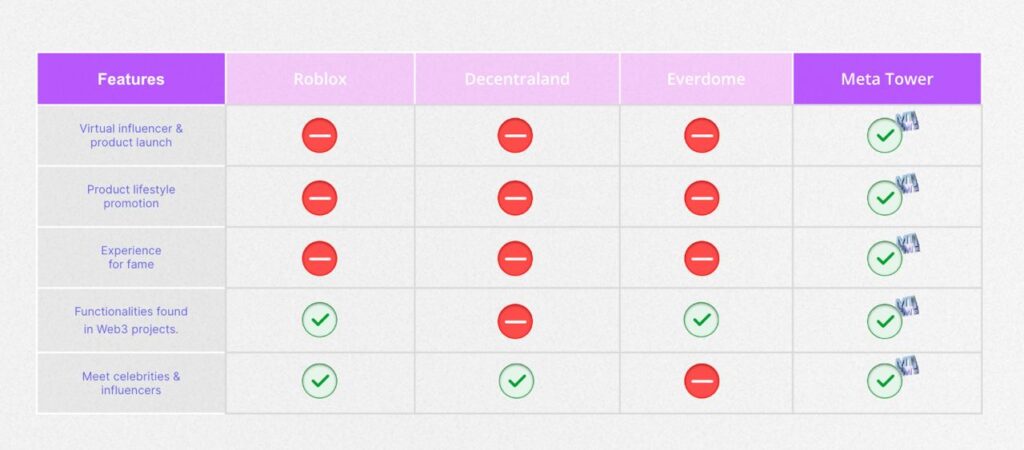 Q3. please tell us about the goal you want to achieve in this year.
Gary:
Ok I will take this one
This year we already achieved our publicly presented milestones to date including building a strong experienced team as well as the soft launch of our website and launchpad. In next few weeks our MT Token will a) have its final round presale in less than a week (that will last 7 days only) and then b) we will be listed on a top exchange (agreement is being signed and exchange will be announced this week) on 13th October as well as aiming to more formally introduce a partnership with Polygon and few other that for now we need to keep confidential. Of course right now, we want to wrap up the pre sale of the MT Token with its upcoming final round before listing. It is the last opportunity to buy it at a preferred price.
Early next year we are aiming to deploy the avatar creator module and kick off the development cycle throughout 2023 which will see the metaverse itself being built out.
So there are very exciting times ahead for us and our community.
Q4. Every project has a story behind their name, Can you tell us more about the story behind this? Who are the team behind this project? can tell us their background?
Michael Wojciechowski:
I'll go with this one 🙂
It's tower because the tower can always grow, we won't set the limitation of the tower. No matter for users or brands, in the Meta Tower, they can always find their own space and create more influence.
Its meta because not only will it be built on a web 3.0 / meta platform our audience is looking for new platform with culture, virtual, art, etc. and as a virtual space where everything is about virtual interactions. The metaverse can expand beyond existing social media platforms and has the ability to answer all those needs with tokens, entertainment, and immersive experiences that allow them to express themselves and connect with others in an unique way…
We are expanding the team with experienced people within this area. We all have been working within the gaming & advertising industry for many years. Gary is the most experienced member of our team. I myself have been in this business for 12 years now, and we have on board developers and creatives working with us that also have many years of relevant experience. We are also backed by driven investors and partners that want this to be a success. Therefore, we know that this is the winning combination.
Q5. NFT is one of the hottest and most sought-after topics in the blockchain space right now. Can you share your opinion on NFT with us? Do you think NFT will disrupt the current financial system? What is Your project's approach to the NFT sector?
Gary:
We are not here to just offer NFTs like other platforms and games. NFTs as in static content like images, that is a gradually declining area we believe. In terms of disrupting the finance sector, yes perhaps but indirectly for now in terms of its utility.
Instead of just NFT, let's talk about the next stage: NFT 2.0 which goes far beyond just sitting on the blockchain.
It has huge potential in the world of gamification, experiential, and transformative NFTs, and is an area in which MT expertise can take NFTs to the next level.
And here we will put best questions from our members and MT Tower fans:
Q1. Is NFT also part of your project and I would like to ask you how you see this technology currently? What exactly does NFT offer in your project and what use cases do you see for this technology, in the future in the crypto market?
Michael Wojciechowski:
Taking this one 🙂
Future for NFT calls NFT 2.0:
Upgradeability: NFTs can be upgraded into something new, as updates can be made to the artwork and select metadata.
Dynamism: NFTs have the power to do more than just exist. They can issue commands, equip other NFTs, change their look, and much more…
In MT Tower, users will have their own NFT wallet. As the cryptocurrency wallet that supports the blockchain protocol NFTs are built on, it will store the crypto currency and the NFTs safely. With Meta Tower's NFT wallet you will be able to see your personal NFTs, as well as buy more and sell your own on the market. You will be able to discover and see all the NFTs on the market from different users.
Furthermore, you will be notified when new NFT collection will drop and will be available to purchase, as well as some presentations on the different artists working on those collections, and finally how you can submit your own NFT collection.
Basically, we believe in advancement of this technology and its relevant applications to MT Tower.
Q2. What are the advantages of MT Tower ? I believe security is one of the most important to consider before investing in a Project. So can you tell us what are the security measures does have done so far? Have you done your audit ? Would you mind to share it with us ?
Michael Wojciechowski:
Yeah I'm the one coming from security side 🙂
We implemented following security gates:
mandatory access control for data and services
services isolation
traffic monitoring with throttling mechanism
network level intrusion detection system, with alerting interface and analysis engine – both signature and anomaly based
web application firewall for supply of statistics as well as detection of possible intrusion and application errors
server and application metric collection with analytic interface and logs (and anomaly) recording
honeypot services
As well ass you can see and download our audit from here:
chrome-extension://efaidnbmnnnibpcajpcglclefindmkaj/https://metatower.com/audyt.pdf
Q3. What do you think about the Investors Understanding of the real value of the project and their motivation ?
What are the advantages of investors who support you in the long run? Why they should choose ?
Gary:
The real value of the project is all about "REALS" so to speak 😃. We have REAL investors on board, a REAL experienced team, REAL dev house to build the product, a REAL focus & vision as well as a REAL solution to evolving social media and community into what we are calling Social Media 3.0 (i.e. going beyond just video, images, and text) and we have REAL good results so far in our presale considering that it is still a crypto winter, showing us there is REAL support and belief in this project.
Q4. Gaming and DeFi Are Popping up Everywhere . Many Crypto Teams Are also offering NFTs . Please explain why #MT_Tower will be one to survive and not fade away ? How do you keep users on your platform for the long term and how you keep your platform ahead of the competition ?
Gary:
We have a vision, plan and an execution strategy. That already separates us from most. We have active and supportive investors. Also, we are defining our own path and not competing with any of these projects directly. They are in very saturated markets. What we are doing it utilizing the sector plus blockchain, web 3.0 and metaverse to actually ambitiously evolve Social Media and community into Social Media 3.0. As you saw in an earlier answer about NFTs, we also don't just follow trends, we set them and ensure they are relevant to MT Tower and its future users.
Q5. We know a lot of new projects are very attractive at first abd bring different rewards but are suddenly abandoned . My Question is, How do you manage projects and tokens to get a place in the market and become the best token in the Cryptocurrency world ?
Gary:
We have invested too much time and money to abandon this project :-). Not to mention every week we are forging strong relationships. So that alone will ensure this project remains; however, those are not the only key elements of course. Everyone is on board (from the team to the community) with the strong passion for what MT Tower will do in terms of its features as well as it's push to evolve the industry. It is thanks to all of these elements combined that we are confident we will stand out from the others and make not only the platform but also the MT Token itself get its place on the market. Even in these early stages, large brands, exchanges, etc are already starting to work with us as a result and that shows that we are on track to introduce something very unique and also needed to the world.
Q6. I am interested to invest in your project. When and where can I 𝐛𝐮𝐲 𝐲𝐨𝐮𝐫 𝐓𝐨𝐤𝐞𝐧𝐬 ? Is it already listed exchanges?
Gary:
In less than 7 days we start the final presale round which will last for 7 days as well. You can purchase them after you create an account with us here: https://launchpad.metatower.com/. On 13th October, we already have confirmed a large exchange will list our MT Token. So again, this is the last time you will be able to purchase our token at the pre-sale price and we encourage you to get ready for that by opening an account using that link!
Michael Wojciechowski:
So our tokens are all distributed right now on selling rounds. Next and lasst selling round will start at 3.10. We are using polygon chain so U can easly scan everything on polygon scan our cntract adress: 0x0Da6A7a0A2E7525950204Bb2C511E47a52235B17
As well you can yeasly check our Litepaper and download it from here: chrome-extension://efaidnbmnnnibpcajpcglclefindmkaj/https://metatower.com/files/litepaper.pdf
Our audit is here: chrome-extension://efaidnbmnnnibpcajpcglclefindmkaj/https://metatower.com/audyt.pdf
Q7. Do you have a AUDIT certificates?
or
are you working to AUDIT your project, so that the security of the project becomes more secure and reliable,?
Gary:
Yes we do have an audit of course and you can view it here: https://metatower.com/audyt.pdf
Q8. Partnership most is always an important factor for every project. So who is your partner? What are the benefits you get from those relatiionships?
Michael Wojciechowski:
Our bigest partner is right now Polygon blockchai. Among other available solutions, Polygon was selected because of its high transaction processing speed. Polygon is a decentralized Ethereum scaling platform that enables developers to build scalable user-friendly Apps with low transaction fees without ever sacrificing on security. Polygon is a Blockchain compatible with EVM (Ethereum Virtual Machine), thanks to which it enables the creation of smart contracts in the same technology and with the same standard as on other more popular blockchains such as Ethereumor Binance Smart Chain.
This all features are worked closely with Polygon team 🙂
Q9. Ambassadors play a very important role in every project, Do you have an ambassador program? If yes, how can I be one ?
Gary:
We are hard at work to develop and announce this week our soon to launch Ambassador Program. Please join our official channels to keep up to date with its progress and the projects overall progress:
*Telegram – https://t.me/MTTower
*Twitter – https://twitter.com/mt_tower
And this was the end of our AMA with MT Tower.
You can find us here:
Website :https://metatower.com/
Telegram Community :https://t.me/MTTower
Twitter :https://twitter.com/mt_tower
Facebook :https://www.facebook.com/MTTowerOfficial
Instagram :https://www.instagram.com/mt.tower.official
Linkedln :https://www.linkedin.com/company/mt-tower/about/
BUY MT Tower :https://launchpad.metatower.com/
Litepaper :https://metatower.com/files/litepaper.pdf