we hosted an amazing AMA with New order DAO on the 8th of December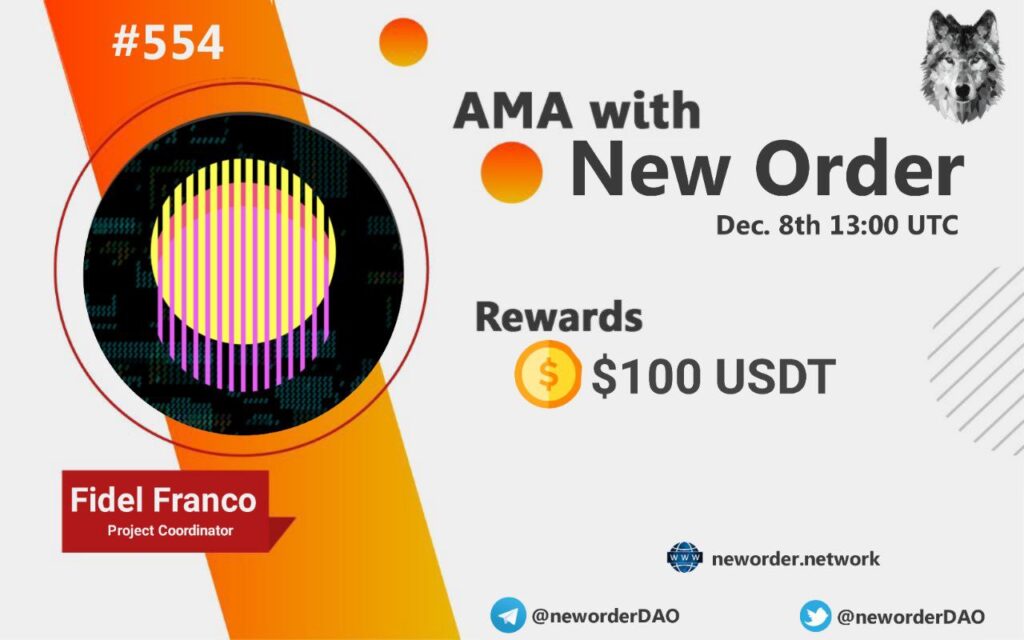 And here we will put some of the best questions:
Q1. Can you please introduce yourself as well as New Order ?
I'm Fidel I work as project manager. At New Order, we are building an on-chain experiment redefining the accumulation, formation and distribution of resources for DeFi builders. Our goal is to leverage the coordination offered through the DAO model to get founders from an idea to mainnet. We named this project New Order because we personally believe that by moving fundraising and incubation from the private sector into public and permissionless models, we are helping set the precedent for the "new order" of DeFi.
Q2. What are the advantages of Your project ?
One of our advantages is that we are bulding a self-governing incubator positioned to assist DeFi innovation, through promoting new asset classes, chain agnosticism and machine intelligence. In the future, we hope to leverage New Order as a vehicle for founders and community members to quickly get the resources they need to succeed in this niche sector of finance.
Q3. please tell us about the goal you want to achieve in this year.
We are currently incubating 3 projects (Redacted, H2O, OptyFi) in the DAO which are being built in-house and grew out of the core team's experience being deep in the DeFi community.
Redacted is a friendly fork of Olympus DAO and aims to extend the governance process of the Olympus community to the Curve ecosystem.
H2O is a non-pegged stable asset created in partnership with Ocean Protocol and Reflexer Labs using a new digital asset class, datatokens, as collateral.
OptyFi is an automated, machine learning driven, cross-chain yield optimizer.
Our main goal right now is releasing this 3 projects and the end of the year and of course our token sale that is December 9th.
Q4. Every project has a story behind their name, Can you tell us more about the story behind this? Who are the team behind this project? can tell us their background?
Sure.
The Idea came around 2020 around the "DeFi Summer" We believed that the way projects were releasing was not great. There was a lot of developers building great things but they lack resources and people to help them. We wanted to do things in a new way and have it all organize similar to what Y-combinator does with companies.
Our team has deep experience in technology incubation in general, and in particular with helping out early stage blockchain projects. On the core team we have Eden Dhaliwal who was and continues to be a partner at Outlier Ventures, one of the top crypto accelerators in the space.
Eden is joined by Sami who's a DeFi "mover and shaker" who's impressive resume includes writing for Messari and being the founder of the [REDACTED] protocol – which is launching early December.
Marek used to teach Data Science in Toronto, and spent over a year at the prestigious Block Science token engineering agency helping some of the top projects in the space with designing mechanisms for their ecosystems.
Kiran Fernando also recently joined to assist our incubator projects with software development. He brings experience from a wide range of projects in Web3. He's currently leading the tech side of [REDACTED].
Between our core team and contributors we're well connected with most of the significant DeFi protocols, as well as many key L1's and L2s; which is important as partnerships will be key for the success of our incubated projects.
And here we will put best questions from our members and New order DAO fans:
Q1. How can I join the pre-sale or DAO? What is extimated date Where can I buy your Tokens ?
Our token sale is tomorrow. On Sushiswap's Miso platform. You can check all the details here. https://mirror.xyz/0x13c5432CfC12bA1f32B6090d1a09cf0Efe9C95Bd/NuvmgTInGMnLXrl4_1B5DA-0jhtjdlzi5DmGoB9C0
Q2. As part of New Order's unique and structured Contributor Program, the project will be having a sector called "Board of Contributors". Cam you please discuss with us the role and job of the members under the Board of Contributors? How are the members of this group determined?
The board of contributors is pretty much the community regulating the work that the contributors are doing for the Dao. To know more about contributor program you can check our blog post. https://mirror.xyz/0x13c5432CfC12bA1f32B6090d1a09cf0Efe9C95Bd/Oy-pVq5aTXCXwWpEJz_dWgkvU_vA_HOfW73lrw2Qhhw
Q3. What is your project strategy to educate and increase awareness in the global level who are non english speakers? Do you have any ambassador program for different countries?
We have a Discord group that is very International. We are translating our site and material into many languages. You can check out our Discord to see the International sub groups. https://discord.gg/TUaSK6RA9S
Q4. Partnership is one of the most important aspects of a project's success. So, do you plan to collaborate on large programs in the near future?
We have many partnerships announced and more to come. Our biggest one that we have announced is with Outlier Ventures they are helping us release 30-40 projects in 2022. We have more to announced within the beginning of next year. You can see more here https://mirror.xyz/0x13c5432CfC12bA1f32B6090d1a09cf0Efe9C95Bd/fQWszfm7KZxI_jcX8NcFB0KEfqNcPk_OOec7tTAh8GM
Q5. Currently NFT is gaining popularity and it seems that NFT has a bright future. Do you have any plans to include NFT in your #projectTXA?
When it comes to NFT we know that its a hot trend right now. We are currently focusing on DeFi dapps but if there is a Interesting project that we can incubate we will.
Q6.Is your token already listed on any exchanges to buy? when will be listings done??
Our Token Launch is tomorrow. Check out all the details here. https://mirror.xyz/0x13c5432CfC12bA1f32B6090d1a09cf0Efe9C95Bd/NuvmgTInGMnLXrl4_1B5DA-0jhtjdlzi5DmGoB9C0
Q7. Do you have audit certificates, or are you auditing your project to make it more secure and reliable?
Yes we do also our dapps are constantly being audited. We are also doing a bounty program
Q8.What are the benefits of holding your token as long term investment? Can you tell us about the motivation and benefits for investors to keep the your token in the long run?
Our token will grow in value since we get a percentage of the profit of our incubated dapps this makes sense to hold and be in the long run
Q9. Do you have any…
Telegram group
YouTube channel
Medium
Location
Twitter
Discord
For this project?
Please share the link with us..?
Check out all our Social media links here. https://linktr.ee/NewOrder.Network
Q10.Important Question: As a white hat hacker, i am really interested in testing out your platform for bugs if i can find any Does oasis protocol have a bug bounty program to attract hackers like me?
We are looking for people like you to help out and join our contributor program and maybe a core team role in one of our projects
Q11. Do you have any plans to burn tokens in the future?
Which will be beneficial to reduce the supply of tokens and increase investment attraction?
We may do in the future but it will all depend on what the community wants.
And this was the end of our AMA with New order DAO.
If you have any other questions you can ask here:
https://t.me/NewOrderAnnouncement
ℹ️ℹ️ Useful links ℹ️ℹ️
Website :- https://www.neworder.network/
Discord :- https://discord.gg/TUaSK6RA9S
Twitter :- https://twitter.com/neworderDAO
Github :- https://github.com/new-order-network