we hosted an amazing AMA with NEXTYPE on the 9th of July
And here we will put some of the best questions:
Q1. Can you please introduce yourself as well as NEXTYPE ?
I'm Ronn, COO of NEXTYPE. Before working at NEXTYPE, I have 10 years' experience in a famous game company, in which I was in charge of the operation of more than ten games. Some of them are truly successful and the MAU is up to 1 million.
We define NEXTYPE as the cross-chain GAME+NFT+DeFi integrated application ecology, which will create more efficient and freer NFT swapping protocols for the blockchain world and provide users with high-quality blockchain game Dapps.
We will launch 8-10 self-developed games with various themes and playing methods in this year, and link at least 10 cooperative games to construct NEXTYPE Games matrix.
These are some games we will launch this year.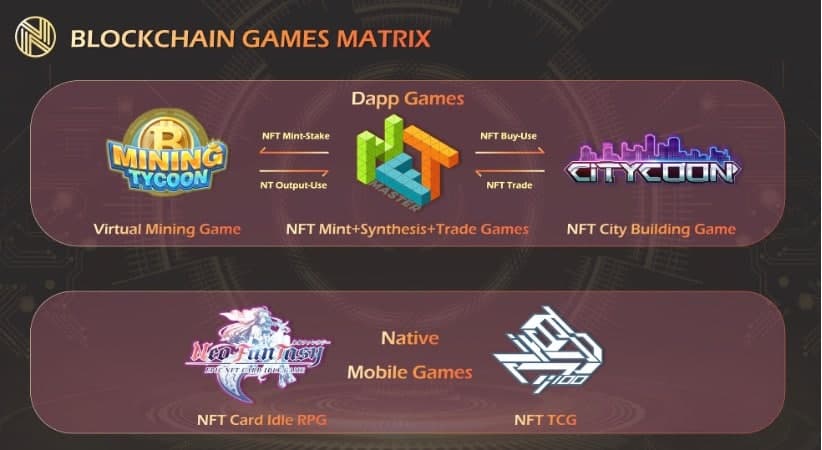 NEXTYPE will also develop 2 protocols which could improve the dilemma of NFT transaction. And protocols will realize the multi form swap between NFT and NFT, NFT and FT, and storage、exchange and circulation of NFT among different chains. So, the partners developing their own games on different chains could join NEXTYPE conveniently.
Another news is that $NT, NEXTYPE ecological token, has been listed on CoinMarketCap before the launch of initial game, which happens rarely unless they agree that project has great potential.
You can check the details here: https://coinmarketcap.com/currencies/nextype/
And AirDrop held with CoinMarketCap is coming soon, which will distribute 30,000 USDT valued NT. Get free NT through some easy tasks.
You can join our group for updates:https://t.me/nextypegroup
Q2. What are the advantages of Your project ?
Compared with other projects, the advantage of NEXTYPE is the combination.
We used DeFi to design our games, for example, staking in MiningTycoon. You can choose USDT single Token or USDT+NT double Token staking. Of course, the APR of the latter is higher, which will exceed 240% in the beginning of the game.
And NFT in NEXTYPE will not just be a collection, we will create interesting mechanisms to combine with game.
The launch date of NFT Master will be determined by the NFT collection in MiningTycoon. The development team will design a interseting way to play in miningtycoon, so that all players can participate in a grand mining journey and jointly promote the official launch of NFT master. This is just one example, there are more fun scenarios for the combination between NFT and Game in NEXTYPE.
Besides, we will focus on blockchain game field completely, and will provide an entrance for players to reach blockchain game with NT GameBox.
To sum up, NEXTYPE hopes to offer a blockchain game platform which is high in proficiency and low in cost. We are trying to define the new form of blockchain game for next generation.
Q3. please tell us about the goal you want to achieve in this year?
We are going to work in two main aspects:
1.Products
The initial game, MiningTycoon, will be launched within 1 month
Except for MiningTycoon, we will also launch 8-10 self-developed games with various themes and playing methods in this year and cooperate with at least 10 games to create NEXTYPE games matrix and build a comprehensive ecosystem of blockchain games.
2.Marketing
We have made a good start in cooperation with the Japanese IP market. Next, we will continue to develop more market cooperation, such as KOLs, communities and other institutions that will help us.
The future of NEXTYPE is promised, so why don't you join us right now?
Q4. Could you introduce your initial game, MiningTycoon?
First, I have good news to share with you. The last round of pre-order for MiningTycoon has ended and more than 1.8K users participated. But another round is coming soon. You can get at least 10 times return by pre-order NT and Game props in very low price so you should not miss it. The specific details will be announced in our group and twitter, you can follow to get the latest info.
Twitter: https://twitter.com/NEXTYPE1
Now, let's talk about MiningTycoon itself.
MiningTycoon is aimed at developing an interesting game with the properties of games and blockchain, which is developed in the path of traditional games.
MiningTycoon uses virtual mining as a core game method. In addition to NT reward, mining will also produce other buff props, such as Mining License, which is an essential prop to participate in the high-level BTC mining pool. Players can collect and stake the Mining License to get BTC every day. In the future, players can get NFT through staking mining.
Yes, that is right. You can get REAL BTC in MiningTycoon!
https://youtu.be/GKsgjpYg0CA
This is the gameplay introduction which tells you how to get more BTC.
https://vm.tiktok.com/ZMdf4PDnW/
https://vm.tiktok.com/ZSJ4nDdLt/
And there are some videos KoL put on TikTok which have been viewed more than 60000 times.
Besides, different from other blockchain games that you need to purchase props or NFTs in advance, there is no cost for you to play MiningTycoon. You can stake to get yields and withdraw it at any time you want.
Basically, it's a free game for you to make money.
And here we will put best questions from our members and NEXTYPE fans:
Q1. After listing on the exchange, investors let go, causing the token's usefulness and good infrastructure to perform poorly. The question is: How can you avoid early investors selling their tokens?
The early investment opportunity of NEXTYPE is just for institutions, and there will be a lock-up period for the tokens of institutional investors. And we avoided single institution to hold a large number of tokens when financing. Through these two ways, we can effectively avoid the dumping behavior of giant whale.
As for players, the tokens are mainly produced through the mining behavior of users, so that the tokens can be held by more players in a more decentralized way.
And various consumption scenarios based on NT will promote the stable rise of prices.
That' why the users will hold the tokens for a long term instead selling them.
Q2. Does your project support staking program? if yes. how is your stake system work what is the requirement for user, if they want to stake in your platform?
We established Staking mechanisms in MiningTycoon.
1.Players who just enter the game without NT need to stake USDT to mine NT. Once got NT, players could choose to stake NT or USDT+NT to gain higher yields.
2.For advanced players with Mining License, they can stake NT+Mining License to get fascinating BTC rewards.
3.In future, players could stake their NT to mine other project's tokens in cooperative mining pool or NFT.
With all these kinds of staking, players could gain higher yields. That's why we call it Easy to play and Easy to earn.
Q3. I have noticed that " Mining Typhoon Pre-order " How many rounds of Pre-order will be held ? Who can participate in it ? And when it is ? What are main requirments to participate ?
The last round of pre-order for MiningTycoon has ended, and more than 1.8K users participated to buy $NT and Game props in low price.
If you guys missed that, don't worry.
Another round is coming soon. Participating in the pre-order would be a great opportunity for you to invest in NEXTYPE at early stage.
The details will be announced later in our group and twitter. Please stay tuned for that.
Q4. Is next type a project with solving some real life problem or just it is meant for making profits Because a project shouldn't be started for profits alone ,but also it should have some usecase Ur name NEXTYPE SHOWS U have something to do !?
You can make profits in MiningTycoon for sure.
First, you can get $NT and $BTC in MiningTycoon by staking. At the beginning of the game, APR of Single Token Stake will exceed 200% and that of Double Token Stake will exceed 240%.
Besides, we have designed burning mechanism for $NT, so you will definitely get at least 10 times yields for holding $NT.
And there are also real problems we want to solve. That is, we think some of blockchain games nowadays can even not be called 'game' cause of terrible game experience and poor gameplay. This is the main reason why we established NEXTYPE, and we really want to develop some interesting blockchain games.
Q5. Nowadays, crypto hacks and attacks have rose significantly. What steps or measures you have took to avoid it?
Users' assets security is our top priority.
First, every operation related with users' crypto assets is carried out via well-tested and deployed smart contracts. There is no way for anything (including NEXTYPE developer team) to manipulate users' assets.
Second, all smart contract source code is available in the GitHub repo. Anyone is welcome to review the source code and compare it with the deployed version on the blockchain.
https://github.com/nextypefinance/miningtycoon
Third, our smart contract source code has been audited by the prestigious security company CertiK. Before our launch, they have helped us tested and improved the security mechanisms.
You can check the audit report here:
https://www.certik.org/projects/nextype
So, users in NEXTYPE will never face the assets security issues.
Q6. Do you have any Coin Burn / BuyBack systems or any $Token Burn plans to increase the value of Token & attract Investors to invest?
Our Coin Burning mechanism is quiet easy to understand.
15% of each week's yields, generated by the MiningTycoon and other cooperative games, will be used to buy NT back from the secondary market to burn. And the upper limit of burning is 20% of the NT total supply volume, which means the circulation of NT will continue to decrease and the Price and Invest attraction will rise.
That why I said the pre-order will be a great investing opportunity that you should not miss.
Q7. Is your project restricted on any regions or anywhere from the globe are allowed?
NEXTYPE is a global project. Users could join us anywhere and anytime.
For now, members in our global community has exceeded 22K. And some local communities has been created also, such as Chinese and Vietnamese. We sincerely invite you to join! And if you are interested to help us operating local community, plz contact with admins in our group.
Q8. Can you tell us more about the token distribution? and why is it important to buy and maintain $NT from an investment perspective? what can you do to increase the token value now and what are the benefits of holding $NT long term?
Ronn | NEXTYPE:
The specific distribution is here.
I have shared some information about $NT investment attraction. And I would like to emphasize the consumption scenarios we designed for NT again:
1) Stake: As previously mentioned, the players can gain extra yields from all kinds of games presented or supported by NEXTYPE through staking their NT.
2) Game Purchasing: Every game launched by NEXTYPE will accept NT as main payment. Players need to use NT to purchase NFT, props or other value assets in the game, to realize NT buybacks and increase NT value.
3) DAO Governance: Players could participate the NEXTYPE Governance by NT voting.
4) Burn: We will implement a burning mechanism, in the future, 15% of each week's yields, generated by the MiningTycoon and other cooperative games, will be bought back NT from the secondary market to burn. And the upper limit of burning is 20% of the NT total supply volume.
So, it's definitely a good opportunity to invest in $NT at present.
Q9. MINING TYCOON coming soon to NEXTYPE. It's kind of interesting, so as a mining tycoon can you give us everything we want? What are the opportunities and advantages that all miner owners offer while having fun here?MINING TYCOON coming soon to NEXTYPE. It's kind of interesting, so as a mining tycoon can you give us everything we want? What are the opportunities and advantages that all miner owners offer while having fun here?
Yes, like I said before, MiningTycoon is a game with both gameplay and blockchain attributes. In addition to the yields from mining, we have also designed many interesting game mechanisms.
I am pretty sure that you have understand how to get high yields by staking in the game. And I want to share some details about how to mine BTC:
Players with mining license will have a chance to get BTC everyday. And the amount of BTC in the mining pool is determined by the USDT spent by the player to buy KEY the day before. BTW, you need to use KEY to exchange the Mining License. So more players participate in, the more BTC can be mined. Believe me, it will be fascinating.
Q10. How can I buy tokens? Is it available on any platform?
At present, there is only 2 ways for you to get $NT. One is to stake in the game, which has not been launched yet. Another is to participate in next round of pre-order to get NT and valuable game props in initial price, which will be worthy.
Join our group to get specific rules: https://t.me/nextypegroup
And this was the end of our AMA with NEXTYPE.
If you have any other questions you can ask here:
ℹ️ℹ️ Useful links ℹ️ℹ️
Website :- https://nextype.finance/
Medium :- https://nextype.medium.com/
Twitter :- https://twitter.com/NEXTYPE1
Discord :- https://discord.gg/UQuwAZTWzK