we hosted an amazing AMA with Padd Finance on the 1th of August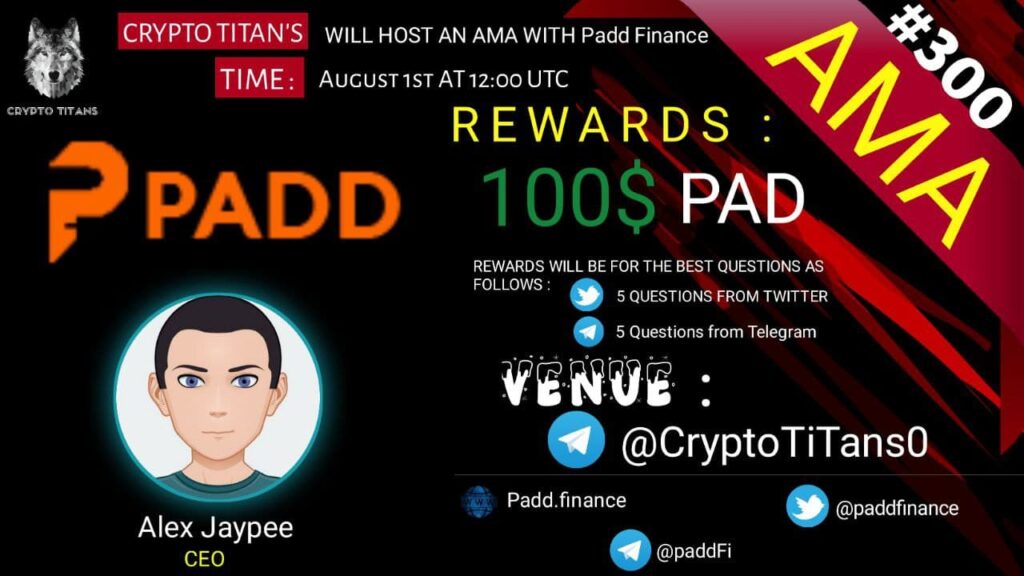 And here we will put some of the best questions:
Q1) Can you please introduce yourself as well as Padd Finance ?
I am Alex Jaypee! I am a serial technology entrepreneur who has encountered many successes as well failures in his entrepreneurial Journey. I founded and worked in different sectors which include Media and Data intelligence, Edutech, Fintech and Alternative to Finance. I have over 6 years of Top Management Experience including leading and running a high flying startup.
I have been involved in blockchain since 2017 and I have been opportuned to work with as a consultant and in the core team of several projects which include Elesaro, Konomi Network,Launchpool, DragonBite, Apricot and Refinable. I also work with Top UK projects like Baanx. I have been DEFI -ing(defying) all odds since 2017.
Padd is the community Launchpad Ecosystem for Kucoin Community Chain Projects. Our mission is to accelerate and grow the KCC ecosystem while ensuring that our community members gain fair allocation access to mouthwatering pre-sales in the innovative project listed on our platform.
Our Ecosystem consist of :
-Padd Launchpad(PLP): PLP uses Point Allocation System to give users who staked access to invest in pre-sales and private rounds. Our platform drives inclusion with our point allocation system by ensuring that every user who indicated interest in a project by staking receives a fair allocation.
-Padd Swap: A smart and easy way to swap and liquidate projects that are listed on our platform.
-Padd Launchpad: Our incubator labs for KCC based projects.
Q2) What are the advantages of Your project ?
Our Project has huge advantages both for the investors and the projects that are listed on the platform.
For Investors:
-Access to invest in the pre-sale of well curated and vetted projects of their choice, which will be listed on our platform.
-Lower Gas fees and speed of transactions for payment. Our Platform is built on Kucoin Community Chain which is known for its speed and low gas fees.
-Inclusive and fair allocation access: Our Point allocation system is designed in such a manner that every user who stakes to invest in our project gains a fair allocation slot.
For the Projects:
-An access to exciting community of investors.
-Incubation through our labs and advisory provisions.
Q3) please tell us about the goal you want to achieve in this year?
Our goals are highlighted in our roadmap and they are set out below:
Q3 2021:
Community Growth Kickstarts.
Launch project landing page and white paper release.
Token Smart Contract deployment.
Ui/Ux Design for the platform
Private round, Marketing and IDO. – Our pre-sale is kicking off tomorrow and users can join to be whitelisted by joining our Telegram group – https://t.me/paddFi and filling in the doc form which will be released soon
Partnership Establishment
We have already achieved 70% of our goal in Q3 and we are likely to achieve more than that. We are already in partnership Premium Block and in talks with, Elven coin, Kucoin Launchpad and the Kucoin Community chain. We want our project to be validated by Kucoin. We won't stop until we get fully recognised.
In Q4, we will be launching our Launchpad while introducing 3 top notch products built on KCC into our platform for our community users to invest in its private round/pr-sale.
Q4) Every project has a story behind their name, Can you tell us more about the story?
Together with my team, we have been in the crypto space since 2017. We have all been active in the cryptocurrency space both as business executives and as Developers. So one day we came together and decided that we would like to make a positive contribution to the crypto space. We never really knew what to do at first. We wanted to create something that both investors and the project owners can invest in, then came the idea of a launchpad.
Something that unifies both the project owners and the investors hence creating a robust community of crypto lovers – and Padd was born!
We chose KCC because of its speed of transactions and low gas fees.
And here we will put best questions from our members and Padd Finance fans:
Q1) Most investors are focusing on the token price with no real understanding of the use cases and long-term value of the project. In this case, what are the benefits for investors in holding $PAD token? Is there any plan to increase demand for $PAD in the long term?
Padd Finance was built with investors in mind. Our Business model revolves around investors hence the reason why we are focused on increasing the value of the project.
By holding the $Pad token, our token holders are entitled to the following benefits:
-Access to Invest in Pre-sales of fantastic projects: By holding the $Pad token, you can stake to gain an allocation investment slot on top crypto projects. Our system is designed in such a manner that everyone who staked receives a fair allocation portion.
-Staking as a service: By staking our token, users can receive ROI in return.
-Opportunity to hold with over 10,000 holders who so much believes in the project and are playing long term.
-Stability: Due to our continuous staking system and token Utility, users have no worries about the volatility as Pad holders will constantly utilize their token within the ecosystem.
Token Utility
Our token utility includes the following:
Stake to Invest: Our community users stake our token for a period of time in order to gain an allocation slot to invest in the token.
Staking: Token holders can stake our token in order to gain ROI.
Invest: Payment for the allocated pre-sale/private round slot will be made in $Pad token.
Nomination: Holders of $Pad token will be given the opportunity to nominate projects that will be listed on our platform. The Analysis Team,vets the project and lists it.
Q2) I Read You Have an "Airdrop" Program as well as a "Referral" Program, Then In This Wild Race How Can We Contribute To The Referral Program? Can your Airdrop followers make it easier for us to get Airdrops with this Referral program?
Hello DSruny,
The race to join and benefit from our referral program is wide open for everyone. By making Referrals, you earn a $Pad token. To Join in the referral program, please Join in here and complete the bots(@paddfi_bot) to gain a referral link.
Q3) While there are many launchpads, not many of them are concerned with assisting projects pre and post launch while at the same time capturing the safety interest of investors in those projects. What support do Padd Finance provide for projects prior to IDO and post-IDO?
Hello Mulan,
This has to be my favourite AMA Question, because we are deeply interested in projects that are listing on our platform.
Pre-IDO: We vet and work with the team for a while to ensure that they are committed to making their projects. We also access their community and the long term strategies that the team have put in place to ensure that the investor's interest is protected. Through our Padd Labs, we aim to incubate projects prior to its listing on our Launchpad.
Post-IDO:We ensure that the token distribution works smoothly. Having gone through our Launchpad, one of our core team members will also be part of their advisory board. This ensures that growth is maintained and the investor's interests are well protected.
Q4) Currently the main problem of the crypto market is the high cost of gas and scalability. How do you plan to solve this problem?
Padd Finance is currently built on Kucoin Community's Chain(KCC). KCC is a public chain built on the Ethereum network. The Kucoin Community Chain is known for its speed and low gas fee. The transaction fee can go as low as 0.0002kcs depending on the amount you are transferring.
Being a public chain built on Ethereum network, scalability issue is less as ETH has lots of projects that are built on it and they are all working perfectly.
Q5) I really wanna hold a good amount of token but i need to be sure of its profitability. What advantages of holding your token and also where to buy it? What is the token use case & how does it capture the value of ecosystem you're building….?
Hello Anhquang,
You really have no cause to be worried about its profitability as constant marketing will be deployed to ensure that growth and momentum is maintained. Here are further reasons why you should hold a $Pad token:
-Over 10,000 token holders who are believers!
-Constant staking and utility through our platform.
-5% of the platform fee be used for token burn. This will ensure that the demand for the roken is high.
-Staking and investments on the platform are made in $Pad token.
Q6) Hello sir, Can you describe about what are the use of your token in your platform? how do i possible to get your token?
Hello Abdul!
Our token has vast use cases.
It include:
-Stake for gain: you stake the $Pad token to gain more $Pad token.
-Stake to Invest: in order to gain an allocation slot, you stake the token in the selected pool and then gains an allocation slot.
-Investment Payment: Payment for the allocation slot can be made by utilising the $Pad token.
How to get Pad token:
Pad token will be listed on Kuswap or Coffeeswap on 9th August.
You can also get involved in our Pre-IDO/community round by joining our community
@paddFi and then fill in the pre-sale form which will be released soon.
Thank you.
Q7) Good day sir, What do you think is the biggest problem on blockchain space #your Token project will solve that no other project is solving now, and why is the problem important to solve?
Equal Access to Allocation.
Major launchpad uses lottery system to give allocation, however allocation of pre-sale slot can in our system is done in such a manner that every user who staked our token to gain a slot actually receives an allocation slot. This makes every investor happy and ofcourse eliminates anti-whale power hence giving power back to the community.
Q8) Do you have any plans to add Nft to your ecosystem as this is the hottest topic in the crypto field?
We have plans of incubating and listing NFT based projects. NFT is the real deal and its a trend that we won't miss out on!
Q9) Do you have any Coin Burn / BuyBack systems or any $Token Burn plans to increase the value of Token & attract Investors to invest?
Hello!
We have a systematic approach to burning.
Our system is designed in such a manner that 5% of the monthly generated revenue will be used for token burn.
Thank you.
Q10) What is PROJECT's revenue model? In which ways do you generate revenue/profit?
Our Project revenue model is based on commission. A percentage fee will be instituted on every successful fundraise done by a project.
We also implement a low transaction fee on our Padd Swap(PSP).
Thank you.
And this was the end of our AMA with Padd Finance.
If you have any other questions you can ask here:
ℹ️ℹ️ Useful links ℹ️ℹ️
Website :- http://padd.finance/
Linkedin :- https://www.linkedin.com/company/padd-finance/?viewAsMember=true
Twitter :- https://twitter.com/paddfinance