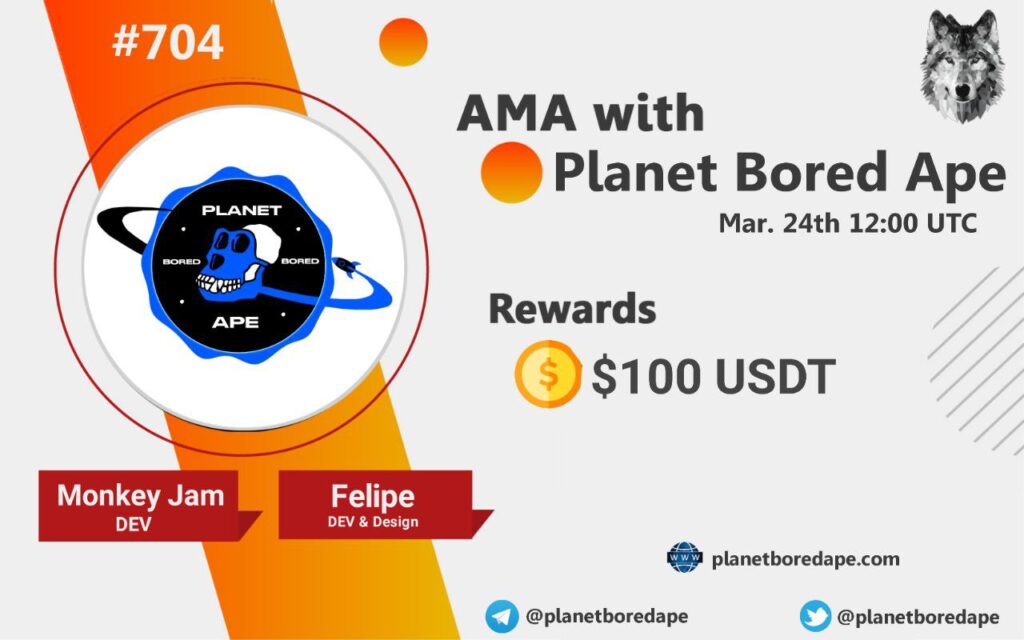 We hosted an amazing AMA with Planet Bored Ape on the 24th March.
And here we will put some of the best questions:
Q1. Can you please introduce yourselves as well as Planet Bored Ape?
Sure, we're a experience team that aims to bring the whole Bored Ape Yacht club over our project that will focus in a exclusive and well presented NFT Marketplace + Exclusive NFT collections with the theme Spatial Ape. As well we have juicy rewards over 4% of each transactions in BUSD.
Q2. What are the advantages of Your project?
Between the advantages to be a HODL in our project the major one is the NFT exclusive only for HOLDERS and the Juicy 4% BUSD rewards that will drop automatically in all investors wallet. Access to the BETA Marketplace and so on… That's a great opportunity to be a early investor and see your investment generates a good profit from the beginning!
Q3. please tell us about the goal you want to achieve in this year.
The main goal of our project is to bring the whole community together! Our Maxi quote is We re Strong Together! – Building the trust of the community and keeping the engagement of all will be the main goal! As well the full expansion of our NFTs collections and the aim to close as much partnerships as we can to spread the Planet Bored Ape Word worldwide!
Q4. Every project has a story behind their name, Can you tell us more about the story behind this? Who are the team behind this project? can tell us their background?
I have to tell you that you are very excited, so you will have your own ape and we will have our own marketplace to sell products exclusively for those who are holders of Bored Ape Nft. About our token, we guarantee that it will be an exclusive and facilitating experience. Our sweepstakes, marketplace and reward will bring interest from the general DEFI community, there are people crazy to become a PLANET APE.
Q5. NFT is one of the hottest and most sought-after topics in the blockchain space right now. Can you share your opinion on NFT with us? Do you think NFT will disrupt the current financial system? What is Your project's approach to the NFT sector?
Non-fungible tokens (NFTs) have quickly become one of the most explosive crypto trends since 2020, with increasingly more cryptocurrency holders and traditional investors seeking to own and speculate on these unique blockchain-based assets. NFTs are virtual tokens that represent ownership of something inherently distinct whether it be a physical or digital item, such as artwork, a soundtrack, a collectible, an in-game item or real estate. Unlike regular cryptocurrencies like Bitcoin (BTC) or fiat money like the U.S dollar (US$), these digital assets cannot be mutually exchanged for one another because each token has a specific value based on its unique traits and attributes.PAPE NFT Marketplace is a hub where various types of NFTs can be stored, displayed, traded, and auctioned. In order to access and use the tools and features integrated into the marketplace, users need to connect their crypto wallets.
And here we will put best questions from our members and Planet Bored Ape fans:
Q1: Currently there are many projects that disappear for a few weeks. With that why should we choose planetboredape exchange At the same time the protection of user privacy has become an issue that many projects face during their development. How will you protect its users?
For sure, we do care a lot about privacy – We're in a Decentralised environment so privacy is a must for us! All the Transactions are anonymously made by the blockchain so GDPR will be used as a way to protect all investors and users as they need!
Q2: Many blockchain projects exist to sell their tokens and subsequently morph into a rug-pulling project after profiting from the presale. What can #planetboredape do to make us feel more at ease about participating in the Presale and investing?
Sure, first of all we're full Doxeed+KYC and Audit passed with completely success! Secondly we have a great use case here with plenty of tools and features to keep the community engaged and happy with our projects and goas. We're pushing the marketing hard and closing AMAs in all the best investors call groups ever as CryptoTitans + Venon Calls + Caesar Calls + (Already done in Pinksale official group + WhaleCoin) as well we gonna have our VIDEO AMA today with our NFT specialist in our official group… and will be more and more stuff coming up!
Q3: Can you explain the background of your "#planetboredape" team? How will you and your team carry out this project during this current pandemic?
As everyone we got hit hard by the pandemic but was there that the team start to work in the crypto space. We could grow as a team there and be more strong than ever! We're a fully. experienced team with plenty of excitement to build a solid and durable project with our beautiful community. As well we're BAYC investors and that was the main reason to develop this project as we're the biggest fan project of Bored Ape Yacht Club out here.
Q4: Just curious about the chosen name for your project. Can we ask why did you name it " PlunetBird " ? About the spelling, maybe it should be #PlanetBoardApe, so just wondering why spelled it that way? Is there any reason or story behind it and what does this name mean?
Creativity poping in our heads and we could chose the name PLANET BORED APE because we're fans of Bored Ape Yacht Club and our collection of NFT will be designed to show up Bored Apes in a Spatial theme. The name matchs with our vision… Apes and space nothing more HYPED!
Q5: Currently NFT is developing and becoming a new innovation in the Blockchain world. However, many Artists/Creators still don't understand how to create NFT. How does "PlanetBoardApe" solve this problem? Do you have plans to educate about NFT to Artists outside of Non-Crypto?
Sure, we will educate our community and we have Discord channels to do so. The creation, investiment and well knowledge about our NFTs and all NFTs that will come inside our Marketplace will need to everyone to understand and the best way to educate them is doings AMAs, Voice calls, posts and all support that the Community needs.
Q6. Staking program is very important for any project? Can i stake your token? Do you have any plan of starting staking program?
Yes, as you can check in our roadmap Stake will be implemented in the Stage 02 – We're looking forward to!
Q7. How can I join the pre-sale or IDO? What is extimated date Where can I buy your Tokens?
Today in 01 Hour (2PM UTC) we will be live at PinkSale with our Fair Launch. You check here the official sale link: https://www.pinksale.finance/#/launchpad/0x06B8d0177b0857DF3346a93f116d68cb2A1CB768?chain=BSC
Q8. Do you have audit certificate of are you working to audit your project , so that the security of the project becomes more secure and reliable?
Sure, as we do care a lot about security we already have our audit completed and passed with 100% Safety rate – Check it our here: https://github.com/ContractWolf/smart-contract-audits/blob/main/ContractWolf_Audit_Planet_Bored_Ape_BSC.pdf
Q9. Is your project a community only for English speaking an countries or for users not of other languages?
Our main group is English but in our Discord channel we do have all of the most speakers languages in the word as Spanish, Chinese, Arab, Franch, Portuguese and so on… https://discord.com/invite/cwa8HA3ucu
Q10. What is your strongest advantage that you think will make your team leading the market?
The experience and the love that we have for what we are doing now in the crypto space. Planet Bored Ape will come to change lifes and we're here to help all. the community to achieve it! Been positive and always glad to have the chance to change the world a little bit 🙂
And this was the end of our AMA with Planet Bored Ape.
If you have any questions you can ask here: Telegram Group: https://t.me/planetboredape
ℹ️ℹ️ Useful Links ℹ️ℹ️
– Website: https://planetboredape.com/
– Twitter: https://twitter.com/planetboredape
– Discord: https://discord.com/invite/cwa8HA3ucu
– WhitePaper: https://contact-98.gitbook.io/planet-bored-ape/planet-bored-ape/project-overview