we hosted an amazing AMA with Polkawar on the 7th of July
And here we will put some of the best questions:
Q1) Can you please introduce yourself as well as Polkawar ?
I'm Jackson Mohr, CEO & co-founder of Polkawar.
Graduating from the national university of Singapore in 2002, I have many years of experience in the field of 2d & 3d game programming. Knowing the cryptocurrency market in 2016 as an investor, I have a lot of experience in the field of investment and management.
In addition, I have more than 5 years of experience in the field of blockchain programming.
Q2) What are the advantages of Your project ?
Currently there are not too many outstanding projects and making a difference in the NFT sector.
The current statistics show that less than 20% projects are related to gaming with most projects having mere concepts and no working products.
We realize that the NFTs combined with gaming will be the catalyst required for mainstream adoption and will contribute to the development of the general nascent NFT market, in the coming years. We create a completely different game platform, a game with high real combat, not just as simple as other NFT gaming.
Q3)please tell us about the goal you want to achieve in this year?
This is our roadmap.
We just finished IDO and got listed on Pancakeswap https://coinmarketcap.com/currencies/polkawar/
In Q3, we will release testnet of the game and marketplace. Of course, testnet will run on Binance Smart Chain. It's good blockchain with low fee and fast speed.
In Q4, we will run mainnet of the game and marketplace. And we will also develop the game on Casper network.
With the potential of the NFT market, we believe the project will achieve great success.
Q4) What are the major milestones your project achieved so far?
We launched MVP in June and already over 3000 subscribers https://game.polkawar.com/
we also finished implementing IDO on June 28th on 4 platforms PolkaBridge, DAOStater, DuckDao and Yellow Road.
In the coming week, there will be many interesting and outstanding events. Let's wait and see.
And here we will put best questions from our members and Polkawar fans:
Q1) The gap between traditional gamers and NFT crpyto gamers is still huge. How can POLKAWAR bridge this to attract more traditional players to try new blockchain games with NFT?
In fact, NFT gaming is not much different from the traditional gaming platform. If you are a gamer or used to play games, it will not be difficult.
With traditional games, you play only for entertainment and do not earn money. As for our game platform, it is both entertaining and valuable.
Q2) I could read on your page that tangible physical items will be shipped directly to the buyer's address, this will be able to be done from anywhere in the world? How will you handle this logistics ?
PolkaWar Logictis system allows players to directly own their NFT items in the real world.
This is how PolkaWar Logistics System work.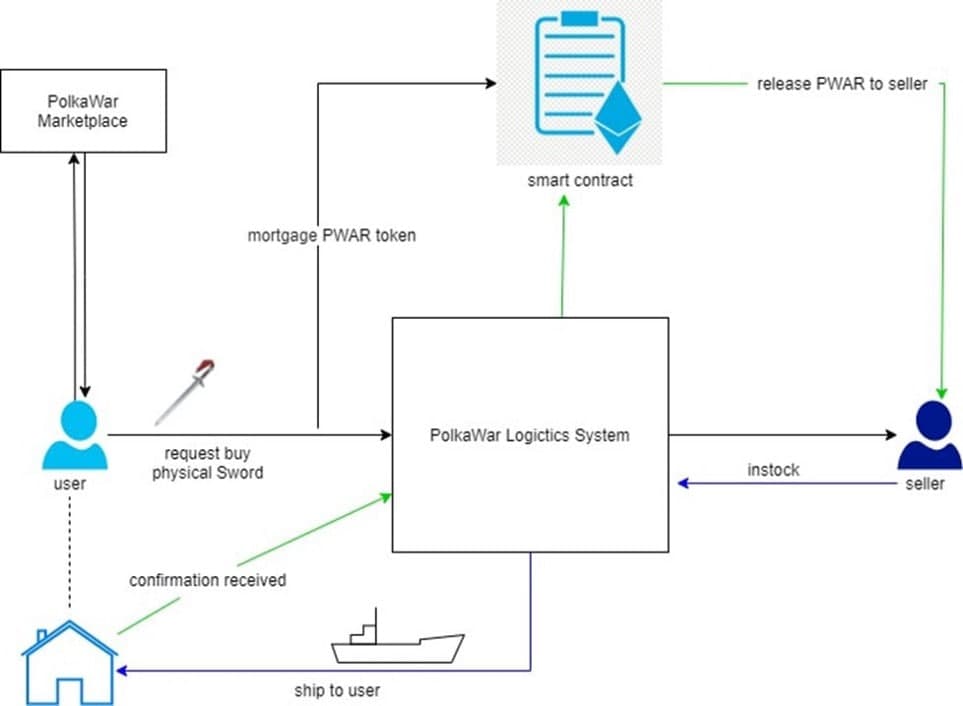 All NFT items on the market can be converted to physical items. Example: You have a sword (NFT item) level 1 and you want to own that sword at your home. You just need to send the request to the PolkaWar Logistics system. PolkaWar team will process and deliver it to you at the required address.
We will go through the legal corridor and will provide services to countries in Asia first.
We have connections with a number of small merchants, so the supply of items is not an issue.
Q3) They have a NFT marketplace, where players can buy and sell equipment or weapons for their character. Could I buy equipment or weapons from another cryptocurrency and which one? What are the benefits of $PWAR for players buying or selling equipment in thePolkaWar NFT marketplace?
PolkaWar Marketplace is a place to buy and sell weapons and equipment for in-game characters. You can use PWAR or BNB to buy.
If you use PWAR to buy, you will get a discount.
Q4) I see that in your game, players can engage in fighting with other players who are also on duty. But can your game play for free players or do we have to buy characters or equip NFT for the first time? If so, where to buy? Do you have your own NFT market?
You will initialize the character level 1 before playing the game. You must buy weapons and equipment (multiple levels) to participate in the battle.
During the game, players can do missions to get rewards such as upgrade stones, PWAR tokens, experience.
And players can buy stones to upgrade their equipment and weapons.
Q5) Creating a mainstream-grade experience for both end-users and NFT creators should be a number one priority for NFTs based project, could you give examples of modifications being made by #Polkawar to ensure users have a seamless and smooth experience?
We will make the game platform easy to play and smooth.
The game map. Coming soon.
Q6) Partnerships are crucial for Adoption, so can you tell us what partners you have currently and future partnerships?
https://cointelegraph.com/press-releases/polkawar-an-innovative-defi-and-nft-gaming-platform-raises-14m
This is our backers and partners.
Q7) Polkawar will launch a game on Casper Blockchain this Q4 2021, so why choose to launch in Casper Blockchain? What advantages did you see from them in this collaboration and to users and gamers of Polkawar? Aside from Casper,which other Blockchain you wish to launch a game?
Casper network is a new blockchain platform that has many advantages and differences compared to the rest of the competitors. It inherits the good aspects of the Ethereum blockchain and improves on its weaknesses, such as the problem of almost zero transaction fees and very fast speeds, using POS.
Moreover we wanted to try something new, especially the Casper ecosystem is small, so we decided to aim to Casper. I believe that if PolkaWar successfully builds on Casper NetWork, it will be a very significant breakthrough for us.
Q8) Users in Polkawar will not be allowed to create NFT, but to collect and trade them according to system availability, can you tell us if due to the limited quantity of these items, there are any limits for NFT to buy and sell per user?And in what currency can they be purchased?
There is no limit to the purchase and sale of items. As long as you have enough BNB or PWAR tokens, you can participate.
Q9) Can you share your main social links for our community to follow your project?
✅ Website https://polkawar.com
✅ Game Portal https://game.polkawar.com/
✅ Telegram https://t.me/polkawar
✅ Telegram discussion https://t.me/polkawarchat
✅ Twitter https://twitter.com/polkawarnft
✅ Github https://github.com/polkawar
✅ Medium https://medium.com/@polkawar
✅ Whitepaper https://polkawar.com/docs/whitepaper.pdf
✅ Coingecko https://coingecko.com/en/coins/polkawar
✅ Coinmarketcap https://coinmarketcap.com/currencies/polkawar/
Q10) Does your project support staking program?
if yes. how is your stake system work, what is the requirement for user if they want to stake in your platform?
You can stake at https://stake.polkabridge.org (BSC network )
🚀 Right now, you can participate in staking PWAR on the PolkaBridge Staking platform, at https://stake.polkabridge.org
✅Please select the correct BSC network on the Metamask or TrustWallet wallet and select the PolkaWar pool to start participating in staking.
✅ Every month there will be 300,000 PWAR to be divided equally among the stakers.
Happy staking and please continue to support PolkaWar.
And this was the end of our AMA with Polkawar.
If you have any other questions you can ask here:
ℹ️ℹ️ Useful links ℹ️ℹ️
Website :- https://polkawar.com
Medium :- https://medium.com/@polkawar
Twitter :- https://twitter.com/polkawarnft
Github :- https://github.com/polkawar
Discord :- https://discord.gg/NQFjXkMqgk