we hosted an amazing AMA with Qubism on the 6th of November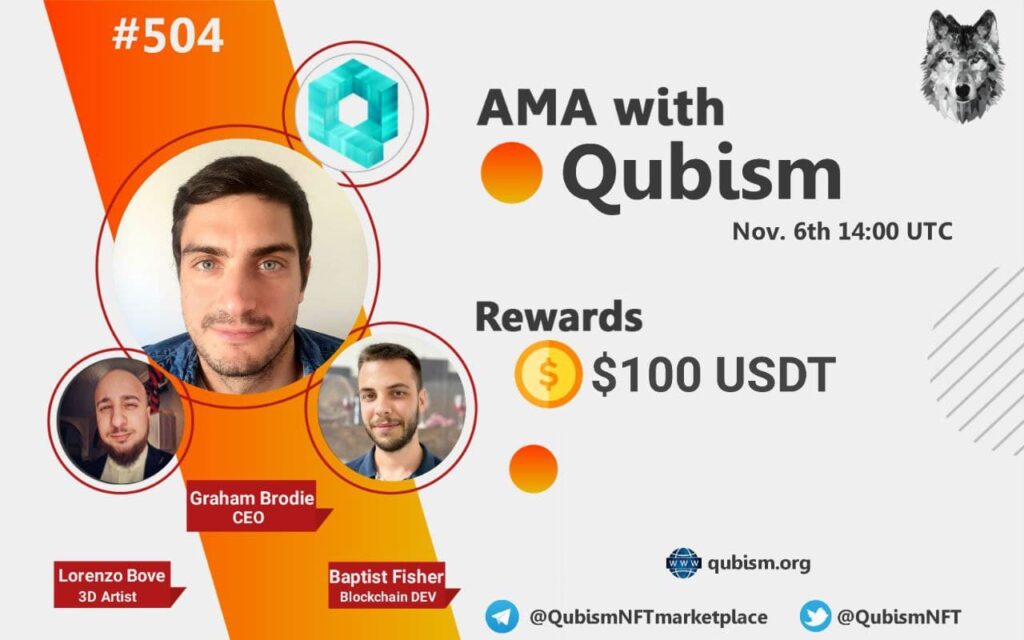 And here we will put some of the best questions:
Q1. Can you introduce yourself to our community?
Graham:
Hi guys, my name is Graham. I'm the CEO of Qubism. I was born in Italy and moved to the UK at the age of 19 to finish my studies. I have been studying business management and have helped grow a few medium sized companies in the UK. In 2017, I entered the crypto world as an investor for the first time and since then, after 4 years I decided to build Qubism with some skilled friends, whom I know from university.
Q2. Can you briefly tell us what is Qubism ?
Graham:
Certainly, Qubism is a multi-chain NFT marketplace, where you can create your own 3D art gallery without even having a clue about programming skills. Users will be able to buy and sell items not only from the market, but even from their own art gallery.
Q3. Let's now talk about the milestones you have achieved so far and about your upcoming plans?
Graham:
In terms of marketing, we pay a lot on ICOs, Twitter and Telegram. On the side, Cecilio and Lorenzo are building the 3D marketplace and app. Our plans from now are to launch market and storage features at launch, then we can start looking for strong partnerships and complete our 3D app.
Q4. Every project has a story behind their name, Can you tell us more about the story behind this? Who are the team behind this project? can tell us their background?
Graham:
Well, our story is so funny, 4 months ago Giovanni and I went to a modern art exhibition. We started looking at some weird art that was not only ugly but easy to imitate as well! Then we started a conversation about NFTs and at that moment as an art lover, we realized art was moving in direction! And together we decided to build Qubism.
So we started calling some old friends, based on project needs. Here you have Lorenzo and Baptist, you guys if you want to give a little more you are welcome :D.
Lorenzo do you wanna introduce yourself?
Lorenzo:
I'm Lorenzo, I started studying Interior Design and 3D artist for videgoames. After this I worked like Environment Artist for Indie Videogames and now for the Qubism's project. This project will be make with Blender and Unreal Engine 5
Graham:
And you Baptist?
Baptist:
Hello I'm Baptist developer and several years of experience with smart contract and blockchain tecnology.
I studied at the university of Yale in California, and worked for 3 years at software engeneering in Steam
Q5. NFT is one of the hottest and most sought-after topics in the blockchain space right now. Can you share your opinion on NFT with us? Do you think NFT will disrupt the current financial system? What is Qubism's approach to the NFT sector?
Graham:
NFTs are great, but we have to admit that 90% of them are scams. People tend to Fomo a lot and sometimes end up buying either a fake item or a lower value NFT for $100s+. NFTs are the future of art, games, and more. They will not disrupt the financial system, but they will make it so much better! Everyone will accept this change at some point, the path is so clear to the future that you have to be blind not to see it. Based on our data, VR and 3D are growing at a phenomenal pace, so we want to be a part of this amazing growth.
And here we will put best questions from our members and Qubism fans:
Q1:While you build your project, do you take into account community feedbacks and demands?Where can I buy your tokens now. What are your current contracts, and how can I buy them and what are the benefits???
Graham:
This is a very important topic for me, I love to listen to the community and I'm on the first line on Telegram. Our community is constantly giving us tips on how to improve and we always listen (you can check them out twice in our group too). Thanks to them, we have already made some fixes on our social sites, websites and even on marketing suggestions.
You can actually buy our tokens by completing our whitelist form at https://www.qubism.org/token-sale.
Q2: I found out that Qubism has a Membership program to get advantage on staking earning and build larger 3D gallery. So,could you explain more details about this membership Program? What are the other benefits of this Membership Program aside from what mentioned?
Lorenzo:
We will have 3 grades of membership that will bring different advantages.
• Bronze: 5000 QUB, normal size 3D art gallery, 1% fees on marketplace
for buy and sell, extra for staking.
• Silver: 15000 QUB, Big size 3D art gallery, 0.5% fees on marketplace for
buy and sell, extra for staking.
• Gold: 100k QUB, Max size 3D art gallery, no fees on marketplace, extra
for staking.
Q3:For any project, its development is 90% dependent on how strong its team is. I have seen many projects fail, due to the lack of skills, experience and knowledge of the team. So, with #QubismNFT, is the team qualified to achieve all your goals?
Baptist:
Our software engineer is in touch with 100s+ computer science students. They will work in cooperation with us to build what we need. So I would say that we are not only a team but an army! We are definitely qualified.
Q4: From what I read from the #QubismNFT project. Each transaction is subject to 2% tax. I think this is a pretty number. why did you choose a starting rate of 2% and where will this 2% be distributed? Will this percentage increase in the future or will it remain the same?
Graham:
Only 2% tax is applied to our market, so if you are sending QUB you will not get any additional fees. This 2% tax will be distributed as follows: 0.15% for Bronze members. 0.35% for Silver members, 0.5% for Gold members, and 1% Forever. Also it will always be the same.
Q5: Smart contracts are vulnerable to bugs and even recently three big new DeFi projects were victims of this, costings users funds. How efficient and secure is your smart contract, and did you ever audit it via any external party?
Graham:
We will audit our smart contract with verified sources, but as you know, hackers are very good at stealing, they recently stole some money even from Opensea! So after launch, we will dedicate all of our developers to cyber security and try to keep most of the money in our cold wallet.
Q6 do you own any of
Telegram group
YouTube channel
Tiktok channel
Location
For this project? Where can we learn something? Please share the link with us.
Graham:
We don't have a YouTube channel yet
We don't have a Tik Tok channel yet.
Our website is https://www.qubism.org/
The best way to find out about us is https://www.qubism.org/whitepaper/
Q7 How can I buy this Important Project tokens? Is it available on any by exchange?
Graham:
We are not available on any exchange yet! But we are currently selling seeds, if you want to join you need to compile the form at https://www.qubism.org/token-sale
Q8 Staking program is very important for
any project, Can i stake your token? Do you have any plan of starting staking program?
Graham:
Yes, we have a staking program, staking will be available at launch! So you can bet your QUB without a problem once we launch.
Q9 Almost 80% investors now think only of profit but ignore long-term benefits. So you can give them some reasons why they should buy and hold tokens in the long run?
Graham:
That is the problem in this market now. Fomo can be dangerous as I said before, but a good project always keeps growing in the long run. We have a skilled team and we will grow our business even in a bear market in the future. We will work hard to always be in the best projects!
Q10 PARTNERSHIP & COLLABORATIONS are the backbone in making every project more widespread. Can you list some of ur partners with us.various new updates if yes them how can we join it???
Graham:
We have already closed two important partnerships with two major projects.
In Solana Thetownclown
BSC Lucky dogge club is one of the hottest projects on Binance!!
And this was the end of our AMA with Qubism.
If you have any other questions you can ask here:
https://t.me/QubismNFTmarketplace
ℹ️ℹ️ Useful links ℹ️ℹ️
Website :- https://www.qubism.org/
Github :- https://github.com/QubismNFT
Twitter :- https://twitter.com/QubismNFT
Discord :- https://discord.gg/dQcyw7SDjH
Linkedin :- https://www.linkedin.com/company/qubism/
Instagram :- https://www.instagram.com/qubismnft/