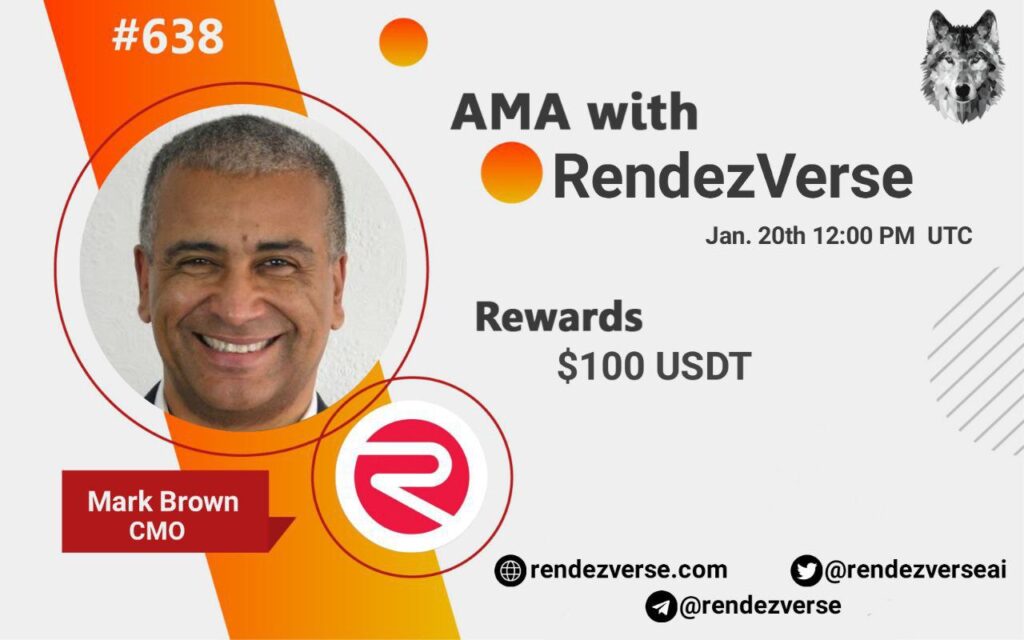 we hosted an amazing AMA with RendezVerse on the 20th of January

 And here we will put some of the best questions: 

Q1) Can you please introduce yourself as well as RendzVerse ? 

I have been involved in Tech since the late 80's. I sold my first business for a 7 figure sum in the late 90's. I was involved in the first dotcom boom as an investor. I worked with Rendezverse founder and CEO, Peter Gould as Sales & Marketing Director across his hotel, technology and events businesses for 5 years up to 2013. Started in crypto in 2017, initially on the mining side. Since then, I have divided my time between running a digital marketing agency, and trading crypto. I am now super excited to be fultime CMO for Rendezverse. The core C-level team all have a hospitality/events background with decades of experience. Check out the team on LinkedIn via our website. RendezVerse is a corporate meetings metaverse focussed on the business to business events industry. We are creating an experience that optimises the time and investment that exhibitors invest in their events. In 2019, the corporate events industry spent $850M attending exhibitions. We are building a virtual 100,000 sq mt arena that will host events & tools to customise exhibition stands and avatars. 

Q2) What are the advantages of Your project ? 

The key advantages are: 
1) focussing on one specialist high value niche that is being ignored by competitors worth $850Billion per year 
2) Management team has decades of experience in the niche 
3) meet2earn gamification model to incentivise the best buyers to come to events in the RendezVerse 
4) timing, the industry seems ready to embrace a corporate events metaverse Money is already being spent, we don't have to sell the idea to spend money on events DONE Release the cord modules of our product, sign up paying clients and launch our metaverse to the commercial public

 Q3) please tell us about the goal you want to achieve in this year.

 It's launch and have paying customers inside the RendezVerse. Everything is in place, the people, funds and the marketing & technical development plan... 

Q4) Every project has a story behind their name, Can you tell us more about the story behind this? Who are the team behind this project? can tell us their background?

 Half the leadership team have decades of experience in the corporate events business. We have run B2B shows, and developed and sold technology in this space. Peter Gould, our CEO founded World Wide Events in 2006 and we worked together building a hotel chain called Great Hotels of the World. The other half have solid tech & blockchain background. In the last 2 years with Covid, our sister company World Wide Events has run over 40 B2B events online. We know first hand how to make the events in the metaverse more efficient, lower cost and NetZero carbon footprint. Even if only 10% of B2B events transition in the next 3 to 5 years, that is an $85B addressable market. We also have over 90% of the decision makers in our CRM who already know our WWE brand well. 

Q5) NFT is one of the hottest and most sought-after topics in the blockchain space right now. Can you share your opinion on NFT with us? Do you think NFT will disrupt the current financial system? What is RendzVerse's approach to the NFT sector?

 The scope for NFTs is as large as the human imagination. So far we have only scratched the surface for NFT applications. Where ever money meets a physical asset, there is an opportunity to tokenise that asset as an NFT and create new financial products and services. They will have a disruptive effect especially in raising loans against assets. Who needs a middle man taking a cut as they do now? Am I right?

 And here we will put best questions from our members and RendezVerse fans: 

Q1) Most solid RendezVerse projects with token utility and good infrastructure but perform poorly because investors dumped after listing on the first exchange. How do you prevent early investors from dumping your tokens?

 There are incentives and vesting periods.
We will offer staking so that it makes sense to hold on to the token. Plus we have very aggressive milestones for commercialising the project. People will want to hold. We are doing land sale of the arena shortly after IDO in February. You will need NGAGE tokes to buy and we will burn half of received tokens. Event attendees will need to buy tokens so that will help too.

 Q2) How about your marketing fund? does your project have enough fund for running a big event in terms to increase your community member? do you have any plan for ambassador program for different countries to increase global adoption ?

 Remember that our users are businesses in the events industry. We have a database of over 90% of the key decision makers in the industry (approx 40k people) We are recruiting a sales team and are already booked to attend half a dozen key events over next 12 months ranging from Seville to Dubai and Mexico for US market. Marketing is what we do. We do not require country brand ambassadors. 

Q3) Most of the nfts don't have real life use don't be fair They are just made with intention to earn profits !,but no real life usecase or being beneficial to our ecosystem ! So what about @rendezverseai is it also the same what I said above ?

 Great question. In the RendezVerse, all of our NFTs actually generate an income, because they will be rented from the NFT holders in order to use at an event. So think space, exhibition booth, designer furniture etc

 Q4) Do I take community feedback into consideration when developing your product to help you generate new ideas for your project? Many projects fail due to a lack of understanding of the intended audience and customers. So who is your ideal customer for your product? 

The leadership team have the contacts, experience and expert knowledge in our targeted industry. We have been selling events and event tech for over 15 years. We are also in talks with some big hospitality brands to partner with now as development partners to ensure product fit for market. Our user community are event organisers, hotels and corporate meeting planners. You guys are our investor community

 Q5) It is often common to come across users who are just looking for a guaranteed passive income over time, so could you tell me about your "Staking" service at least, what periods do you provide for users to get their $NGAGE tokens and what returns do you offer on these tokens? 

You will be able to stake for 3, 6 and 12 months with returns ranging from 8-12% 

Q6) Recently there was a big scam in a contemporary fashion project of "cryptocurrency ", in which many investors lost their capital in seconds, therefore, what guarantees do we have that this will not happen with your projcet, although it is receiving a great boom? 

The leadership team are all legit with long and current careers. You can verify that on linkedIn. We are also interviewing project auditors to inspect our procedures, plan, custody of funds to verify everthing is legit.

 Q7) RendezVerse is leveraging Web 3.0 technologies to transform the way the B2B event industry will operate. But what advantages does this technology provide for RendezVerse's purposes? How will it help and drive them to achieve the goals they have set for themselves? 

one of the key benefits of web3.0 is that we can implement a meet2earn model where our AI will suggest meeting matches that will generate the best outcome for both parties. At the moment, buyers are incentivised with perks like first clasee flights, 5 star hotel, expenses etc. In the metaverse they can earn NGAGE 

Q8) Can you share with us your tokenomics? How much is the total and circulation supply of your tokens? Will there be a buyback system or token burning in the future?

 you can find our Tokenomics and Whitepaper on out website https://rendezverse.com That is where our social links are as well.
It makes sense to go there as a lot of infor to put on here 

Q9) Does your project have partners now? And are there any future partnership plans? What will be your ongoing builds, developments or milestones that can keep your project alive in the future?

 we are partnering with WOrld Wide Events and some well know global hospitaliity brands that will be revealed shortly 

Q10) To participate in VR metaverse, what devices rendezverseai is supporting at the current time? Will the VR technology be compatible with PC, Android devices and also iOS? Are you planning to establish more partnerships or integrate with other chains to develop the ecosystem? 

You will be able to access our metaverse through any device that supports a web browser and VR headsets. At least for the next 5 years, we need to ensure a non VR headset UI to the RendezVerse 

And this was the end of our AMA with RendezVerse. 

If you have any other questions you can ask here:

 https://t.me/rendezverse 

 Useful links 
 Website :-
 https://rendezverse.com/ 
Twitter :-
 https://twitter.com/rendezverseai Facebook :- https://www.facebook.com/RendezVerse-106666475184671 
Instagram :- https://www.instagram.com/rendezverse