we hosted an amazing AMA with ShadowGate on the 12th of September
And here we will put some of the best questions:
Q1. Can you introduce yourself to our community?
I take care of all the global communications of ShadowGate, our blockchain-based fintech startup. Thanks for having me.
Q2. Can you briefly tell us what is ShadowGate ?
Sure. ShadowGate (SDG) is a chain of multiple platforms that offers simple but complete solutions to your trading and investing journey.
Its blockchain-based trading solution consists of an SDG Market app, an SDG Wallet app, and an SDG Device Authentication app…
The whole experience is pragmatically tailored and designed for users who trade and invest online, making the future of investing easy and accessible.
Q3. Let's now talk about the milestones you have achieved so far and about your upcoming plans?
Thanks for the question. Right now our strategy is placed heavily on having products, maintaining operations and building community. In the moment of pre-launching event, we have reached major milestones as below:
-Completion of tech development for Marketplace app version 1.1.0
(ready to be aired end of September 2021)
-Nearly 40k members within the first week of pre-launch
-Ready to test out the market in offering an all-exclusive Keys event to get NFT collectibles (Initial Keys Offering Event @ key.shadowgate.io)
Q4. Every project has a story behind their name, Can you tell us more about the story behind this? Who are the team behind this project? can tell us their background?
The initial idea was pretty simple. Several years ago, when NFTs came around and made hits in the news. The more we learned about NFT, the more we knew that eventually, it would become a sensational movement and could not be replaceable.
So we quit our daily jobs as a team of tech developers, marketers, UI/UX developers and we gradually moved from doing projects for others to working on our own projects. It was rough at first, but we finally got here!!
Q5. DeFi is one of the hottest and most sought-after topics in the blockchain space right now. Can you share your opinion on DeFi with us? Do you think DeFi will disrupt the current financial system? What is ShadowGate's approach to the DeFi sector?
As DeFi makes its way into the crypto market. It's no doubt that DeFi has become one of the hottest topics in the last year, making many drastic changes in the crypto market. Currently, the Total Value Lock (TVL) of this market has reached 85 Billion and will continue to increase.
We can also see the term ICO (Initial Coins Offering) is being gradually replaced by IDO (Initial DEX Offering) due to this reason. P2P transactions are growing exponentially (due to its convenience for users) as well as other finance-related features in DeFi such as staking, lending, and farming. I believe that this is just the start of DeFi influencing the market and consumers' behavior!
ShadowGate has its own take in the DeFi's segment, whereas buyers/sellers, creators/collectors, and traders/project launchers can promote and exchange their products/services, much like what Opensea and Rarible have done through NFT Marketplace to a certain degree. To simply put, ShadowGate can be counted as a form of Marketplace DeFi.
And here we will put best questions from our members and Shadow Gate fans:
Q1) In how many ways or what are the ways your project generate revenue? What is the revenue model? How it can be beneficial for both investors and for project itself?
Thanks Ellie for the question 😉
Our sustainable sources of revenue come mostly from advertising, including:
(1) businesses/advertisers pay for ad products
(2) projects pay to show up more strategically and reach out to potential investors
(3) users pay for NFT items listed and sold
Please note that this does not include other sources of non-advertising revenue income such as listing tokens and payment and processing fees.
I can provide a graphic for your better understanding in the live chat section!
Q2) While you build your project, do you take into account community feedbacks and demands?
Having a strong community is one of our top priorities. I believe that if you have a community of loyal supporters, you can do anything. As long as they know that we will do everything to protect their rights and their benefits (a.k.a taking into account all the feedback and demands), they will stick with us …hopefully for as long as they love to!
Q3) What strategy will you implement to bring non-crypto-natives into your ecosystem? How do you keep a balance between developing the technology and also improving the value of your token?
Thanks Aninaa….as for the initial stage, there will be a lot of market education and redirection for the non-crypto-natives whom we usually prefer as traditional method consumers. We have already started doing so for about 5 years….before coming into the NFT Marketplace niche market! We have set our foot in Southeast Asia, the US, Australia, New Zealand, and some parts of Asia. Hence when launching ShadowGate, this is just convenient for us to reach out to the communities we've already built over the years.
We plan to focus mainly on developing the apps and bettering the users' experience. Right now we use the token 'NST' of our partner for liquidity on our platforms to support its ecosystem and the increase of token value.
Q4) What is the purpose of this project? What kind of services will the project provide among the people? Will people be able to become supportive through this project?
ShadowGate aims to be the most preeminent gate that users can reach all the chances where they can choose the role to win: traders or project launchers.
Our mission is to be multi-chain solutions where anyone can use ShadowGate's platform to launch projects and get support, sell their digital creations, and make a living out of it!
Yes, there are many ways to support us for the project.
Just by clicking to join our group & channel would be the first step… 😉
If you are an angel investor, please contact: business@ShadowGate.io or reach me at @SavagePuck on Telegram.
Q5) Southeast Asia is a very vibrant market and many project developed here so with your project what do you think about Southeast Asia and do you have any plan to here?
Yes, indeed Nhut ! I agree that Southeast Asia has remarkable potential due to the people's open-minded and speedy approach to the crypto market and the understanding of blockchain technology. Namely, the Philippines, Vietnam, Singapore, etc. are some of the few markets we plan to expand our territories firsthand.
Q6) What are the top priorities for your project this year? and what plan will you do for the development of this project?What is the main vision and goal of your project and who are your targeted customers?
One of the main applications of our ecosystem is ShadowGate (SDG) Marketplace, where the NFT market section is strongly promoted. Our SDG Marketplace will be released as announced in the Roadmap of Apps Development, which is in September 2021. The set date for our supporters to come and try out the application will be made public.
Our main focus for the early stages is placed on operations, apps development, and building community. Once we've reached the set milestones, we will gladly announce the next steps of our strategic planning.
Stay connected with us for any future development announcements!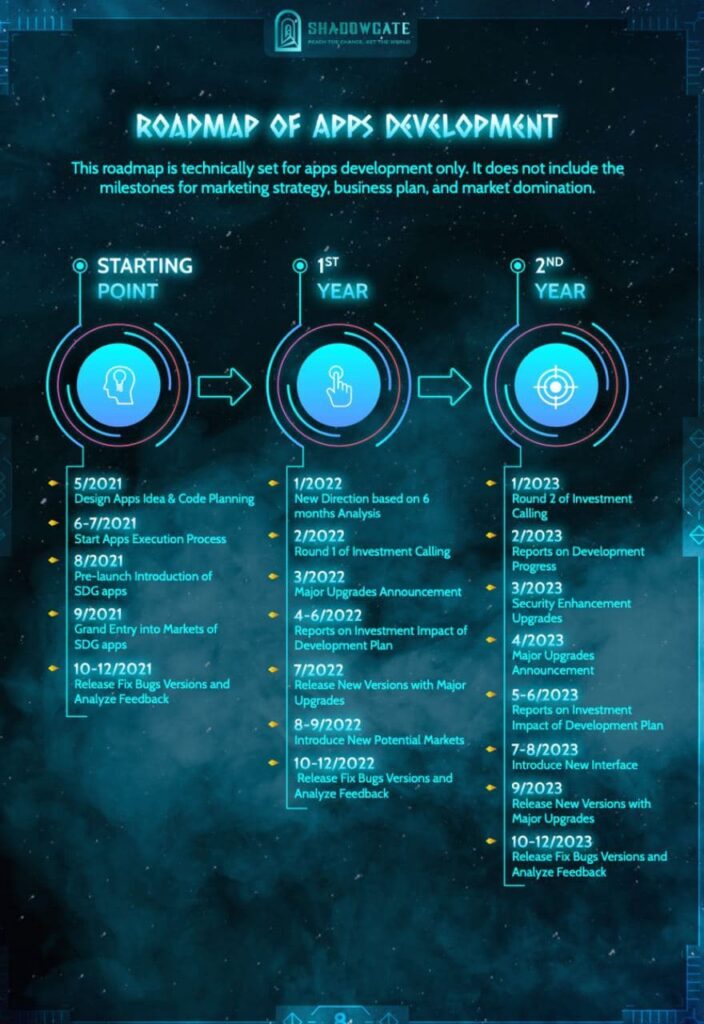 Q7) Partnerships are very important to accomplish the goals of a platform. Do you have such partners?
We do have a wide range of networks of strategic partnerships to help build awareness. Below are just some of the partners we are currently working on for marketing initiatives.
Stephero | Binemon | Simba Empire | Multigames | Berry Data
You may find some of them sound quite familiar.
Q8) What is the idea of creating your project? What are the problems that you would want to solve?What are your business revenue model and how will your project make money?
As I've shared in the Twitter section, I will be providing a clearer graphic in our paper for you!
Q9) I want to support your project,Can you tell us more about the Ambassador Program and in what ways can we participate?
Great, we do have an Initial Keys Offering Event at the moment for our early supporters
If you don't want to spend much but still want to invest with a long-term position, join our IKO (Initial Keys Offering) Event. We offer keys at a really great price range for our early supporters. Only 9.99/key (normally priced at $39.99) for an NFT collectible that could be worth x 10, if not x100 given enough time for our ShadowGate NFT Marketplace to grow steadily.
Q10) Before Doing SDG Application Release did you Do a Test?
if he Trials like what?
Can we Try Demo Mode before it's released?
Because we need to test the user flow, hence our fixing bugs and testing phases are very important
And this was the end of our AMA with ShadowGate.
If you have any other questions you can ask here:
ℹ️ℹ️ Useful links ℹ️ℹ️
Website :- https://shadowgate.io/
Youtube :- https://www.youtube.com/channel/UCZ_aICmPl7TxKUvdFTXf5fw
Twitter :- https://twitter.com/shadowgate_io