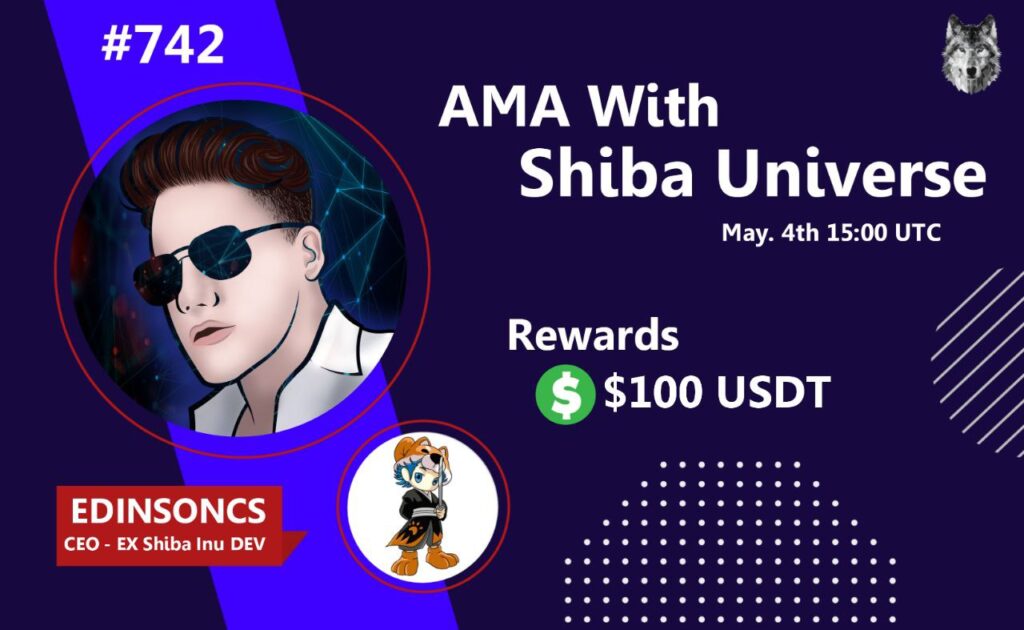 We hosted an amazing AMA with Shiba Universe on the 4th of May.
And here we will put some of the best questions:
Q1. Can you please introduce yourself as well as Shiba Universe?
I am edinson, full stack and blockchain developer, I have developed several products for different clients in web 2.0 and currently web 3.0 versions, products with high traffic and security demands.
My contribution in the blockchain sector began by carrying out my own developments and providing help to different communities, including shiba inu, my income is documented on the internet, this process was carried out in 2021, between January and March.
Shiba Universe is a game inspired by shiba inu, the characters and the theme are shiba inu, what we are doing are different versions of shibas in characters such as ninjas, warriors, magicians, among others.
In technical development of the shiba universe game, web technologies are being used, this will allow any player to connect from a browser, visible on mobile, tablet or desktop.
The technologies we are using are HTML5 as a base and the power of the canvas tag, in this canvas we are creating the scenarios, the characters implementing physics to be able to calculate each shot or some effect of the scenario.
The story of the game focuses on the different breeds of shiba inu, these breeds have been created with their own design in clothing, weapons, suit and other features that will be seen in the game.
Shiba Universe was created with the purpose of creating a fully decentralized community, it is important to mention that the TEAM does not own any tokens, all the distribution of the initial tokens was sent to 100% liquidity in uniswap.
Here is the link that shows it:
https://etherscan.io/tx/0xc240e813940f1e8c281ece2081eede43a61884079fbd67af4b7a3e36fd68c3a5
The initial liquidity was created with 69,000,000,000,000,000,000,000 shibus and 15 ETH
After the creation and publication of the project, the LP was blocked 100% on the pinksale platform
We are a fully transparent and community driven project, we want to integrate various features into our main product, which will be done progressively.
Q2. What are the advantages of Your project?
Our main advantage is our product, we are aware that all character development takes a certain time, we started this project in December 2021, creating them, creating the theme of the game, developing the physics of the game and history.
We want to deliver our contribution of a P2E entertainment product to the blockchain community, then provide the source code to the development community.
The main advantage of the project and product is obtaining tokens through tournaments held in the game, these tokens will be our main attraction for blockchain investor users and everyday internet users.
This game will allow any user to enter, it is not necessary to have tokens in their wallets, which is essential for any user.
Q3. please tell us about the goal you want to achieve in this year.
Our goals are divided into two categories, the main one is to expand our holders, by growing in use of tokens they will give us recognition in the crypto space, this recognition will help us maintain community development and expand other products integrated into the community.
Develop products integrated to shiba universe, this category will allow us to add future versions of the initial product, obtain more gameplay options and improve the gaming experience according to the needs of the community.
Q4. Every project has a story behind their name, Can you tell us more about the story behind this? Who are the team behind this project? can tell us their background?
We are an international team that met at the beginning of the shiba inu project, the team is small but it is made up of several citizens who reside in Europe and America.
Each member of the team fills a role to improve the project from specialists in design, marketing, development and community support.
Q5. NFT is one of the hottest and most sought-after topics in the blockchain space right now. Can you share your opinion on NFT with us? Do you think NFT will disrupt the current financial system? What is Your project's approach to the NFT sector?
Our initial product will not be based on NFT collectibles, we will have this functionality paused for a moment due to the fees and commissions produced by the ethereum network.
Ethereum is an incredible network that any project must be created in this chain of blocks and then expand in others, we are doing the same.
NFTs will be added when continuous and enhanced versions of the Ethereum network are ready for mass use, which is where we choose to add such functionality into our core product.
And here we will put best questions from our members and Shiba Universe fans:
Q1. Why you build ShibaUniverse on this blockchain? Any plan to move on other blockchain , multichain or mainnet?
The blockchain that allows more recognition in the cryptographic sector is the ethereum network, we opted for and understand the fees that are added for each operation, but it is necessary to start in this network due to the high demand for successful projects.
As the project grows and the needs improve, our plan is to expand on a multi-chain platform, which allows the entry of other communities without altering the main product.
We will expand the shiba universe project continuously in the bsc and polygon networks, progressively we will also include shibarium when this network is ready.
Q2. I understand ShibaUniverse is a real time P2E game on desktop, iOS and android. My question is, are there any special requirements for our device to be able to play ShibaUniverse games? Can ShibaUniverse games be played easily on smartphones with low to medium specifications?
Most desktop or mobile games require resources and features for graphics and usability to work properly.
Desktop or mobile games, it is necessary to install said application, this consumes resources and hardware of our device, in shiba universe, we are avoiding any download.
The shiba universe product is a game based on web technology, this will allow any user to interact and play from a mobile, tablet or desktop, the game will be fully responsive.
Our development is 100% based on HTML5, we use the canvas tag to model, program and display the game in its correct operation without using large device resources.
The connection to the game will be based through the use of metamask, which is required to be able to start a match in the game.
There is no requirement on hardware features, our game is lightweight and optimized for all devices.
Q3. How many characters are there in "Shiba Universe" Game and how the game is designed ? Could you tell us about the main features and give us some details of each of them, from the ways in which we can generate profits and the Marketplace that you have designed for the game?
ShibaUniverse presents 30 initial characters, these characters are created and based on the different breeds of shiba inu, each breed is represented by a category of fighter such as: warrior, ninja, archer, among others.
The characters allow each other to interact in the game, each user can change characters at any time through the marketplace, it is where the characters will be presented so that the players can choose said representation.
To generate profits, we must compete with other users or teams, this functionality will generate points that can later be converted into the erc-20 token, in order to convert our game points, we must request and reach a minimum of points, everything will be done in a manual to each user.
The marketplace is designed so that users who generate points in the game can purchase new items and characters. In the main version it will not work with NFT mode, but we do have plans for the future when ethereum features improve gas commissions.
Q4. What are the benefits of holding your token for a long term?
What makes your project outstanding and different from others in the Crypto space?
Where do you see your project in the next 3 years?
The token has a functionality called reflection, this allows tokens to be always automatically granted to the holders, in addition to allowing each user to obtain exclusive items in the game and stake the project in shibu in xshibu.
The shiba unvierse game is based on other successful games, we are developing our own web-based version and adding the value of blockchain to enable a unique and entertaining experience.
This project will always continue, in 3 years we want to expand into other blockchain networks, increase players and owners, hold e-sport events and live tournaments.
Q5. Too many projects promise magic but never release any working product or prove any revenue, Within a short/long time of release. Is your project also like this? If not can u tell us, what makes your projec different from projects?
As an investor in other projects, I am also aware that many projects fail to present a functional product, everything is based on generating illusions and taking advantage of the market.
We are different, we will present a functional product with all the aforementioned characteristics, this product will allow future investors to build trust in the crypto space, we want to be different from other projects, promise and meet the needs raised in our beginnings.
Our community and product are different from others because decentralization must always be 100%, we follow the vision that satoshi nakamoto has, of providing a product completely managed and operated by the community, in shiba universe there are no hierarchies and levels, any person who wants to improve or lead the project is welcome.
Q6. Where can I currently buy Token?
The token is available on the uniswap platform, but we will extend to other dex platforms, as the project continues to grow, there is a lot of FUD from other users about purchases made and sales.
As in any project we launched and the people who buy and sell, we have no control, we want to achieve complete decentralization and these cases happen.
dex platforms allow us to add liquids and we will do it through small pools and increase more tokens from the same purchases organized by the community.
It is important to mention that we want to extend purchases on centralized exchanges, but we will need to grow as a community and holders.
We are progressing according to the needs of the market.
Q7. Is this your project only for elite investors, How about other's with small funds, Is it open to everyone?
We consider ourselves a small project, any user can enter to buy the token or also the team, we do not have a hierarchy, we simply develop a product for the community, our goal is to be the next shiba inu and to be totally decentralized, we are going for that goal.
If someone wants to join the team, they are welcome, we all support the development, nobody controls the tokens, all the tokens are available in the uniswap pool.
Q8. Can you explain how is your Tokenomics Distribution? How many tokens Will be minted ? And How many tokens Will be locked by the team?
The shiba universe project created a total of tokens: 69,000,000,000,000,000,000,000, this total is distributed in the main pool of uniswap, the tokenomics mention something important that no person in the team has tokens.
current distribution is: Pool Dex 70%, Players Game 20%, Strategy Reserves 10%,
After the launch of the game, the tokenomics will be reorganized for the execution of the new xshibu toke, this will allow players to obtain tokens and make the exchange in a simple and efficient way.
Q9. Unique project name, where did you get inspired by your project name, sir? What is your project's goal in the real WORLD?
Our project is totally inspired by the shiba inu dog, there are many meme projects, our difference is that we will allow any user to play in real time through a browser, the game will be totally entertaining and it is our flagship product.
Shiba Inu Token and Shiba Universe are totally separate projects, we are not aligned to them, we are the small community that grows every day to execute and improve the features.
Q10. I want to buy your token. is it listed
1.Pancakeswap.
2.Binance.
3.Kucoin.
4.MEXC OR Any Exchangers?
Where can I buy your tokens now? Can you tell us please?
One of our goals for this 2022 is to be able to reach binance, we know all the work that awaits us to achieve it, but as a community and former member of shiba inu and other projects, everything is possible.
We thank each member that makes this project possible, from the small investor, to the whales, we all contribute with something, we want it to be possible at some point to be heard by binance and be listed, this would be great and we will surely be one of the 50 best currencies of the world, but everything is based on delivering quality products and continuing to improve the characteristics of the shiba universe project.
in the short term if we have thinking about listing in smaller cex, but everything will be progressively.
And this was the end of our AMA with Shiba Universe.
If you have any questions you can ask here:
Telegram Group: https://t.me/shibauniversegames
ℹ️ℹ️ Useful Links ℹ️ℹ️