we hosted an amazing AMA with SideKick on the 13th of July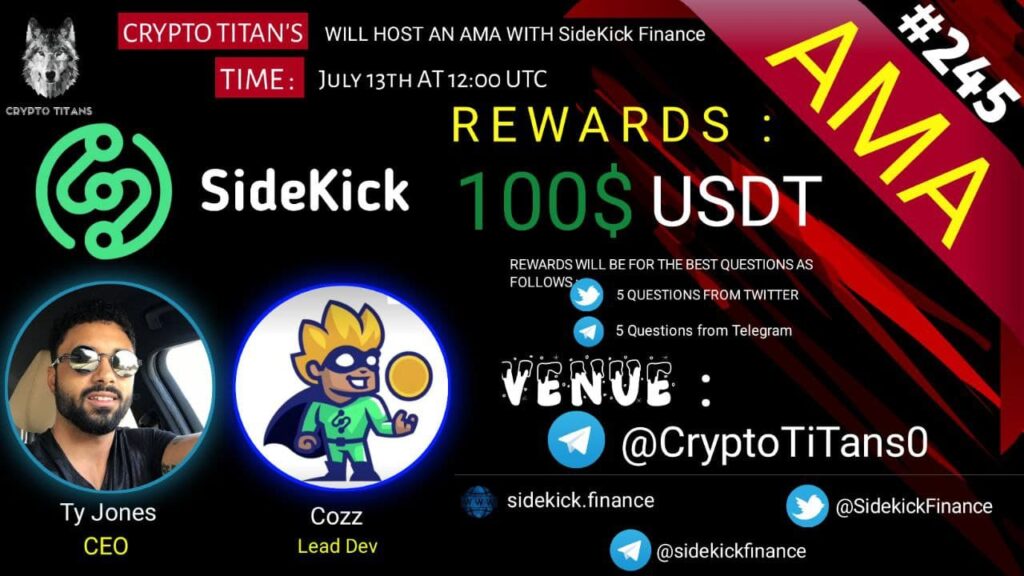 And here we will put some of the best questions:
Q1) Can you introduce yourself to our community?
Ya my name is Ty aka Cozz. I'm one of the creators and lead dev on Sidekick Finance team. I'm from the US and I've been developing software professionally for about 10 years.
Q2) Can you briefly tell us what is Sidekick Finance?
Sidekick finance is a cross chain deflationary token platform launched on the binance smart chain. We offer network staking where owners of sidekick can stake sidekick and earn 30% of the network fees as a staker. We plan to offer new services and smart contracts to generate revenue for stakers long term. We initially launched on bsc. But we are testing our matic launch as we speak . Our number one product at the moment is DefiWatcher. Where you can get analytics and trade stats on any token that's trading on pancakeswap.
Q3) Let's now talk about the milestones you have achieved so far and about your upcoming plans?
You can view our roadmap on the homepage of sidekick.finance. We are currently ontrack with our initial plans. 1) Fair launch event on BSC 2) Launch DefiWatcher 3) Register on Listing Sites. Currently we are working on wrapping our DefiWatcher product and will be focusing on our Headquarters product where you can get charting and profit loss portfolio analysis. At the same time we are also testing and ramping up for a token release on matic network. We launched on PCS about 1 month ago today. Since then we have secured multiple partnerships. Including with Rootkit.finance, Gangster.Finance and working right now on a partnership with drip.community.
Q4) Every project has a story behind their name, Can you tell us more about the story behind this? Who are the team behind this project? can tell us their background?
Yeah! So SideKick.finance was born from the Defi community itself. We are a group of guys and girls with very diverse backgrounds. Our group came together while team building and investing in other defi projects. After about many rug pulls and after dealing with hidden developers who don't deliver on promises… our group decided to invest and create our own defi platform. We wanted to create a Defi token and platform that was safe from rug pulls and created by the community for the community. I'm the lead dev behind most of the code but also my brother Hitsu is co pilot. He is an up an coming dev and been helping me out tremendously. Besides the two main devs we have a few other devs on our team with more than 20 years total experience professionally. Past the developers are group is made of very diverse backgrounds all who support the project and have been apart of building the community since day 1.
Our goal is to create passive income for our community. passive income and stable smart contracts and valuable services… for life.
Q5) DeFi is one of the hottest and most sought-after topics in the blockchain space right now. Can you share your opinion on DeFi with us? Do you think DeFi will disrupt the current financial system? What is SideKick's approach to the DeFi sector?
Absolutely. In our opinion in think our actions speak louder than words. I personally feel so strongly about the future of Defi and blockchain that i have invested a large amount of my own money to get this project started. I'm willing to take a big risk and doxx myself and work in a space where in my country we're not even sure its legal. But I feel that Decentralized finance is the future of all finance. the world is changing and we think being ahead on defi and learning the space now will put us ahead in the future.
Passive income like money that makes money while you sleep.
And here we will put best questions from our members and Side Kick fans:
Q1) What benefits will I get if I have Sidekick tokens? defi market is very interesting behind it all of course there is risk, so what risk will happen if i have Sidekick token?
SideKick Finance is building a cross-chain interconnected defi platform. if i had a way to compare it, its like a polkadot of dapps. our plan is to build out piece by piece, token by token, smart contract by smart contract, an entire platform that is sharing fees and helping generate a stable passive income for token holders. For example SideKick token is like the root token, like the seed of our platform. and when we launch our next token on matic network it will pass back a certain % of fees generated to SideKick token. As we build more and more fees they all will connect and pass back %'s to each other generating interest income for network stakers. This is the main benefit SideKick holders will get. They will be at the very root of this system.
the risks are very similar to all defi projects. but SideKick is new and our team is upstart. So the main risk right now is that we are relatively unkown team imo.
Q2) How do @sidekickFinance generates revenue what is the source of revenue for @SidekickFinance we all know that funds are fundamental for the survival of projects so guys please tell us your revenue model?
the way we generate fees right now is transaction fees from buys and sells but like i said above we will be generating fees from new smart contracts, new tokens, and new services,
here is an example to help explain,

on this chart we are currently only getting 1 source. the very left LP $SK – $BNB,
soon we will be getting all sources.
Q3) SideKick claim 60% Liquidity Locked, 24% token burned. I'm just curious how does the burn system work for SideKick project, because my opinion 24% token burned is really big. Could you tell me what will trigger token burn in SideKick project?
Currently, when the feesplitter pay's fees. It will auto burn 30% of the fees collected. Also we have the ability to manually burn from the vault. we did start with 24% burn but we actually burned another 20% and currently up to 44% burned. we have plans for more manual burns. but the biggest key to our token is we have whats called the Lazarus Burn Pit. This is a custom burn smart contract that once burn contract hits a certain threshold. it will auto balance and distribute tokens back up to stakers.
this is on sidekick.finance homepage,
Q4) In your Referral program it says that users do not have to contribute to refer others and receive $SK tokens as compensation. So my question is If users don't have to refer others, how exactly does your referral system work? How can users participate in it?
Currently, the only way to earn with referrals is through our Market Generation Events (MGE) . During an MGE you can use your referral link and earn tokens at launch. there will be new smart contracts, tokens and mges and there will be many more ways to earn tokens at SideKick with referrals in the future.
Q5) see on your RoadMap that you just launched DEFIWATCHER for wallet tracking. With this, Can you explain a little bit about it? what is the security system like and what is the audit status? Then, What are the holders' benefits with this DefiWatcher.net ?
yeah, sidekick.finance/defiwatcher is a tool we made to help show transactions / trades happening on any dex or decentralized exchange. its currently in beta and being worked on but will offer more analytics and stats and offer paid pro version soon as well.
Q6) Are your team public or anon? How about security for your platform, do you already audit for smart contract?
we are public and doxxed. we have chosen proven smart contracts to build on many they've been used by larger platforms with many multiples more users so they are very tested. but we do plan to get audits.
Q7) Hello sir "STAKING" is one of the STRATEGIES to ATTRACT USERS and the HOLD Them long term.Does your GREAT PROJECT have plan about Staking?
Yes we offer staking right now @ sidekick.finance/staking
Q8) Can you list 1-2 killer features of this project that makes it ahead of its competitors? What is the competitive advantage your project has that you feel most confident about?
the #1 killer feature of our platform is erc-31337. its what our token is built on more info: https://rootkitfinance.medium.com/introducing-upbnb-137412cae72
2 we are going cross-chain and all future smart contracts and services will benefit sidekick holders.
Q9) Many projects rug pulled, and exit scam recently. Why should investors trust in this your project not to do the same?
our team is doxxed. and many people know our names and face from our community. but number one reason is we are truly community driven. we plan to be here a long time. not trying to make a quick buck.
Q10) From where can I buy your token? Is it available on any exchange (CEX)?
Currently you can buy from PancakeSwap, here is the link: https://exchange.pancakeswap.finance/#/swap?outputCurrency=0x5755E18D86c8a6d7a6E25296782cb84661E6c106
Q11) Can you please share about your burn system and buyback system? How does burn work for your token?
Yes we burn 30% of tx fees. We just ended a buyback campaign where we bought 100bnb worth of the token. our plan is to now run a burn campaign and burn the bought back tokens.
Q12)Only getting users, holders etc is not everything. In my opinion, a project needs to deal with solving a real world issue or problem What is the problem that your project primarily focuses on?
passive daily income for all.
Q13) According to the project's roadmap- what are your most important next priorities? Does your team have enough Funds and Community to achieve those milestones?
Launch Paid Charting and launch our next token and smart contracts on Matic Network
all info @ sidekick.finance.
And this was the end of our AMA with SideKick.
If you have any other questions you can ask here:
ℹ️ℹ️ Useful links ℹ️ℹ️
Website :- https://sidekick.finance/
Github :- https://github.com/SideKick-Finance
Twitter :- https://t.me/sidekickfinance
Twitch :- https://www.twitch.com/sidekick.finance
Discord :- https://discord.gg/JeqzCUggWk
Facebook :- https://www.facebook.com/SideKickFinance-104803845149930
YouTube :- https://www.youtube.com/channel/UCvbjCV9QK7se9zUrD773OvA
Instagram :- https://www.instagram.com/sidekick.finance/
Tiktok :- https://www.tiktok.com/@sidekick.finance