We hosted an amazing AMA with Starly on the 22nd of February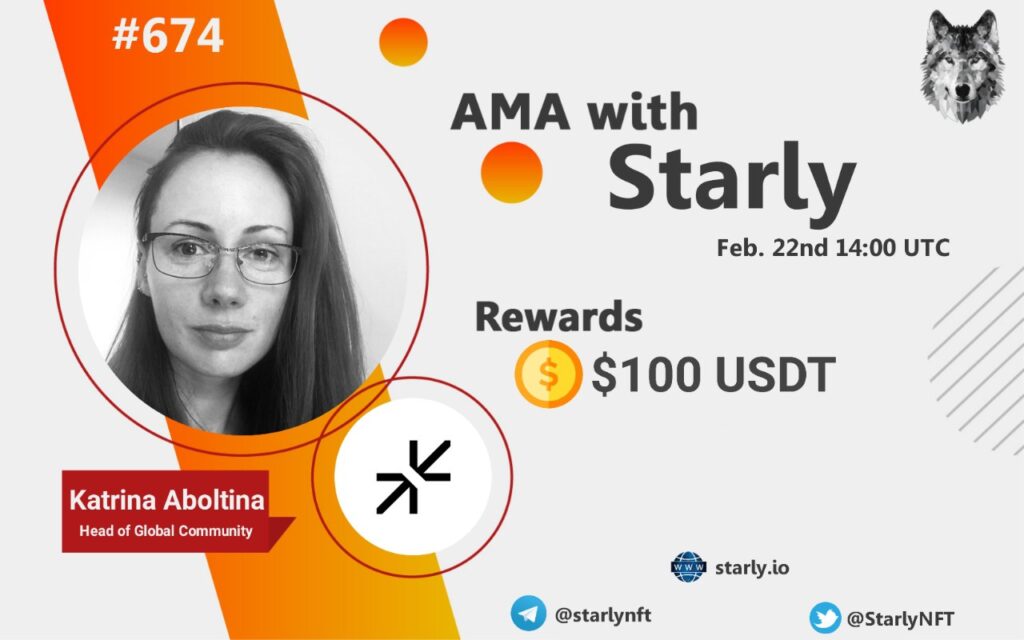 And here we will put some of the best questions:
Q1. Can you please introduce yourself as well as Starly?
I am Katrina – all things Community and Content at Starly. Working with founding team for almost a decade now, previously on other projects.
We call Starly a launchpad and marketplace for creators and collectors to expand economies around gamified NFT collections. Collecting NFTs here turns into an immersive experience with different NFT rarity classes, distribution in sealed packs, limited editions, rewards, collector score, and other continuously evolving game-like mechanisms – we are working to implement a lot of those.
Collectors are engaged through adrenaline-driven pack opening. They buy and sell cards on the marketplace to complete sets and get rewards for achieving milestones. We aim to turn owning NFTs into a social experience opening a new kind of relationship that empowers the community.
Q2. What are the advantages of Your project?
We build Starly as a very different platforms from big marketplaces, we want to provide the best tools for creators, as well as the most entretaining and rewarding experience to collectors.
We offer a full support to creators from technical point of view, as well as they don't have to pay to create with us – fee is taken only after actual sales.
As for collectors – we have huge plans at the moment, and with introducing token we are working hard to implement them as soon as possible.
Q3. please tell us about the goal you want to achieve in this year.
There are several layers to this question 🙂 We recently published roadmap with goals we want to achieve this year – you can have an overview here: https://medium.com/@StarlyNFT/starly-roadmap-4d3566edbaee More in detail about separate topics I'll try to reply to other questions.
We are very ambitious and it's really hard to highlight just one thing we want to achieve – probably I'd say a maximum rewards integration and game element realisation.
Q4. Every project has a story behind their name, Can you tell us more about the story behind this? Who are the team behind this project? can tell us their background?
The name just came to us, it sounds like a star, like a hope and like a vison – at least for us, it's not litterally translatable or perceivalbe, but we believe it's everything we wanted it to be.
Our team is like a family. Literally, our core team has worked together for a decade now and has extensive social media experience. We have previously created social media networks, such as Ask fm with 150 million users at the moment of sale to IAC and F3 with 30 million users today. It is exactly like a family, just everyone has the same driving force. Our team members are one-of-a-kind people who work very hard.
Sry corrected embed.
Q5. NFT is one of the hottest and most sought-after topics in the blockchain space right now. Can you share your opinion on NFT with us? Do you think NFT will disrupt the current financial system? What is Your project's approach to the NFT sector?
There is a huge potential to NFTs. At the moment it's very young and still looking for all kinds of usage.
We approach collectibles aspect, but also are willing to add a layer of other utility to them – P2P games, etc.
We believe in all kind sof creators being able to use NFTs to bring their relationship with their communities to the next level – giving a piece of them to fans, while fans can show their support to their idols. Its a win-win.
In the meantime, I don't believe any single project can use the full potential – there are so many everyday things NFTs could be able to replace or give an alternative to. Especially with greener blockchains appearing.
And here we will put best questions from our members and Starly fans:
Q1. Partnership is always an important factor for Every"StarlyNFT project. So who is your partner? What are the benefits you get from those relationships?
Good and supportive partners are invaluable and not easy to find – especially as we entered a new space. We have been incredibly lucky to have all the support and guidance from Dapper Labs, who also chose us (even before platform launch) to partner up for the FlowFest. We hosted the Mystery Pack, an NFT from Flow ecosystem partners giveaway during the fest.
Another shoutout goes to Blocto. They have been and still are so responsive and involved, assisting in our somewhat ambitious plans. We also get a lot of ongoing support and advice from our investors, like Animoca Brands, KuCoin Labs, and others. Everyone is nothing less than amazing.
Q2. I understand Starly is built on top of the Flow blockchain. Can you give us a reason why building on the blockchain and what are the benefits of building the Flow blockchain for Starly? Is that why Starly was chosen to host the Secret Pack Festival?
As for Flow Fest Mystery pack hosting – that was a leap of faith from Dapper Labs.
In the meantime – we built on Flow as it is highly scalable and delivers performance and attributes for mainstream adoption.
Even more so, it's also environmentally sustainable, as associated energy consumption is considerably lower than alternatives. As per the latest Deloitte report, the minting an NFT on Flow blockchain consumes less energy than an Instagram post.
We also believe there is a lot of future potential and feel very good about Flow's vision in attracting new users to the ecosystem.
Q3. $STARLY is a utility token which serves as a medium to offer creators, collectors and the surrounding communities the ultimate experience on Starly ecosystem. What are the advantages if we keep $STARLY for long term? is there a staking program? how does it work?
Oh, yes, we plan to fully integrate token into the starly, maximising collector experience and turning it into "collect-to-earn" platform.
Staking STARLY is an initial utility of the token that offers different reward tiers depending on the amount of the staked STARLY tokens. There will be three staking tiers: Silver, Gold, and Platinum. Each tier will provide a list of benefits, including but not limited to exclusive drops, voting rights, and much more. You can see initial outline here: https://starly.io/token But there will be much more benefits, features and so on.
Q4. As a creative and a Starly fan. What qualifications do I need to become a Starly creator? What are your NFT marketplace's main advantages over competitors?
Our future goal is to open the platform to all creators with devoted communities. However at the moment we hand pick collections to publish (we have to grow some muscle). To be accepted now – you have to be talanted visionary :))) We have set a bar high with excelent art collections, but it's not just the quality of art – we look for creators with the passion and story to tell.
As for the bonuses to creators – they get full technical support and full creatove freedom, they dont have to pay anything before actual sales.
Q5. In your roadmap the creation of a DAO governance system seems to be the last thing on the project list, could you tell us how the holders of a membership will intervene in these systems? When do you estimate that it could be fully developed?
Actually it's also mentioned there, that we haven't put any timeline and the list is not chronological, because we are working on several things at once and whatever is ready first…
As for Starly DAO being the last thing on the list – it's just the opposite, all the things on the list will give more power, benefits and opportunities to our community. So it's actually not the last thing on the list, but like summary of all things.
Q6. What are STARLY next upcoming marketing plans ? For a big holder what is the main benefit of your project for holding long term?
Once again – I would suggest you reffer to our roadmap as for the bigger picture, however we do have quite a lot plans regarding expansion, partnering with brands, celebrities, and big IP holders. Here is also our very valuable partners step in – helping with connections, advice and many other ways.
Q7. I realized that Starly offer the possibility to create their own collections , but user are free to put their own price? Or do you realize an evaluation to put a price to each NFT?
We offer several pricing models to creators, depending on their collection concepts, experience, community and so on. Also – creators get a 5% lifetime royalty from all the secondary sales of their cards on our platform, making it a long-term income. And on secondary market, of course, collectoes price cards as they please.
Q8. Is your project a community only for English speaking an countries or for users not of other languages? Can you share your social media links so we can keep ourselves updated?
We believe in growing globally with local approach. At the moment – thanks to our partners – we have Vietnamese, Turkish, and Korean communities in Telegram, several language groups on Discord – new ones being added all the time. While English is, of course, our primary working language, we also plan to add platform interface in most common languages some time soon – https://linktr.ee/starlynft please check what communities we have and make sure to join only official ones – all new groups are added here as soon as created.
Q9. What do you think is Starly advantage over its competitors?
I believe that I have pointed out the most of long-term competititve advantages Starly has, however the main being – full support to creators, and amazing experience to collectors – we aim to take it to the next level with Collect-to-Earn game mechanics, stick around to see how it goes – it will be Epic.
Q10. As a Collector on Starly, what are I going to enjoy some benefits or per privileges that I won't see on other similar platforms? Am I completely free and fully supported in every step of creating a collection? Also, do we have to pay a fee to create our own collection?
As a collector you would not believe what we have in mind 🙂 We have, for example, already implemented Minter's royalty feature – for all cards you mint (happens when you open the pack) you get 1% lifetime royalty for all the secondary sales on our marketplace. That's a very innovative and awesome feature. In the next steps we are adding layers and layers of rewards, benefits and possibilities. We want our community to find this experience immersive, entertainign and – at the end of the day – rewarding.
And this was the end of our AMA with Starly.
If you have any questions you can ask here:

Telegram Group: https://t.me/starly_chat
ℹ️ℹ️ Useful Links ℹ️ℹ️