we hosted an amazing AMA with SuperEX on the 27th of September
And here we will put some of the best questions:
Q1. Can you please introduce yourself as well as SuperEX ?
Hello guys! I'm John, the CMO of SuperEx! First of all, I want to thank everyone for joining us in today's AMA, today I will be answering all your questions related to SuperEx, superex platform token – ET, ET Airdrop and more. Hope today's AMA will help our listeners understand what SuperEx platform is and its advantages and future development plan
So if I talk about SuperEx platform – Superex is a cryptocurrency trading platform based on web3.0, which supports blockchain crypto asset trading in more than 9 languages ​and 1000 trading pairs. At present, Superex has established a complete DAO community in 20+ different countries and regions around the world, becoming one of the important DAO community groups in the global blockchain field
SuperEx app and network combine the functionality of cryptocurrency trading and next-generation digital wallets, providing members with a one-stop platform for saving, investing, trading, and more. The ultimate goal of the platform is to create a web3.0-based business model that can achieve true decentralization and DAO autonomous management, opening the door to billions of potential users around the world through web3.0 and the metaverse.
Q2. What are the advantages of Your Exchange ?
As I have already mentioned, SuperEx is the first web3 crypto exchange, and some of the community members might be wondering what a web3 exchange is? Web3 cryptocurrency exchange is all about decentralization: platform decentralization, team decentralization, user asset decentralization, and community decentralization. So far, we have achieved a number of goals set for our platform in order to become a fully decentralized platform.
Currently, SuperEx has users in 193 countries around the world, and has established DAOs in 20+ countries, and is continuing to expand. The DAOs of each country or region have all the decision-making authority for the localization of SuperEx. SuperEx established the DAO fund and allocates a part of all the revenue of that country or region into the DAO fund pool to motivate and promote the autonomous community of that country or region. For development, the fund is entirely voted by localized DAO members using ET to determine the right to usage of the funds.
Right from the beginning, we have integrated SuperWallet onto the SuperEx platform. SuperWallet is a decentralized HD wallet that lets users be the real owner of their assets at any time any where. Private keys are stored by users alone and users will be in control of their assets 100% of the time. Additionally, we have recently launched the HD wallet authorization feature on SuperEx which lets users directly login and trade on SuperEx without any complex two-step verifications, email/ mobile verification and passwords. There are couple of benefits of using HD wallet login:
No registration required: users who use HD wallet do not need to register an account password;
Second: Simple login: users who use HD wallet will skip the account password, two-step security verification and other stages, and click authorization and signature to complete the login.
Third: Simple deposit: Users who use HD wallets will skip the three-party software, address and verification, and directly complete the deposit after wallet authorization-signature.
Fourth: Simple expansion: Due to the technical characteristics of the HD wallet itself, no matter how many addresses of different chains users use, they can use one master private key for management.
Q3. please tell us about the goal you want to achieve in this year.
Our long-term mission is to create a Web 3.0 based business concept that enables decentralization, DAO management, community decentralization, and let billions of users have hands-on access to cryptocurrencies. We are creating the world's most
transparent, secure, stable and decentralized cryptocurrency trading platform.
If we talk about the main goals of SuperEx for this year, we have already launched a number of new features on the platform and the next big thing we are currently working on is the launch coin-margined futures on SuperEx platform. At the same time, expanding the SuperEx DAO network and further develop the SuperEx ecosystem
Q4. Every project has a story behind their name, Can you tell us more about the story behind this? Who are the team behind this Exchange ? can tell us their background?
Although SuperEx offers several features that set it apart from the competition, its founding team is its greatest asset. Because of the potential of our team to join a crowded market, break the status quo, and allow SuperEx to be a dominant competitor, we have the ability to rise to the top. Our team members are from the best quantitative funds and IT firms on Wall Street companies, including PayPal, Facebook, Google, BlackRock, Fidelity, etc. Having experience with conventional business transactions, the SuperEx team is knowledgeable with both the traditional design of financial derivatives as well as the demand for derivatives transactions in the cryptocurrency market.
And here we will put best questions from our members and SuperEX fans:
Q1. Is it mandatory for #SuperEx users to undergo KYC ?Do you have a policy like a limitation of withdrawal amount to non – KYC compliant customers which top exchanges like Binance offers to their community ? What are the withdrawal limits for KYC not completed and KYC completed?
BTW, tomorrow we are holding the launch event of our platform utility token – ET
First Web3 crypto trading exchange – #SuperEx will be holding $ET Launch Event on metaverse!
⏰Time: 13:00 UTC Sep 28, 2022
📍Venue: Soma
🎁Rewards: 400 USDT
Join the first metaverse event of #SuperEx and celebrate the launch of $ET 🤩
🧵 Useful links 👇
1️⃣Official Soma Website: http://www.somaworld.com
2️⃣How to use Soma? https://youtu.be/ZzEKdW0dFPM
3️⃣Or ask your questions in the #SuperEx Telegram Community: @SuperExOfficial
I warmly invite all the CryptoTiTans community members to join us in the ET launch event!
SuperEx as the web3 crypto exchange does not require users to undergo any KYC for registration or trading In Spot or Futures. You can enjoy all the features available on superex without submitting any personal information. HD wallet authorization. Since we dont have any KYC, there is no any limits for withdrawals for users. It just depends on your VIP level. To check your SuperEx VIP level, you can visit this page – https://www.superex.com/userCenter/fee/vip
Q2. Nowadays language is a big barrier to many crypto enthusiasts, well, we all know many projects support the English-speaking community. So, are you aiming to use local communities to raise more awareness of your project among these people in different countries?
This indeed is a great question! We aim to give the same level of service to all users from around the world. And in order to provide excellent trading experience for our users in global language regions, the SuperEx platform already fully supports nine languages:
English, Korean, Russian, Japanese, Persian, Ukrainian, Spanish and Vietnamese. Our team is currently working adding Arabic language to the platform.
Also, we have DAO communities in over 20 countries and regions, all the DAO members provide the necessary information and services in their local language to the SuperEx users
Q3. As a Exchange platform, what is the difference between the trading system created by #SuperEx and other exchange platforms like Binance, OKEX, BitMart? In terms of security, operability, reward system? What improvements has #SuperEx implemented to improve the trading experience?
As I have mentioned above, the main difference between SuperEx and other major crypto exchanges lies in the real purpose of crypto and blockchain which is decentralization. We offer the same services without letting users to undergo any KYC, while also providing one of the most secure options to store user assets. We have achieved community decentralization, and team decentralization
In terms of rewards, SuperEx provides up to 40% commission fees for referrals and holds giveaways and airdrops non-stop. To check the latest huge airdrop on our platform – please refer to:https://www.superex.com/task
Currently, if you sign up on SuperEx, you will automatically receive 10 ET tokens, and for each referral you will also receive 10 more ET tokens. There are other tasks in this event where you can get more ET tokens by completing simple tasks
Q4. SuperEX has DAO communities in more than 20 countries around the world. I would like to know how the respective managers of these DAO communities came into being? Through elections or other means? If I join the community, am I immediately eligible to participate?
If you want to join the SuperEx DAO community and become a DAO member, you need to fill out the following application form –  https://bit.ly/377IAOt
we will send your information to the DAO organization foundation you applied to, they will review and vote on whether to accept, at the same time, I need to remind that DAO community members have the right to vote on the new member If your application is approved, you will need to actively participate in the daily management and development of the community.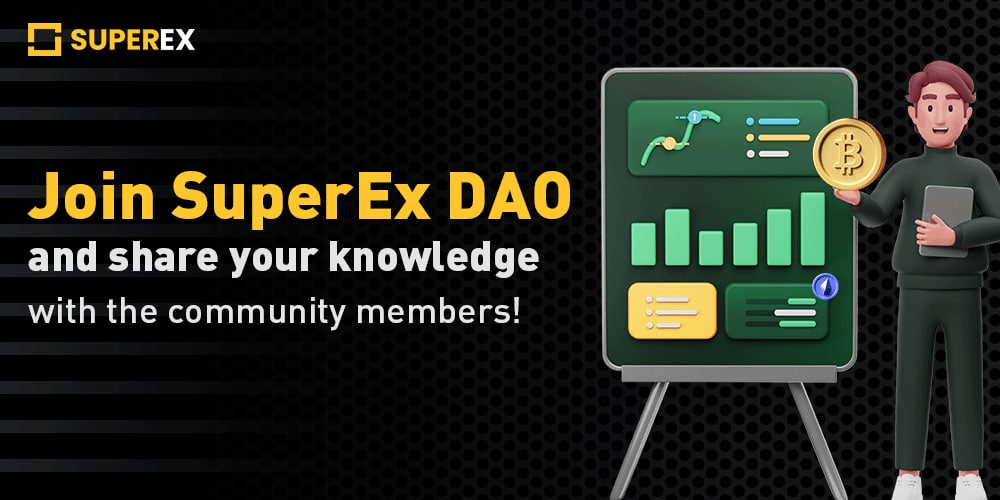 Looking for a chance to show your expertise in blockchain and cryptocurrency ?
SuperEx DAO is looking for market analysts and crypto educators 📚
Join us➡️ https://bit.ly/377IAOt
Discover new opportunities with http://www.SuperEx.com 👽
I forgot to mention the Mystery Box event from SuperEx that is currently ongoing
Refer friends to register on #SuperEx and receive Mystery Boxes with your friends! 🤑
Open Mystery Boxes and try your luck on winning up to 2000 USDT rewards! 🤩
➡️Join:  https://superex.com/activity/lottery
⏰Time: Long-term event
Q5 .As a user, how can I participate in the governance of SuperEX ?
Decentralization is the core policy of superex in building web3.0 crypto exchange. We welcome every user who wants to participate in superex governance. The conditions of participation are very simple, we need to evaluate the applicant's recognition of superex ecosystem consensus by whether the user holds ET or not, also if you have experience in blockchain, crypto and web3! I look forward to working with you all! Thank you!
Q6. Does this project already have opened AIRDROP ?
And whom will qualified for the AIRDROP ?
Yes, currently there is a huge ET airdrop going on on superex which is a long-term airdrop. You can receive the platform utility token for completing simple tasks. to join the airdrop, visit superex.com/task
Q7. i want to know if your token is available yet on any exchange?
How do I buy your #SuperEx token?
SuperEx platform token is to be listed on superex.com on September 30. However, you can join the ET launch event tomorrow!
First Web3 crypto trading exchange – #SuperEx will be holding $ET Launch Event on metaverse!
⏰Time: 13:00 UTC Sep 28, 2022
📍Venue: Soma
🎁Rewards: 400 USDT
Join the first metaverse event of #SuperEx and celebrate the launch of $ET 🤩
🧵 Useful links 👇
1️⃣Official Soma Website: http://www.somaworld.com
2️⃣How to use Soma? https://youtu.be/ZzEKdW0dFPM
3️⃣Or ask your questions in the #SuperEx Telegram Community: @SuperExOfficial
Q8. When will superEx's first metaverse event launch? Can I earn $ET from there? Or something else?
The event will be held on September 28, 13:00 UTC time
Q9. Where can I buy your tokens right now what is your current contract and how can I buy them?
Or, Do you have any platform to earn your tokens?
The ET contract address:
Network : Tron
Contract Addres : TVxA6SiicW236YAQSELRxth52Tp9ypxkr2
Name : Extraterrestrial Token
Symbol : ET
Decimals : 8
you can buy and sell ET on superex.com starting from September 30!
Q10. What do you have?
1️- Telegram Group
2️- YouTube Channel
3️- Medium
4️- Discord
5️- Twitter
6️- Website
Follow #SuperEx on different social media platforms and stay up to date on the latest news🔥
🐦 TTwitter: https://twitter.com/SuperExet
✈️ Telegram: @SuperExOfficial
👾 Discord: http://discord.gg/superex
📱 Instagram: https://instagram.com/superexdex/
📚 Medium: https://superex.medium.com
Channel:https://t.me/SuperExcom
Airdrop Base:https://www.superex.com/task
Mystery box:https://www.superex.com/activity/lottery
SuperEx.com – First Web3 crypto exchange and largest DAO network!
And this was the end of our AMA with SuperEX.
You can find here:
Website :http://www.superex.com/
Register SuperEX Account :https://app.superex.live/register?invitationCode=WD2ZMAWR7
Telegram Community :https://t.me/SuperExOfficial
Twitter :https://twitter.com/SuperExet
Discord :http://discord.gg/superex