we hosted an amazing AMA with ThreeFold on the 27th of July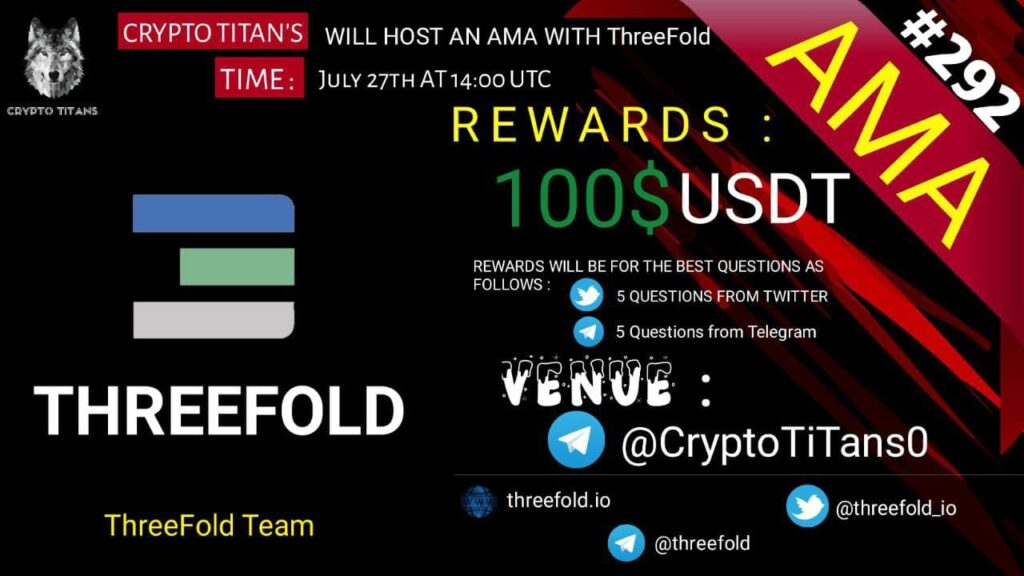 And here we will put some of the best questions:
Q1) Can you introduce yourselves to our community?
Benjelloun : for sure, my name is Benjelloun Oussama, born and raised in Morocco and made in the world! working on the Blockchain ecosystem at ThreeFold.
weynand : Sure – hi all, my name is weynand, I was made in the netherlands, now live in Dubai. I am a trained rocket scientist but never really worked in the space industry. Got sucked into the early days (and very exciting world) of the internet and have not left. On e of the co-founder of Threefold, and proud to be here.
Adnan : Hi everyone, my name is Adnan, I m based in Dubai, I'm a co founder at ThreeFold, proud to be a part of a growing movement decentralizing the Internet.
Q2) Can you briefly tell us what is ThreeFold ?
weynand : ThreeFold is a foundation. The foundation big hairy audatious goal is to bring internet services to 1 billion people for less than 1USD per month. This allows anyone to have and enjoy the services we are so used to every day.
To do this we have created a technology stack that allows anyone to build a piece in the (future) internet. This is rewarded by a digital currency (TFT) that is also the only payment method for using the internet capacity.
Anyone can run applications, anyone can use the applications and this allows the internet to expand into developing countries and outside of the leading digital monopolies (FAMGA).
Q3) Let's now talk about the milestones you have achieved so far and about your upcoming plans?
Weynand :
Launch of the token and mainnet 2018
80 PB of storage in 35 countries
15 layer one blockchain protocols using it
about 1000 providers globally, another 1200 coming in the next three months
Partners lining up to understand how to use and deploy apps, people are seeing the benefits of having decentralised capacity available (compute and storage) outside
and oh yes – I fogot 20,000 cpu core available.
Q4) Every project has a story behind their name, Can you tell us more about the story behind this? Who are the team behind this project? can tell us their background?
Adnan : Many of the founders come from the early days of the Internet and have been involved in several innovations and exits in cloud and automation space (see incubaid.com for our history), about four years ago we realized we had all tech pieces to reinvent the entire Internet, to make it more scalable, secure, and data sovereign so thats exactly what we did.
Weynand : The team have been doing various startups over the last 15 years. They are the creators of virtualbox, a virtualisation software that has been bought from the team by Sun microsystems (now Oracle). They have done 5 more startups in the last decade and create foundation technologies of the current internet.
Now we decided to take on the whole internet stack and bring it back to where it started: by people for people and not with these large conglomerate involved that dictate what data they take from us and what we can do online.
The name…….. not a real story to that. Three is a beautiful number and we want to make sure that we get it right – therefore ThreeFold.
Q5) DeFi is one of the hottest and most sought-after topics in the blockchain space right now. Can you share your opinion on DeFi with us? Do you think DeFi will disrupt the current financial system? What is ThreeFold's approach to the DeFi sector?
Benjelloun : great question, we genuinely believe in the potential of DeFi, and it is already disrupting the financial world – as we are wistnesisng now – DeFi is eating Wall street. The reason why we converge greatly with DeFi, is that our decentralized cloud helps any DeFi app to be more decentralized, and not rely, and be powered by centralized cloud providers
we're in discussion with multiple DeFi apps to help them integrate our decentralized cloud – we're the missing element for DeFi.
And here we will put best questions from our members and ThreeFold fans:
Q1) With "Digibyte Blockchain Technology". Is the community supported by ThreeFold without providing SENSITIVE user personal information? What information is stored in the system? What kind of payment system is implemented and Are users protected by the system from possible risks?
weynand : Okay – let's set things straight. When people create cloud capacity TFT tokens are minted at the end of the month. The bloclchain used for minting today is the stellar network. We (ThreeFold) are going to be a multichain token. So we will have tokens (TFT) exist on more than one chain, however not the DGB chain (Polkadot, Casper, Ethereum potentially).
The DGB partneship with DGB is about making enterprise services on the grid. Enterprise services for storage, archiving and secure browsing. The logs for these services are committed to the DGB blockchain creating an audit trail of who did what with what service. Like a logbook.
Payment for these joined services are done in TFT and DGB partnership.
Q2) You mention that we will be able to obtain income in ThreeFold Tokens, simply connecting your 3Node to electricity and the network, but could you really tell us how much the benefits could be in relation to the electricity demand that the equipment requires?
Weynand : depending on where you are, between 5 and 10 times initial investment over 5 years.
Here's more detail around the model and an example configuration: https://wiki.threefold.io/#/threefold__farming_reward
remember – any pieces of hardware intel / AMD based works.
Benjelloun : great question, every farmer, ( every person that gets 3node and connect it to our network), is minting TFT ( threefold tokens) by providing cloud capacity to this decentralized network – it is sort of bitcoin mining, but with an actual utility and a lot more sustainable
more info on the token : https://threefold.io/token
Q3) ThreeFold is engine for the new Internet that enables digital freedom, creates more opportunities for access, is more secure&performs, and is better for the planet. Are your current features able to work optimally?what features would you like to introduce to the community here?
weynand : The feature that is most important is that it is by people for people. The utility / presented capacity work 100% similar than the leading providers. So it presents the same capabilities than the leading cloud companies.
But using less energy, respecting peoples privacy, boosting equality (developing countries) and punching through payment barriers for people that have no credit card / bank account.
Technically there is a superior way to deliver secure and reliable services by making the whole provisioning process easy and secure.
Q4) I was impressed by the large and successful companies that your project has as partners, What do these companies contribute in terms of infrastructure, ideas or technology? What are the interests of these companies in this project and what do you intend to achieve with them?
Adnan : enterprises, blockchain projects, and developers bring their own unique services, communities (in the millions), applications and protocols to live on top of ThreeFold Grid which is a decentralized alternative to Amazon and other centralized clouds. This collaboration with ThreeFold drives tremendous adoption of the ThreeFold Grid, for example we have one project that has 100M users alone! and they have signed with us to deploy on top of the ThreeFold Grid and use the ThreeFold Capacity and TFT (Our native token). Today we have over 30+ projects working with us, our Grid is the largest P2P compute and storage capacity provider in the world and this is just the beginning!
Q5) As more top blockchain protocols are beginning to integrate their infrastructure into the ThreeFold Decentralized cloud, do you think there will be congestion in the future?And as the first decentralized cloud related token on BSC, how do you intend to keep up with the reputation?
Benjelloun : and by the way, check out how we compare with the other similar projects, pretty cool stuff.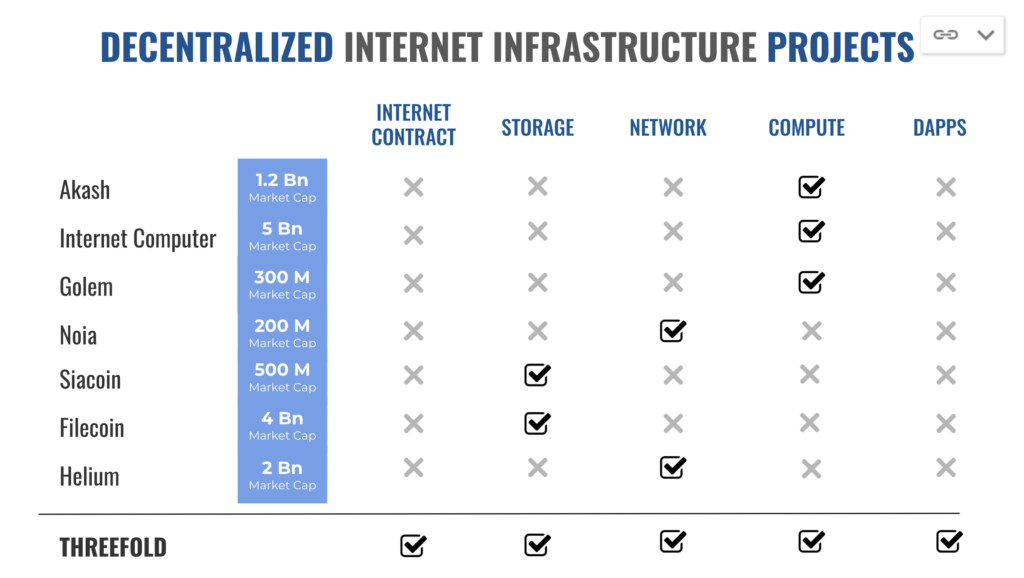 Q6) Can I coin now and which wallet supports your coin as well?
Benjelloun : hey Tumi! thanks for asking , you can get your TFTs, from here, TFT on PancakeSwap
Other Ways to Buy TFT.
Q7) Can you tell us some of the latest achievements made by the threefold project & can you describe in details the current development efforts, such as market expansion plans, expected applications & new upcoming program of events?
weynand : We have a very exiting partnership coming up with DigiByte as was mentioned in one of the questions earlier. This will join the two technology stakc and focus on bringing blockchain and ThreeFold services to Enterprises. Real use cases for real companies, standard IT workloads done better.
Q8) Is the $TFT token already listed on an exchange or DEX, CEX and how do you get your $TFT token and where i can buy, Can I give $TFT token smart contract?
Benjelloun : for sure, you can get your TFTs either through Liquid exchange ( one of the top 10 exchanges) , or PancakeSwap , more info here: 🥞 TFT on PancakeSwap
🛒 Other Ways to Buy TFT.
Q9) Working with technology that can change the world. I am well aware that claims are not handled by people, how exactly is 3NODE handled? What mechanisms has ThreeFold implemented to help prevent human manipulation that could lead to a claim being denied?
weynand : The nodes are autonomous. Consensus between the developer of an application and a consumer of an application results in a recipe (smart contract ) to be written in an operational blockchain. The 3node periodically check the operational blockchain to see if there is anything for it to do and when there is (ID based) it deploys. No human being / operator / system administrator involved, jsut a simple mechanism that when a workload is agreed and committed to the op. BC th enode executes. Simple!
Q10) What is the most important feature in your ecosystem you are most proud of and confident about you think anyone investing in Your project should know?
Benjelloun : great Question, i would say one of the most important features in our ecosystem, is how we empower developers and no developers with a better, more private, and more inclusive internet.
Q11) Currently in my opinion one of the ways to attract more users would be to collaborate with youtubers or influencers, do you plan to develop this marketing strategy so that your project grows?
weynand : Agree – we do and have done. If you have any suggestions, please drop it in the Threefold channel: https://t.me/threefold
Q12) How does project increase the token's value, liquidity and utility ? So that it can lead to an increase in token prices ? What is your plan to make your project stable and provide the highest return for investors in the long term ?
Adnan : ThreeFold Token has a very strong value proposition, the Grid solves a major problem in blockchain and cloud land, so project that you see on coinmarket cap will need at some point what TF Grid provide, the value of TFT's tokenomics is also designed to drive value (scarcity), limited to 4 Billion TFTs, built in burring 25% on capacity use, the only way to generate them is through farming ( adding capacity so no printing), we will be integrated into multi chains for ease of transactional flow and liquidity, farming scale because its highly rewarding 5-10X over 5 years we are already in 35 countries and growing rapidly. On another note, if you compare our marketcap which is less then 20M USD to other projects that are in a similar postion, they are sitting in the billions (marketcap) , the reality is we have a solid tech, it's live and it works, we have tremendous adoption, now its a matter of time before we become a defacto standard in the scene for provisioning decentralized internet capacity!
Q13) Could you let me know the role of $TFT token in the platform ecosystem? Like its tokenomics, use cases… Do users need to hold $TFT to take part in the upcoming IDOs? Do you plan to implement any scarcity mechanism such as buyback or burning to maintain the price stability?
Benjelloun : great question, $TFT is the medium of exchange in the ThreeFold decentralized cloud, and it is used to purchase internet/cloud capacity, and is being rewarded to ThreeFold farmers, more info here: https://threefold.io/token
Q14) What is the most important feature in your ecosystem you are most proud of and confident about you think anyone investing in Your project should know?
weynand : by people for people all the way! No third parties, us included.
Q15) While you build your project, do you take into account community feedbacks and demands?While you build your project, do you take into account community feedbacks and demands?
absolutely! its super important, we have a dedicated online forum running on TF Grid and multiple live chats to interact with our community.
Q16) Do you have tutorial videos so we can get to know your project more clearly or do you have a YouTube channel or something? can you share it with us?
wiki.threefold.io. With some tutorials, but moslty reading. We're working on more videos.
And this was the end of our AMA with ThreeFold.
If you have any other questions you can ask here:
ℹ️ℹ️ Useful links ℹ️ℹ️
Website :- http://threefold.io/
github :- https://github.com/threefoldfoundation
Twitter :- https://twitter.com/threefold_io
facebook :- https://www.facebook.com/threefold.io